Abby Hornacek is a lady that has been a role model for many peoples. Now, there should be some questions arising in your mind.
Well! It's obvious to be a role model of thousands of people after achieving remarkable peaks in our life. Abby's story is inspiring the youth, people, and ultimately the world.
So, read her biography and know the reasons behind her success that can also help you in achieving your goals too.
Who is Abby Hornacek?
Abby Hornacek is a renowned American Journalist, Television Host, News Anchor, and Television Personality.
She is immensely famous across the world for her work as a Journalist, Travel and Leisure Host at Fox Nation.
She is currently hosting three major series, Ride to Work, PARK'D, and American Arenas. Abby is also famous for being the daughter of the well-known former NBA player and then coach, Jeff Hornacek.
However, she never took any advantage of it and build her own career to be proud of her father. Let see below the full story of this amazing woman, Abby Hornacek.
Early Life and Family Background
Abby Hornacek was born on 25 April 1994 in Paradise Valley, Arizona, United State. Her father, Jeff Hornacek was an ex-NBA player and a coach.
He served as the head coach of the National Basketball Association's New York Knicks (NBA). Abby's mother's name is Stacey Hornacek. She has also two brothers named Ryan and Tyler Hornacek.
She is the only daughter of her parents who used to live a very peaceful life with his brothers. Her family lived in Utah until her they relocated to Arizona Post after her father's retirement in 2000.
Abby Hornacek begins her primary education at a private high school in her hometown. She was very good at her studies since her childhood.
Apart from this, she was also well at sports. There was great impact of her father's career on her which made her passion to join sports.
In fact, Abby also played volleyball for her school team and won the Class 5A Division I state title in her first three years.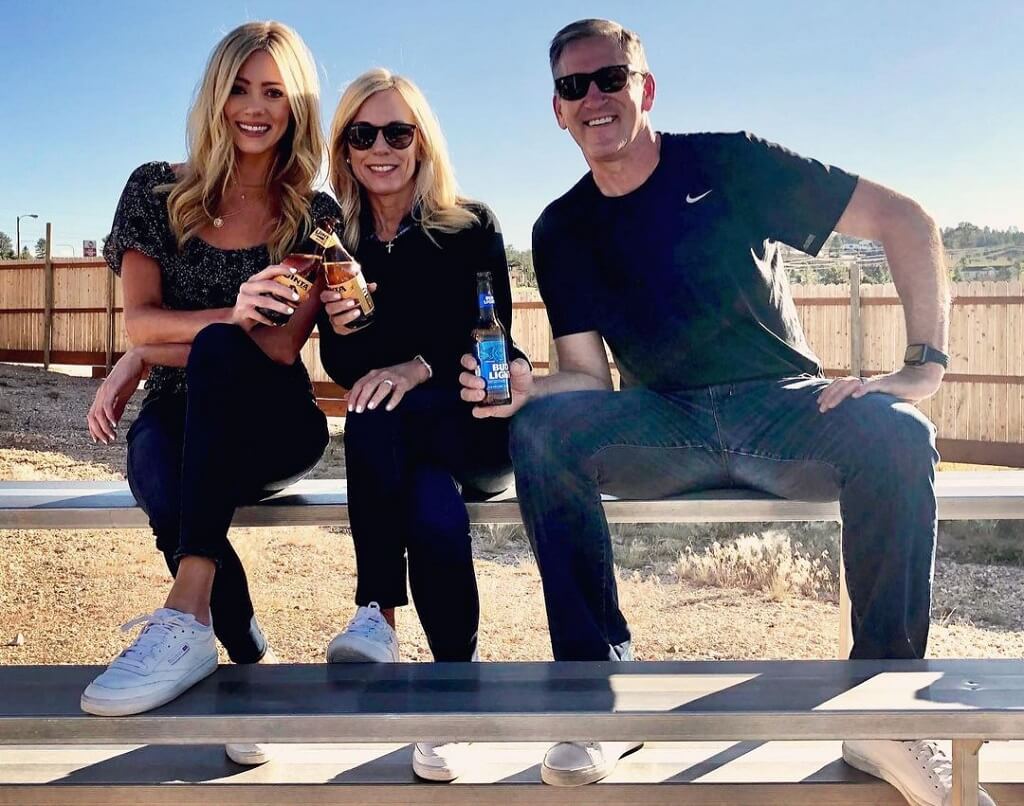 Later, she joined Xavier College preparatory in Phoenix. Abby then enrolled at the University of South California to pursue her graduation.
She graduated in May 2016 and earned a degree in Broadcast Journalism.
Abby Hornacek Career
Abby Hornacek was already started her career while studying at the University. At that time, she was working as an anchor at Trojan Vision Television, a student-operated TV station.
Later in 2012, she quit her job as she had to join the university's volleyball team and played for them nicely.
Back in August 2013, Abby joined another student-operated media program, Annenberg TV News. Here she got to learn a lot about news reporting and interviews by covering a wide range of stories.
Anny started her professional career in January 2014 after she joined Fox Sports San Diego and worked as a production intern. She assisted several Fox Sports 1 producers in live broadcasts and other shows.
Along with this, Anny also assisted in logging and clipping sports for the evening's highlight show.
On the Road to Fame and Success
Anny worked for several months in Fox Sports as an intern. But looking at her great performance, she was promoted to work as features host and report.
She then co-hosted various shows like San Prep Insider and Phoenix Suns Mock Draft. Besides this, Anny also worked as a Fox Sports sideline reporter and also contributed to ESPN.
She then transitioned from news reporting to sports host at the stadium, a sports network based in Chicago, Illinois. After this, she got amazing work and she covered The Drone Racing League for almost two years (2016-2018).
Currently, Abby Hornacek is hosting three shows, American Arenas, PARK'D, and Ride to Work.
In the PARK'D show, Abby is working adventurous as she has to visit the National Parks across the country and talks about their history.
While talking about her work in the American Arenas, she used to explore the iconic sports arenas across the country.
At last, she brings in other talents to work inside the Fox network through her Ride to Work show.
Abby has achieved a lot in her life. In 2014, she participated in the Miss Arizona USA pageant where she finished as third runner-up.
Besides this, she has achieved several academic honors at USC, including USC Phi Sigma Thera Honors Society, Lambda Pi Eta National Honors Society Member, and the Order of Omega.
Abby Hornacek Personal Life
Abby Hornacek doesn't like to share more information about her personal life. She is a private person and has managed to keep her private life far from the media attention.
But while talking about her relationship status on basis of her Instagram feed, she is unmarried, single, and has no boyfriends.
Abby could be mostly seen sharing photos with her parents and siblings.
There is no one standing beside her in any of her photos that can be considered as her partner. It seems that Abby is currently focusing on her career and is avoiding such bold relationships.
Abby Hornacek Social Media Profiles
Abby Hornacek is highly active on different social media platforms. As she is a journalist, she has to manage a lot of tracking and news that she could easily do through online platforms.
This could be a strong reason why she is available on almost every popular social media platform. Below are her social media profiles along with follower counts.
Abby Hornacek Net Worth
Abby Hornacek estimated net worth is $500,000 USD. Let's take a look at the primary and secondary sources through which Abby has succeeded to create such a big amount.
She is working at Fox Nation since January 2019.
Such experience in such a renowned place has led her to gain more capital in a very short time. Despite this, her work for other small companies has also contributed a bit to her net worth.
Apart from this, Abby Hornacek can also earn through brand promotions as she has a good number of followers on her social media platforms.
At all, she has enough sources to earn more income and live a luxurious life.
The Bottom Line
Abby Hornacek is really an amazing woman who has impressed people's hearts. Despite being the daughter of a popular man, she worked hard and made the day-night the same for her career.
This is called motivation for a reason. Abby knows the better things nicely. That's why she never focused on what she has but tried to make her coming days better.
Next Read: Natasha Bertrand American Journalist Biography
Abby Hornacek Bio, Wiki, Age, Height, Family, Husband, Net Worth & More
Name
Abby Hornacek
Birth Date
25 April 1994
Birth Place
Paradise Valley, Arizona, United State
Age
27 Years
Height
5'8'' feet
Net Worth
$500,000 USD
Profession
Journalist, Television Host, News Anchor
Parents
Father - Jeff Hornacek
Mother - Stacey Hornacek
Marital Status
Unmarried
Boyfriend
None
Nationality
American
Residence
Los Angeles, California, USA
Siblings
Brothers - Ryan Hornacek and Tyler Hornacek
So, you also try to look forward to your future, despite thinking about your resources. Let's share your opinions and thoughts below in the comment section.
At last, I would like to end my words with a charming Good Bye.