Adriano Zumbo is one of the most famous Australian pâtissier (pastry chefs) of this century. He has stabled himself completely in this field.
He came to this position after a tough journey that you should surely need to know.
So, begin his amazing biography below and get familiar with him.
Profile Summary
Name: Adriano Zumbo
Birth Date: 6 November 1981
Birth Place: Coonamble, New South Wales, Australia
Age: 39 years
Height: 5 feet 9 inches or 1.75 m
Net Worth: $5 Million
Profession: Pastry chef
University: Parisian culinary schools l'Ecole Lenôtre and Belleouet Conseil
Education: pastry chef apprenticeship
Father: Frank Zumbo
Mother: Nancy Zumbo
Sister: Rosalba Zumbo
Marital Status: Unmarried
Girlfriend: Nelly Riggio
Who is Adriano Zumbo?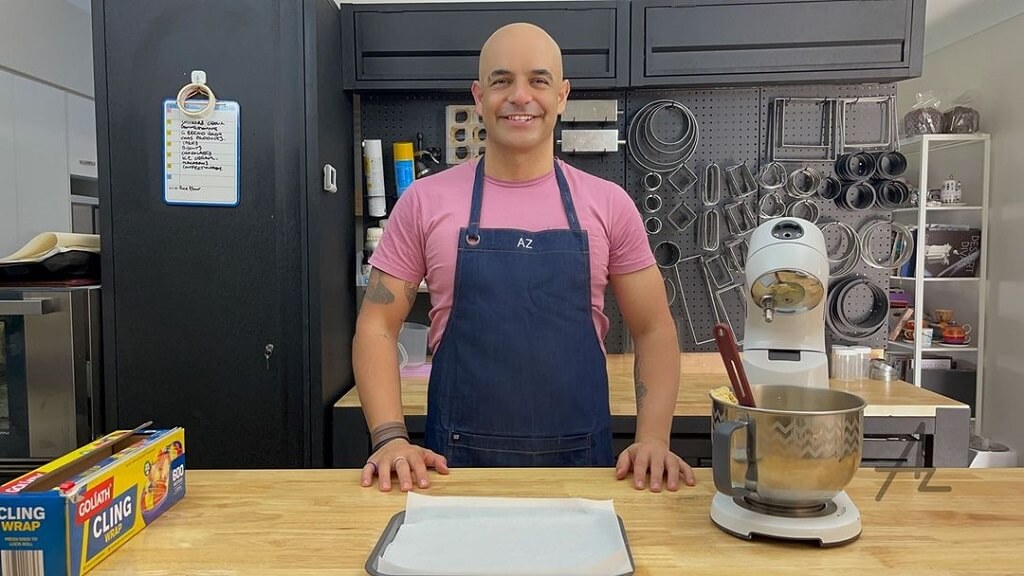 Adriano Zumbo is a famous Australian pastry chef. In his teenage, he developed a keen interest in cooking and pastry so he decided to pursue his career in the same.
Zumbo went to a pastry school named "Parisian culinary schools l'Ecole Lenôtre and Belleouet Conseil".
In school, he learned almost everyone that covers to make a person a professional chef. After completing his education, Zumbo immediately started his business.
Now he owns his franchises. He is a great business. He also appeared in all the series of MasterChef Australia.
Early Life of Adriano Zumbo
Adriano Zumbo was born on the 6th of November 1981 in Coonamble, New South Wales, Australia. He was born to Italian parents.
Adriano's father's name is Frank Zumbo and Adriano's mother's name is Nancy Zumbo. Adriano grew up with his sister and her name is Rosalba Zumbo.
His parents were business personalities as they own an IGA supermarket. Zumbo started experimenting with different dishes to know about the flavors.
He started investigating different types of coffee in and around Sydney.
After his school, Zumbo went to Parisian culinary schools l'Ecole Lenôtre and Belleouet Conseil to start his pastry chef apprenticeship in 1997.
For experience, he worked with various renowned culinary icons in Australia and France.
Adriano Zumbo Career
Adriano Zumbo started his bakery for the first time and started supplying bakery products like brownies, bread, tarts, cakes, and muffins.
He started delivering his products to the local bakeries. In 2007, he opened his own first patisserie in Balmain.
Zumbo is active on Television, he firstly acted in a six-part documentary television series Zumbo. It was based on a daily routine of a chef at his Balmain kitchen business, which screened on SBS One in 2011.
Zumbo was seen in each episode of MasterChef where he challenged many contestants to cook dishes.
In 2010, in the fifth season of MasterChef, Zumbo challenged all the contestants to recreate his raspberry-beetroot and black olive macaroni dish.
It helped him in increasing his sale of raspberry-beetroot and black olive macarons in his Balmain shop, quadrupling the normal rate.
Zumbo sold almost 5000 macrons in three days.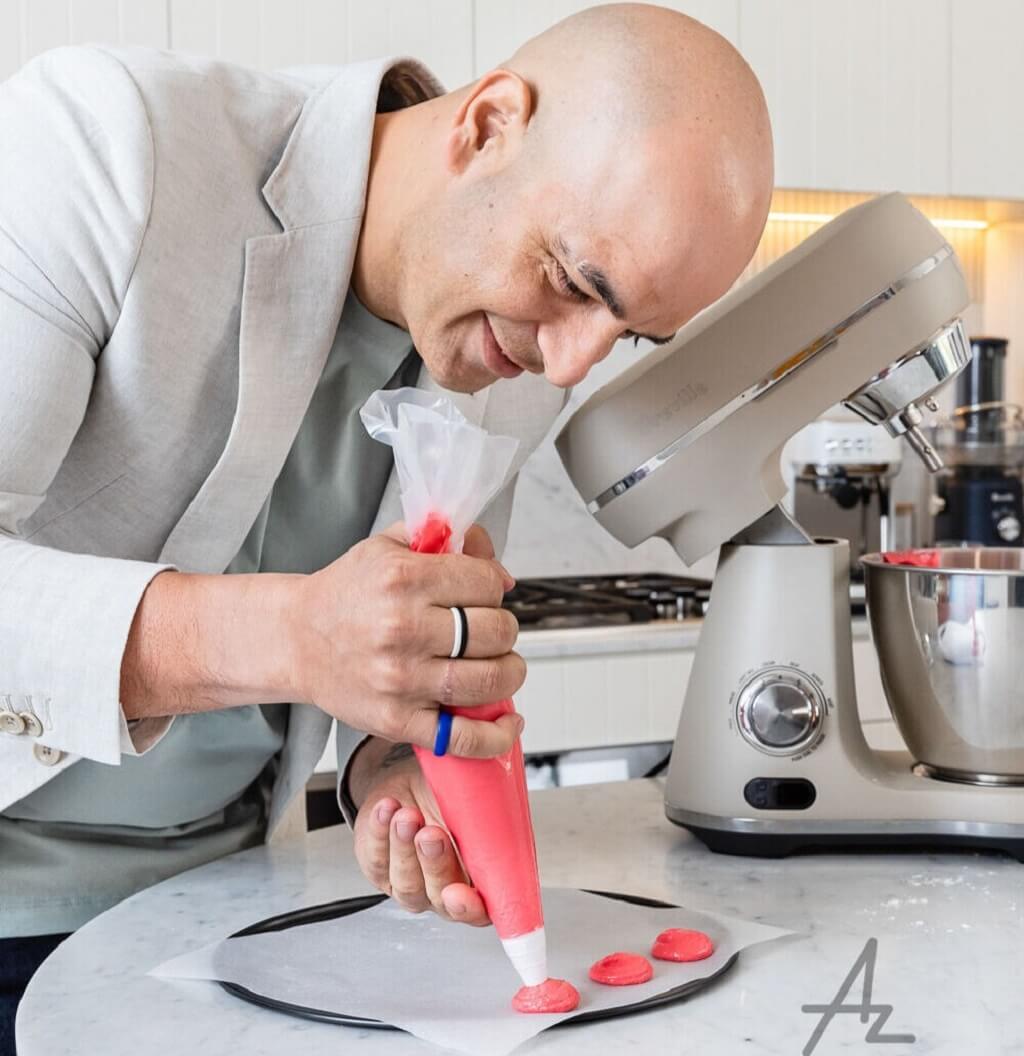 Another top cake from Zumbo's kitchen is featured in MasterChef. The name of the cake is Zumbo's vanilla V8 cake.
Zumbo specially designed this cake to honor the 85th birthday of Margaret Fulton. In June 2016, this layered cake ranked number 8 in Good Food's 2016 top 10 cult desserts in Sydney.
In August 2016, Zumbo co-hosted a Seven Network cooking series named Zumbo's Just Desserts. With him, the other two hosts were Rachel Khoo and Gigi Falanga.
In 2018, he played the role of judge alongside Candace Nelson in the NetFlix series Sugar Rush, hosted by Hinter March.
Adriano Zumbo Personal Life
Currently, Adriano Zumbo is an unmarried man but Zumbo is in a strong relationship with his partner Nelly Riggio. Together they have completed four years of relationship.
Both of them share a strong bond and post lots of their photographs on their social media handles.
Adriano is a passionate chef, similarly, his girlfriend loves to cook.
Nelly is seen posting huge stuff related to his personal life and food vlogs. They both have a happy time together.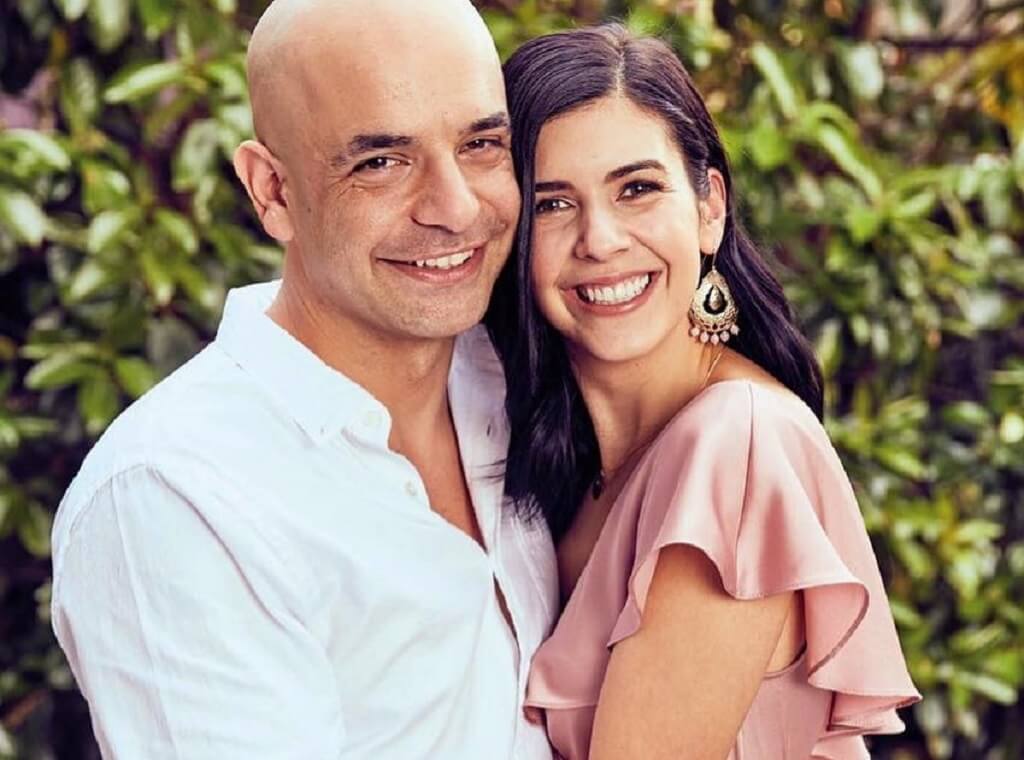 Adriano Zumbo Net Worth
Adriano Zumbo's estimated net worth is $5 Million approximately. He is earning through various sources such as he earns a huge margin in his business.
He is the owner of multiple franchises. Zumbo continually appeared in the series of MasterChef which also helped him in raising his business at a personal level.
Zumbo is a hard work mam as he worked hard to establish himself in the industry.
In the beginning, he started his work at a very low level. As of now, Zumbo himself is a brand.
Physical Appearance
Adriano Zumbo has maintained a nice body though he is a chef. Although, he has not had a heavy physique like other bodybuilders, and that's fair for him as he has something other to do.
He stands 5 feet 9 inches taller, which is equal to 175 centimeters or 1.75 meters. And then, his weight is around 70 kg, which means 154 lbs.
Overall, he is averagely good with his physical appearance.
Physical Appearance
Height
Feet & Inches: 5'9"
Centimeter: 175 cm
Meter: 1.75 m
Weight
Kilograms: 70 kg
Pounds: 154 lbs
The Bottom Line
Adriano Zumbo's life is not easy but his continued hard work helped him to develop good skills.
He is the perfect example for those who wish to step into the industry of cooking.
Zumbo has stabilized himself as a brand and people love him truly. People claim him as their inspiration and an idol for their cooking life.
I hope you enjoyed reading his biography and had a good time with it. Let us know your experience with his story, by commenting below.
Next Read: Who is Brent Owens? A famous Australian chef