Here is the biography of Ajak Deng who came to the peak of her life from the bottom. Being a refugee, she had to face a lot of problems in her initial days. But her hard work and dedication led her to the victory of her life.
Her story is no less than inspiration as she has influenced thousands of people. So, begin her very inspirational biography and get familiar with her.
Profile Summary
Name: Ajak Deng
Birth Date: 7 December 1989
Birth Place: Tonj, South Sudan
Age: 31 Years
Height: 5 feet 11 inches
Net Worth: $1 Million USD
Profession: Fashion Model
Nationality: Sudanese – Australian
Residence: Australia
Who is Ajak Deng?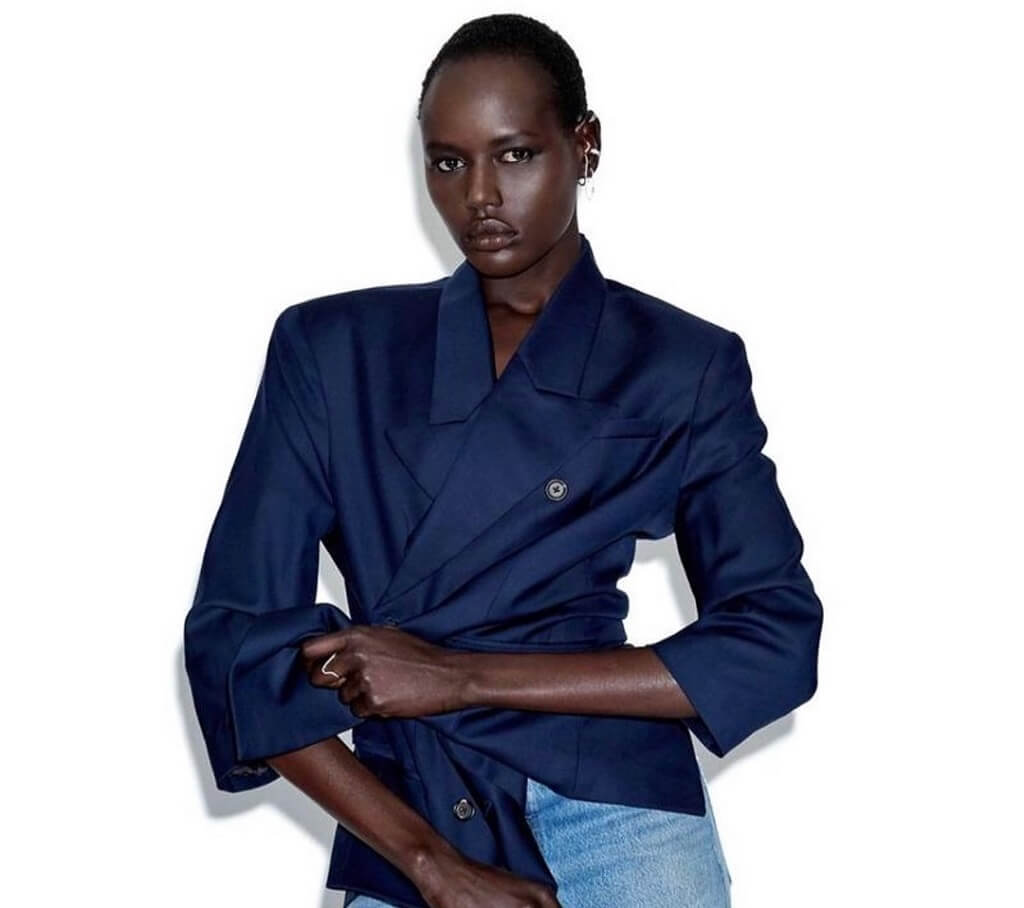 Ajak Deng is a famous Sudanese – Australian fashion model best known for her hot and attractive looks. She came into the limelight after she appears at the 2008 Melbourne Spring Fashion Week. Since then Ajak has been seen in high demand in Australia and in overseas countries too.
Further, Ajak earned huge fame after she modeled for some great brands, including Calvin Klein and Levi's. She has also appeared in a short movie as Sophie in the 2016 film Sophie: A Story of Discovery.
At some point, she rose to prominence as one of the most popular runway models of Australia. However, she claimed to leave the modeling industry in 2016 without citing the reasons. Let you see her full biography below and get to know everything about this prominent model.
Early Life of Ajak Deng
Ajak Deng was born on 7 December 1989 in Tonj, South Sudan. Her family became refugees in Kenya before shifting to Melbourne, Australia in 2005 because of the civil war in South Sudan. She has four brothers and three sisters.
Around this period, her mother passed away due to malaria and she became the mother to her six-month-old sister. Ajak was highly interested in modeling since she was just a child. Thus, she decided to follow her passion and focused on becoming it her profession.
Modeling Career
Ajak Deng started her career as a model for some modeling agencies. Later in 2008, she made her debut at the Melbourne Spring Fashion Week. She showed an amazing performance and came into the limelight in just one day.
Her initial international modeling jobs included an advertisement for United Colors of Benetton and fashion shows for Valentino, Lavin, Alexander Wang, and Marc by Marc Jacobs. Ajak also modeled for different brands including Calvin Klien, Levi's, Kenzo, Rick Owens, Thakoon, Valentino, and many more.
Despite achieving immense popularity across the globe, she briefly quit modeling in 2016. Further, she was auditioned for the role of a Bond Girl. Although, she was rejected saying that she was too pretty for it. Since 2018, Ajak is one of the faces of Fenty Beauty.
Ajak Deng Personal Life
Ajak Deng is a beautiful and hot personality. She looks more than everything we assume and directly attracts the people towards her. Talking about her relationship status, it is not known either she is married or a bachelor.
Ajak is a very secretive person in terms of her personal life. Thus, she never revealed any information regarding her dating life or about her partners. In fact, we don't know even she is single or not.
But as per her appearance on the social media platforms, it seems like she is single and still focusing on her career. But still, it would be just a rumor as she has not revealed such things from her end.
Ajak Deng Net Worth
Ajak Deng estimated net worth is $1 million USD. The given figure is just an estimation as yet she hasn't disclosed her exact net worth. But after looking at her profession and various works, it has been assumed that she has approximately $1 million US dollars.
Talking about her earning sources, modeling came at the first position. Being a model of many international brands is not that easy. She has sure paid thousands of dollars for her single appearance.
Moreover, she has earned a lot of money by doing paid advertisements. At all, Ajak is financially free and holds the potential to live a luxurious life without any issue.
The Bottom Line
Ajak Deng has shown herself as a rising star from the bottom of her life. There was a time when she and her family was struggling with their life and had even not a fixed living. They had to face a lot of troubles during the war.
Despite these all, Ajak chose a hard life for a good future. And ultimately, she resulted as one of Australia's best runway models. Now, she is enjoying everything and leading all the way of her life.
Next Read: Who is Mila Santos? Model and Social Media Star
I assume this is enough in her life story. Hope you enjoyed reading her biography and were amazed by her life. Let you share your feedback and let us know about your experience.