Antony Starr is best known for playing Homelander in Amazon Prime series The Boys. He found himself in legal trouble this year when he was arrested in Spain.
In New Zealand, he is best known for his dual role as twins Jethro and Van West in Outrageous Fortune and Billy Newwood in Without a Paddle.
Let us take a good look into this Kiwi star's professional and personal life. Here is another interesting personality for the curious reader in you.
Who is Antony Starr?
Antony Starr is a 45 year old actor from New Zealand. He is best known internationally for playing the uber-powerful and sadistic villain Homelander in The Boys.
It is one of Amazon Prime's most popular shows.
He has played the super menace in the first three seasons of The Boys. The latest season aired this summer and he will reprise the role in the fourth season which is expected to air late next year.
Starr's performance on the show made Homelander one of the most popular characters on the show. It has endeared him to fans who suggested he should win an Emmy for the role, though he is yet to receive a nomination.
The actor has many other screen credits on his CV and was filming scenes for an upcoming Guy Ritchie film alongside Nightcrawler actor Jake Gyllenhaal earlier this year.
However, Starr became the subject of negative media attention a few weeks before the release of the third season of The Boys when he was arrested in Spain.
Early Life of Antony Starr
Antony Starr was born in Wellington, New Zealand in 1975. As of 2022, he is 47 years old.
His father's is a businessman by profession and his mother is a housewife. Starr likes to keep a low profile, and thus, there is not much information available.
He was born into a middle-class family and a follower of Christianity.
Antony Starr Attended his school in Rangitoto college and he attended University in The University of Auckland.
Antony Starr Career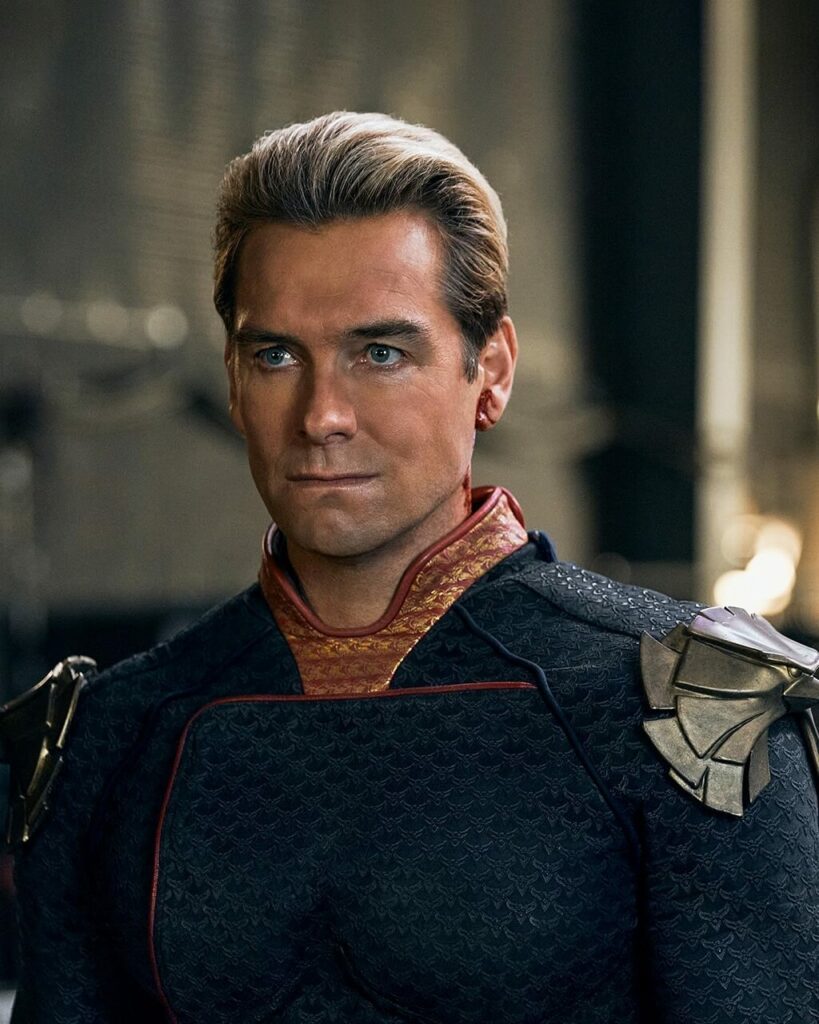 Antony Starr began acting professionally when he was 20 years old.
He is well known down under for his dual role as twins Jethro and Van West in the New Zealand comedy crime series Outrageous Fortune which ran from 2005-2010.
He played the lead role of ex-con Lucas Hood in the American action series Banshee and played Garrett Hawthorne in mystery series American Gothic.
In 2019 he took on the role of Homelander, the leader of a corrupt group of Superheroes, in the comic book adaptation The Boys.
Homelander is a manically narcissistic, insecure super being who blackmails, tortures, and kills in order to get what he wants.
His film career includes starring roles as John Drean in New Zealand drama 'After the Waterfall', and Jeremy King in Australian mystery drama 'Wish You Were Here'.
He is also due to star in the upcoming horror film Cobweb. An yet untitled Guy Ritchie film in which he will star alongside Jake Gyllenhaal is another.
For his role in the 2012 Australian film 'Wish You Were Here', Starr won the AACTA Award for Best Actor in a Supporting Role, among other accolades.
He was nominated for the New Zealand Film Award for Best Actor for his performance in After the Waterfall (2010).
Season three of The Boys was released weekly on Amazon Prime over June and July this year, with the finale landing on 8 July. All three seasons are now available to watch on Amazon Prime.
Why was Antony Starr arrested?
Starr was arrested on 2 March 2022 in Alicante, Spain after he assaulted a 21-year old chef at a pub while drunk.
It was reported that Starr punched the chef twice causing him to be taken to hospital where he received four stitches.
Starr had been in Spain to shoot the Guy Ritchie film when the altercation took place.
He received a 12-month suspended prison sentence for the crime of wounding. He had to pay the equivalent of £4,400 in restitution to avoid jail.
All sentences under 2 years are automatically suspended in Spain if the offender does not have a criminal record.
Speaking about the incident later this year, Starr said: "I got myself into a situation that was negative and I reacted poorly, and the way forward from that was very clear.
"It was quite simply to take ownership of it, which I do, and then really learn from it and move forward."
The chef, Bathuel Araujo, told police that he had been punched by Starr twice before having a glass smashed in his face.
Starr will not have to spend any time in prison as long as he does not reoffend in Spain during the period of his suspended sentence.
Antony Starr Personal life
It's not so easy to find things out about Antony Starr's private life. He doesn't talk about his personal life much in interviews, and rarely posts about his home life.
As such, it's hard to say for sure if Starr is in a relationship or not.
The last person that Antony Starr was confirmed to be dating was a fellow New Zealander named Lucy McLay.
Several photographs emerged of the couple attending events together. It is said that the two met in a restaurant in 2008, though they may have unknowingly crossed paths on the sets of 'Outrageous Fortune' in 2005.
McLay is a costume designer, and she's worked on all sorts of projects. She has film credits as an assistant costume designer for the 2018 action film The Meg.
It was an American production that was filmed partly in New Zealand.
Her most recent television work was as an assistant costume designer on the TV series 'The Shannara Chronicles', another American production filmed in New Zealand.
McLay and Starr worked on three different projects together: the film Without a Paddle (2004) and the TV shows Mercy Peak and Outrageous Fortune.
Did they split up?
While no sources have officially reported that Antony Starr and Lucy McLay split up, there is plenty of reason for speculation.
For one thing, the last project they worked on together was in 2007, when McLay served as the costume coordinator for an episode of Outrageous Fortune, a TV show in which Antony Starr played a lead role.
Some sources have begun to speculate that Antony Starr is dating his co-star from The Boys, Erin Moriarty.
It started when the popular Instagram gossip account @deuxmoi posted a series of emails from an anonymous source suggesting Starr and Moriarty were dating.
Also Read: Kene Holliday Biography
What is Antony Starr's Net worth?
Antony Starr is a New Zealand actor has a net worth of $2 million, as of 2022. In 2021, his net worth was estimated as $1.5 million.
He is believed to have an annual income of $500,000 USD.
That's a number, however, that is only going to grow considering the success of "The Boys" and the likely subsequent success of Starr's career.
He career is also in an upward direction, the way it is now with respect to the opportunities he has in hand. Therefore, there is no shortage of money in the stars.
Also Read: Cameron Broduer Actor Biography
Antony Starr Height and Weight
Antony Starr Height is 5 ft 11 inches which is equal to 1.80 metres or 180 cm. He weighs 75 kg which is equal to 165 lbs.
He is a very handsome and attractive actor with many men and women fans for his acting skills and looks.
Starr has black hair and dark eyes. His good looks have helped him in landing in several relationships.
Although he has kept his relationships private, he is sure have many girl friends.
Hope you enjoyed this article. Till we meet again with a new personality, you have a good time.
Next Read: Rocco Ritchie Actor Biography