Athing Mu has become a star since she won a gold medal in 2020, in Tokyo Olympics. She is widely famous because of her success at a very young age.
She was 19 only at that time. Athing Mu is very much devoted to her racing career. And this biography is all about the successful life of Athing Mu.
She is a true inspiration for today's youth. We know that you are excited to know about her so be with this biography ends.
Who is Athing Mu?
Athing Mu is an American middle-distance runner, who succeeded to win a gold medal in the 800 Meters distance running. She took part in the 2020 Tokyo Olympics.
She was very young at the end time; she was only 19 years old (young age).
She broke the national record which was set by Ajee' Wilson in 2017. Athing Mu set the world record under-20 record in the women's indoor 800 m in early 2021 with an amazing time of 1:58.40, and the world under-20 best in the indoor in 2019 when she was only 16 years old.
In today's world, she is the great inspiration of children. At an early age, she won the national titles and earned a great name and fame.
Athing Mu is the second-fastest ever, run indoors and the second-fastest run by an American woman, her time is 1:23.57 in 600 meters race.
Early Life of Athing Mu
Athing Mu was born on June 8, 2002, in Renton, New Jersey. She lives in the United States. Athing Mu's couch is Milton Mallard (Athletics Coach) Al Jennings (youth) Bernice Mitchell (youth).
She has 7 siblings and she is the second youngest among them. She is not married. Athing Mu has not disclosed the names of her parents. But her mother seems on her social media posts.
Her parents divorced in 2003. She has not disclosed much about them.
Athing Mu is a very active player. She is very fit. Athing Mu's height is 5 feet 10 inches or 1.78 meters.
Athing Mu's weight is 56 kg or 124 lbs. His eye color is black and his hair color is also black.
She has a routine and properly balanced diet to keep her body fit and active.
Athing Mu's Career as a Player
Mu broke the American women's record at the 600-meter event at the 600-meter Indoor Track and Field Championships, on 24 February 2019. Her Timing was only 1:23.57.
She performed outstandingly and broke the record of Alysia Montaño.
Athing Mu participated in indoor 50.52 in the women's 400 meters on 6 February 2021. She bested the previous collegiate level record by more than two seconds.
Mu won two gold medals in the Women's 800 meters and Women's 4 x 400 meters relay held at the 2020 Tokyo Olympic Games.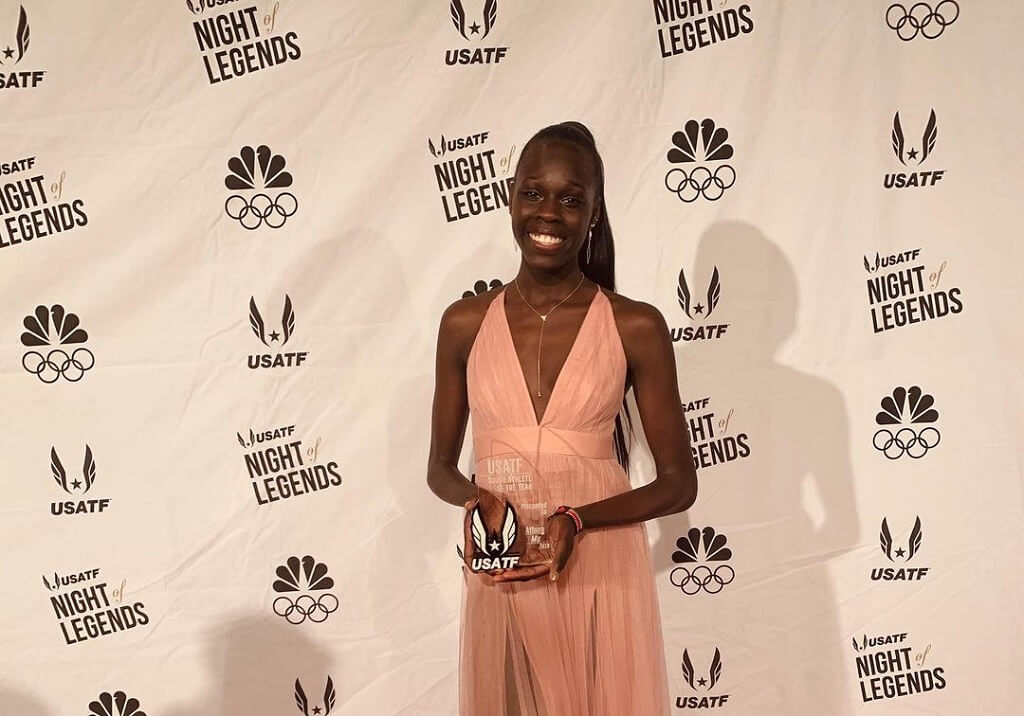 She is a fantastic player. She has already represented her country nationwide and she will be taking part in more competitions.
Athing Mu is continuing her career in this field and will be participating in other competitions as well.
Social media Appearance
She is active on social media. She often posts stories and posts. A thing is having a great influence over social media. She has a huge following of more than 121k on Instagram.
Her follower list truly shows her influence over the people around her from this whole world. Even she has sat a great influence over the young youth in today's world.
Net Worth of Athing Mu
The estimated Net Worth of Athing Mu is around USD 1.5 Million. She also earned from the brand Nike which is around $600,000. She earns a good amount. She is just 19 years old and has earned a lot.
Athing Mu's Relationship
Athing Mu is very secretive when it comes to love life and relationship matters. But it's speculated that she was dating a guy at a certain point in time. But Athing has not shared any information about her love life and relationships.
Medal Record of Athing Mu
Pan American U20 Championships
Gold Medal in 800 meters championship in 2019, San Jose.
Olympic games
Won gold medal in 800 meters, competition held in 2020 Tokyo.
Won gold medal in 4*400 meters, a competition held in 2020 Tokyo.
Youth Olympics games
Won silver medal in 800 meters, competitive held in 2018 Buenos Aries.
The Bottom Line
Athing Mu's biography is very inspirational. It motivates today's young youth to take part in physical activities.
she is I'm a very successful racer and she earned good wealth at such a young age. She has won gold medals and represented her country nation-wise.
Athing Mu won gold and silver medals in Olympic Games at such a young age.
Next Read: Sachin Tendulkar Biography
She has a good name and fame all over the world. Athing Mu is a fantastic player who could be seen achieving more success in the future.