No one knows when fortune can strike you and make you rich. When the opportunity comes, grab it with both hands!
This is what happened to a famous personality whose life changed from being poor and addicted to a rapping sensation.
Let us see who that person is!
Boosie Badazz Profile Summary
Name
Boosie Badazz
Birth Date
14 November 1982
Age
40 Years Old
Height
Feet & Inches: 5'5''
Centimeter: 165cm
Meter: 1.65m
Weight
Kilograms: 70kg
Pounds: 154Lbs
Net Worth
$800,000
Marital Status
Rapper
Marital Status
Single
Nationality
American
Who is Boosie?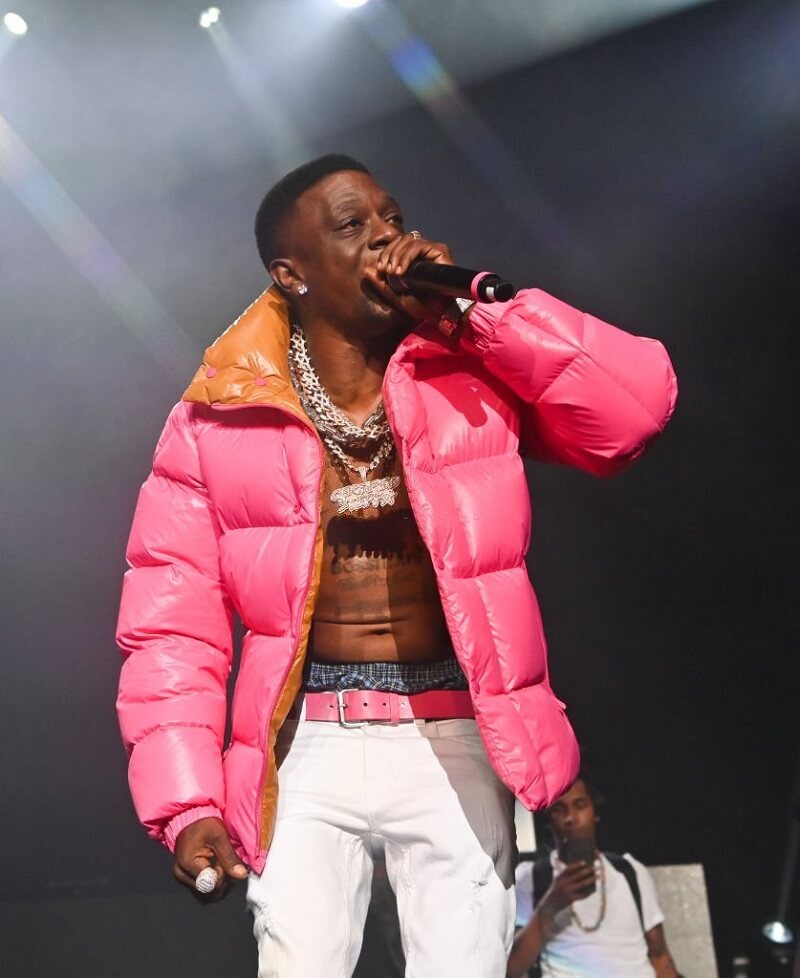 Boosie Badazz whose real name is Torrence Hatch, is a renowned American rapper. From starting his life on the rough streets of Baton Rouge to enjoying fame as a well-known rapper, Boosie has seen it all.
Despite all the ups and downs in his early life, and his struggle to be successful, he had enough willpower to make it big because he had a hidden talent for rapping in him.
Early Life of Boosie
Boosie Badazz was born Torrence Hatch on November 14, 1982. He is 40 years of age as of 2022.
His zodiac sign is Sagittarius.
Boosie has an American nationality and belongs to black ethnic descent.
Boosie was raised in Southside Baton Rouge, a notorious place in Louisiana, in the United States, which is known for drugs and gunplay. His father was a drug addict and struggled with addiction till his death in 1997.
Also, there is some speculation of his dad was murdered when he was just a teenager.
His mother was a schoolteacher. He has seven siblings who all have different mothers.
His parents nicknamed him Boosie and he was later called Lil Boosie. He studied at a local school in the states when misfortune struck him.
He was a good basketball player, and his mother hoped that his good sportsmanship would help him get into a good college. However, he got involved in drugs and was kicked out of high school.
Boosie Career
Boosie Badazz or Lil Boosie is a well-known American rapper, and hipster and has even acted in certain films.
Boosie Badazz founded Bad Azz Entertainment, a record label, in 2008. That year, he released 'Lil Boosie Presents: Da Click', which features 'Da Click (Hatch Boy, Locco, Quick, and Bleek)'.
He was also featured on the single 'Independent' by Webbie and was featured on 'Out Here Grindin' by DJ Khaled.
His latest business venture is his clothing line, Jewel House was launched in 2014 after he was out of prison. It did a business worth $4 million in eight months.
The name of the clothing line comes from his belief that his family members are his jewels.
In July 2017, Boosie tried his hand at some serious acting, and landed a role in the indie boxing film, 'Glass Jaw'. He plays the role of a street-savvy underground fight club operator.
He already has some acting experience as he had starred in some films earlier, like 'Gangsta Musik', and 'Last Dayz and Ghetto Stories: The Movie, where he played a small-time drug dealer.
Boosie has also given many hit playlists as a hip-hop artist. In 2014, after he was released from prison, he signed a record deal with Atlantic Records. His first single 'Show Da World' with Webbie was released.
He was featured on 'Beat Up the Block' by Dorrough Music, 'Wuda Cuda Shuda' by 2 Chainz, 'Face Down' by DJ Mustard, and many others, one after the other.
In October 2014, he released his mixtape 'Life After Deathrow'.
In April 2015, his sixth studio album 'Touchdown 2 Cause Hell' was released. It features 17 new tracks.
His prison time
In 2009, Hatch was sentenced to 4 years in prison on drug and gun charges. In 2010, he was indicted on first-degree murder charges.
In the same year, he was also sentenced to 10 years on multiple charges of drug possession with intent of distribution. After serving 5 years in prison, Hatch was released early on March 5, 2014.
Boosie Personal Life
Boosie is single as of the year 2022. He is a person who does not believe in dating or marriage but he has several physical relationships with many women.
Boosie has eight children with six women.
He has said that he did not believe marriage was a good choice for him, because he didn't want to lose half of his fortune to his spouse if he committed adultery.
Boosie has praised women who stay in a relationship with an unfaithful partner, saying he respects those women.
In 2010, one of his ex-girlfriends, Walnita "Nita" Decuir, was arrested on charges related to drug distribution for attempting to smuggle illicit substances to Boosie, reportedly marijuana, codeine, and MDMA, who, at the time, was incarcerated.
Thus, he was never married but has several children from different women.
His controversies
However, Boosie is clearly a homophobic person who has commented nasty things about many people. Most recently, Boosie went on a homophobic rant against gay rapper Lil Nas X in 2021.
He urged Lil Nas X to commit suicide for which he was deeply criticized.
He is too vocal about his being homophobic and has been involved in many controversies regarding it.
Also Read: Ángel Quezada Rapper Biography
Boosie Net Worth
Boosie has a net worth of $800,000 as of 2022. In the previous year, he was worth around $700,000.
It can be said that his career is flourishing as he keeps on making good hip-hop music and most of his income comes from this music industry.
He has also acted in a few movies and has received quite a handsome amount of nearly $30,000 quarterly. He has an annual income of $100,000. Also, as a band member of Concentration Camp, he earns around $20,000 per performance.
Also Read: Coi Leray Rapper Biography
Physical Appearance
Lil Boosie or Boosie Badazz is an attractive-looking man with a height of 5 feet 5 inches or 165 centimeters or 1.65 meters. He has a weight of around 70 kg or 154 lbs.
Boosie has black hair and black eyes and can even look intimidating at times.
However, it seems that he does maintain his body and appears to be fit and healthy though he has defeated cancer. He is also a survivor of diabetes type II, yet he is an appealing man.
Thank you for reading this article about Boosie. Do add your own opinion in the comments below!
Next Read: Sway Bentley Rapper Biography