Brian Tracy is the person to whom everyone runs during the need of career guidance. He is the man who has backed himself from a dark world.
He guides in such a way that directly hits a person's mind and they wake up to the new succeeding world.
His biography also gives inspiration that can change your future. Now it's your day and your time. So, read this inspirational biography of Brian Tracy and change your life quickly.
Brian Tracy profile Summary
Name: Brian Tracy
Date of Birth: 5 January 1944
Birth Place: Charlottetown, Prince Edward Island, Canada
Age: (as in 2021) 77 Years
Net Worth: $20 Million
Height: 6'6" feet
Profession: Businessman, Author, and Motivational Speaker
School: Dropped-Out
University: University of Alberta
Education: Master in Business
Martial Status: Married
Wife: Barbara Tracy
Marriage Date: 30 June 1979
Children: Daughter – Christina and Catherine, Son – Michael and David
Residence: San Diego, California, US
Nationality: Canadian and American
Who is Brian Tracy?
Brian Tracy is a renowned Canadian-American motivational speaker, author, and founder of Brian Tracy International company.
He is widely recognized because of his amazing skills that help people succeeding their dreams.
He has traveled to over 80 countries on six continents and has spoken French, German, Spanish, and of course English.
Tracy is also the writer of more than 70 books. Some of his famous books include Eat That Frog, No Excuses, The Psychology of Achievement, and The Power of Self-Disciplined.
Early Life of Brian Tracy
Brian Tracy was born on 5 January 1944 in Charlottetown, Prince Edward Island, Canada.
He had a very poor life during his childhood because of finance instability of his family. His dad failed to hold regular work and thus, Tracy and his three brothers needed to live with charity clothes. Things were so hard and he was looking at himself in the dark.
His parents are among the people who believe in high morals and big thinking.
Despite this, they used to speak the line "we can't afford it, we have no money." And so far, Tracy's curiosity was to know why he and his family hadn't enjoyed and luxurious life and why others had. His thinking later becomes a key factor behind his great successes.
Brian Tracy started his elementary schooling in a very average class school. Although, he had no intentions of studying after looking at his family conditions.
Following this, he decided to drop out of his school and started pursuing a self-made career.
Brian Tracy Career
Tracy didn't see any opportunity the study and thus he started traveling to different countries. He went out of Canada and traveled through North America before taking a ship to England.
Thereafter, he toured France, Spain, and Gibraltar. The travel ended after a long journey of almost eight years.
Brian Tracy saw numerous changes in his thoughts and conceptions after backing from the journey. He also stayed and worked with the popular Dr. Albert Schweitzer in South Africa.
Moreover, he became a black belt karate player in Shotokan Karate.
Tracy further traveled to London and then through Europe and the Middle East and later went to India, Malaysia, and Singapore. He says that he has traveled to about 80 countries so far.
Shortly, Tracy realized that he is the only one who can change his life. And thus, he thought to take action whether small or big. He shortly started working as a salesman in Canada.
Tracy was initially untrained and unqualified in his job and was the only thought to improve himself asap.
He started engaging with experienced salesmen and soon found himself better in his work. His efforts paid him more when he became the top salesman of the company.
After a single year, he became the vice president of the same company and that was quite a big position for a 25-year-old man.
Check out Brian Tracy's biography in video format:

Arise of Tracy's Success in his Life
The achievement brought a great experience which he further used to grow the company. When he realized that he could teach other people to succeed like him, he began The Phoenix Seminar in 1981.
The purpose of the seminar was to motivate the youth to do something greatly different from others.
Tracy later renamed the seminar The Psychology of Achievement and released it on cassette as a self-help guide.
The content of the seminar has been translated into more than 20 languages and has reached several records.
Brian Tracy founded a very successful company name Brian Tracy International in Vancouver, British Columbia, Canada in 1984.
The company sells counseling on goals, strategy, leadership, selling, creativity, success thinking, and much more. Tracy is the chairman and CEO of the company.
Currently, the headquarter of the company is located in Bankers Hill, San Diego, California. Moreover, Tracy has become the president of three different companies located in Solan Beach California.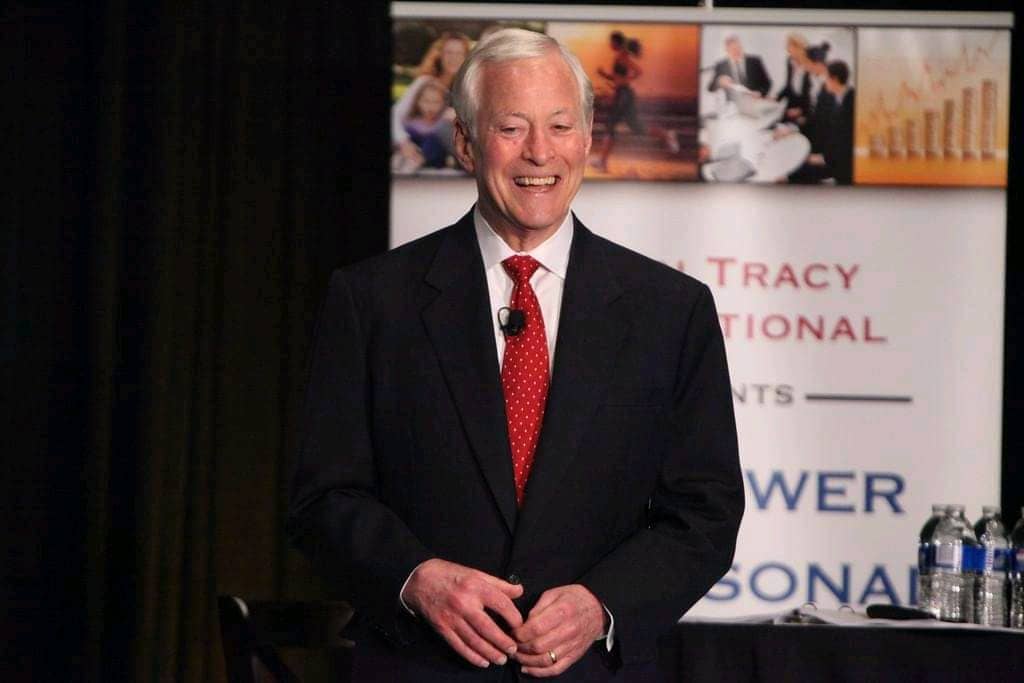 Brian Tracy is an author enthusiast which led him to write more than 80 books in his life. His very first self-written book is The Psychology of Selling which is originally published in 1985.
His further books include The Science of Self Confidence (1991), Maximum Achievement (1993), Hidden Power to Succeed (1993), etc.
Brian Tracy dropped out his school in his early times but later earns a Master of Business degree from the University of Alberta.
This is very ridiculous and also an inspiration for the ungraduated people. Do great things and degrees will come automatically,
Brian Tracy Cancer Period
Once, Brian Tracy was diagnosed with third-stage throat cancer in 2010. He was in a critical condition but his bravery and wishes let him out of this dangerous disease.
Later he achieves his victory over his cancer and defeated it. During his cancer period, he recorded all the treatments and experienced moments in a video to help people suffering from the same disease.
Such a work he did can't be expressed in words. Just think that he thought about the people even in his dangerous times.
Brian Tracy Wife, Marriage and Family
Brian Tracy is an engaged man who married Barbara Tracy on 30 June 1979. The couple has two sons named Michael Tracy and David Tracy, and two daughters named Christina Tracy and Catherine Tracy.
All his children have been married and Brian Tracy has become a successful grandfather too. One of his granddaughter's name is Romyn Tracy.
Tracy and his wife, Barbara, and his whole family are adventurous and love to travel and visit new places. In fact, he along with his wife once traveled to India and visited the Taj Mahal in October 2012.
Brian Tracy Net Worth
Brian Tracy estimated net worth is $20 Million which is increasing rapidly. He has a number of sources through which he adds his wealth. Some of them are books, advertisements, companies, and programs or events.
But do you know that Tracy is also a philanthropist? He knows how money is important for the poor people because he had lived such a life and thus, he tries to give them a good living.
He uses most of the money for charity through the Heritage Foundation.
Brian Tracy Social Media
Brian Tracy fans have shown their love for him on social media too. His social media profiles have a bundle of valuable followers that matters in his life. And obviously, it will be because he used to post very inspirational and motivational content there.
He currently has over 790K followers on his Instagram profile and over 2.3 million followers on his Facebook page. Apart from this, he has more than 475K followers on his Twitter profile.
Tracy has also his YouTube channel which he created on 9 May 2007. He has still posted more than 700 videos and has over 1.23 million subscribers on his channel.
Moreover, he is on Pinterest, LinkedIn and has also his personal blogs.
The Bottom Line
Brian Tracy is such an amazing man who has proved to the world that a person can do anything from being at zero levels. He is the author of dozens of books but has never made himself big in front of people.
His positive attitude expresses his goodness and unending love for his followers. Really, no one can replace him in his place.
Next Read: Nick Vijuicic biography and Life Story
I hope his life story has taught you something amazing. Please share your valuable feedback about the biography of Brian Tracy. Let you know achieve your success like him.