Here is a sneak peek about the social media phenomenon Brooke Ashely Hall. Brooke Ashley Hall is a well-known TikTok star with a diverse set of preferences on her social media sites.
She began her TikTok career by presenting some of the various exercise styles on TikTok. Apart from being famous on TikTok, she has a lot of fan-following on Instagram as well.
Let's know more about the interesting biography and life story of Brooke Ashely Hall.
Brooke Ashley Hall Profile Summary
Name
Brooke Ashley Hall
Birth Date
19 April 1993
Age
29 Years Old
Height
5 Feet 7 Inches
Net Worth
$1 Million
Profession
Social Media Personality, Fitness Model
Marital Status
Married
Husband
Marco Hall
Children
Mar'Cannon, Caedon
Nationality
American
Who is Brooke Ashley Hall?
Brooke Ashley Hall is an American social media personality and a model known for posting interesting content related to fitness, fashion, and makeup on her TikTok account.
Her TikTok account has a massive number of followers 11 million. Apart from being famous on TikTok, she's also very popular on Instagram with 1 million followers.
Brooke is also active on her family's YouTube channel 'The Beverly Halls'. YouTube channel 'The Beverly Halls' has immense popularity in the United States.
She is being credited for the success of this YouTube channel along with her husband MarcoHall.
Early Life of Brooke Ashley Hall
Brooke Ashley Hall was born on April 19, 1993, in the United States. She holds American nationality and was grown up in a Christian family. Being born and raised in the United States, she has mixed ancestry.
Though her childhood, parents, siblings, and other information are not in the spotlight of the media. Brooke rather prefers to keep this information outside the peering eyes of the media.
From a very early age, Brooke was fascinated by the world of fashion and makeup. She completed her early education in a local high school.
As per source information, Brooke quit college when she was bearing her first child. She became a mother at the age of 16 years old.
Brooke Ashley Hall Career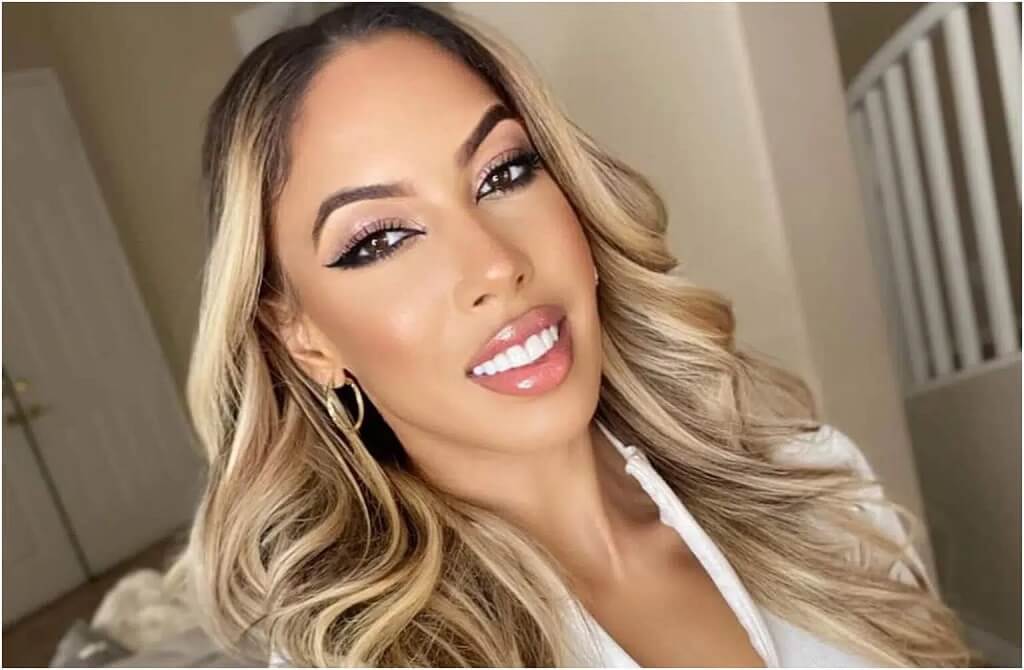 Brooke was already hooked by the world of fashion and makeup from a very young age.
Later, she decided to showcase her skills to the world by posting content on social media platforms like TikTok and Instagram.
Gradually her content became popular and she gained a massive following on her social media platforms. Brooke is also a fitness enthusiast.
She often posts videos demonstrating different kinds of exercises on her social media accounts.
Other than that Brooke also owns her separate YouTube channel named 'Brooke Hall' where she posts videos related to makeup, fashion, and fitness which has more than 137k subscribers.
Rise To Fame
Brooke Ashley Hall's popularity increased when she married a famous boxer and social media star Marco Hall.
Currently, Brooke also runs her family YouTube channel 'The Beverly Halls' which has more than 5 million subscribers. she also partners with famous brands related to fitness, makeup, and fashion.
Brooke Ashley Hall Personal Life
Brooke Ashley Hall is married to famous boxer and social media influencer Marco Hall. However, it is unclear when the couple actually got married.
We will keep you updated as soon we get information regarding their marriage information.
Marco Hall is recognized as stepfather to Brooke's eldest son named Braylon Rogers. The couple is blessed with two sons named Mar'Cannon and Caedon.
Also Read: Caroline Gregory Biography and Tik Tok Career
Brooke Ashley Hall's Net Worth
The young social media star has an estimated net worth of $1 Million. Most of her earnings come from social media platforms such as Instagram, TikTok, and YouTube.
Brooke's early life wasn't very luxurious. Gradually she became wealthy. Currently, Brooke has a luxurious lifestyle because of her earnings.
Brooke Ashley Hall has been earning an impressive amount of money by using many different social media platforms.
She shared the challenges she faced as a teen mum and how she overcame them with her fans. With a heartbroken expression, she said:
"16-year-old me with a baby who had to sleep in a cardboard box with pillows because I couldn't afford a crib."
Brooke is able to afford a lavish lifestyle for her children because of her successful social media career. This is what she said:
"Me finally able to give each of my children their own room."
Also Read: Who is TikToker Aya Tanjali?
Physical Appearance
Brooke Ashley Hall has a beautiful personality. She stands for 5 feet 7 inches (17o cm or 1.70 m) tall. She weighs approximately 68 kg or 149 lbs. Brooke has an impressive body measurement of 36-28-40 inches.
Brooke's eyes are warm brown which is well complimented by her blonde hair. She has a neutral undertone with fair skin.
She's also blessed with an oval face which makes her stand out.
Although she prefers to style a little flamboyant and wear bold colored outfits with chunky statement jewelry.
Thank you for reading this article about Brooke Ashely Hall. Please do share your precious thoughts and opinions about this article in the comments section below.
We would love to read them all.
Until we see you next time take care and keep spreading the light in the world because you matter.