Bernice Burgos' rise to the top of the game is the ultimate rags-to-riches story. The gorgeous model started from humble beginnings.
She is now one of the most respected figures in the fashion and modeling industries.
Burgos is mostly famous for being a video vixen. She has appeared in several videos for top artists such as Drake and J. Cole.
However, there is way more to her than sexy curves and a bubbly personality. This article will focus on Bernice's career, her family, and the drama she regularly has to deal with.
Let us take a look into the life of this highly successful woman.
Who is Burnice Burgos?
Burnice Burgos is a prominent American businesswoman, model, and social media personality. She is best known for sharing her pictures on Instagram and featuring in several music videos as a model.
Bernice is also known as the mother of the famous model Ashley Burgos. She is popular on social media, where she endorses top brands such as Fashion Nova and Icon Swim.
In addition, she has been featured in magazines such as Show and XXL.
Early Life of Burnice Burgos
Burnice was born on 17 April 1980 in Bronx, New York, USA. Bernice Burgos' age is 42 years as of 2023.
Her mother is Aleida Santiago Baggio, while the details of her father are unknown. She is of Puerto Rican descent.
Burnice Burgos' parents separated while she was young, and her mother got married to Peter Baggio. The social media personality was raised alongside three siblings, namely Luis, Rebecca, and Damaris.
Burgos had her first daughter Ashley, when she was 15 years old. Ashley's father wasn't supportive of Bernice, and she was embarrassed about being pregnant at such a young age.
The pregnancy changed Bernice's life.
Her grandmother kicked her out of the house, and she had to live with her boyfriend's mom. Bernice didn't pay rent, and she was forced to do chores around the house to live there.
The burden was so big for Bernice that she had to drop out of school.
Burnice Burgos Career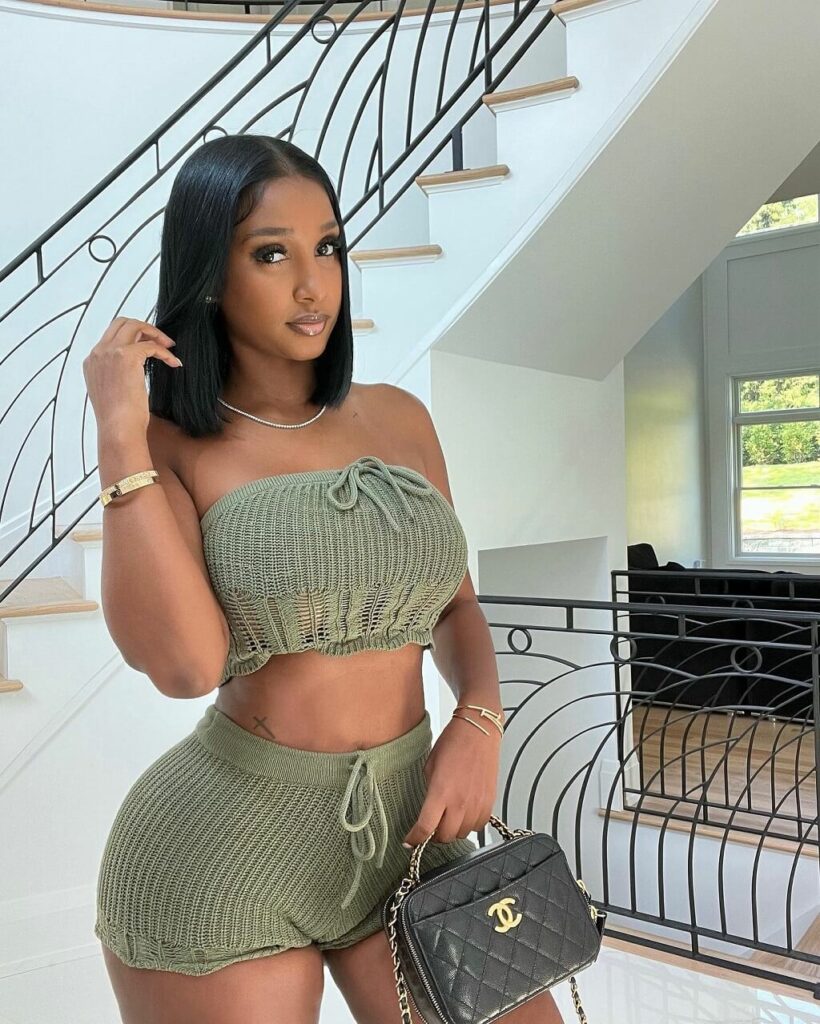 She started working as a bartender after dropping out of school.
Burnice discovered her modeling talent while at the job and later started appearing in music videos of popular artists such as J Cole and Rick Ross.
The mother of two is known for sharing her modeling pictures on her Instagram page and, as a result, has gained a massive following on the platform.
The American model also uses the platform to endorse reputable brands such as Icon Swim and Fashion Nova.
She co-owns Bold & Beautiful Sleepwear with her daughter Ashley.
She started in the modeling industry in her mid-20s. Burnice starred in Rick Ross's music video Diced Pineapples and released the song in 2012.
She has resumed booking modeling jobs since. Bernice has appeared in the comedy series Wild 'N Out, as well.
Early struggles of life
In an interview with The Breakfast Club, she talked about her struggles. "Having a child at 15, I had to like rush into being a mother… I'm over here being pregnant at 15.
It was so embarrassing because if you all think I have a babyface now when I was 15, I looked like I was 7. People were like, 'Oh my God! A baby having a baby.'… It just felt like, I don't know, it didn't feel good… I'm 15, but I got to act like I am 30."
She talked about the hard times she had been through. "The pregnancy changed my life. My grandmother kicked me out of the house, and I had to live with my boyfriend's mom.
I didn't pay rent, and they forced me to do chores around the house to live there. The burden was so big for me I had to drop out of school."
"After dropping out of high school, I worked as a bartender. I took part in modeling on the side, and it led me to a career as a video vixen."
Her outstanding personality and body made her an on-the-spot favorite with photographers and magazine editors. At the start of her career, she starred in magazines, including SHOW and XXL."
Burnice Burgos Personal Life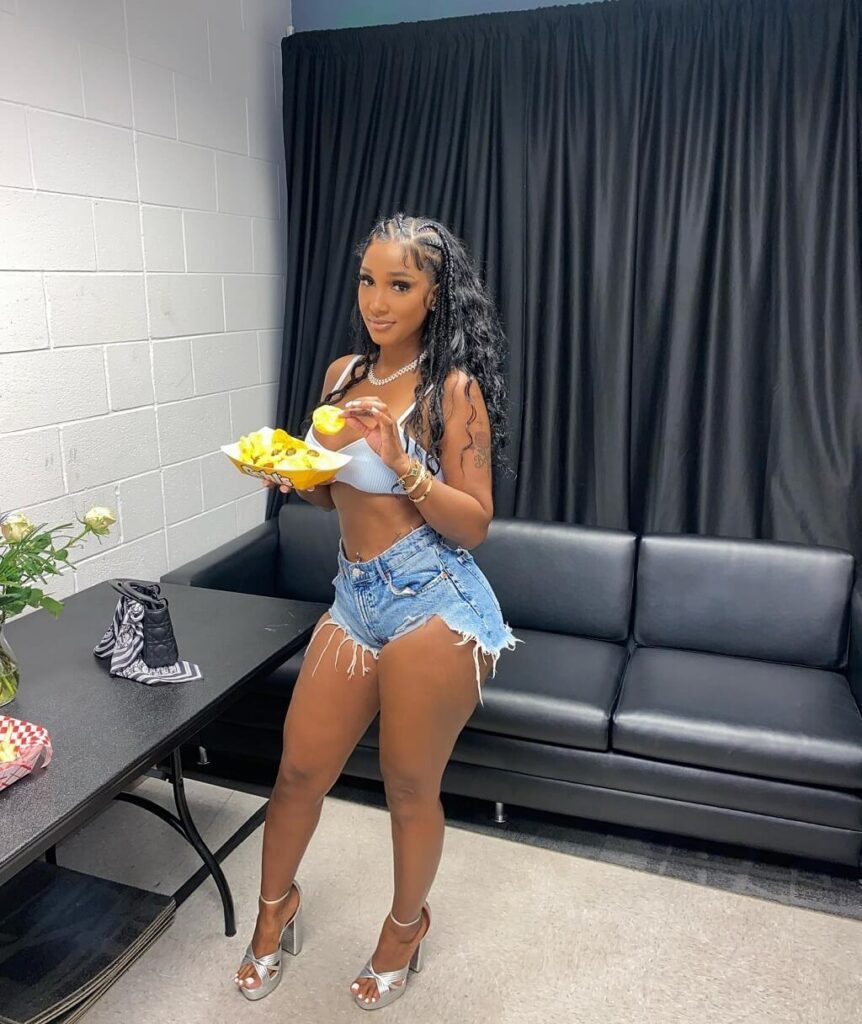 She is seemingly single at the moment.
Despite being single, Bernice has dated a few high-profile personalities in the American entertainment industry. She has allegedly been in at least six past relationships and has never been engaged.
The model is a mother of two. Her first-born child, Ashley Burgos, was born on 9 May 1996, while her second child, Sarai, was born in 2006. Ashley is a businesswoman, model, and social media celebrity.
She also has a grandchild.
The celebrity is available on Instagram, where she has 6.7 million followers. Her TikTok account has over 300 thousand followers, while her Twitter account is not as popular as her other social media accounts.
She launched her self-titled YouTube channel in August 2018, and it has over 47 thousand subscribers.
Also Read: Valerie Cossette Model Biography
What is Burnice Burgos' Net worth?
Bernice Burgos' net worth is approximately $2 million as of 2023. Her estimated net worth in 2022 was $1.5 million and she has an annual income of USD 500,000.
Bernice was making good money as a vixen and as a bartender, but she still desired to have her own business venture. Bernice's daughter came up with the idea of starting a clothing line.
Bernice and Ashley came up with the line Bold and Beautiful, and it turned out great for the mother-daughter combo. Bold and Beautiful is a clothing line that focuses on women's clothes.
Also Read: Yasmeen Ghauri Biography and Modeling Story
Burnice Burgos Height and Weight
Bernice Burgos' height is 5 feet 7 inches which is equal to 170 cm, and she weighs approximately 55 kg which is equal to 121 pounds. Her bust, waist and hips are 35-25-40 inches (91-64-102 cm).
She has black hair and dark brown eyes.
In an interview with Hollywood Life, the celebrity admitted that she had plastic surgery after giving birth to her second child. She added that the first cosmetic surgery was illegal and unsafe and was meant to enhance her hips.
Hope you enjoyed this article. Share your feedback with us in the comment section if you liked the article.
We will be soon back with a new personality. Till then, stay safe and healthy dear reader.
Next Read: Nata Lee Model Biography