Carley Noelle Shimkus is an American TV correspondent, producer, news anchor, and one of the top Fox News reporters.
She is best known for being one of the hosts of Fox and Friends. Shimkus has been with the program for a long time and is very popular.
Let us take a deep dive into the life of this smart and attractive journalist. She has a huge fan base, making her one of the sought-after personalities on TV.
Enjoy the article, dear friends.
Who is Carley Shimkus?
Carley Shimkus is currently serving as one of the hosts of the show Fox and Friends First. The FOX NEWS co-host has been with the company for over a decade.
She now serves as a co-host on FOX & Friends First, alongside Todd Piro.
Shimkus is also a correspondent for the FOX & Friends morning show, where she "reports on various social media trends, entertainment news, and consumer business news of the day,"
When she's not on air, she is often found on social media posing alongside her husband, Peter.
She started working with the network in 2009 as a production assistant on FOX Business Network (FBN). She was later promoted to associate producer for the show.
Now, she and her co-host Todd Piro start off the Network's programming every week. She reports on various social media trends and consumer businesses on the show.
Early Life of Carley Shimkus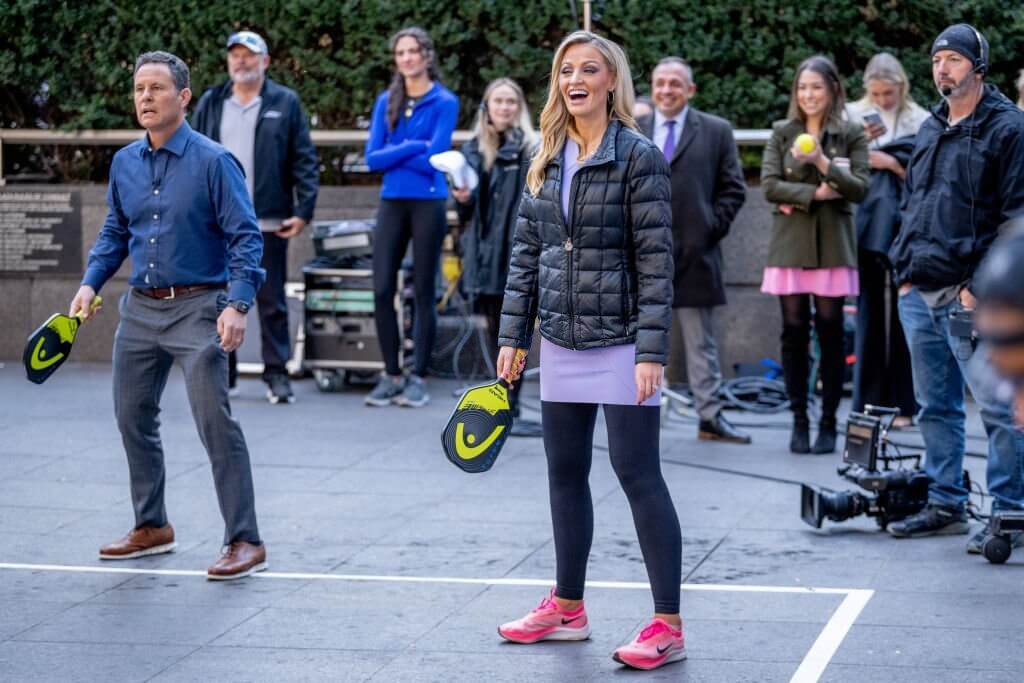 Carley Shimkus was born on 07th November 1986 in Long Valley, New Jersey. In her early years, she grew up with her sister, Margot.
As of 2023, she is 37 years old.
She holds an American nationality. Carley's family is of mixed ethnicity as her father is of Lithuanian descent while her mother is of Puerto Rican descent.
Carley's parents are Zulma Shimkus, aged 67, and Edward Shimkus, aged 74. As she has said, her parents met on an airplane in 1982, as her mother was a flight attendant for United Airlines and her dad a passenger.
Her father was a chemist. She studied at Quinnipiac University between 2005 and 2009.
Her perseverance helped, along with a group of students, to have the opportunity of attending a semester at George Washington University in order to attend a course in journalism studies.
Carley finished her education years with a Bachelor of Arts degree, majoring in Broadcast Journalism. The humanistic career path also followed Carley's sister, Margot, who chose to be an artist and an art teacher.
If we dig into Carley's social media presence, concerning her relationship with her parents, we can also see that she simply loves sharing photos with her parents on Twitter.
At a young age itself, Carley managed to become one of America's most talented journalists of the moment.
Moreover, she's also a social media guru, passionate about her vocation and professional preferences. She loves- Travel, Reading, and Music.
Carley Shimkus Career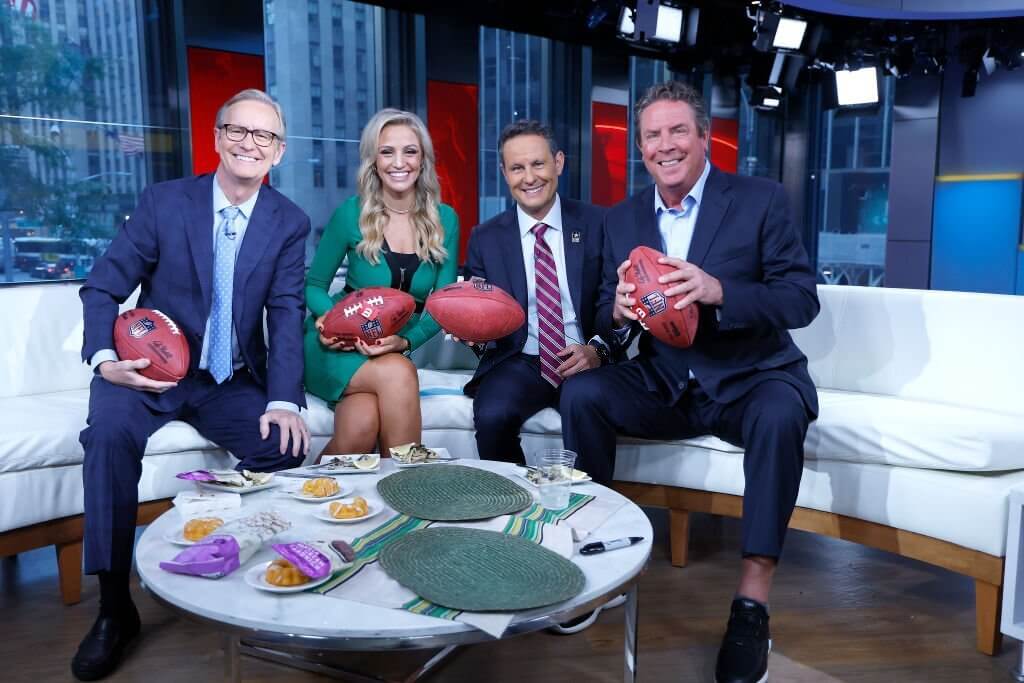 Carley Shimkus currently serves as a co-host on FOX News Channel's chat shows FOX & Friends First.
She joined the network in 2009 as a production assistant on FOX Business Network (FBN), where she was later promoted to associate producer.
In this capacity, Carley Shimkus along with her FOX & Friends First co-host Todd Piro, kicked off the network's live weekday programming.
In addition, she provides viewers with news updates on FNC's signature morning show FOX & Friends, where she reports on various social media trends, entertainment news, and consumer business news of the day.
Previously, Shimkus served as a reporter for FOX News Headlines 24/7.
In this role, she covered various social media trends and entertainment news across the network's programming, including FOX & Friends and Mediabuzz.
She has also served as a substitute anchor on FNC and a co-host for FOX Nation.
Throughout her tenure with the network, Shimkus has co-hosted various network specials, including Countdown to All-American New Year alongside FNC's Griff Jenkins in 2018.
Shimkus graduated from Quinnipiac University where she earned a degree in Broadcast Journalism.
Carley Shimkus Personal Life
Carley is married to Peter Buchignani, a businessman. In 2023 year, they celebrated 10 years of love relationship.
They met when Carley was 23 years old.
2013 was the year in which they stated that they are officially together. Two years later, in 2015, they took their relationship to a new level, tying the knot on August 8, 2015.
They hosted a fancy party to celebrate in her home state of New Jersey.
The vows that the beautiful and young couple exchanged were overwhelming. They brought happiness and emotion to all the friends and relatives invited to the big event.
The marriage was first publicly announced by a press source during the radio show named Imus in the morning.
A well-qualified husband for Shimkus
If the beautiful blonde reporter has an impressive educational background, this is also the case of her husband. Peter graduated from Princeton University, obtaining a degree in Political Science.
He also worked for a number of well-known financial houses, like Deutsche Bank or Barclays Capital. His current working role is as a sales analyst at Amherst Pierpont Securities.
During their relationship, Carley and Peter traveled together around the world, through countries like Australia, Scotland or Greece.
Also, a great fact about their love relationship and marriage is that from the even beginning no gossip or controversy was linked to their feelings.
Also Read: Cheryl Hickey TV Host Biography
What is Carley Shimkus' Net worth?
As per 2023, the estimated net worth of Carley Shimkus is $2 million and he estimated net worth in 2022 was $1.7 million.
According to the official updated reports, the estimated Carley Shimkus salary is around USD 290,000.
She has accumulated her net worth with the versatility she has shown in each field she has worked in. Her main source of earnings is from her journalism career.
As she progresses in her career, her net worth is projected to rise.
The estimation of her net worth comes from her newscasting career. Also, she is earning from her social media accounts, where she charges hundreds of dollars per post.
She is pretty famous on Instagram. Her account has been followed by over 100k people and she is quite active on the platform.
She has posted over 600 times so far on her account.
Also Read: Ben Mulroney Biography and TV Host Career
Carley Shimkus Height and Weight
Shimkus stands at an average height of 5 feet 10 inches which is equal to 177 centimetres or 1.77m. Before settling on being a journalist, she tried modeling due to her good height.
She weighs approximately 54 kg which is equal to 118 lbs. She has a slim body type and looks very attractive even in late thirties.
Her looks have also added value to her presentation skills on TV in winning over many fans.
Hope you enjoyed reading about about Carley Shimkus. Share with us your valuable feedback in the comments section.
We will see again with a new and interesting personality soon. Till then, good wishes to you and the serious reader in you.
Next Read: Lunga Shabalala Biography