Being people's favorite journalist with some amazing aptitudes, Carolyn Manno is leading all the way of her life. If you are a keen viewer of the CNN channel, then how you can forget this wonderful broadcast journalist.
But if missed, then don't worry as below we have covered her life story in a brief-explained way. So, start reading her biography and know who really, she is and why she is that famous.
Profile Summary
Name: Carolyn Manno
Birth Date: 16 July 1984
Birth Place: Florida, United State
Age: 37 Years
Height: 5 Feet 6 Inches
Net Worth: $1 million USD
Profession: Journalist
University: University of Florida
Education: Bachelor in Broadcast Journalism
Marital Status: Unmarried
Nationality: American
Residence: New York, United State
Who is Carolyn Manno?
Carolyn Manno is a renowned American journalist, reporter, and TV host. She is best recognized as one of the best full-time broadcast journalists at CNN.
Besides this, she works as a host at American Kennel Club in New York, United State.
Carolyn has achieved a lot in her life, including two awards for her profession. Let's explore her biography below and get familiar with a great lady.
Carolyn Manno was born on 16 July 1984 in Florida, United State. There is no information available about her father and mother as she never revealed it.
Actually, she became so secretive when it comes to her past life and family background.
However, it is well-known that she attended the University of Florida and earned a Bachelor's degree in Broadcast Journalism.
Carolyn Manno Career
Carolyn Manno started her career as a journalist initially after completing her college education.
In January 2009, she began her job as a sports anchor at Comcast, a global media and technology company based in Philadelphia, Pennsylvania.
She launched the network's first daily sports news program and brought more than one million viewers to her program. Thus, she helped a lot in growing the company on a broad level.
In December 2012, Carolyn quit her job at Comcast and then joined NBC Sports Group as a Host.
She became the host and reporter for various award-winning assets, including the Tour de France, Football Night in America, and the Olympic and Paralympic Games.
Also, she became the first lady to be appointed as a full-time NBC Sports Network female reporter.
Later, Carolyn also signed a multi-year agreement to work as a reporter for the NFL on NBC's Football Night in America. She worked here for almost 7 years and then decided to quit her job in December 2018.
Rise to Success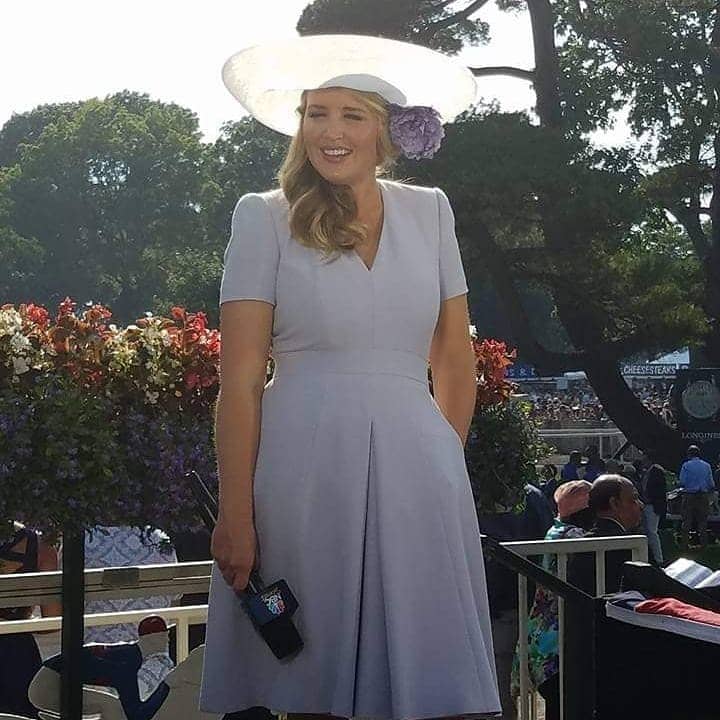 In August 2019, Carolyn joined United States Tennis Association (USTS) as a host. She eventually launched a live streaming second screen experience and first of its kind digital lifestyle channel named US Open Now.
She worked a lot for the company and gave extraordinary results to them. Due to her, more than a million new viewers were attracted to this channel and got addicted to it.
She shortly achieved numerous titles for being the host of the program US Open Now.
However, Carolyn just worked for two months in the company and left it in September 2019. Around this time, she was already working as a Host at American Kennel Club.
She joined the company in January 2019 and gave her best for them.
In fact, it's been more than 2 years and 9 months since she is working in the company as a host. Besides this, she is a full-time Broadcast Journalist at the very famous media company CNN.
Carolyn has shown amazing performance at every company she worked for. She even won IBA's Indiana Spectrum Award for journalistic excellence from the Indian Broadcasters Associations.
Apart from this, she is the winner of the Edward R Murrow Award for Sports Journalism.
Carolyn Manno Personal Life
Carolyn Manno is a good-hearted personality who doesn't regret when something came for help. Off the screen, she is a philanthropist who actively supports and donates to non-profits for helping needy people.
As a sports journalist and host, it would be obvious for her to be in love with various sports. However, she loves being adventurous more than watching games.
She mostly spends her time in Greece during vacation while adding an option to visit the African Safari.
Talking about Carolyn's relationship, it seems that she is unmarried and is still a bachelor too. As a secretive lady, she has kept her personal life very far from public attention.
But as per her appearance on social media handles, she seems single which means she is not dating anyone.
Maybe, she is still focusing on her career and is looking for brighter days. She currently resides in New York, United State.
Carolyn Manno Net Worth
Carolyn Manno estimated net worth is $1 million US dollars. She has earned most of her capital through her career as a journalist at CNN.
Being a host and reporter at other companies, she has also earned a huge amount of money. Besides this, she has earned an abundant amount of money by doing paid promotions and advertisements for brands.
At all, she has sustained herself as a strong independent lady and now enjoying her life in a dashing way.
Social Media Appearance
If we look at her social media appearance, she is highly famous there with thousands of followers on her handle.
As of now, the journalist has more than 6.4K followers on Instagram and over 14.3K followers on Twitter.
Also, she is available on Facebook and LinkedIn where she has more than 3.9K friends and over 45 connections respectively. Next to read: Who is Journalist Abby Hornacek