As a star kid, Casie Colson Baker has earned huge fame since she came into the limelight. Nowadays, she is among the top popular kids who are winning people's hearts through their beautiful appearance.
Let's see who the kid is and how she became famous at this level.
Profile Summary
Name: Casie Colson Baker
Birth Date: 23 July 2008
Birth Place: California, United State
Age: 15 Years
Father: Colson Baker
Mother: Emma Cannon
Nationality: American
Residence: United State
Who is Casie Colson Baker?
Casie Colson Baker is a famous star kid known for being the only daughter of the famous actor and singer Machine Gun Kelly (MGK).
The two are highly recognized as one of the best notable bonds who are like pillars for each other. The two have been always seen making fun and entertaining each other.
With these lines, it seems like they are couples. But not, they are an example of a strong relationship between a father and a daughter.
Being a famous actor, MGK is upbringing his daughter in the right way. In fact, he is involving in the film industry from now. It really gives a positive signal that Casie is going to be a world-class actress in the coming years.
Early Life of Casie Colson Baker
Casie Colson Baker was born on 23 July 2008 in California, United State to her mom Emma Cannon and dad Colson Baker aka Machine Gun Kelly.
He was just 18 years old when he became the father of this cute daughter. Despite his own dysfunctional beginning, he committed to nourishing his daughter, even if needed to steal diapers from Walmart.
Now, the cost of Casie's supplies is no longer a concern for him, but the price of his own value is. Most of the time, MGK seems to protect Casie from the photographers, especially from the paparazzi.
He is raising her daughter in a peaceful environment that is far from the people's noise.
In fact, he occasionally talks about his daughter's personal things. And when he talks, he prefers himself to be a secretive man with no intention of expressing his full thoughts.
In his inaugural post on Instagram, he posted an image of Casie sleeping in his arms. He captioned, "How is she mine wtf wtf ?? #fathersday."
Casie Colson Initial Career
Casie Colson is still a kid who recently entered her teenage age. However, she would surely look something different because of her great father.
In some articles, it is mentioned that the father and daughter can be soon seen in a film together. This means that MGK is ready to present Casie on the big stages.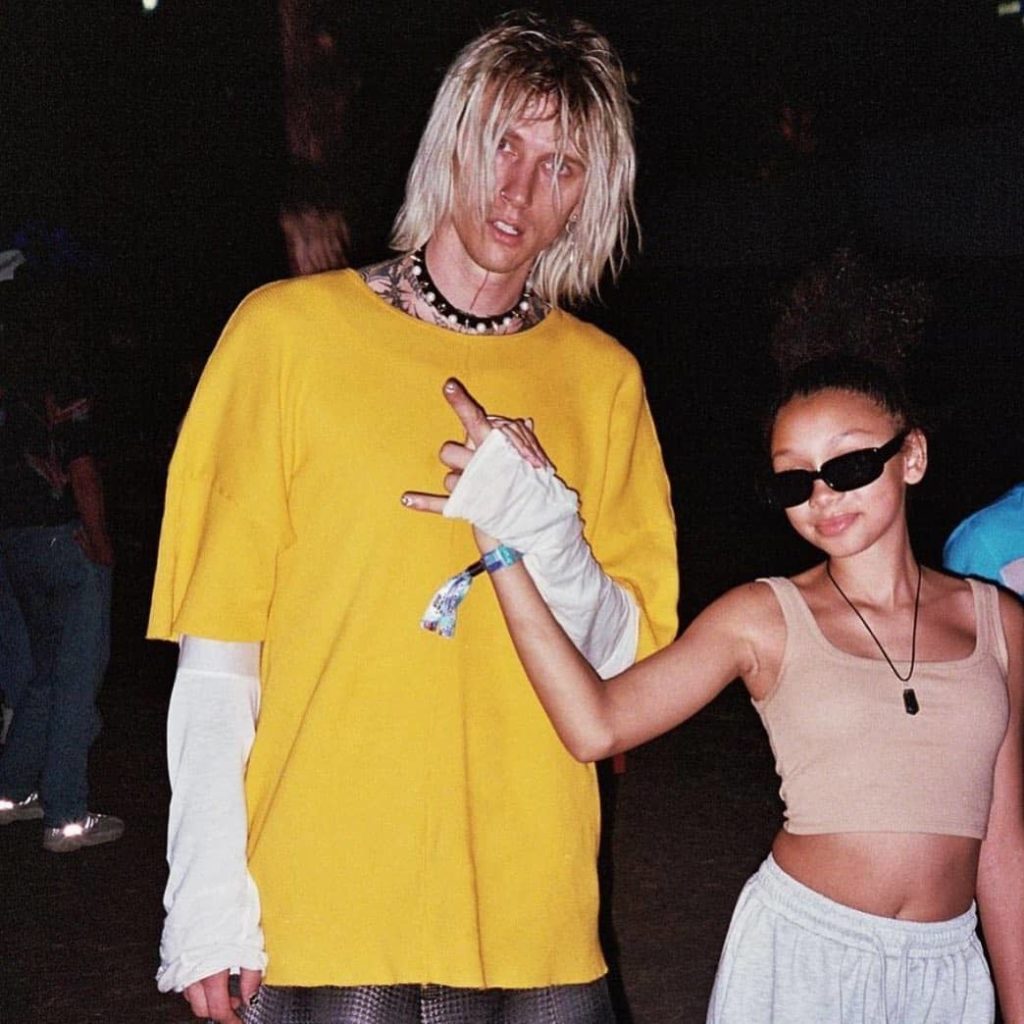 It has been estimated that the first film with Casie would be released in early 2022. Everyone is curious to see her as a kid actress along with her father.
If we talk about her relationship with her mother, it seems that she still lives and spent time with her. Although, she kept herself away from the spotlight.
Fans have shown a huge interest in knowing more about her mother Emma Cannon. But sadly, her unavailability in public is the cause why no one knows about her.
Anyway, Casie enjoys her father more than everything she has. Their relationship could be easily recognized by taking a look at her father's Instagram handle.
Who is Casie Baker's Father MGK?
Casie Backer's father Colson Baker, professionally known as Machine Gun Kelly (MGK) is a renowned American rapper, singer, actor, and songwriter.
He is best known for his compositional blending of contemporary and alternative hip hop with rock. He was born on 22 April 1990 in Houston, Texas.
He attended Shaker Heights High School where he did his primary education.
MGK has appeared in more than 13 films and in more than 5 Television series. Till now, the actor and singer have been nominated for more than 23 awards of which he won about 20.
While MGK was in his teens, he fell in love with Emma Cannon with whom he blessed with a daughter on 23 July 2008 and named Casie Colson Baker.
Later, he dated a model and actress Amber Rose in April 2015. However, they shortly broke up after which MGK engaged in a relationship with model Sommer Ray in March 2020.
But the couple also fails to hold their relationship for long. Right now, MGK is dating actress Megan Fox.
Next Read: Who is Sophia Diamond?