The name Chip Hailstone is famous in this world as the survival of the fittest man in the Alaska wilderness. The Nat Geo documentary 'Life below Zero' fame Chip is a living legend today.
His survival techniques, hunting, and craft-making skills made him survive in the remote Noorvik region in Alaska. It has helped many adventure seekers, hunters, and tourists to learn from the masters before visiting wilderness in Alaska.
Learn more about his family, how they live here, and their contribution to the BBC-produced series.
Profile Summary
Name: Edward V Hailstone
Nick Name: Chip
Birth Date: 8th March 1969
Age: 52-years and 6 months
Height: 5-Ft & 8-Inches or 1.76-m
Net Worth: 1 Million USD
Profession: Hunter/ Survival Expert/ TV Personality
Education: Unknown
Father: Daniel Hailstone
Mother: Marry
Brother: Doug and Jon Carter
Sister: Tinmiaq, Iriqtak, Mary, Caroline, and Quotan
Marital Status: Married
Wife: Agnes
Who is Chip Hailstone?
Chip Hailstone is an American hunter and TV personality who spends his adulthood in Alaska. He came to be a famous personality after Nat Geo took real-time survival series in Noorvik, Alaska. The 'Life below Zero' series is inclusive of other 5 members who are living alongside the River Kobuk.
He is a hunter of aquatic and terrain animals found in the Alaska wilderness. He gather food by hunting is for survival. He led his family, thereby teaching them survival skills. He does traditional trading with their hunted animals and fish.
Chip Hailstone Early Life
Chip Hailstone was born and brought up in Kalispell, Montana, the USA. He belongs to the white race of America. Very less is known about his childhood, education, and profession he did in his hometown before he landed in the remote region in Alaska.
Yet, at the age of 19, his father took him to Alaska became a turning point in his life.
Chip got fond of wilderness present in Alaska State. He decided to settle here with the life survival skill lessons and hunting skills though by his father when he was young.
Those skills became a routine to live in the remote zone where you are away from the modern world or civilization.
Chip Hailstone Career
Chip is a professional hunter, trapper, skinner, and harvester in Noorvik, Alaska. Most of the gatherings by him and his family members were stocked as food. He does sell the excess as a barter system within the tribal people living in that region.
His living in Alaska did not go to waste as the BBC selected him and five other people who were in this region to show how they survived in this wilderness in real-time. The series named 'Life below Zero' made him a famous TV personality later. Not only Chip, but it also showed his entire family members like his five daughters, two sons, and his beloved wife.
The 'Life below Zero' got two Emmy awards in 2016 and 2017. These two awards were given on the best outstanding cinematography and unstructured reality program. Yet, it was selected four times earlier when the series began to telecast worldwide.
Chip Hailstone Personal Life
Chip Hailstone is a nature lover and wildlife lover. It is why he has decided to settle in the wilderness of Alaska. He loves Mother Nature present here and though his family to live with Mother Nature. Chip loves adventures in the wild, lakes, and mountains.
Today, he lives in those unseen scenic places where we cannot survive for a day. Chip Hailstone got married to Agnes in mid of the 1990s. They have five daughters. His two sons seem to be born out of an earlier relationship, which his wife still accepts her sons and lives with them together.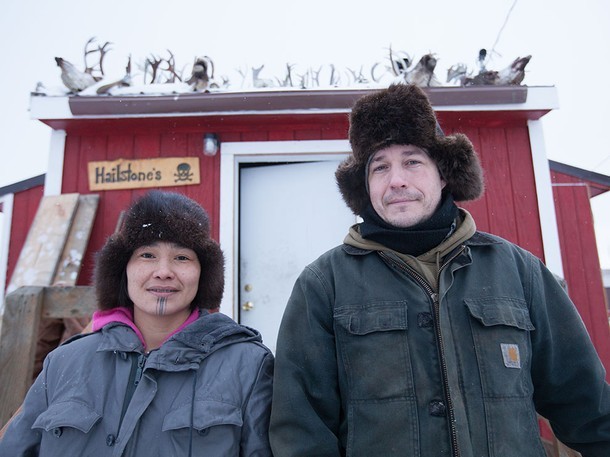 He is a great father who taught his survival skills to his children as he learned from his father.
Chip and his wife never think they are living a nomadic life. Chip and Agnes knew the value of education and sent their daughters to high school in the nearby province. You can see those educational standards as their daughters speak in 'Life below Zero' reality TV show.
Chips' wife is a native Alaskan. Thus, Chip was able to learn much from the tribal community surviving here. He does shift his territory as the weather condition becomes too cold to survive. They live together in a small community and survive by hunting and harvesting for their own uses.
Chip Hailstone became more famous when he was sentenced to jail for 5-years while he was in the 'Life below Zero' reality TV show. It was his mistake. He purposefully filed a false complaint for which he was found guilty. Yet, their family accepted him, and they are living a nomadic life in the wilderness of Alaska.
Chip Hailstone Social Media Influence
Chip and his family live in a region where there is no electricity and internet. Thus, they are away from social media platforms. Yet, they have influenced much on the top 5 social media platforms due to their presence in 'Life below Zero' reality TV series on Nat Geo.
Thus, their photos and videos are circulated among his fans.
Chip Hailstone has influenced social media by living in the wilderness of Alaska. You must be aware of similar names on Facebook, Twitter, and YouTube channels. Yet, they are present in all 'Life below Zero' promotional partners, who do post their updates on many social media sites.
Chip Hailstone Net Worth
Chip Hailstone does barter trading with the Alaskan tribes. Thus, it did not involve US dollars. It seems he did not earn much money when he was in Montana. Yet, he made $ 45,000 annually by live performing in 'Life below Zero' reality TV show. As of 2020, his net worth is 1-million USD.
The Bottom Line
People willing to seek adventure in the wilderness of Alaska must learn from Chip Hailstones' life lessons. He has been there for more than four decades and survives in the cold climate, varied terrain, and wildlife of Alaska with his family members. Let you share your feedback with us about this popular man.