Coco Jones is an iconic figure, who has done very well In her career. She began as a child actress, and a singer as well.
She gained immense popularity for her work on Radio Disney. Later, she was featured in several Disney movies and shows, which presented her internationally.
Who is Coco Jones?
Courtney 'Coco' Jones is an American singer, songwriter, and actress known for the Disney Channel film, 'Let It Shine', Radio Disney's 'Next Big Thing', or N.B.T., her debut single 'Holla at the DJ' and her extended play 'Made Of'.
This young talent with a three-octave mezzo-soprano vocal range cites artists like Jennifer Hudson and Celine Dion.
Early Life of Coco Jones
Coco Jones was born on January 4, 1998. She is 24 years of age as of 2022. Her zodiac sign is Capricorn.
Coco Jones was born in Columbia, South Carolina, in the United States. Thus she holds an American nationality. She belongs to native African American descent.
Coco Jones was born to Mike Jones, her father, and Javonda Jones, her mother as one of their four children. Her father played in the NFL for nine seasons for four teams and her mother is a local studio singer in the United States.
Coco has three siblings – Steven, Aja, and Mike Jr who all were raised in Lebanon and Tennessee.
As far as her education is concerned, she completed her early schooling at a local school in Tennessee, and whether she is a college graduate or not is not known as of now.
However, she was more interested in singing from a very early age and made her first stage performance at her kindergarten graduation in front of a packed auditorium of parents singing 'America the Beautiful' at just six years of age.
Coco Jones Career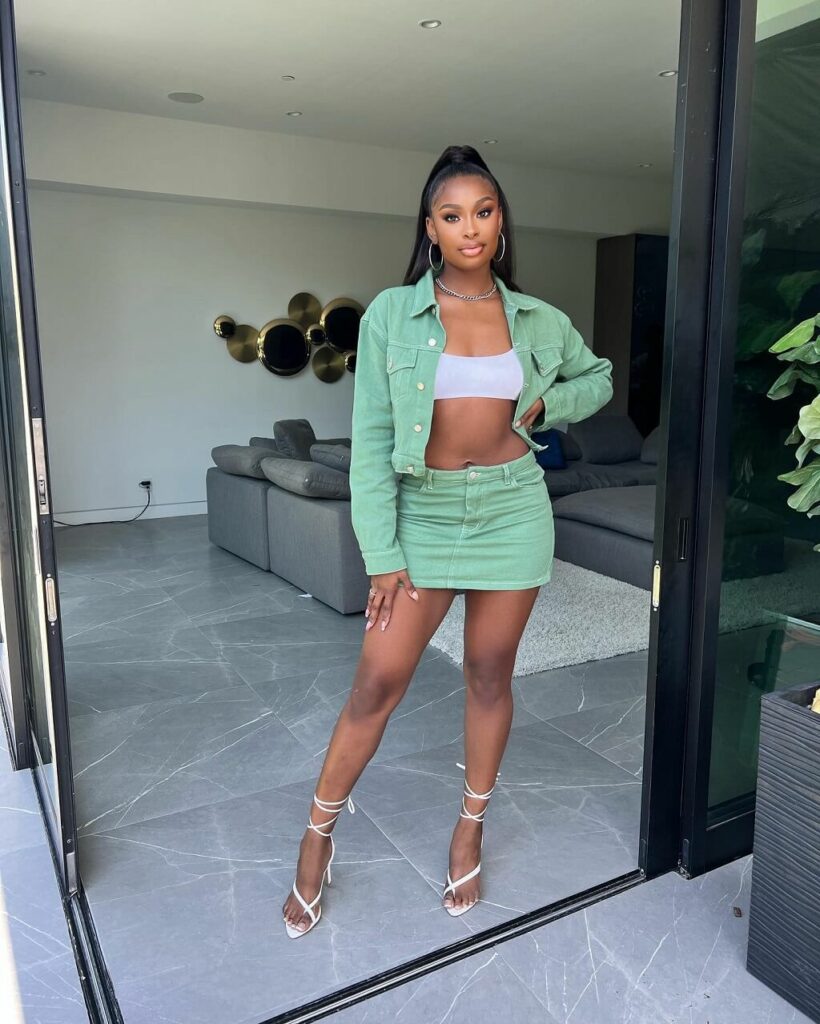 At the start of her career, she worked in Disney Channels Worldwide Inc owned the American radio network 'Radio Disney' in 2006, and garnered attention for the song 'Real You'.
She performed live on Maury Povich show which hosted syndicated American tabloid talk show 'Maury Povich Show' in its episode 'The Most Talented Kids'.
In October 2010, she released her eponymous debut CD 'Coco Jones' which paved the way for her concert series, 'UBU-STOP THE BULLYING'.
She also joined 'Radio Disney's Next BIG Thing' taking part in its Season 3.
Later, she performed 'Stand Up' and took part in the American Disney Channel sketch comedy series 'So Random!'.
Her breakthrough came by starring in the role of Roxanne "Roxie" Andrews, a famous singer, in the Paul Hoen-directed Disney Channel Original Movie 'Let It Shine' at just 14 giving Coco widespread recognition and popularity.
She has also contributed singly in tracks 'What I Said', 'Who I'm Gonna Be' and 'Good to Be Home'; and with Tyler James Williams in tracks 'Guardian Angel', 'Me and You' and 'Let It Shine'.
In 2012 her debut single 'Holla at the DJ' had a December 6 premiere on Radio Disney and a release on iTunes on the following day.
She also performed at the NAACP Awards Nominees Luncheon.She played the role of Kelsey in five episodes of the American sitcom 'Good Luck Charlie' during 2012-2013.
The 2017 Gregory Caruso-directed adventure comedy-drama film 'Flock of Four' featured Coco in the role of Ava Moore.
Over the years, she has also spawned singles like 'Glitter' (2014) along with country artist Katie Armiger from Sugar Land, Texas; 'Let 'em Know' (2015); and 'Let Me Check It' (2017).
She has also featured in several tracks including in 'Whodunit' and 'Don't Push Me' from 'Shake It Up: Live 2 Dance' (2012); 'Guardian Angel' and 'Me and You' from 'Let It Shine' (2012); and 'Lights All Over the World' from 'Disney Holidays Unwrapped' (2013) among others.
Coco Jones Personal Life
Coco Jones is single as of December 2022. She is not in any relationship at present.
Coco is a very private person regarding her personal life and does not share any information with her audience. It seems that she is more interested in shaping up her career first.
Also, there are no reports of her previous relationships. It seems that she has maintained a clean profile and has shown no interest in dating.
Also Read: How Tall is Bad Bunny?
Coco Jones Net Worth
Coco Jones is an Actress, and singer who has a net worth of $3 Million. In the previous year, she had a net worth of $2.75 Million.
Coco Jones is a very famous celebrity in America. She is a very famous singer and actress, who has achieved decent success in her career.
Her acting career becomes her primary source of income and she receives an amount of $0.25 Million annually.
Her assets include several cars in her collection. She loves cars and owns a Jaguar, Mercedes, and an Audi.
Later, she began singing, which increased her popularity even more. Currently, she lives with her family in Nashville and owns a beautiful house there.
Also Read: How Tall is Cassidy Hutchinson?
Physical Appearance
Coco Jones is a pretty lady with a gorgeous figure. She has a height of around 5 feet 9 inches or 175 centimeters or 1.75 meters.
Coco Jones also maintains a good weight of 55 kg or 121 lbs. She has dark brown eyes and has black curly hair.
Coco also has her body measurements as 34-27-37. She does workout regularly and maintains a healthy diet.
Thank you for reading this article about Coco Jones. Please feel free to share any thoughts and opinions or any other interesting fact that you may come across and write it down in the comments section below.
Happy reading!
Next Read: How Tall is Adam Driver?