No Doubt, music is an explosion of one's soul. Most of the time, it is the only medicine a heart and a soul need. Music is what feelings sound like. It comes directly from the heart and gets through everything.
A vocalist is the one who is converting these feelings into songs. If a singer is a writer too, it's the icing on the cake.
Let's go through the life of one of the melodious, honey-voiced, and lyrical soothing singers, Damiano David.
Who is Damiano David?
Damiano David is a well-known rock singer and songwriter. He is also a vocalist, social media influencer, and entrepreneur from Rome, Italy.
He is one of the talented Singers who gained fame at a very young age. Damiano David is a prominent member of the Band "Maneskin".
He serves the position as frontman vocalist of this rock band. He has also done live concerts and music shows.
Damiano David gained popularity after he and his band competed in the X-Factor program in the year 2017.
In 2021, they won the Sanremo Music Festival and subsequently the Eurovision song contest with the song "Zitti e buoni". Due to this Damiano, David has gained vast popularity among the people.
Early Life of Damiano David
Damiano David was born on 8 January 1999 in Rome, Italy. His parents Danele David and Rosa Scognamiglio are both flight attendants.
He has only one brother Jacopo David. As per their parent's job requirements, he and his brother traveled throughout the world from an early age, introducing themselves to different cultures.
That's why Damiano fluently speaks English, Spanish and French as well. He attended Montale high school Tanjore. After his graduation, he started focusing on his music career.
He is also playing basketball until the age of 17.
He shows his talent playing basketball as a point guard at the local club Eurobasket Roma. He reminded us that the basketball experience gave him elementary discipline towards a successful life.
Damiano David Career
Damiano David started singing at the age of six. At that time, he was studying at the Montale high school in Rome. During his school, he met with Victoria De Angelis and Thomas Raggi.
That time he and his friends decided to form their band named Meseskin.
Damiano David then started focusing on his music career with the support of his parents.
He introduced himself as a vocalist for their local band but he got rejected because of his style, which was considered too pop.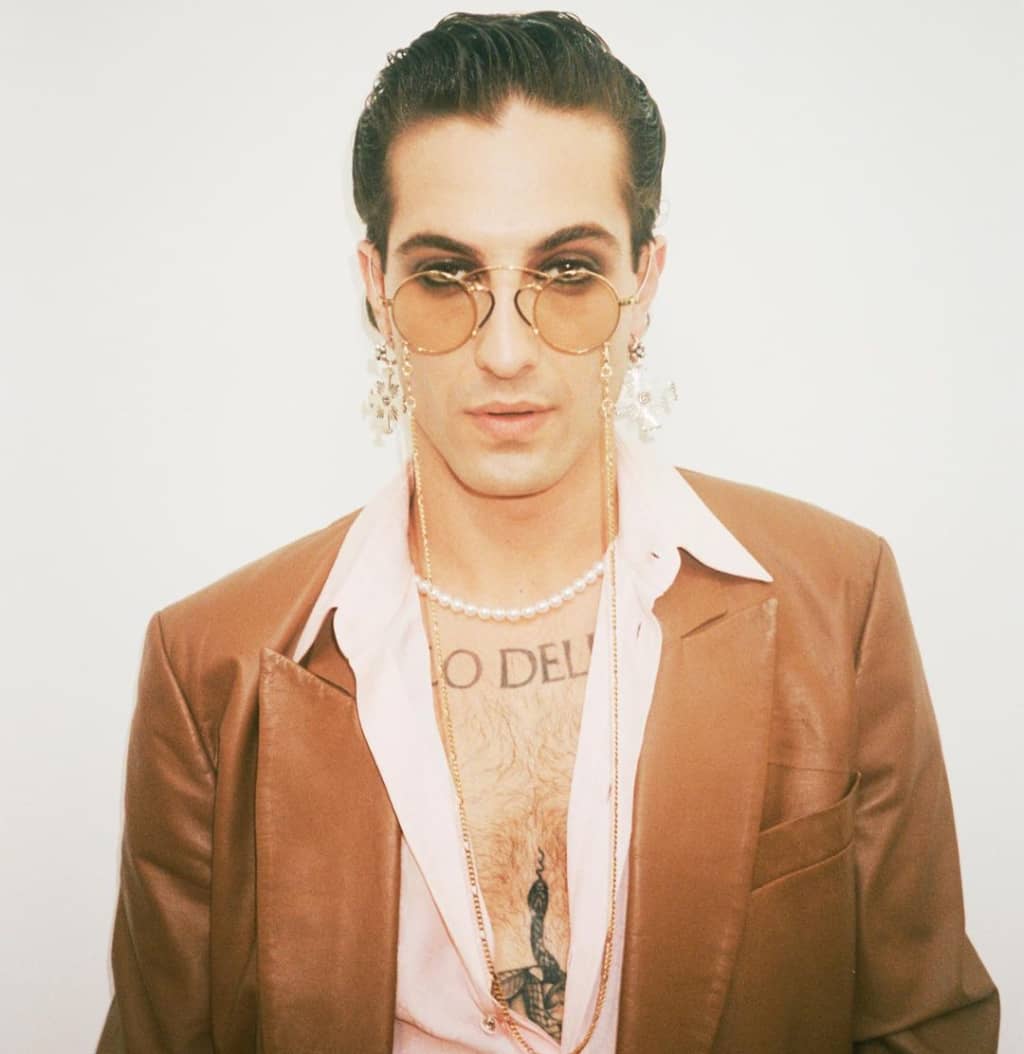 Then he started focusing on himself and soon he changed his style and especially stage persona by knowing that how to freely express himself.
Damiano and his band members initially started singing in the local streets of the city Roma, in 2016.
In 2017, he and his band gained recognition when they competed in the eleventh season of the Italian show "talent show X-Factor".
Damiano David is the one who gave a new meaning to pop singing. He set a new benchmark for all pop singers. His band has launched the studio albumballodella vita in 2018 and 2019.
In 2021, their famous second album Teatrod'ira: Vol. I was released.
After he won the biggest show Eurovision song contest 2021, he was falsely accused of taking drugs during a live television broadcast on Saturday night.
David and his band members never used drugs and have been anti-drug advocates.
In the Vogue Italia Interview, David declared that "we are not falling into the stereotype of the alcoholic and drugged rock star".
Damiano David claims that creativity is the production of a "healthy, lucid" mind. He believes that drug abuse is making us dependent slaves.
He stated that "our own self by binding ourselves to something that instead makes us dependent, slave" also referring to the 27 clubs.
David gained popularity by singing the cover song "I Wanna Be Your Dog".
He also has done the voice work for the Italian dub of the 2021 film Cruella as a character of Jeffrey, an assistant of the main antagonist.
Damiano David Personal Life
Damiano David is declared a top-rated pop singer. He is best known as an iconic Italian singer worldwide. Damiano David was dating Lucrezia Petracca.
But this relationship comes to an end. He does not reveal much about this relationship.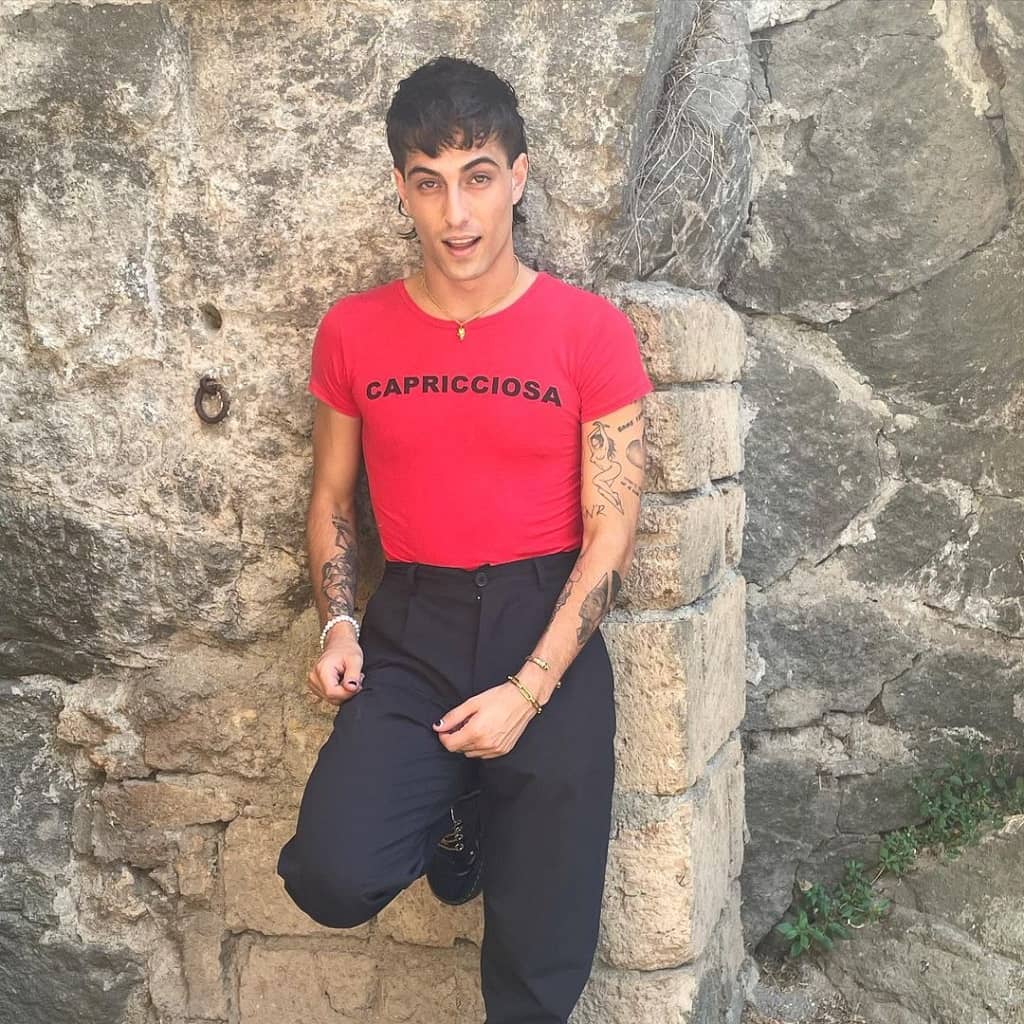 Some media reports also claim that he has an affair with his bandmate Victoria de Angeles. He shared a lot of photos and memories with Victoria on his official account.
For almost 4 years, he has been in a relationship with Italian model and influencer Giorgia Soleri. He openly shared his pictures with Giorgia on his account.
But he did not reveal his relationship.
At present, he lives in Rome and shared his memories along with his friends on social media to keep people updated.
Damiano David Net worth
After knowing about his career and lifestyle, we came to know that Damiano David is one of the richest singers of his era. Some reports stated that his net worth is estimated at about $7 to $8 Million.
The amount might seem untrustworthy because Damiano David has never revealed his total capital.
Furthermore, there is no certified net worth covering plate form that is covering and updating his real-time net worth.
Also Read: Who is Italian Producer and Ex-Actress Claudia Mori?
Social Media Appearance
As being a social media influencer, Damiano David has made a massive presence on the social media plate forms. His melodic voice admires the people.
He made his name on the list of best-known pop singers. As a youngster, he gave the toughest competition to the others.
He was known as the best vocalist worldwide. He was popular as the real frontman vocalist. His band's musical influences range from "indie rock to soul to pop".
He is also known as a Glam Rock, due to his Italian iconic fashion. He won Millions of people's hearts and has a huge following on social media plate form.
He has more than 5 million followers on his Instagram handle.
Further, he has over 205 thousand followers on his Twitter handle.
I hope you loved reading his biography. Please share your valuable feedback with us.
Next Read: Who is Singer Maluma?