Dana Perino (born on 9 May 1972) is an American political analyst, host, news contributor, media strategist, and author. Here we have a super powerful lady, whose life looks like she had it all.
Dana Perino is the former host of "The Daily Briefing with Dana Perino" and a co-host of "The Five" on Fox News Channel.
In this post, we will read Dana Perino's age, height, weight, house, husband, children, net worth, and facts.
Dana Perino Profile Summary
Name
Dana Perino
Birth Date
9 May 1972
Birth Place
Evanston, Wyoming
Age
51 Years Old
Height
Feet & Inches: 5'1''
Centimeter: 155cm
Meter: 1.55m
Weight
Kilograms: 55kg
Pounds: 121Lbs
Net Worth
$6 million
Profession
Political commentator and Author
School
Ponderosa High School
Marital Status
Married
Husband
Peter McMahon
Nationality
American
Who is Dana Perino?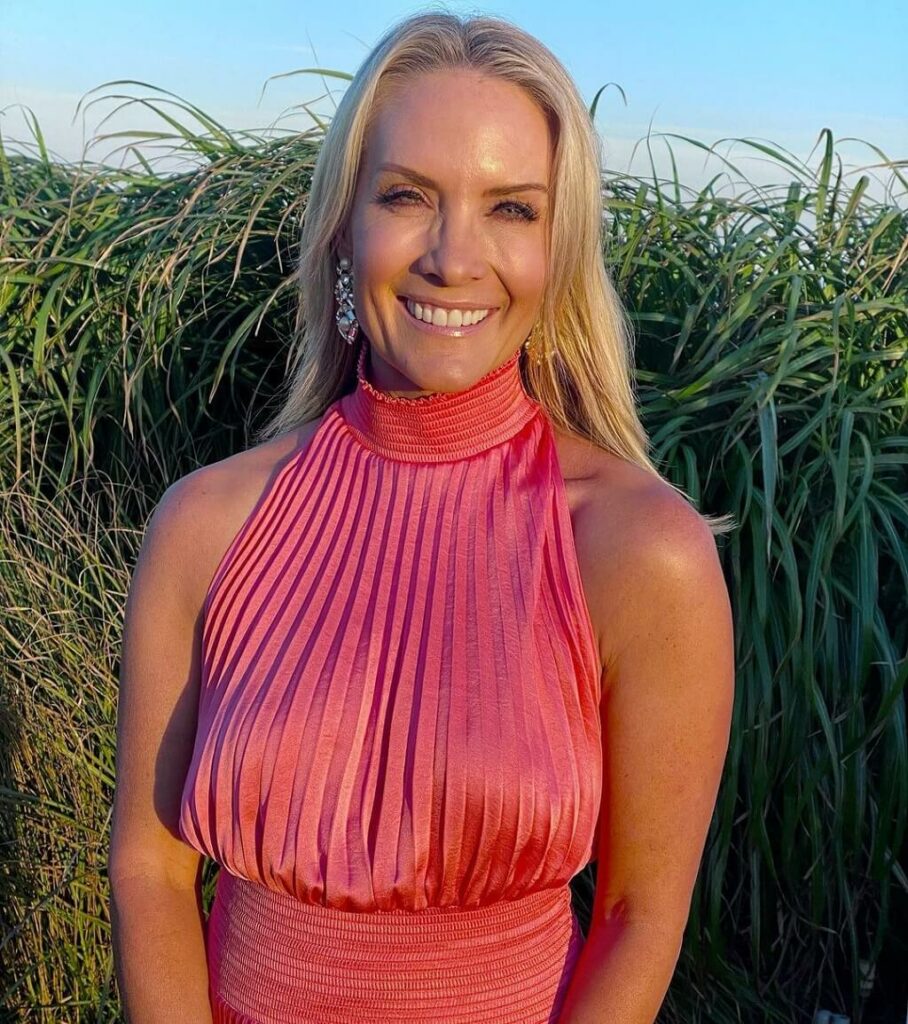 Dana Marie Perino, an American political commentator, and author, was President George W. Bush's 26th White House Press Secretary from September 14, 2007, to January 20, 2009.
She followed Dee Dee Myers, who held the position during the Clinton Administration, as the second female White House press secretary.
Perino was a book publishing executive at Random House before working as a political commentator for Fox News and co-hosting the network's talk show The Five.
She started presenting The Daily Briefing with Dana Perino on Fox News on October 2, 2017. Perino left The Daily Briefing in early 2021 to co-anchor America's Newsroom with Bill Hemmer.
Early Life of Dana Perino
She was raised in Denver, Colorado, despite being born on May 9, 1972, in Evanston, Wyoming. Her two paternal great-grandparents were immigrants from Italy.
Southeast of Denver, in the town of Parker, she attended Ponderosa High School. Perino received a bachelor's degree in mass communications from Colorado State University-Pueblo, as well as majors in political science and Spanish.
She was a member of the university's forensics team and employed by KTSC-TV, the Rocky Mountain PBS affiliate located on campus. She also worked the 2 to 6 a.m. shift at KCCY-FM.
Perino later went on to the University of Illinois Springfield to earn a master's degree in public affairs reporting (UIS).
She was a daily reporter for WCIA, a CBS affiliate, covering the Illinois Capitol while she was an undergraduate at UIS.
Dana Perino Career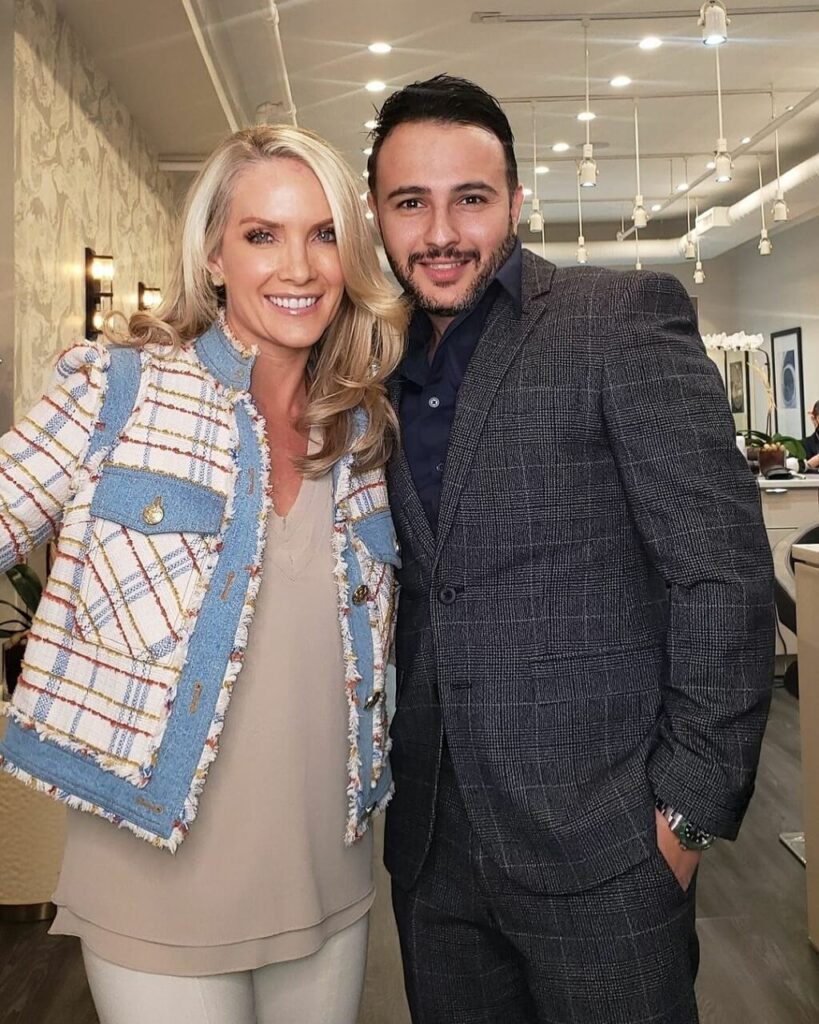 After serving as a staff assistant in Washington, D.C., for Congressman Scott McInnis (R-CO), Perino went on to work for nearly four years as Rep.
Dan Schaefer (R-CO), who was then the chairman of the House Commerce Subcommittee on Energy and Power, as his press secretary.
Perino and her husband Peter McMahon relocated to the United Kingdom after Schaefer declared his retirement in 1998.
Perino relocated back to Washington, D.C., in November 2001, where she obtained employment as the Department of Justice's spokesperson, where she worked for two years.
As the Associate Director of Communications for the White House Council on Environmental Quality (CEQ), Perino later joined the White House staff and offered strategic guidance on message development, media relations, and public engagement.
In its report on climate change censorship, the House Oversight Committee presided over by Rep. Edolphus Towns (D-NY), asserted that the CEQ had undue influence on media relations in governmental scientific agencies throughout her tenure.
With President George Bush
From September 14, 2007, through January 20, 2009, Dana worked as President George W. Bush's 26th White House press secretary.
She was the second woman to serve as White House press secretary. She currently works as a political pundit for Fox News and co-hosts the program "The Five" on the network.
She also works for Random House as an executive in book publishing. Consequently, she published "And the Good News Is…", her debut book, on April 21, 2015.
Additionally, she began presenting "The Daily Briefing with Dana Perino" on Fox News on October 2, 2017. She also quit The Daily Briefing in early 2021 to co-anchor America's Newsroom with Bill Hemmer.
She is a member of the Fox News Channel's political and election coverage teams. Additionally, she co-hosts the weekly political podcast "I'll Tell You What" with Chris Stirewalt.
She served as the U.S. Department of Justice's spokesperson after the September 11 terrorist attacks in 2001, bringing the Bush Administration together.
Additionally, she and her husband went to Africa in January 2009, the day after President Bush left office, to serve at Living Hope in Fish Hoek, South Africa, a religious group that runs a number of programs for persons impacted by all forms of HIV and AIDS.
President Barack Obama proposed her for a position on the Broadcasting Board of Governors upon her return.
In June 2010, the United States Senate approved her appointment. Similar to this, she made an appearance on the popular TV game show "Jeopardy" in May 2012 alongside NBA icon Kareem Abdul-Jabbar and CNBC anchor David Faber.
She gained her first exposure to Washington, D.C., after college by working for Congressman Scott McInnis (R-CO). Later, she also worked as Congressman Dan Schaefer's press secretary (R-CO).
She also had a brief stint at a San Diego public relations agency. While attending college in Pueblo, Colorado, she also worked as a country music disc jockey on Saturdays and Sundays from 2 to 6 AM.
She started part-time teaching a political communications course at the Graduate School of Political Management at George Washington University in 2010.
And the "Crown Publishing Group" revealed in March 2011 that she had joined as Editorial Director of its books imprint Crown Forum. She did, however, leave this job later.
Perino once asserted that climate research was "fraud science" and that climate scientists had falsified temperature data in 2015. Additionally, Politifact gave her allegation a "pants on fire" rating.
Dana Perino Personal Life
In August 1997, Dana and Peter McMahon began dating. In 1998, they got married.
Peter is a businessman. New Jersey's Bay Head is where she has been living.
Dana and Peter met in 1997 after they were the last two people to board a flight from Denver to Chicago. The couple sat next to each other, and they talked for the whole journey.
Perino was attracted to Peter but was unsure at first, but eventually, they got married.
Peter is 18 years older than her and has also married twice before. After a whirlwind romance, Peter proposed in front of Washington Cathedral.
However, Dana waited until the first anniversary of their first meeting to give him an answer.
Dana has spoken freely about her marriage, but she refrains from addressing her previous relationships.
She undoubtedly enjoys a happy and successful life. She has a pet dog named Jasper and loves dogs.
Also Read: Who is G Eazy?
Dana Perino Net Worth
As of 2023, her estimated net worth is $6 million. She undoubtedly made a respectable sum of money over the course of her professional career.
In 2021, her net worth was approximately $5.2 million and her annual income is in the range of 800,000 USD. This is a pretty good earning pattern for someone in politics mainly.
Her husband Peter McMahon is also a wealthy businessman, which also adds to her rich life. Her career in politics, among other areas of her work, is the main source of money.
Also Read: Sherrill Redmon Biography
Physical Appearance
She stands a little under 5 feet 1 inch which is equal to 155 centimeters or 1.55 meters tall. Dana is lovely and attractive, and in fact hot and sought after in the high political and power circles.
She weighs a respectable 55 kg which is equal to 121 lbs as well.
She also has a lovely, thin, and lean body type. Her chest, waist, and hip sizes are 34, 36, and 35 inches, respectively. Her shoe size is 6 as well (US).
Her hair is golden, and she has a lovely set of blue eyes.
Hope you enjoyed this article and please don't forget to share your feedback. Your feedback is very important to us. Till we meet again with a new personality, bye for now!
Next Read: Kristi Noem Biography