At the age of 28, most of us are at the start of our careers. But some people may exist with a flourishing career at this stage.
No doubt there must be hard work behind the success but one more thing; starting at a very young age is another key point.
We are going to take a deep look into the life of one such person, a gorgeous actress and a melodic vocalist, Elizabeth Egan Gillies.
She started her career at the age of 12 and now she is one of the most successful juvenile actresses in the industry. Here we go.
Profile Summary
Name: Elizabeth Egan Gillies
Birth Day: 26 July 1993
Birthplace: Haworth, New Jersey, United States
Age: 28 years
Height: 1.7 m
Net worth: estimated $ 4 million
Profession: Actress, and singer as well
School: Northern Valley Regional High school at Old Tappan
Years active: 2005 present
Father: Dave Gillies
Mother: Lorrie Gillies
Brother: George Gillies
Marital status: Married
Marriage Date: 8 August 2020
Husband: Michael Corcoran
Instruments: Vocals
Nationality: American
Residence: Atlanta, Georgia.
Who is Elizabeth Gillies?
Elizabeth Gillies is a best-known American actress. She is most popular among the people due to her iconic personality.
Her acting skills admire others and she became a celebrity in the world of Hollywood. She is a singer as well.
Her singing albums give the music industry a new definition. She made her Broadway debut at the age of 15 in the musical 13, by performing the character of Lucy.
She made her first television emergence in the serial The Black Donnelly's.
She arrived as a singer on Victorious with the song "Give it up" in 2011, singing with Ariana Grande. She also released another song, that both become the victorious soundtracks.
Early Life of Elizabeth Gillies
Elizabeth Gillies was born on 26 July 1993 in Haworth, New Jersey, US. Her parents' names are Dave Gillies and Lorrie Gillies. She has only one sibling named George Gillies.
Gillies belong to Irish ancestors, an Italian grandmother, and a grandfather.
She attended Northern Valley Regional High school at old Tappan.
But she left high school in her freshman year to carry on her acting and take part in the online high school program.
Elizabeth Gillies Career
Elizabeth Gillies established her career at the age of 12 when she was selected to local open casting calls.
Then she readily arrived in commercials for companies such as Virgin Mobile. She began her first recognition in the television serial The Black Donnelly's by playing the role of young jenny in 2007.
In 2009, she worked in the Battery's down by playing the character of Bat Mitzvah guest. From 2010 to 2013, she gets famed for playing the recurring role of Jade West in the Victorious.
In 2011, she performed different characters such as Jade west, Heather Fox in the series iCarly and Big Time Rush.
From 2011 to 2014, she has done a voice role in Winx Club as a character of Daphne. In 2012, she worked as a Chloe Woods in the serial White Collar.
In 2013, she played the role of Tracy Cooper in the drama The Exes. She has done a telefilm in 2014, by performing the character of Callie Rose in Killing Daddy.
She also has done drama serial Sam&Cat in the role of Jade West.
In 2015, she released her song "The Penguin Loved Me" in the series The Penguins of Madagascar. She also has done the voice role of Lena Horne in American Dead.
From 2015 to 2016, she played the immense role of Gigi in Sex& Drugs& Rock & Roll. In 2017, she played the recurring role of Fallen Carrington/ Alexis Carrington in the serial Dynasty.
In 2018, she has done the voice role of Sun baby" Marie Slim" Browning. She also played the voice role of Parana Sycamore in Welcome to the Wayne in 2019.
In 2020, she worked in the television series Make it Work as a character of herself. She made her name in the film industry as well and became a glamorous personality in Hollywood.
Rise to Fame
In 2008, she played the character of Evelyn Taylor in the film Harold. In the Clique she performed the Character of Shelby Wexler.
In 2011, she played the recurring role of Eradicator Folks in the short film The Death and Returns of Superman.
She also has done Justice with the voice role of Daphne in the series The Secret of the Lost Kingdom since 2012.
In 2014, she worked in the film Animal as a character of Mandy. She also has done work in Vacation, Arizona in 2015 and 2018 by playing the recurring roles of Heather and Kelsey.
In 2020, she performed the voice role of Catwoman in Catwoman: Hunted.
While viewing her acting career, we came across her singing career too. She made her first appearance singing in 2010, by releasing her song Freak to Freak out, pictured on artist Victoria Justice.
In 2011, she sings different songs such as Begin on your knees; all I want is everything, Take a Hint, and Time in the Day.
In 2012, she released her own singing videos songs are we are Believix, and You Don't know me. She also released the song Make it in America which become more popular.
In 2013, her most popular song is released named Right There which was picturized on Ariana Grande. Years 2015 and 2016, she released her own music videos such as Die Trying and Bang Bang.
In 2018, she released a song Thank you next which was picturized on Ariana Grande. In 2020, she released a music video Stuck with you on Ariana Grande featuring Justin Bieber.
From 2008 to 2009, she worked in theater show 13, in the role of Lucy. In 2013, she played the theater act Jawbreaker: The Musical by performing the role of Courtney.
Elizabeth Gillies Personal Life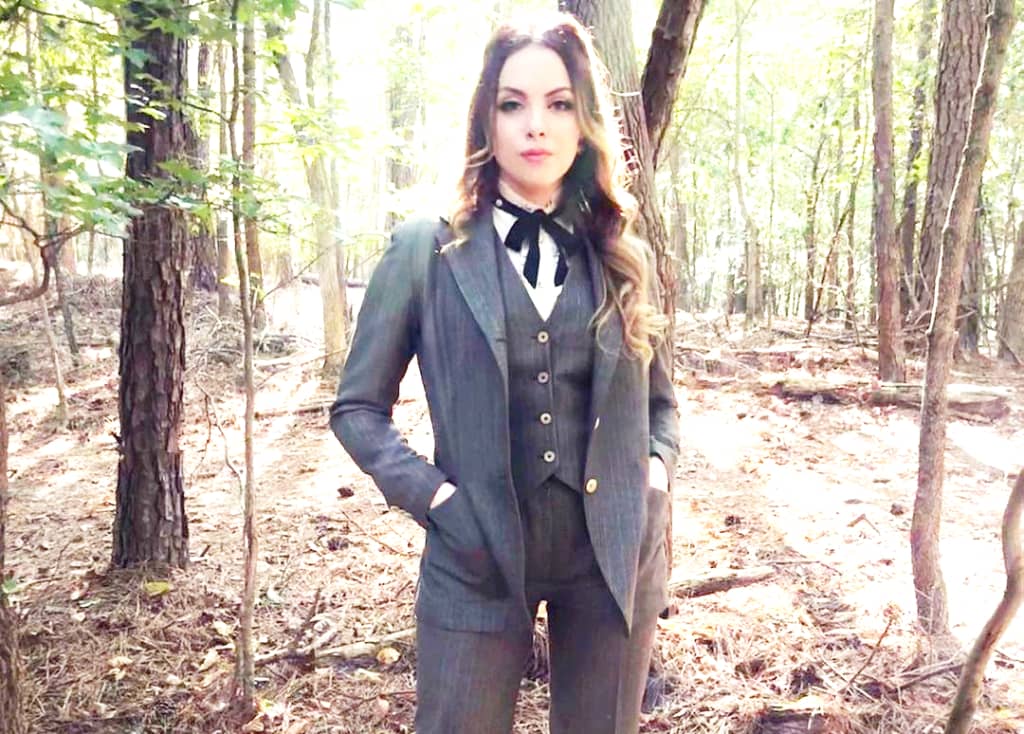 Elizabeth Gillies is one of the top-rated American actresses.
On 8 August 2020, she married one of the famous Music Producer Michael Corcoran at a private ceremony in Chesterfield Township, New Jersey. Now she lived her happy and comfortable life in Atlanta, Georgia.
Elizabeth Gillies Net worth
While viewing her career, we came to know that Elizabeth Gillies is one of the richest American actresses. She played different characters in television series.
She released one of the top-rated music albums. She performed various recurring roles in the film industry. Elizabeth Gilles's net worth is estimated at about $4 million.
Social Media Appearance
Elizabeth Gillies is best known for her acting skills and magical voice. Due to her acting and singing, she win millions of people's hearts and unanimously gained millions of followers on social media.
Her songs gained immense fame among the youth.
She is the most popular actress due to her beauty, glamour, and fashion. Her iconic personality convinced everybody to follow her.
Instagram: More than 13.7 million followers
Facebook: More than 9.8 million followers
Twitter: More than 3.35 million followers
I hope you loved reading the biography of Elizabeth Gillies. Share your feedback with us in the comment box.
Next Read: Mary Mouser American actress biography