Ellie Zeiler is an American who is a popular social media celebrity. Ellie became famous when Charli D'Amelio, a famous TikTok star, commented on one of her videos, saying they both look quite similar.
She is popularly known for her short lip-sync videos on her TikTok handle. She also posts her dance videos that are highly loved by her fans.
When she first started posting videos on TikTok, in just a period of 2 months, she reached 2 million followers.
Profile Summary
Name: Ellie Zeiler
Birth Date: 06 March 2004
Birth Place: San Diego, California, United States
Age: 17 Years old
Height: 5 feet and 3 inches
Net Worth: $500K USD
Profession: Social Media Celebrity
School: Del Norte High School, California, The United States
Education: High School
Father: Rick Zeiler
Mother: Sarah Zeiler
Brother: William Zeiler and Ben Zeiler
Marital Status: Single
Nationality: American
Residence: USA
Who is Ellie Zeiler?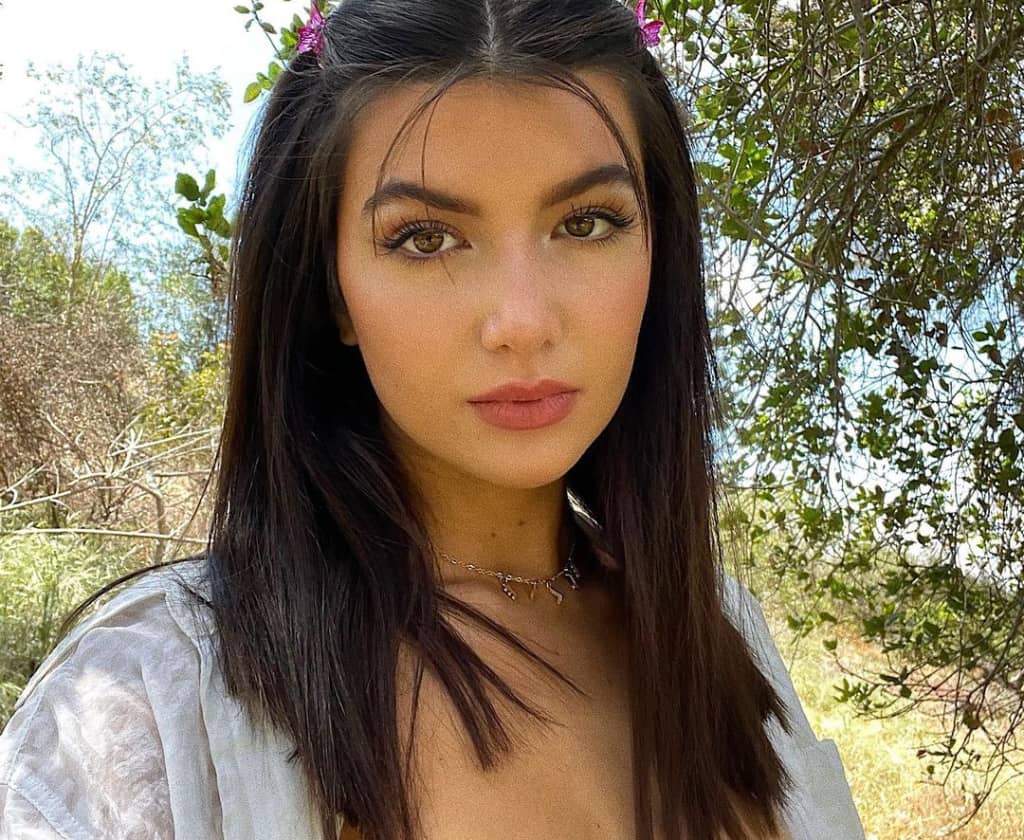 Ellie Zeiler is a famous Ellie American Social media star best known for her 'elliezeiler' TikTok account where she posts lip-sync and dance videos.
She first gained popularity when Charli D'Amelio commented on one of her TikTok videos about how similar they looked.
She played basketball and golf in middle school. In March 2020, she began actively posting on TikTok. She amassed millions of followers in about a month.
Her videos have earned her over 5 million followers on TikTok, as of July 2020. She posts stylish pictures on her Instagram account, which has earned thousands of followers.
She posted a TikTok video set to the Megan Thee Stallion song "Captain Hook" in April 2020.
Moreover, she has been attacked by the fans of platform star Charli D'Amelio for allegedly copying her content, and hiding behind a fake account to deceive fans of the TikTokker.
Early Life of Ellie Zeiler
Ellie Zeiler was born on 06 March 2004 in San Diego, California, the United States. Ellie is known to hold an American nationality and has her belief in the Christian religion.
Her father's name is Mr. Rick Zeiler, who is a government servant by profession, while her mother's name is Mrs. Sarah Zeiler, who is a banker by profession.
She has 2 siblings. Her twin brothers' names are William Zeiler and Ben Zeiler. She completed her early schooling at the Del Norte High School, California, the United States.
She is yet to enroll herself at any of the universities.
From a very young age, she was more interested in co-curricular activities and studied along with did dancing too. She was more active in sports during her childhood days.
Ellie Zeiler Career
Talking about her career, who Ellie Zeiler is? She's gotten a lot of attention for looking like D'Amelio, but also has a huge fan base thanks to her super entertaining content.
Ellie Zeiler has been caught in the crossfire after fans of D'Amelio accused the budding TikTok star of stealing content and intentionally deceiving other users because of their similarity.
A video went viral on Tiktok on April 21, 2020 calling out an alleged account of Zeiler on Twitter for using Charli's name to promote her own content.
The account, which was under the name 'charidamelio', dropping the L from the D'Amelio's first name, reportedly had images of Zeiler up on their profile.
The video also highlighted this account was liking content from 'EllieZeilerr', reportedly Zeiler's Twitter profile.
However, Zeiler has come out in defense of herself, saying that neither profile is operated by her.
The user behind the 'charidamelio' also clarified that she is neither D'Amelio or Zieler and was instead a fan account trying to have a bit of fun with the two lookalikes.
"This account has never been run by Ellie Zeiler," they said.
"Please don't give her sh*t for something she has nothing to do with. It's not Charli either."
Charli D'Amelio herself is yet to comment on the controversy, although given how it's taken over TikTok fandom over the last 24 hours, she's likely aware of it.
Also Read: Paeka De Gallo Biography
Ellie Zeiler Personal Life
Ellie Zeiler is single. Instead of engaging in any kind of affairs and relationship, Ellie is more to her career as she is doing great in her career.
Moreover, Ellie has neither disclosed any type of her relationship with any man nor she is seen with anyone.
Instead of any scandalous relationship rumors, she expects individuals to acknowledge her with her job and acting career.
She has never been spotted by anyone and even has not introduced anyone as her boyfriend.
Ellie Zeiler Net Worth
Ellie Zeiler has a net worth of $500K USD. She is one of the top rising social media personalities in America who got fame at a very young age through her amazing TikTok videos.
Ellie Zeiler's monthly income is more than $ 3,000.
The primary source of her income comes from her various social media accounts for which she earns a lot. Ellie Zeiler's annual income is more than $ 40,000.
She is becoming popular on social media it seems in the coming years she will be on the list of the biggest social media stars in America.
Also Read: Coco Bliss Biography – Tik Tok Personality
Social Media Appearance
These days, social media platforms can be a very powerful tool that can help people secure major opportunities. Ellie managed to gain millions of followers on Tik Tok a.
She also has a huge fan base on Instagram and Twitter.
She frequently delights her fans by sharing her modeling shots on Instagram, and they seemed eager to express their gratitude for her snaps update.
She's also built up a large following in the process on different platforms.
Tik Tok – More than 10.5 Million followers
Instagram – More than 1.1K followers
Twitter – More than 1.8 Million followers
YouTube – More than 120 K subscribers
Physical Appearance
Ellie Zeiler is a beautiful-looking gorgeous actress in the industry. Ellie is known for her attractive and charming personality.
Ellie has a cute smile, adorable looks, and impressive body measurements.
Ellie owns a hot and sizzling figure, with her figure measurements measuring 34-28-34 inches approximately. Ellie is 5 feet and 3 inches in height, and her body weight is around 49 Kg.
Ellie has beautiful and long dark brown color shiny hair and also has beautiful and mesmerizing brown color eyes.
I hope you really enjoyed reading the biography of Tik Tok star Ellie Zeiler. We appreciate the efforts and time that you put into our article.
Make sure to mention below if have any thoughts or feedback regarding this story.
Next Read: Pierson Wodzynski Tik Toker Biography