EST Gee is someone who can inspire others through his life story. He is someone who has came back after too close of death.
Despite this, he never afraid of others and pursued his career strongly.
Let's read this article and know everything about him.
Who is EST Gee?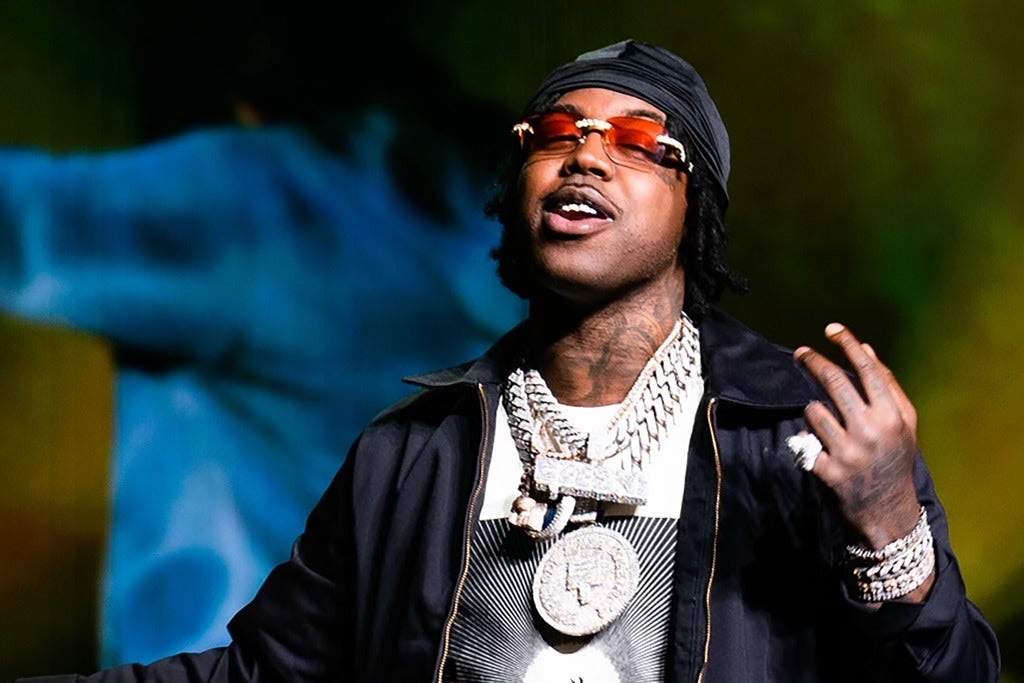 EST Gee is a renowned American rapper who is immensely popular for his stunning rapping performances. He's signed to Yo Gotti's Collective Music Group (CMG), Interscope Records, and Warlike.
His fifth mixtape, Bigger Than Life or Death, was released on July 21, 2021, and debuted at number seven on the Billboard 200. It included the Billboard Hot 100-charting singles "Lick Back" and "5500 Degrees."
A special edition of the mixtape was made available on December 3, 2021.
He played college football for Stephen F. Austin in Texas. Besides this, he has done various entertaining stuff throughout his career.
Early Life of EST Gee
EST Gee was born on 11 May 1994 in Louisville, Kentucky, United State. His father, George Stone was a gangster and had various financial challenges.
While her mother, Sheila was the only person supporting the family. But unfortunately, she died in early 2020 of Leukemia.
Sadly, after a few weeks after her mother's death, Gee had to lose his brother to gangs on the street. The rapper was even the first in his family to make it to college.
Gee joined St. Xavier High School in 2012 and later did his graduation. While in college, he used to play football and he became even so perfect that he received a scholarship after graduation.
Moreover, Fee was ranked as the top linebacker in the state of Kentucky. He was further given a football scholarship to Indiana State University, majoring in communications.
Although, the rapper, as a student, only spent two years at the prestigious university before transferring to Stephen F. Austin University.
Later on, he dropped out of college in 2016. During this period, he was arrested for drug trafficking and sentenced to house arrest.
EST Gee Career
When did EST Gee start rapping? After seeing Lil Baby perform while he was under house arrest, EST Gee got the urge to rap.
And as is the case with many rappers in the music business, Stone had to come up with a fake name.
He initially came up with the name Big Gee but later switched to EST Gee. So, what does EST Gee mean? EST is an initial for "everybody shines together."
The rapper released his first song, Stains as Big Gee on YouTube on December 17th, 2017.
He continued to produce great material on his YouTube channel, which resulted in a large following.
EST Gee became well-known across the country with his third mixtape, Ion Feel Nun, which was released on March 6th of this year.
He followed up with more songs over time which improved his position in the music business.
EST Gee Shot in the Eye
In 2019, EST Gee had a close encounter with death after he was shot five times at the same time. He was then on a video shoot when this incident happened.
Gee was hit by four bullets in the stomach and one in his left eye. It was so painful for him though he overcome it.
During the incident, his brother was hit in the leg and was taken to the hospital. They were treated nicely and discharged after two weeks.
The most important thing for Gee is that he had a successful surgery that made him to retrain most of his vision in the injured eye.
EST Gee Discography
Below is the Discography of EST Gee:
El Toro (mixtape) – 2019
Die Bloody (mixtape) – 2019
Ion Feel Nun (mixtape) – 2020
I Still Don't feel Nun (mixtape): – 2020
Bigger Than Life or Death (mixtape): – 2021
Bigger Than Life or Death, Pt. 2 (mixtape) – 2021
Last Ones Left (mixtape) – April 8, 2022
Lick Back (single) – 2021
Lamborghini Geeski (single) – 2021
Free the Shriners (single) – 2022
Everybody Shooters Too (single) – 2022
Real as It Gets (Lil Baby featuring EST Gee) – 2021
At Will (G-Eazy featuring EST Gee) – 2021
5500 Degrees – 2021
Switches & Dracs – 2021
EST Gee Personal Life
EST Gee is the father of two sons, but he hasn't said much about his current or previous relationships. On November 1, 2018, his youngest son was born.
However, the rapper has kept the identity of his child's mother a secret. Whether the child was born to his wife, girlfriend or ex-girlfriend is unknown.
In 2016, the East was in big trouble. He was arrested for selling 12 pounds of marijuana. In September 2019, he was shot five times while filming a video in Atlanta.
The blows injured his stomach and left eye. He had to undergo two surgeries to restore his vision.
Also Read: Renni Rucci Biography and Career
EST Gee Net Worth
EST Gee estimated net worth is $6 million as of the year 2022. Before that, his total wealth was somewhere around $5 million in 2021.
This means Gee has earned nearly $1 million so far this year. And most probably, he will end somewhere around this figure by the end of this year.
Gee has made most of this fortune through his rapping profession. He has released more than fifteen singles and mixtapes since 2019.
Those fifteen singles and mixtapes are enough to make him a millionaire, which he is today.
Aside from this, Gee has even more opportunities to make a huge amount, as he is a world-level rapper.
He can make even more income through brand promotions and sponsorships. Along with this, he can earn through endorsement deals.
As of 2022, EST Gee's annual salary is $1 million approximately. But being human, we should understand the fact that none of the financial stats of any person stays at a fixed figure.
It keeps changing on different factors and parameters. But overall, Gee ends up making thousands of dollars every year.
Also Read: Who is Taboo Rapper? Biography and Career
Physical Appearance
EST Gee is not a fitness enthusiast and thus he doesn't have a body like gym doers have. But still, he has managed to maintain a good-shaped body from the outside.
Talking about his height, EST Gee currently stands 5 feet 7 inches taller (173 centimeters or 1.7 meters). Further, he weighs around 80 kg which is equal to 176 lbs.
Although, his weight may change on the basis of his diet. But mostly stays around 75 to 85 kg. Moreover, EST Gee has dark brown eyes and black hair which makes his overall appearance more perfect.
Well! This was all we wanted to share with you about the rapper EST Gee. Let us know your thoughts and opinions regarding this article below in the comment section.
Next Read: Who is the Fastest Rapper in the World in 2022? Top 10 Stats