Frank Lowy (born on 22 October 1930) is a renowned billionaire mogul who co-founded Westfield Corporation. His ventures are considered to be one of the largest in Australia and the world.
His story as a Jewish immigrant escaping persecution and war coupled with his entrepreneurial success made global headlines and admiration.
In his biography, we will discover Frank's belief system which involves faith in family and his core survival spirit.
Let's take a look at Frank's story, his business practices, and the principles that built the billionaire in him.
Profile Summary:
Name: Frank Lowy AC
Birth Date: 22 October 1930
Birth Place: Czechoslovakia
Age: 93 Years
Height: 1.7 m
Net Worth: $5 Billion USD
Profession: Former Chairman Westfield Corporation/Principal Lowy Family Group
Father: Hugo Lowy
Mother: Ilona Lowy
Brother: John Lowy and Alex Lowy
Sister: Edith Lowy
Marital Status: Married
Wife: Shirley Rusanow
Children: Peter Lowy, Steven Lowy, and David Lowy
Nationality: Australian
Residence: Tel Aviv, Israel
Who is Frank Lowy?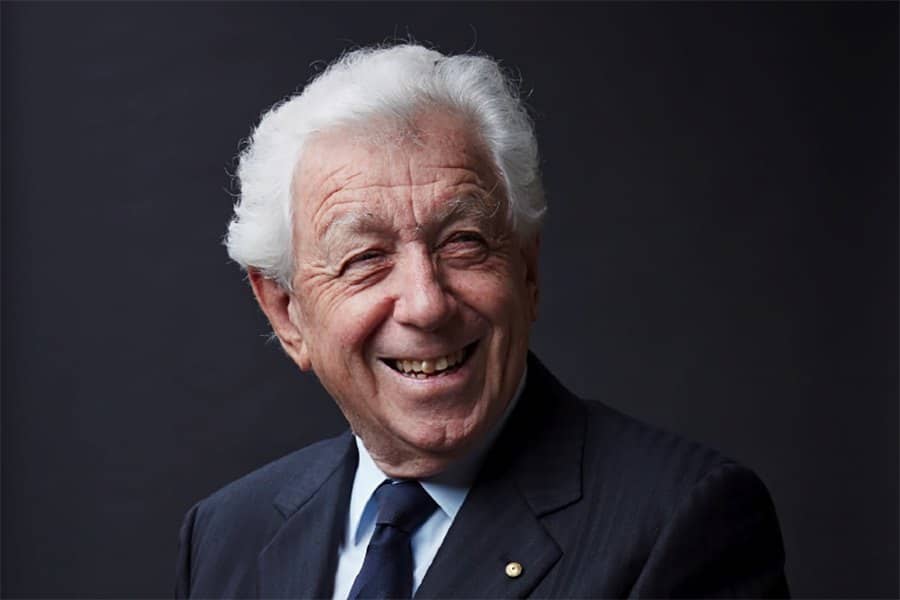 Frank Lowy is a savvy billionaire known for his strategic corporate decisions and investments.
The sale of his Westfield Group to a French company marked the biggest retail take over in Australia's business history. That's the business side of him, but his true heart lies in his Philanthropy work.
He contributed millions of dollars in cancer research through his wife's foundation. His politics also extends with his political think tank Lowy Institute.
This organization is devoted to both domestic and international issues that affect Australia and beyond.
Frank is a sportsman by heart, his interest lies in Football where he was the chairman of FFA or Football Federation of Australia for several years.
But the biggest surprising detail about him? He was one of the owners of the World Trade Center in New York.
Behind the scenes, he helped rebuild the center after its collapse to what it was today, a memory of untold tragedies.
He is still the same Jewish boy with a dream but this time around that dream was geared for global inspiration.
Early Life of Frank Lowy
Frank Lowy was born on 22 October 1930 in Czechoslovakia. His father Hugo Lowy who works as a traveling salesman was arrested by Nazi German soldiers and was sent to Auschwitz prison where he tragically died.
As a young teenager of thirteen years, he helped his mother, Ilona Lowy survive this horrible chapter in their life by working odd and various jobs. A year later his mother passed away.
In 1946 Frank made his way to France with the goal of reaching Palestine.
The ship he's boarding on however was intercepted by British authorities, and he was sent to a detention camp in Cyprus.
But this experience did not stop him, in 1948 he fought at the Arab-Israeli war in the regions of Galilee and Gaza. And the rest is history.
Frank Lowy Education
Frank Lowy's formal education of his younger Slovak years came to a halt at 13. Tragedy hits his family as his father was sent to a prison camp.
Thus, his educational background came from life's real experiences as a refugee in France, Cyprus, Palestine, Israel before finding his success in Australia.
The Tribeca Film Festival documentary "What Will Become of Us," and his biography "Frank Lowy: Pushing the Limits," by Australian journalist Jill Margo, explore his real-life learnings that fueled his business empire today.
He's very involved in educational initiatives through his Think tank, The Lowy Institute.
His organization propels discussions on various political and societal issues that affect the domestic and international policies and agenda of Australia.
This became the educational vehicle of that thirteen-year-old boy to influence global mindset and local policies and priorities.
Frank Lowy Career
In 1952, Frank Lowy left Israel and went to Australia. He started a delivery business that delivers packaged and finished commodities in his newfound home.
The following year, he build a partnership with fellow immigrant John Saunders.
The pair founded the Westfield Development Corporation tasked with developing shopping centers in Sydney's western suburbs.
For over thirty years the partnership grew and their ventures as well. He listed the company on the Australian Stock Exchange in 1960 as Westfield Development Corporation.
Meanwhile, Saunders sold his interests and left the company in 1987. And in the roaring1990s Lowy ventures into New Zealand, and the UK in early 2000.
He was appointed as Director of the Reserve Bank of Australia in 1995 and reappointed in 2000, 2003, and in 2005.
After turning 80 in October 2010, Lowy officially stood down as Executive Chairman of the Westfield
A group that took effect in May 2011. His sons, Steven and Peter, became joint chief executives. In October 2015, Lowy stepped down as the chairman of the Scentre Group, a role that he had held for 55 years.
He was knighted in 2017 by the Queen for his Philanthropic activities and humanitarian services.
Today, Harry maintains a principal interest at Lowy Family Group which operates not only in Sydney by in NY and Los Angeles as well.
Frank Lowy Personal life
Frank Lowy was married to Shirley Rusanow in 1954. They have three sons, Peter Lowy and Steven Lowy, both sons worked for Frank at Westfield Corporation.
Meanwhile, his other son, David Lowy focused his attention on managing Lowy's family's private investments and assets.
His wife, Shirley founded the Chai Foundation that's dedicated in cancer research and therapy. The Jewish background is the core of his life, encourages his sons to do the same.
Peter became the chairman of Tribe Media Corp, and he also served as chairman of the University of Judaism.
The tragedy suffered by his father under the German Nazi occupation left a huge scar on his heart.
In April 2013, he attended the March of the Living, where for the first time he opened up, by revealing the personal story of his father from the Holocaust tragedy.
And in 2018, Frank moved to Israel with his wife, who died two years later from Dementia.
Another trauma that left another scar on his heart was engraved with pains from his tragic past.
Frank Lowy Net Worth
Frank Lowy has a net worth of $5 Billion USD. Forbes ranks him as Australia's 4th Richest man in 2019 and the world's Top 539 Billionaire in 2023.
The sale of Westfield Corporation alone is a $16 Billion USD deal, making it the largest single takeover in Australia's business history.
Also in 2010, the Financial Review Rich List ranked him as the 9th richest Australian. He still holds a principal interest at the Lowy Family group which charts additional annual revenues for him.
Social Media Appearance
Frank Lowy is active on social media particularly on Instagram and Twitter through his think tank Lowy Institute. His institute provides key signature lectures, presentations, and events on various target issues.
The issues covered by his Institute include politics, and economic to societal policies with an eye on local and global impact for Australia and beyond.
Let's dig in and view Frank's social media data:
Instagram: More than 1.4 thousand Followers
Facebook: More than 30 thousand Followers
Twitter: More than 68.5 thousand Followers
LinkedIn: More than 15.9 thousand Followers
YouTube: More than 6.8 thousand subscribers
The Bottom Line
Frank Lowy's story is any screenwriter's dream filled with twists and turns. The boy rose from a young immigrant in war-torn countries to become one of the world's most influential businessmen.
His story is a living testament to the human spirit's endurance for survival.
His global influence spans beyond business but his policies sharpen international debates on global issues.
While his Philanthropic endeavors support cancer initiatives research and studies that will further advance cancer treatment and facilities.
Frank's success originates from the heart of that young boy whose young dreams were stolen by tragic
circumstances. Today his influence has a profound global and societal impact on key policies like freedom and global economic issues.
Next Read: Biography of the most influential person – Brian Tracy