Gianluca Vacchi is an Italian businessman, entrepreneur, and social media celebrity. He rose to the limelight after posting videos of himself on his social media platforms.
Vacchi uses the online space to show his flamboyant lifestyle, something that has earned him millions of followers on Instagram.
Continue reading to take a good look into the life of this stylish man. One who lives his life on his own terms and I am sure some of us desire such a life much.
Who is Gianluca Vacchi?
Gianluca Vacchi, alias Grandpa Playboy or The Money King, is a famous entrepreneur, businessman, author, and disc jockey.
He is known for his flashy lifestyle and multiple tattoos. Vacchi runs successful businesses that have made him the wealthy man he is today.
He also attracts attention for his eccentricity and the way he manages his money, throwing lavish and expensive parties.
His lifestyle is frequently shared by the businessman through his social networks.
Vacchi is a man of more than 50 years who has attracted the attention of various people, not only for his eccentricity but also for his physical attractiveness.
He currently has more than 15 million followers on Instagram and since 2014 he has become popular with the hashtag #GVLifestyle.
Early life of Gianluca Vacchi
Gianluca Vacchi's age is 54 years as of 2022. He was born on 5th August 1967, and his zodiac sign is Leo.
The businessman's nationality is Italian. He was born and raised in Bologna, Italy.
His father, Alberto Vacchi, was the president of Unindustria Bologna between 2011 and 2015. He oversaw the merger with Confindustria Modena and Unindustria Ferrara between 2015 and 2017.
His grandmother introduced him to the piano when he was seven.
Gianluca Vacchi grew up in a wealthy family. From an early age he was interested in business.
He went to Università di Bologna. He graduated with a degree in business and economics and then began to be part of the family business.
Later he founded the company IMA, a company dedicated to the creation of pharmaceuticals, cosmetics and others.
Over time, Vacchi diversified his businesses, participating in different business projects. While doing this, he increased his capital, becoming a billionaire in a matter of a few years.
In search of a new life
After several years in the industry, Gianluca Vacchi left the family business in charge of his cousin and dedicated himself fully to enjoying his life.
Since at the age of 40 years he felt that he had not explored and enjoyed everything he achieved in those years.
After thinking about the manner in which he had lived until then, he decided to change his lifestyle. He started by working on his physique, improving his diet, and exercising.
He complemented this, with hours in the sauna and cryotherapy, and shortly after the efforts began to show on him.
Gianluca Vacchi Career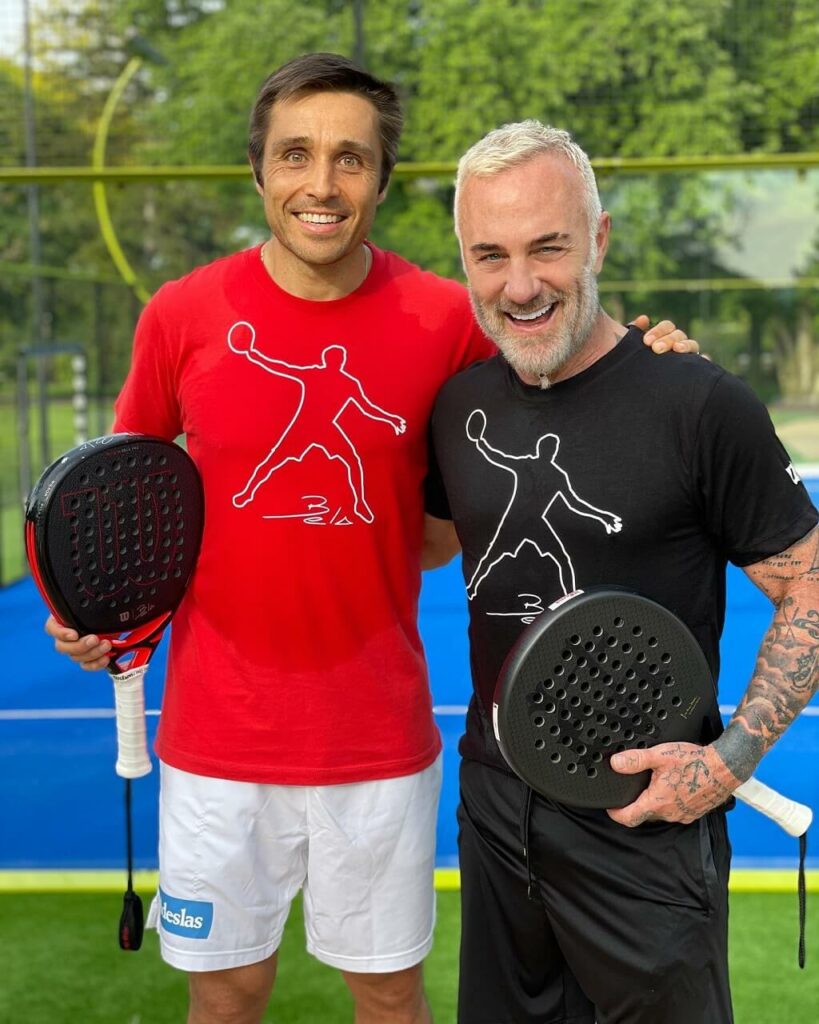 At the age of 25, he and his cousin Alberto Vacchi took the multinational Italian business, Industria Macchine Automatiche S.p.A. (IMA), public.
IMA has gone on to become incredibly successful, and through various holding companies, Gianluca owns around 50% of the company.
Hence, he receives dividend payouts each year valued at around $50 million, which contributes to his wealth.
Gianluca Vacchi was always destined to have a keen eye for business, having graduated from Studiorum University in Bologna, Italy, with a degree in Business and Economics.
He set out on his own path in business and began buying and selling stocks to start generating some money.
He then became a non-executive director of IMA.
Vacchi also founded a watch company called ToyWatch, which saw significant growth in its first year. Once this growth had been achieved, he sold the company.
He also founded and later sold the 'Last-Minute Tour' company, again, after it had achieved significant growth.
DJ, Author and more
Owing to his now playboy lifestyle, Gianluca Vacchi also has a taste for party life and even has a side hustle as an accomplished DJ.
He began DJ-ing and highlighting his love for partying through his social media accounts when he turned 46 years in 2013.
Through his DJ interest, Gianluca Vacchi has worked with the likes of Steve Aoki, Nicola Zucchi, Christian Lena and Albertino.
He has a record contract with the dance music label, Spinnin' Records, and has a couple of songs, which is on YouTube.
In May 2013, he posted his first Instagram video. Today, he has over 22.3 million followers on the platform.
He is known for his sassy dance moves and luxurious lifestyle. Vacchi also uses the platform to endorse brands and give fans a sneak peek into his family life.
Lamborghini, Beluga Vodka, and KEBHOUZE are some of the brands he has endorsed on Instagram.
He is also an author. In 2016, he published his biography 'Enjoy'.
Vacchi is also a talented musician. As a musician, he has released several songs, including Mueve, Subelo y Bajalo, Waglio, LOVE, Trump-It, and Come On and Show 'Em.
On Thursday 5th May 2022, Gianluca Vacchi announced via his Instagram page that a series revolving around him will soon be coming to the Prime Video streaming service in Italy on May 25th 2022.
He said in the caption, "Stories never tell the whole story. That's why we made a film. Gianluca Vacchi: Mucho Más exclusively on @primevideoit from May 25th in more than 240 territories."
Gianluca Vacchi Personal Life
As of 2023, Vacchi is romantically involved with the young model Sharon Fonseca. On May 10, 2020, during the celebration of Mother's Day, he announced via Instagram that he and his girlfriend were expecting their first child.
Gianluca Vacchi has been linked with a number of women in his past, most notably, Giorgia Gabriele, with whom he posted videos dancing to his Instagram account. These videos quickly went viral and essentially catapulted him to social media stardom.
He split with Gabriele and, following a relationship or two later, settled down with model Sharon Fonseca, 27 years his junior. Gianluca announced 11th May 2020 that he and Fonseca were expecting their first child.
Their daughter, Blu Jerusalema Vacchi, was born on October 28th, 2020.
Also Read: Roberto Palazuelos Jr Biography
What is Gianluca Vacchi's Net worth?
As of 2023, Gianluca Vacchi's net worth is an estimated $200 million. In 2021, he had an estimated net worth of $150 million.
The majority of this comes from his holding stake in IMA. He receives dividend pay-outs each year valued at around $50 million.
His wealth is increasing in a sky-rocketing rate. Not only his business enterprises are contributing to it but also his new-found fame across the media platforms.
Vacchi no doubt can now demand large sums for social media posts and guest appearances at various events around the world.
Also Read: Peter McMahon Biography
Gianluca Vacchi Height and Weight
Gianluca Vacchi is 5 ft 8 in tall which is equal to 1.73m or 173 centimetres. He weighs 75 kg which is equal to 165 lbs.
Gianluca Vacchi looks after his body via various workout routines and invests in some of the latest gadgets, all designed to improve his health.
He is living proof that you are never too old to work out, and if anything, some of his workouts could prove even tough for his younger peers.
That brings us to the end of this article which we hope you enjoyed. Now we need your feedback so that we can continue our research and improve.
Till we meet again, adios good friend!
Next Read: Mallory James Mahoney Biography