You might have seen several people becoming successful because of their family members. Here Jackson Mahomes is also like them but is a bit different from those people.
He has stabled his life through social media platforms. Indirectly, he gains more of his followers because of his brother, Patrick Mahomes. Well! Read his biography below and know everything about Jackson and his life.
Who is Jackson Mahomes?
Jackson Mahomes is a famous Tik Tok star and Social Media Personality. He is widely famous for being the brother of the popular football quarterback, Patrick Mahomes II.
Besides this, Jackson has achieved a lot through his social media appearance and is leading all his way through his followers.
He has settled him with the various platforms, including Fanjoy where he sells some products. He has gained a lot of followers on his social media handles.
Let's look below and see how he succeeded to these all in such a very short time.
Early Life of Jackson Mahomes
Jackson Mahomes was born on 15 May 2000 in Texas, United State of America. His father, Pat Mahomes is an American former baseball pitcher, while his mother, Randi Mahomes is a housewife.
He has two siblings, a brother named Patrick Mahomes II, and a sister name, Mia Randall. Patrick is a renowned American football quarterback for the Kansas City Chiefs of the National Football League.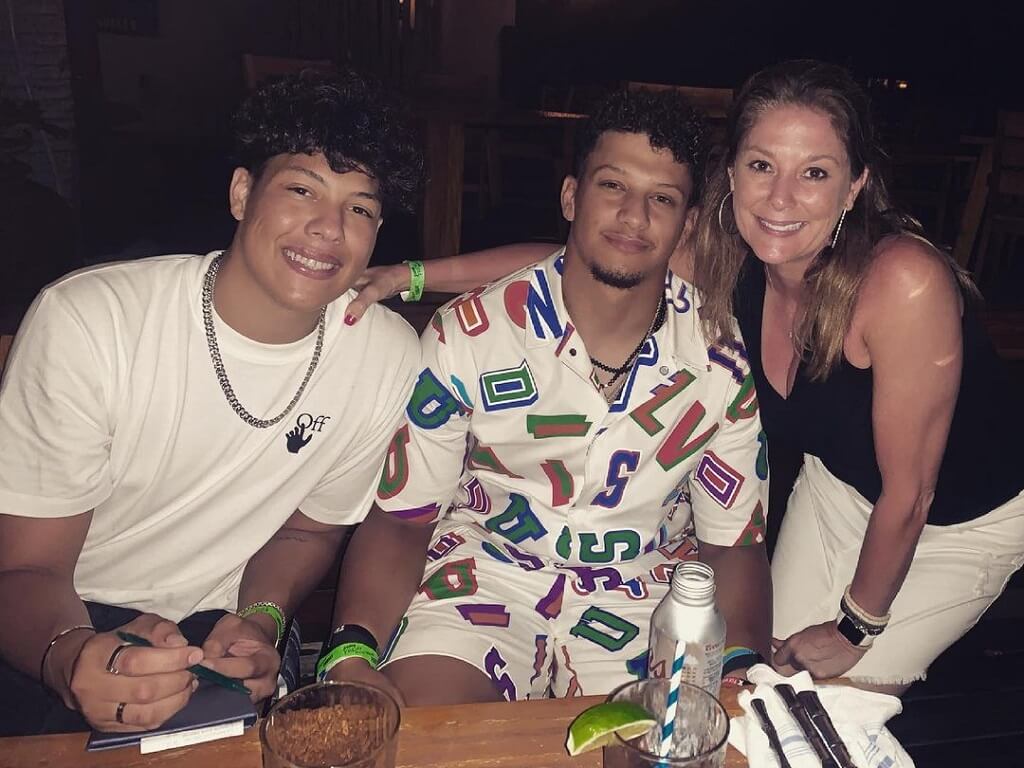 He did his elementary education at Whitehouse High School in Texas. As per sources, he is currently studying marketing at the University of Missouri in Kansas City.
Jackson Career
Jackson Mahomes begins his career as a Tik Toker and Social Media Influencer. Although, he was already famous a lot and was popularly known as the brother of Patrick Mahomes.
He took advantage nicely and made his career with the help of his fame.
Jackson appeared on almost all the social media platforms, including Tik Tok. As a result, he becomes a Lip-Sync artist and short videos creator on various social media platforms.
Most of his fans are followers of him because of his brother. In this run, they started loving his content too and became a big fan of him. He has gained more than 966K followers on his Tik Tok account.
This really shows his popularity on a large scale. Besides this, Jackson has over 252K followers on Instagram and over 28.6K followers on his Twitter handle.
Also, he is holding about 2.6K followers on his Facebook page. Even Jackson has the blue verified tick on all of his social media platforms.
Commercial Success
Jackson Mahomes achieved great commercial success with his very amazing strategies. When he looked at himself growing on all the social media platforms, he opened a YouTube channel.
He created his channel on April 12, 2020, and named it after him. In his initial days, he gained thousands of followers with his very few videos. Actually, he was attracting his followers to his channel, as a result, he gained a lot of subscribers.
As of now, Jackson has more than 24K followers on his YouTube channel. Besides this, he is also available on the Fanjoy platform where he is working as an online seller. His products include T-Shirts, Pants, Masks, Mobile Covers, and other products.
Jackson Mahomes Personal Life
When it comes to Jack Mahome's personal life, he becomes a very secretive person. He never talks about his relationship and dating life. A few years back, people associated his name with Brittany Matthews. However, that time they were just a friend who loves to spend their valuable time together.
The same lady is now the girlfriend of Jackson's brother, Patrick Mahomes. They have also announced to get married very soon. It completely clears that Jackson was not in any sort of relationship with Brittany.
As of his appearance on the internet, he is still single and enjoying his life as a bachelor man.
Jackson Mahomes Net Worth
Jackson Mahomes estimated net worth $500,000 USD. He has earned this huge amount through his profession as a social media star.
Most of his capital has been generated from his social media handles. Holding such a huge number of followers is enough to earn an abundant amount of money. Besides this, he has earned it through being an online seller at Fanjoy.
He is not very active on YouTube, otherwise, he would have been earned additional thousands of dollars. Apart from this, he can do brand promotions and paid advertisements to generate a normal amount of capital.
The Bottom Line
Jackson Mahomes is a rising social media star who can be seen as a great influencer in the coming years. He has made his career in a very easy way, as he gained people's attention as a brother of Patrick Mahomes.
And it's obvious to be famous for everyone who belongs to a celebrity or star family. Anyway, Jackson has achieved these through his hard works at some level.
Next Read: Lewis Hamilton Car Racing Driver Biography
I hope you enjoyed reading the biography and story of Jackson Mahomes. Let you share your feedback about him and his career.