Are you looking for information on music celebrity Jacob Sartorius? Do you love his songs?
But have you guys heard about the relationship between Jacob and Millie Bobby Brown in Stranger Things? If not, stay tuned with us to learn about the interesting details about the musical artist.
Moreover, he is known for his list of girlfriends, but eventually, all his talent overshadows the controversies.
Let us get back to the main discussion.
Jacob Sartorius Profile Summary
Name
Jacob Sartorius
Birth Date
2 October 2002
Birth Place
Tulsa, Oklahoma
Age
20 Years Old
Height
Feet & Inches: 5'5''
Centimeter: 165cm
Meter: 1.65m
Weight
Kilograms: 50kg
Pounds: 110Lbs
Net Worth
$3 million
Profession
Songwriter, Rapper, Producer
Father
Rolf Sartorius
Mother
Patricia Sartorius
Sibling
Caroline Sartorius
Marital Status
Single
Nationality
American
Who is Jacob Sartorius?
Jacob Sartorius is a songwriter, rapper, actor, and producer. He rose to fame through his songs, "sweatshirt", "hit or miss".
In 2016, he was one of the most-searched musical artists. And Jacob likes to be active on his social media platforms.
And he has a different heartwarming habit of entertaining people; as a result, he transformed his social media platforms into engaging platforms.
Where he frequently engages with his followers, thus making them feel good.
"And Jacob was named one of the top five most engaging people in the world, as well as one of the most engaged Instagram accounts globally."
This 20-year-old youngster never fails to surprise anyone with his individuality.
Early Life of Jacob Sartorius
Jacob Sartorius was born on October 2, 2002, in Tulsa, Oklahoma, U.S.; thus, Jacob is 20 years old as of 2022. He is also of American descent and was born under the Libra zodiac sign.
In one interview, Jacob stated that he was born into a low-income family and that his biological parents were not able to provide him with adequate food and shelter.
As a result, Rolf and Patricia Sartorius adopted and lavished him with love. And Jacob shared that he loved his family to the moon and back.
Jacob's father is a rich person, and he served as president and CEO of the Social Impact Company, worked as a teacher at a university, and worked for the World Bank.
Jacob Sartorius's sister's name is Caroline Sartorius, and Caroline is also a famous personality, and she rose to fame by being Jacob's sister.
Moreover, Caroline is also known for her charity work. Well, Jacob shared a very close relationship with all his family members.
Since childhood, Jacob has had a strong interest in music and acting. His adoptive parents understood his interests in music and acting. Thus, at age 7, Jacob joined the musical schools to learn music.
After attending musical school, Jacob learned to compose and write songs.
Jacob Sartorius Career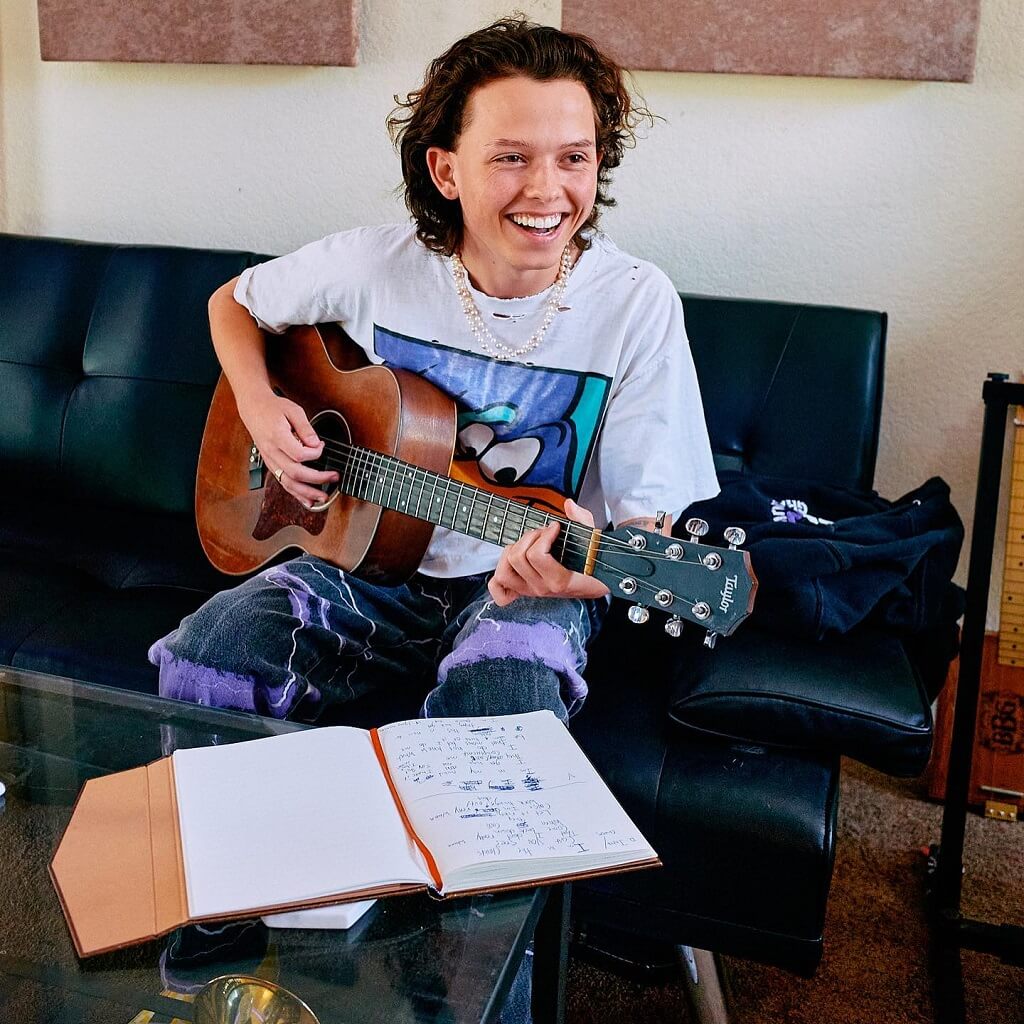 Jacob Sartorius began his career by lip-syncing videos for the Musically app. Then he started to use the Vine for posting comedic sense videos, for which he gained about 8 million subscribers before its closure.
The social media platform helped Jacob escape bullying, and he has been raising his voice against bullying. Isn't great?
He is a person who loves to entertain people and created the YouTube platform to share his musical talent with the world.
Even there, he started to post only cover songs. Then, in 2016, Jacob released his debut song, "Sweatshirt," and it got included in the Hot 100 in the United States and Canada.
After that song went viral, Jacob went on the All My Friends Tour, a solo mini-tour, and the Last Text World Tour.
Then, the next year, he released the singles "Hit or Miss" and "All My Friends," where the song "Hit or Miss" became popular and reached No. 72 in the United States.
After that, Jacob's fame skyrocketed, and he appeared on HBO's Vice News and NPR's Here and Now.
Moreover, he performed at the Kid's Choice Awards and HALO Awards and made his national TV debut on MTV's TRL.
In addition, Jacob got featured on Entertainment Tonight, Cosmopolitan, Seventeen, American Songwriter, etc.
Jacob Sartorius has also had a great interest in acting; thus, he acted in the movie "The Loneliest Boy in the World" and played the character of Kurt. He has produced short series like "breathe" and "for real."
Jacob Sartorius Discography
Here in this section, we will discuss the list of songs Jacob sang.
The Last Text EP

better for you

Where have you been?

But all is not lost.
Sleep When I'm Dead
Bingo
Return the favor
Skateboard
Chapstick
Cozy
What's the deal?
better with you
Used To
The party is heating up.
YouTube and BBQ Chips
"Hey, Hello, Goodbye!"
Lifesallgood
"Fly Away."
Fear of Intimacy
Jacobs Sartorius Social Media Accounts
Jacob Sartorius is active on social media, and here is some detailed information about that.
Instagram: Jacob Sartorius's Instagram handle name is @jaconsartorius. And he has gathered around 11 million followers.
Youtube: He has around 2.94 million subscribers on his self-titled YouTube channel, and he has released his latest song, "Temporary Tattoo," on his channel.
Twitter: Jacob Sartorius has gathered around 1.5 million followers, making him the most engaging Twitter user in the world.
Snapchat: He has around 2.10 million subscribers, and he also got a verified badge on this Snapchat application.
Tiktok: Jacob has 23.4 million followers.
Jacob Sartorius Personal Life
Jacob Sartorius is currently single and not dating anyone in 2022. At 14, Jacob dated American actress Luna Blaise, and the couple later separated. Then, the next year, he started dating Stranger Things actress Millie Bobby Brown.
But their relationship ended after dating for a few months. Then there was talk about Jacob Sartorius dating Jenna Ortega, and she even appeared in his music video. But the couple confirmed that they were just friends.
Jacob has been the subject of numerous love rumors. The list grows longer by the year, but for the time being, he is single.
Jacob Sartorius and Millie Bobby Brown
Jacob Sartorius and Stranger Things actress Millie were dating in early 2017. He was also at the peak of his career at the time, and Millie's relationship updates will always be in the news.
However, after a few months of dating, the couple split up due to controversies surrounding Jacob's request for a nude picture from his female fans.
And it has become a serious issue, which is why Millie Bobby Brown broke up with Jacob. And the controversy was resolved, as it was a bogus account used to catfish Jacob.
Also Read: Quando Rondo Rapper Biography
What is Jacob Sartorius's Net Worth?
Jacob Sartorius's net worth is expected to be around $3 million by 2022. People are going crazy for his songs because he is a rapper and songwriter.
Thus, his songs received millions of views on all the audio streaming services. And Jacob will receive monthly payments from his YouTube and audio streaming services.
Jacob's net worth for the year 2021 is $2.5 million. Thus, within a year, he managed to secure $500,000 USD. His yearly salary will be $500,000 USD.
Also Read: Who is Rapper Tokyo Vanity?
Jacob Sartorius Age and Height
Jacob Sartorius is 20 years old, but he still looks like a small boy in his early teens, and we can only see his teenage photo everywhere on the internet.
He has brown hair and grey eyes. And his height and weight measurements are as follows: 5 feet, 5 inches, or 1.65 meters or 165 cm, and he weighs about 50 kg 110 lbs
The end!
Do you like this article? Comment on it
Next Read: Lil Wayne Rapper Biography