Who is José Ron?
José Ron is a notable Mexican actor who is mainly known for his acting and good looks. He achieved fame at a young age.
With a progressive success of more than 18 years in his acting career, Jose ranked in the list of the most popular actor and sought a position among popular actors.
He was nominated for several of his shows and won TVy Norelas awards 3 in a row, and was also nominated as best actor, best co-lead actor, the favorite protagonist at Premios Juventud, and best young lead actor and also won these awards.
He is a very well-known actor in Mexico. Besides, Jose also produced songs. He has a huge number of social media followers as well as accumulated large capital.
Early Life of José Ron
José Ron, the famous actor was born on the 6th of August 1981 in Guadalajara, Jalisco, Mexico. The Mexican actor is 41 years old as of 2022. At a young age, Jose perished his hometown Guadalajara to complete his education and pursue his career in acting at an early age.
He went to Centro De Actvacian de televise and studied theater at the age of 18. He was brought to his parents, mother Romula Vasquez Castro, and father Jacinto Ron Rodrigue.
However, he grew up alongside his 3 brothers named Daniel Vasquez, Alejandro Vasquez, and Julio Vasquez in Jalisco, Mexico.
There is no information available regarding his further education, moreover, his initial life is mostly unrevealed.
José Ron Film Career
José Ron started his career as an actor. He started acting at the age of 23 and made his TV debut with his first television series in 2004 titled Mujer de Madera.
However, he was good-looking and it was one of the reasons for his success.
In the year 2005, Jose appeared in another TV series Bajo el Mismo Cielo, and played a minor role.
Between the years 2006-2012, he appeared in several tv-series and played minor roles including Rebelde, Codigo postal, Muchachitas Como tu, Juro que te amo, Los exitosos Perez, Locas de amor, Cuando me enamoro.
Even though he did not get the main roles, through his hard-working Jose started getting the limelight for his supporting roles.
Shortly, he won the best young lead actor award at the 27th TVy Novelas awards for his show Los Existosos Perez in 2010 and was nominated for the same award for another show titled Juro que te amo in 2009.
Continued Success
José became a well-known actor in Mexico through his acting and hard work. After the year 2012, he was offered numerous main lead protagonist roles.
He appeared in La Mujer del Vendaval and played the role of Alessandro Castelo which was the main role, between 2014-2017 Jose played main lead roles including Muchacha Pedro as Angeles, Simplemente Maria as Alejandro Rivapalacio, Enamorandome de Ramon as Ramon Lopez.
He is mainly known for his role in La Mujer del Vendaval, the show was nominated at Premios Juventud for my favorite protagonist, Muchacha Pedro his other show was nominated for the same category and channel.
In the year 2015 Jose made his film debut and acted in his first-ever film titled Ala Mala.
In the year 2019, he played the main roles in miscellaneous other tv-series comprising Ringo which he played as Juan Rose Ramirez, Rubi (2020) as Alejandro, Te doy la Vida (2020) as Pedro Garrido Salazar, his latest tv-series La desalmada (2021).
He is mainly known for his role in Ringo and won the best actor award at the 38th TVy Novelas awards in 2020.
Moreover, Jose won a lot more awards, he won the best co-lead actor for his show La que no podia amor at the 30th TVy Novelas awards in 2012 and was also nominated for People en Espanol awards for the best supporting actor.
José Ron Personal life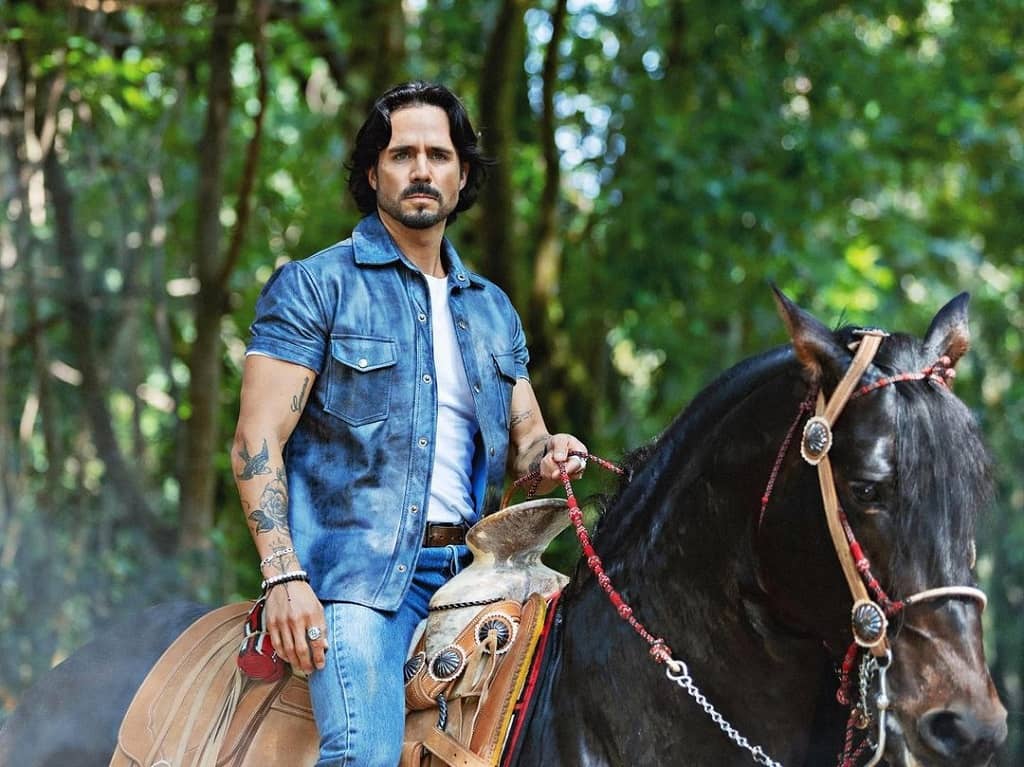 José Ron has a long dating history. Jose the famous actor started dating Silvia Navarro a Mexican actress in 2010.
However, in 2012, he reportedly dated Karla Pineda and broke off with her in the same year.
In the same year Jose dated Ariadne Diaz a formal model and Mexican actress, he dated Diaz till January 2014.
In the year 2017, he was in a relationship with Daniela Alvarez but soon broke off with her.
It was also rumored that he dated Erika Zaba in 2014, Livia Brito in 2014, and Iran Castillo in 2015, this information was not solely confirmed.
In 2018, Jose reportedly was in a relationship with Luz Edith Rozar and later got separated.
Currently, in 2019 Jose is reportedly dating Jessica Piaz. It is reported that the couple had gotten engaged through their Instagram.
Also Read: Who is Mexican actor Emilio Osorio?
José Ron Net Worth
José Ron's estimated net worth is $1-5 Million US Dollars in 2022. This is an estimated amount as he never revealed anything about his net worth.
The estimation is done through a stringent methodology involving diverse analyses and sources.
Being a prominent figure Jose might be earning from other assorted ways like he might be associated with the advertising industry or the brand ambassador of different organizations.
Also Read: Who is Mexican actress Irena Azuela?
Social Media Appearance
José Ron is a notable Mexican actor and clasps millions of social media followers. Being a famous TV actor, he holds millions of followers.
On his social media handles, Jose uploads his handsome pictures; mostly it is noted that he shares the same pictures on both of his accounts.
Moreover, his tweets are also noted. Overall, he is quite active on social media.
Let's take a look at his social media handles with his follower count.
Instagram — More than 3.8 Million followers
Twitter — More than 1.4 Million follower
I hope you had a good time with the biography of this famous actor José Ron.
We would be grateful to you if you will share your experience with us about his biography. It would be a pleasure for us.
Next Read: Who is Mexican actress Irena Azuela?