Have you ever been surprised to see gymnastics players with super-elastic bodies? Have you heard about Kayla Kecia DiCello, the world champion?
Gymnastics players have the inbuilt talent to stretch the body unbearably, and all their talents and performances have never failed to surprise us.
Interestingly, our world champion has also been in the gymnastics field for 16 years, and do you guys know her age?
She is just 18 years old with 16 years of gymnastics experience. On the other hand, Kayla will be a favorite of all job recruiters looking for more experience from job candidates.
It could be both a joke and the reality of the world.
And now, we'll look at our sports star Kayla Kecia DiCello.
Who is Kayla DiCello?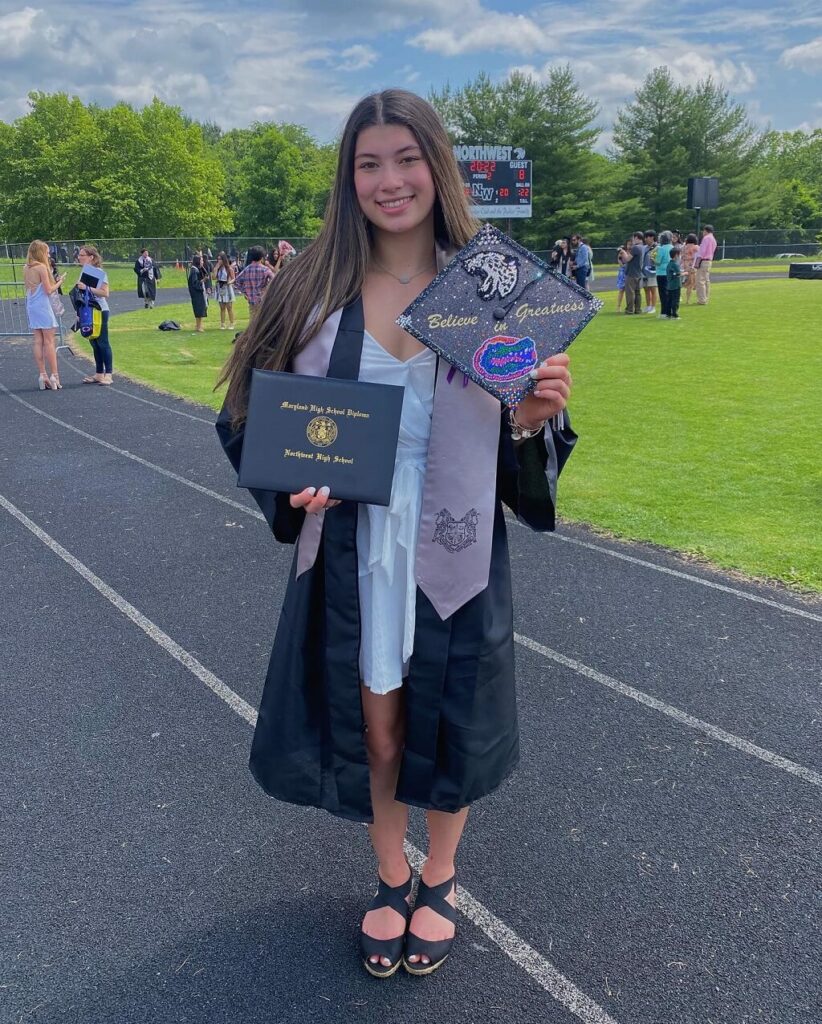 Kayla Kecia DiCello is the best American gymnast, winning the bronze medal at the world championships in Kitakyushu and qualifying for the gymnastics elite group.
Kayla competed in the Pan American Championships in the year 2022.
In the Rio de Janeiro event, Kayla got the gold medal in the floor exercises and the silver medal in the team event.
In addition to being a great player, Kayla has the most charming and humble characteristics, which many people like.
And her performance and behavior are attracting many American fans.
Early Childhood of Kayla DiCello
Kayla DiCello was born in Boyds, Maryland, on January 25, 2004. Her parents are Matt and Kecia DiCello.
Kayla has three siblings: Hunter, Karleigh, and Kyra.
Even her siblings are sports players; Hunter is a baseball player, and her sisters are professional gymnasts.
Kayla completed her high school education at North West High School in 2022. And she belongs to the Hills Gymnastics Club.
In 2023, Kayla is going to attend college, and even in her interview, she added that she is very eager to attend and start her new college life at the University of Florida. She will be studying there from 2023 to 2026.
Kayla joined the Florida Gators, the University of Florida's gymnastics team and one of the most talented teams in the country.
Since a toddler, Kayla has dreamed of becoming a gymnastics player. Yes, it is true, readers, and that is why she joined the "Mommy and Me Gymnastics Class" at Hill's Gymnastics at the age of 2.
Her parents discovered her talent and allowed her to join the classes at two. Kayla is currently making her parents proud.
Career of Kayla DiCello
Kayla DiCello started her career as a HOPES gymnast in 2016, and the next year she became a junior elite gymnast in 2017.
In 2018, she joined the junior national team by entering the Pacific Rim Gymnastics Championships.
Then, the same year, Kayla DiCello entered the August 2018 U.S. National Championships in Boston and won a silver medal in the all-around competition.
She won the junior all-around title in 2019 with a score of 55.700.
Kayla then advanced from senior to junior the following year. Then she participated as a senior in an American Cup game.
In October 2021, DiCello was selected to compete at the World Championships and won the bronze medal for her country.
In 2022, Kayla DiCello participated in the Pan American competitions.
Kayla DiCello Career Highlights
S. balance beam bronze medalist for the year 2022
World all-around bronze medalist in the year 2021, she also advanced to the finals of the balance beam and floor exercise.
Alternate for the 2020 Olympic Team
S. floor exercise silver medalist in the year 2021
American Cup silver medalist for the year 2020
Kayla DiCello Favourites
Here in this section, we have listed the interests and favorites of our sports star, Kayla.
Favourite school subject: mathematics
Favourite music: country songs
favorite book: Everything Everything
Favourite TV shows: Grey's Anatomy and Friends
Favourite Food: Steak
Favourite Gymnastics event of choice: bars
Favourite activities: swimming, outdoor games, yoga, and listening to music.
Social Media Account Details
Kayla has an Instagram account with the username @kayladicello and 42.6K followers.
Kayla is a member of the Fans Meet Idols application; it is an interesting and effective application where the fans can interact with Kayla.
DiCello has been selling her customized merchandise in this application, like her customized hoodie and cellophane back covers. Etc
Fans can also request to meet Kayla, but they must pay some charges. For example, there is a service called "Ask Me Anything," Kayla's fans can ask her anything, and she will respond in detail, but their fans must pay $23 to do so.
She charges $28 to obtain Kayla DiCello's autograph.
Here comes another interesting service:
Here, the fans can ask Kayla to like and comment on their Instagram photos. Everyone will be impressed if their idols like or comment on their respective photos, but everything has a cost: fans must pay 53 dollars to like and follow a fan's profile.
Kayla also has the TikTok application, where she has gathered around 16.4K followers. As a result, fans must pay 78 dollars to create a duet with Kayla.
Also Read: Big Bambina Model Biography
Kayla DiCello Net Worth
Kayla DiCello's net worth is estimated to be between $2 and $3 million; her exact net worth value is under review.
And after winning each competition, the winners will get attractive prizes; the prize money will be added to their net worth, and their popularity will keep increasing.
Thus, DiCello decided to promote some small businesses, and she charged around 320 dollars, and for giving gymnastics advice, Kayla charged around 75 dollars.
So, her net worth will keep increasing day by day.
Her yearly salary will be around 80,000 USD.
Also Read: Who is Model Francia James?
Kayla DiCello Physical Appearance
Kayla DiCello is a sports star, so she knows how to maintain her body in a fit manner.
In addition to that, she has the most beautiful face, and her talent magnifies her physical beauty.
Kalya DiCello is tall, about 5 ft 4 inches, or 163 cm, or 1.63 m, and weighs about 55 kg or 121 lbs.
Do you feel proud of Kayla? Comment on it.
Next Read: Yasmeen Ghauri Biography and Modeling Story