Kristen Kish (born 1 December 1983) is a Korean-born American chef known for winning the tenth season of Top Chef.
In this article, we know about Kristen Kish Chef, her age, wife, career, Gender, some interesting facts about Kristen Kris, and other details
Profile Summary
Name: Kristen Kish
Birth Date: 1 December 1983
Birth Place: Seoul, South Korea
Age: 40 Years
Height: 5 feet and 5 inches
Profession: Chef
School: East Kentwood High School
University: Le Cordon Bleu College of Culinary Arts in Chicago
Education: Graduate
Brother: Jon
Marital Status: Married
Husband: Bianca Dusic
Who is Kristen Kish?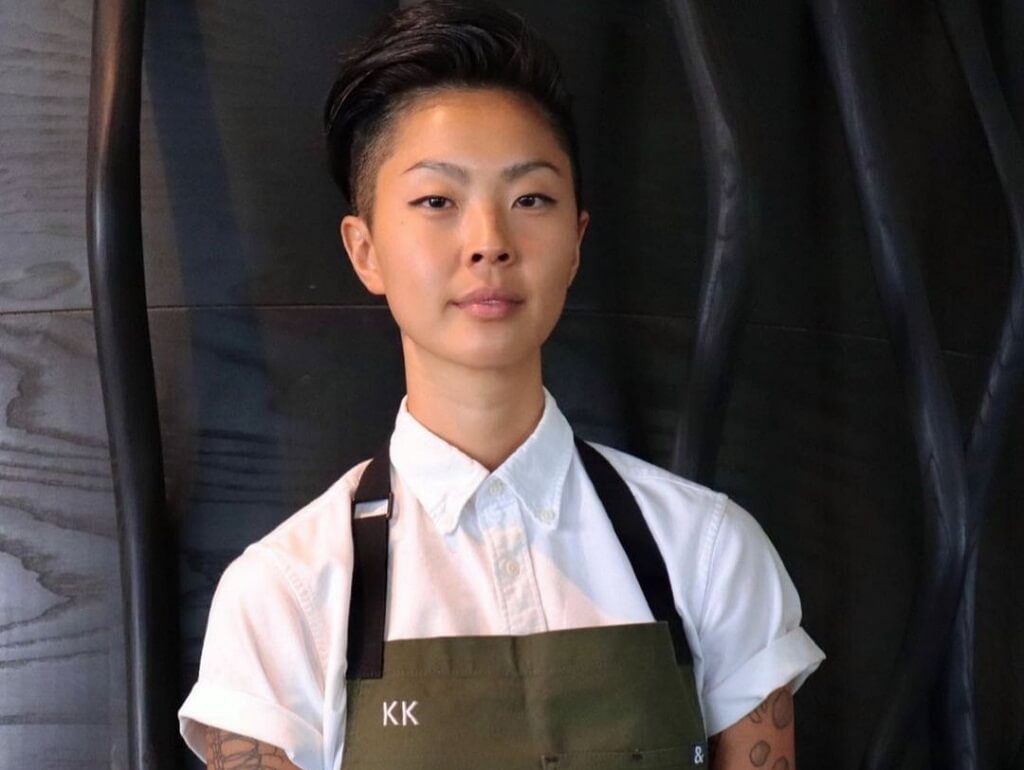 Kristen Kish is a Korean-born American chef. She is widely famous because she won the tenth season of top chef. She started taking coaching at Le Cordon Bleu College of Culinary Arts, which is a culinary school.
Right after learning techniques for making scrumptious dishes, Kish started her career at a young age in the same field. As of now, she is widely famous and hosts many cooking shows.
Early Life of Kristen Kish
Kristen Kish was born on the 1st of December 1983 in Seoul, South Korea. She is an adopted child.
Her parents were from Kentwood, Michigan and they adopted Kish when she was only four months old.
Her brother's name is Jon. Further, she has not received any information regarding her parents and her childhood.
Kash is quite secretive when it comes to her personal life, especially her early life. So, it's hard to guess anything about her childhood.
Regarding her education, Kish went to East Kentwood High School for completing her secondary education.
Further, for her graduation, she joined Le Cordon Bleu College of Culinary Arts in Chicago which is a Cooking and Hospitality Institute of Chicago.
Kristen Kish Chef Career
After completing her education, Kristen Kish Started as an instructor at Stir, a culinary demonstration kitchen in Boston, Massachusetts.
In 2012, she was honored as Stir's chef de cuisine by the owner, Barbara Lynch. So, she became the chef de cuisine at Barbara Lynch's Menton Boston.
In the same year, Kish received a golden opportunity to participate in the qualifying rounds.
At that stage, she was challenged to recreate a signature soup, and luckily, Kish passed the challenge and moved on into the competition.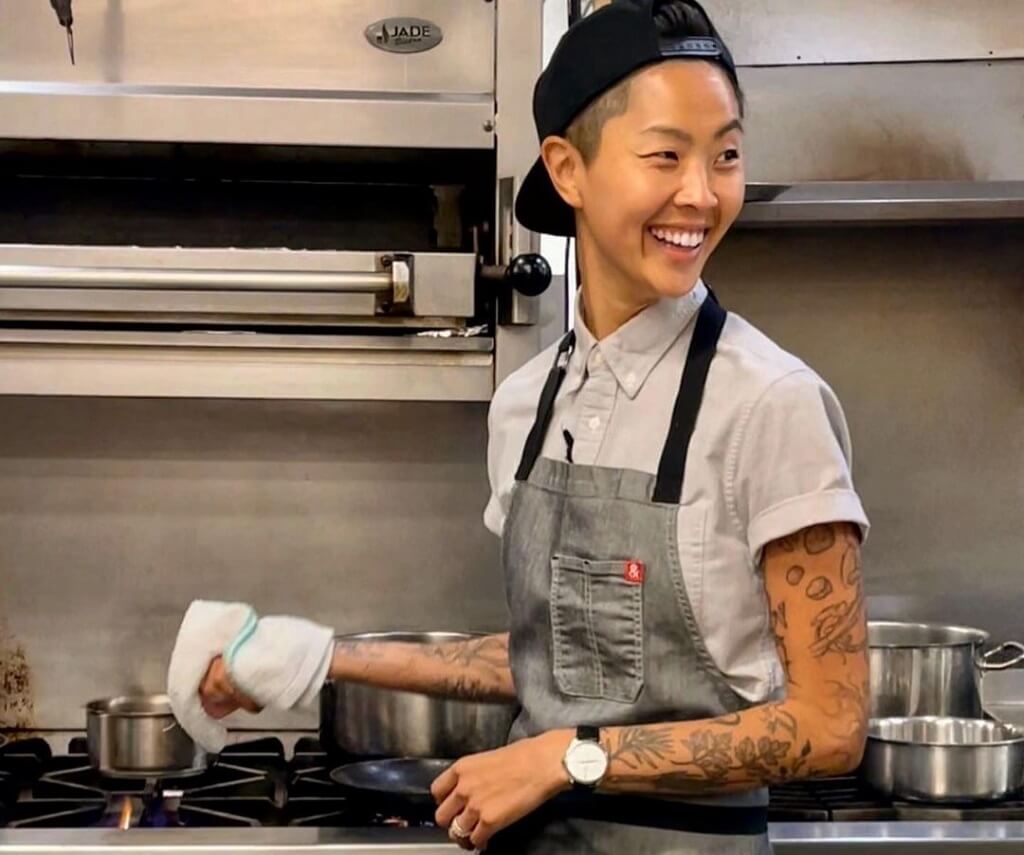 In the final round, she defeated Brooke Williamson and Kish was crowned the Top Chef. She became the second woman to win in the history of the Top Chef franchise.
In 2015, Kish was seen hosting a show with her co-host Kyle Martino who is a famous TV analyst and a former soccer player.
She appeared in the pilot season of 36 Hours which was a travel channel series. For this show, both spent 36 Hours exploring, eating, and drinking.
As of now in 2021, we can see Kish as a judge alongside the other two judges Jeremy Ford and Justin Sutherland in the Fast Foodies show featured on TruTV.
Kristen Kish Gender
Kristen Kis is an individual who identifies as a lesbian and is a passionate advocate for LGBTQ+ rights and visibility.
She has openly embraced her gender identity and sexual orientation, courageously sharing her journey with the world.
Kristen's dedication to supporting the LGBTQ+ community has been a source of inspiration for many
Kristen Kish Wife
Kish on the 28th of March 2014, openly announced that she was in a relationship with Jacqueline Westbrook and it was their first anniversary.
She announced it on Instagram and her fans were crazy to know about her love life.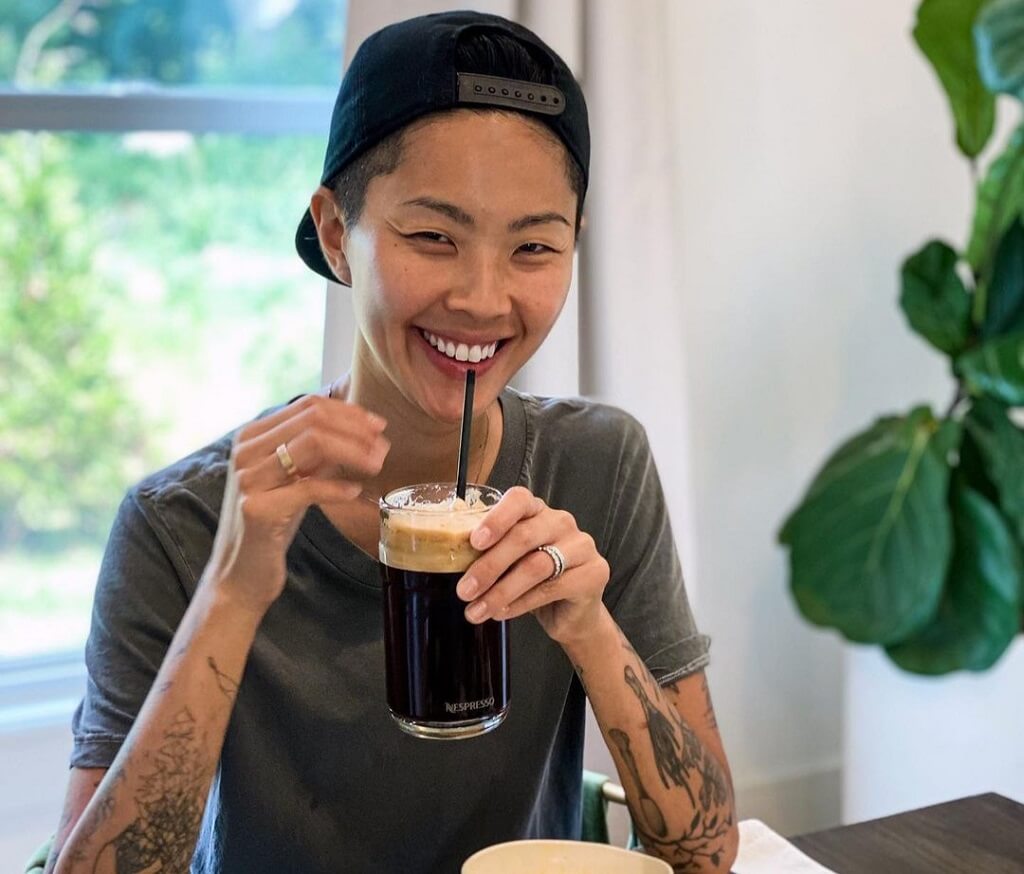 Unfortunately, this was not a successful relationship for Kish. They both broke up without citing the exact reasons.
On 29 September 2019, Kish announced that she got engaged to her partner Bianca Music.
According to an Instagram post, Dusic is a VP of Food and beverage for Standard Hotels. They tied their knot on 10 April 2021.
Social Media Influence
Kristen Kish is having a huge fan following across the world. She is polite and keen on her work so it was never difficult for her to attract people to her.
Kish is a charming personality and deserves love. She has been followed by many people around the world. Following is the list:
Instagram: More than 501K followers
Twitter: More than 40.7K followers
Facebook Page: More than 42.6K Likes
Kristen Kish Net Worth
As of 2023, the net worth of Kristen Kish is around $5 million. By looking at her success story, it is estimated that she earns really well.
Kish won a total of $125,000 grand prize when she won Top Chef – Season 10. She is active on social media platforms, which is again a good source of income for her.
So, it is estimated that Kish earns well.
Kristen Kish Facts to Know
Kristen Kish is a Korean-born American chef who gained fame by winning the tenth season of Top Chef.
She was born on December 1, 1983, in Seoul, South Korea, which makes her 40 years old as of 2023.
Kristen stands at a height of 5 feet and 5 inches.
She attended East Kentwood High School for her secondary education and later graduated from Le Cordon Bleu College of Culinary Arts in Chicago.
Kristen Kish is married to her wife, Bianca Dusic, who is the VP of Food and Beverage for Standard Hotels.
She identifies as a lesbian and is an advocate for LGBTQ+ rights.
Kristen Kish has a significant presence on social media, with over 501 followers on Instagram, 40.7K followers on Twitter, and more than 42.6K Likes on her Facebook page.
Her estimated net worth as of 2023 is approximately $5 million, thanks to her successful culinary career and winnings from Top Chef.
The Bottom Line
Kristen Kish is so much devoting personality. She joined a culinary school so that she could learn all the trips that would help her in her life. Despite facing some difficulties, she stands stood strong.
Kristen is a true inspiration personality. She is receiving much love from her fans and all the people around the world. I hope you enjoyed reading her biography.
Please share your feedback with us and let us know your experience.
Next Read: Who is the famous chef Adriano Zumbo? Read his complete biography