Who is Kylie Kwong?
Kylie Kwong is a well-known Australian television chef, author, television presenter, and restaurateur.
As a third-generation Chinese Australian, she learned the fundamentals of Cantonese cooking from her mother's side. She has given a public cooking demonstration, Organic Expo, in July 2009.
In 2012 she appeared as a guest chef in the fourth series of MasterChef Australia. She returned as a guest judge in the sixth series and guest mentor in the eighth series.
She also appeared on Anh's Brush with Fame on 17 July 2019.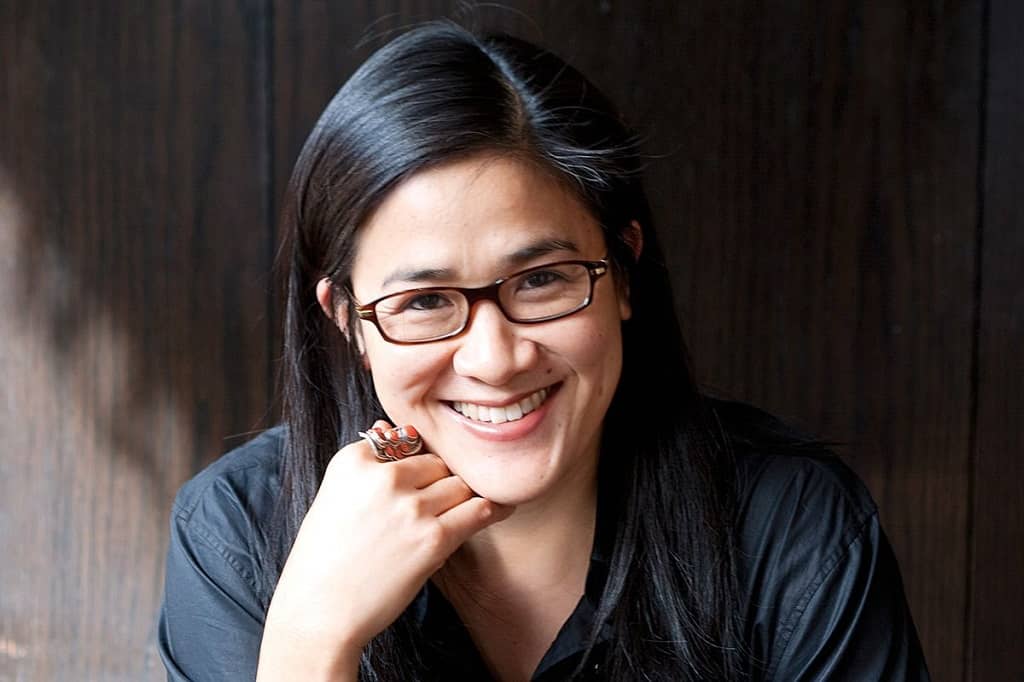 Early Life of Kylie Kwong
Kylie Kwong was born on 31 October 1969 in Sydney, New south wales, Australia. Kwong attended Epping North Public School and Cheltenham Girls High School.
She undertook much of her apprenticeship at Neil Perry's Rockpool and Wockpool, and later at Restaurant Manfredi.
Kwong opened her first restaurant, Billy Kwong, in the Sydney suburb of Surry Hills. 'Billy' in the restaurant's name derives, not from the name of a family member, but from the partnership with Sydney celebrity chef Bill Granger under which the restaurant was founded.
Kwong later became the sole owner of the restaurant under the original name.
Kylie Kwong Career
In 2014 Kwong relocated the restaurant to larger premises at Potts Point.
Billy Kwong Potts Point was co-owned with Sydney and Hong Kong chef and restaurateur Andrew Cibej and seismologist and businessman David King.
The restaurant committed to using organic and biodynamic food: "We now use only organic and biodynamic fruit and vegetables, poultry, meat, and noodles.
All the soy sauces, sugar, vinegar, and oils we flavor our food with are organic, and we serve Fair Trade tea, coffee, and chocolate." The restaurant made this transition in 2005.
Kwong is quoted as saying
"I wanted my work and social life to reflect my Buddhism.

Offering my customers healthy, life-giving, precious food is the best way for me to help them. Whether it's my books, restaurant, or TV show, I'll always ask, is this sustainable?

Is this about uplifting and elevating the energy rather than depleting?"
Billy Kwong received the inaugural Sustainability Award in 2009 from the Sydney Morning Herald Good Food Guide, in recognition of Kwong's environmental initiatives, including the option for diners to donate to a renewable energy credits program, purchased from a wind farm in the Chinese province of Hebei.
The restaurant serves only filtered Sydney tap water, offering no bottled water.
At a public lecture by the Dalai Lama on 3 December 2009 at the Sydney Entertainment Centre, Kwong acted as master of ceremonies.
Rise to a Popular Spot
On 1 October 2011, Kwong's first-ever tableware range went on sale in Oxfam shops around Australia.
The range, which includes a soup bowl and rice bowl with matching plates, soup spoon, teapot, teacup, and coffee cup, is a joint project with Oxfam Australia and is hand-crafted by one of Oxfam's fair trade producer partners in Vietnam, Mai Vietnamese Handicrafts.
In 2019 Kwong announced the closure of her restaurant citing a desire for change in her fiftieth year.
In November 2019 Kwong was appointed Ambassador for food, culture, and community for the newly revitalized South Eveleigh precinct.
Formerly known as the Australian Technology Park, an established technology and innovation hub, the area was developed to include diverse office, retail, dining, wellness, and cultural areas.
Kwong's role is to encourage workers, visitors, and the wider community to engage with the precinct through food, culture, and community activation.
Post Success
In 2020 Kylie Kwong participated in the 22nd Biennale of Sydney.
Her original plan was to hold a behind-the-scenes event exploring "the concept of 'true nourishment' through preparing food, serving the community, and sharing respect for the people, stories and places behind the food that we eat".
As Ambassador for Food, Culture, and Community for South Eveleigh and also an Ambassador for the Wayside Chapel, events were planned to be held at the Wayside Chapel and Eveleigh Green in South Eveleigh.
With the onset of Covid-19 restrictions, she refocussed on cooking and delivering weekly meals over two months as a gesture of support for seven community and health leaders.
The essence of the project was captured in conversations with three of these leaders and documented under the title True Nourishment for the Biennale.
In May 2021 Kwong opened her cafeteria-style dining venue, Lucky Kwong, in the precinct.
The venue, named after the son she and her wife lost in 2012, was established with a focus on quality, ethically sourced ingredients, and nourishing dishes.
Kylie Kwong Personal Life
Kylie Kwong is married woman who tied her knot with her husband Nell on 17 March 2019.
Kylie Kwong's partner Nell is an Australian artist, and her partner Kylie Kwong is a celebrity chef.
She works across various genres like performance, installation, video, painting, and sculptor. Nell and Kylie Kwong are same-sex couples.
Nell was born in 1975 in Maitland, New south wales, Australia. The couple met in an art exhibition back in 2004. Nell after a few months emailed Kylie asking if she wanted to catch up and later they started dating and Nell moved on with Kylie.
Kylie Kwong and Nell had planned to marry at a rooftop chapel, due to the pouring rain on their marriage day they had to relocate.
The couple married in the backroom of a flower shop which was run by their friend.
Also Read: Who is Australian TV Host Scott Cam?
Kylie Kwong Net Worth
Kylie Kwong has a net worth of $5 million USD. Kylie collected most of her earnings from her Yeezy sneakers while she had exaggerated over the years about the size of her business.
The money she pulled in from her profession real–enough to rank as one of the biggest celebrity cashouts of all time.
Her Basic income source is mostly from being a successful Chef.
Also Read: Who is Australian Chef Gary Mehigan?
Social Media Presence
Nowadays, social media sites have become the core platform for showing and expanding your business. And if someone is not leading there, it means he/she is particularly not that popular amongst the people.
In Kwong's case, she holds enough followers on her social media handles, with respect to her profession. As a chef, earning thousands of followers is quite good.
Let have a look at her social media follower numbers:
The Bottom Line
In 2003, Kylie Kwong: Cooking with Heart and Soul was published by Penguin Viking/ABC Books in October 2003 to coincide with her first TV series which was screened on the ABC at the same time.
Her first cookbook Kylie Kwong: Recipes and Stories was published by Penguin in April 2003. The television series was screened both on the Australian ABC, but also on Foxtel, on The LifeStyle Channel, and Discovery Home in the United States.
In late 2001, the LifeStyle Channel released a statement revealing that a second Kylie Kwong series would be released.
The 6 part television series would be named Kylie Kwong: Simply Magic.
This series was then televised in January 2006 on The LifeStyle Channel and later in 2006 on Discovery Home.
A new Kylie Kwong book was released in 2006 under the name Simple Chinese Cooking. The book aims to make Chinese cooking as easy as possible, with every recipe accompanied by a full-page color photograph.
A third series to accompany her new book My China: Stories and Recipes from My Homeland will be shown on UKTV Food in summer 2008.