Why always we judge individuals based on their gender. The name with which I came today is Liv Hewson. Hewson found in teenage life that they are non-binary but continued to work to live dreams.
An eye-opening biography is waiting for you.
Who is Liv Hewson?
Liv Hewson is an Australian playwright and actor. They have been acting since 2013. Their famous written works include mythology with a queer and dark slant and lots of re-imagining of fairytales.
These were featured as Abby Hammond in Santa Clarita Diet a Netflix series from 2017 to 2019.
Early Life of Liv Hewson
Liv Hewson was born on 29 November 1995. Until now she has passed 26 years of her life. She was born in Canberra, Australian Capital Territory, Australia.
She spent her early life in a suburb of Hughes and went to Alfred Deakin High school for studies and then she was admitted to Canberra College.
Besides, if talking about her family we came to know that Hewson has three brothers. She was born to the family of Tony and Angela.
Tony is a psychologist whereas Angela is a public servant. Hewson came out as non-binary in front of the public at the age of 16.
No-binary individuals are gay and call themselves by the pronoun they and them.
The Journey of Liv Hewson
Liv Hewson officially began working as an actor and playwright in 2013. However, they grew up watching American television shows with their family.
The family used to watch television shows together such as Futurama and The Simpsons.
Hewson made it clear that these American television shows helped them to act easily with an American accent.
Hewson went to Los Angeles to attend an acting workshop in 2014.
They played the role of lead character Claire Duncan in a fantasy web series called Drama world which was released in 2016. They worked in several films too.
The first film in which they appeared in the film Before I Fall. Some recurring roles have also welcomed them.
The series in which they played recurring roles are in the miniseries Marvel's Inhumans and Top of the Lake.
Hewson stepped into filmography as well. They began films from the same year of their debut. The first film in which they were featured was Alfonso Frisk.
It was a short film in which they played the role of Fenny Frisk. Then after a break of one year, they returned to short films in 2015.
They did two films in that year and these films are So Romantic and Survey Says. In So Romantic they portrayed the character of Gurt while in Survey Stars it was Hillary.
As the years passed they continued acting in films to flourish their acting career and the next short film was
Let's See How Fast This Baby Will Go giving life to the character of Gloria.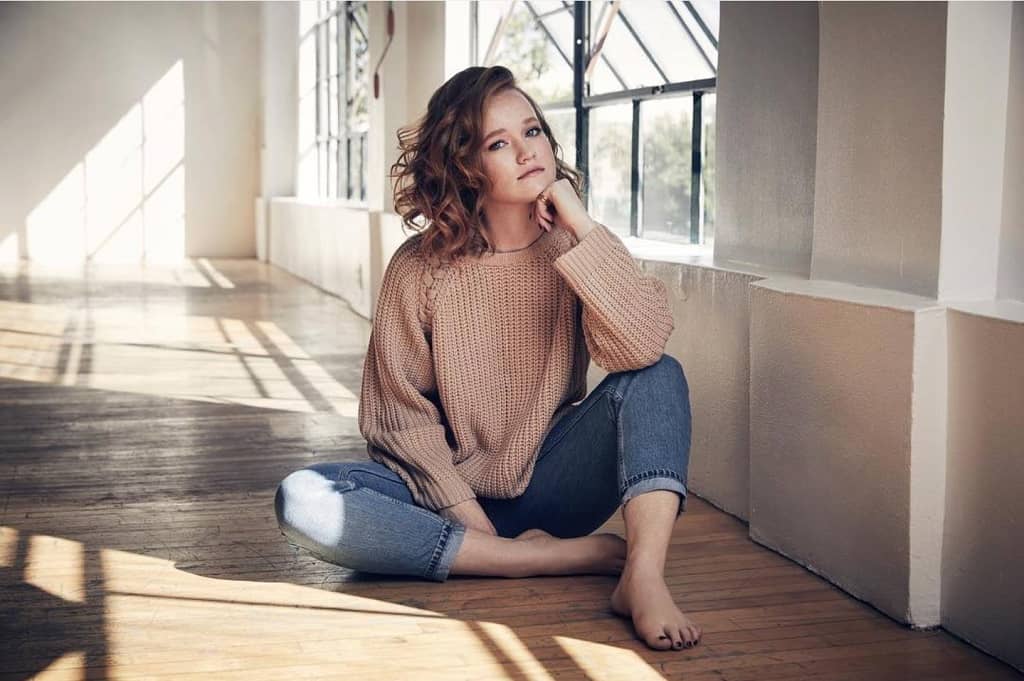 Some other projects of Hewson include Before I Fall as Anna Cartullo (2017), Puzzle as Nicki (2018). They did two projects Bombshell as lily and Let It Snow in 2019.
Recently they portrayed the character of Denny in the show Under My Skin which was aired in 2020.
In the world of television Hewson marked their name without thinking of their discriminative trait. In 2014, they appeared in the television show I've Got No Legs in the role Liv (2014).
From 2014-2015, they appeared in 3 episodes of Do You Mind? They were seen in two series in 2016.
These shows include Drama world and The Code. They were featured in the recurring role of Elle in 3 episodes of Top of the Lake in 2017.
From 2017-2019 they were regularly seen in Santa Clarita Diet as Abby Hammond.
Another show in which Hewson was featured in a recurring role was Marvel's Inhumans as Audrey (2017). In 2018, we saw them in the character of Ashley Piper for the 8 episodes in the television show Back in Very Small Business.
This show was released in 2018. They have been currently working Yellowjackets as Vanessa Palmer in a recurring role. This show is on air currently.
Hewson in 2018, also did a web series named Homecoming Queens as Chloe Reeson. They received awards one of them is Human Rights Campaign Visibility Awards in 2020.
Seeing consistency in their work, we wish blessings to Hewson for their upcoming life.
Liv Hewson Personal Life
Liv Hewson has never felt comfortable while talking about her personal life. They were never exposed to their audience and media. As of now they are single and not dating anyone.
Hewson was not previously married nor did they have any children.
They had kept their life private as safe as a secret but everyone wants to get to know about it but didn't get something interesting.
Liv Hewson Net Worth
Liv Hewson's net worth is estimated to be between $1 million to $5 million. This net worth includes her income, money, and her assets. However, they earn a huge amount of their wealth as an actress.
They have also invested in different businesses including substantial property holdings, smart stock investments, lucrative endorsements deal with CoverGirl cosmetics.
They also earn a decent amount of money from these other jobs. Hewson has been capable of accumulating good wealth but prefers to live a simple life.
Next Read: Who is actress Hivda Zizan Alp?