In this world, millions of people are trying hard to get a secure job for their life. However, only some are getting success in it.
Between this, a very young American Actor name Lucas Jade Zumann; is only 21 years old and still has a good remarkable career. Let's have a look at his incredible journey.
Profile Summary
Name: Lucas Jade Zumann
Birth Day: December 12, 2000
Birthplace: Rogers Park, Chicago, Illinois, US
Age: 21 years
Height: 1.72 m
Net worth: $1 Million
Profession: Actor
School: Hebrew School
Father: Matthew Zumann
Mother: Jennifer Zumann
Brother: Three brothers
Marital status: Unmarried
Nationality: American
Residence: Chicago, Illinois, U.S
Who is Lucas Jade Zumann?
Lucas Jade Zumann is an American actor best known for his roles in the supernatural horror film 'Sinister 2' and the Canadian drama television series 'Anne with an E.' A talent agent first noticed him while auditioning for a Disney talent search.
He made his acting debut as a member of an ensemble cast in a Music Theater Works production of the musical 'Oliver.'
He appeared as "punk" in a single episode of Netflix's Sense8 before landing his first major role, 'Milo,' in his debut film, 'Sinister 2.'
He then went on to star in the critically acclaimed film '20th Century Women.' He also rose to prominence as Gilbert Blythe in 'Anne with an E.'
Early Life of Lucas Jade Zumann
Lucas Jade Zumann was born on December 12, 2000, as the oldest of four sons to Matthew Zumann and Jennifer Zumann in Rogers Park, Chicago, Illinois, USA. His father is a German who works in the Pilates industry, and his mother is Jewish.
Thomas Zumann and Kathryn are his paternal grandparents. Lucas has three brothers and sisters.
He is the oldest of four brothers from Chicago, and he has always been well-connected. He was enrolled in Hebrew School for his education.
Lucas attended Waters Elementary School until fifth grade before transferring to the Chicago Waldorf School. He was also homeschooled for a time before returning to Chicago Waldorf School in twelfth grade to finish his high school education.
In his spare time, he enjoys playing the guitar and other hobbies such as aerial arts, martial arts, Parkour, photography, and filmmaking.
Lucas Jade Zumann's Career as an Actor
A talent agent discovered Lucas while he was auditioning for a Disney talent search in Chicago at Paskal Rudnicke casting.
His first foray into acting began as an ensemble member in a production of the musical Oliver! At Music Theater Works in his hometown (formerly Light Opera Works).
He later appeared as a cameo in the Netflix series Sense8.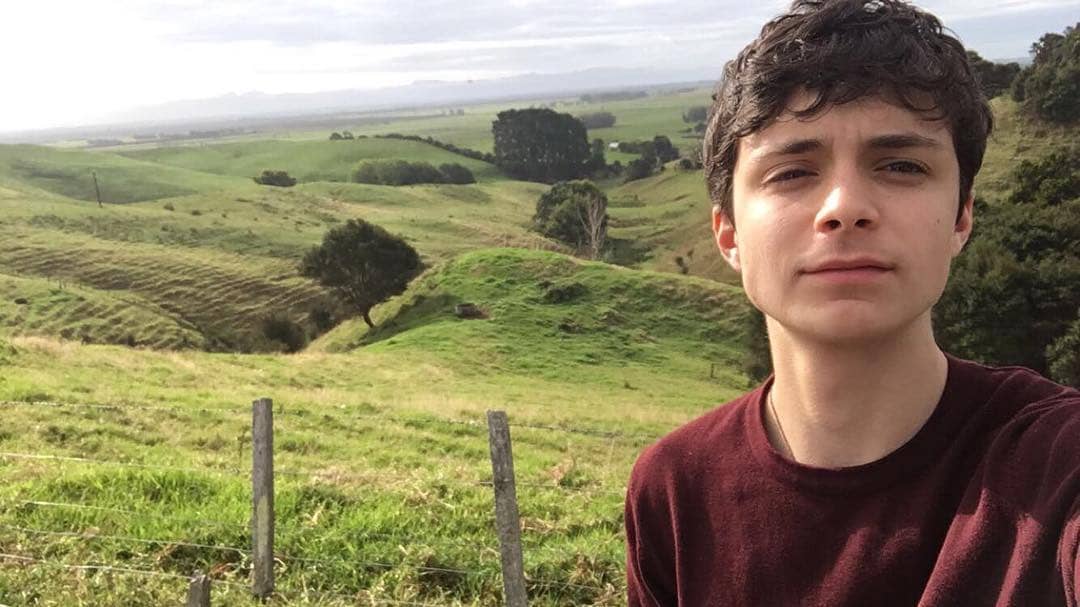 His breakthrough performance came as Milo in the horror film Sinister 2.
He also gained attention for his roles as Jamie Fields in the Oscar-nominated 20th Century Women, alongside Elle Fanning, Billy Crudup, Greta Gerwig, and Annette Bening.
Lucas is best known for his role as Gilbert Blythe in the Canadian Netflix series Anne with an E. He also appeared in the teen rom-com film Every Day as Nathan Daldry/A.
Personal life of Lucas Jade Zumann
Lucas Jade Zumann, the everyday star, has been having a one-of-a-kind dating life with his girlfriend Shannon Sullivan.
They've always been there for each other, and they started dating after his girlfriend confessed her feelings first.
The couple promised to grow old together and to plan their future together.
Lucas claims that he does not enjoy surfing social media and dislikes having his personal information hiked to social media; in other words, he prefers to keep his personal information away from social media.
Lucas Jade Zumann Net Worth
Lucas, whose net worth has been derived from his acting career, is currently earning money from Netflix's Anne with an E as Gilbert Blythe.
Zumann's net worth is estimated to be around $350,000. His first major role was as Milo in the horror film Sinister 2.
Lucas Jade Zumann's net worth is estimated to be $1 million as of 2022.
James Ransone and Shannyn Sossamon also appeared in the film.
It received negative reviews but went on to become a blockbuster hit, grossing more than $54 million at the box office against a budget of $10 million.
His main source of income is from acting. He is constantly working on TV shows or movies, and he never appears to be idle.
As an actor, he has demonstrated some abilities, and by incorporating new techniques into his acting, his fee has increased year after year. He has been making movies every year since 2015, with the exception of 2017.
Social Media Appearance
Lucas has achieved a lot at a very young age. Whether it's on social media or in the real world, he is leading everywhere with his fans.
Currently, he has more than 510K followers on his Instagram handle, and over 40k followers on his Twitter handle.
Besides this, he is not much available on other social sites. He may be focusing on his career and making it his first priority.
He just needs to achieve the peak of his success, and then he will automatically gain over million followers on his handles.
Physical Appearance
Lucas Jade Zumann is a young actor with a height of 5 feet 8 inches, which is equal to 172 centimeters or 1.72 meters. Further, his weight is around 62 kg or 136 lbs.
He has managed a nice slim and fit phyqisue. He is still making himself different from his current style and that's why he may be seen a little different in the coming years.
Physical Appearance
Height
Feet & Inches: 5'8"
Centimeter: 172 cm
Meter: 1.72 m
Weight
Kilograms: 62 kg
Pounds: 136 lbs
So, now you have successfully completed reading the biography of this amazing actor. Please share your feedback and opinions regarding this article by Lucas Jade Zumann.
We will be very thankful to you for this favor.