Are you interested in the political systems and leaders of the world? Did you read the news about Madame Marjorie Taylor Greene getting re-elected in Georgia town?
Yes, she has occupied the USA representative seat. Usually, Taylor is best known for her conspiracy theories, but now people will be getting more information about Taylor in the future.
But for now, we will discuss her biography and political journey in detail.
Marjorie Taylor Greene Profile Summary
Name
Marjorie Taylor Greene
Birth Date
27 May 1974
Birth Place
Milledgeville, Georgia, USA
Age
48 Years Old
Height
Feet & Inches: 5'3''
Centimeter: 160cm
Meter: 1.60m
Weight
Kilograms: 56kg
Pounds: 123Lbs
Net Worth
$5 Million
Profession
Politician, Entrepreneur
Father
Robert Taylor
Marital Status
Divorced
Husband
Perry Greene
Children
Lauren Green, Taylor Green, Derek Green
Nationality
American
Who is Marjorie Taylor Greene?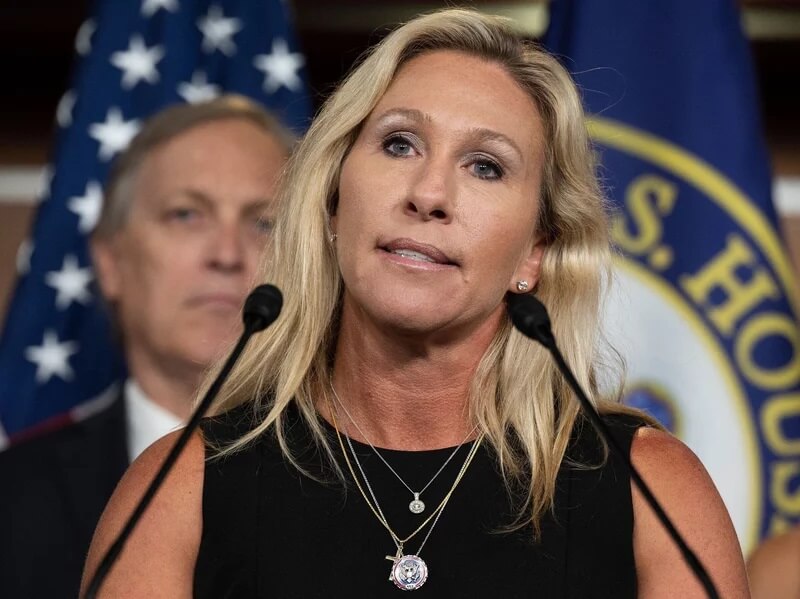 Marjorie Taylor Greene is an American right-wing politician who defeated Democrat Marcus Flowers in the 14th district of the Georgia towns of Rome, Dalton, and Calhoun in Cobb County.
She is also a great businesswoman.
Taylor has been elected as the people's representative of the United States. She belongs to the Republican Party and is an ardent supporter of former US President Donald Trump.
Moreover, Marjorie Taylor is a very popular politician for her controversial comments and actions.
Earlier, Twitter banned her account due to her triggering messages on the COVID scenario, but after becoming a US representative, Elon Musk reinstated her Twitter account.
And, at long last, Marjorie Taylor Greene has returned to her Twitter account!
Furthermore, her divorce news has spread faster than her election results: Marjorie Taylor Greene ended her 27-year marriage life!
Early Childhood of Marjorie Taylor Greene
Marjorie Taylor Greene was born on May 27, 1974, in Milledgeville, Georgia, USA.
There are not many details about her parents and siblings.
But her father, Robert Taylor, was a great businessman, and he was the owner of the company Taylor Commercial Construction Company.
After Taylor married Perry Green, her father sold the company to Marjorie and Perry Green.
Marjorie Taylor Greene graduated from South Forsyth High School in Cumming, Georgia, in 1992 and then attended the University of Georgia for a bachelor's degree in business administration in 1996.
Marjorie had a childhood trauma in which she was held hostage in her high school for five hours, followed by a mass gun shooting at her school.
Her high school gun shooting incident helped her advocate for the gun rights of American citizens.
But there is no information to indicate her political interest during her childhood because it seems like she was more interested in running her own business, so she has chosen BBA as her graduation degree.
Marjorie Taylor Greene Career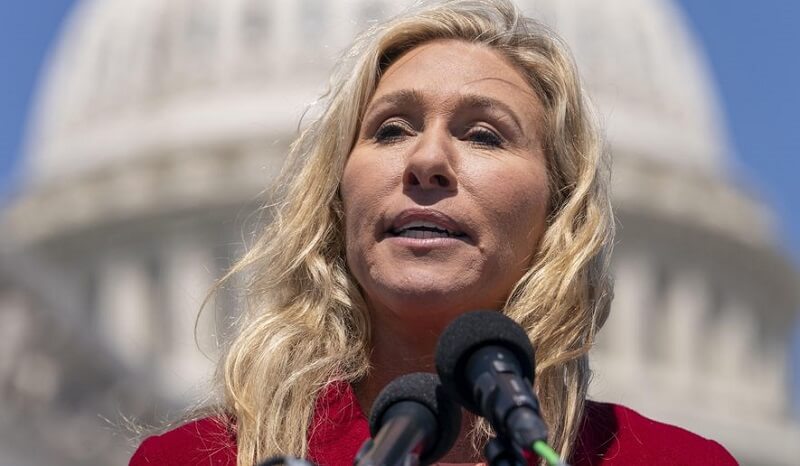 Marjorie Taylor Greene started her career by running her father's business, the Taylor Construction Company. From 2007 to 2011, she served as the company's chief financial officer.
But in 2011, due to some company issues, Marjory was removed from her position and joined as a coach at a CrossFit gym.
Then she opened her gym," CrossFit passion "with athlete Travis Mayer.
Marjorie suddenly developed a strong desire to enter politics and became politically active during the 2016 Republican Party presidential primaries.
After her ardent political work, she has become the top official of the Family America Project.
Meanwhile, Marjorie stood in the 2019 presidential primaries, supporting Donald Trump.
She emerged as the big winner by getting 40.3%; she was the only Republican candidate to get good voting percentages. After that, she established an identity for herself.
Marjorie then won the Republican cutoff result with 50 percent of the vote.
In the year 2020, she ran for the general election for the 14th US district, and the 14th district is a Republican town, so Marjorie was elected as a US representative for the first time.
But her position didn't last long because her controversial behaviour, which resulted in her removal.
Because she endorsed and promoted the political violence of the United States Capitol attack, based on the Fourteenth Amendment to the United States Constitution.
Even the Republicans joined hands to remove her from her position. However, she was re-elected as a US representative in 2022.
Marjorie Taylor Greene Controversies
Marjorie Taylor Greene became well-known for her provocative and controversial remarks.
Here is the list of examples,
She is a far-right conspiracy theorist, meaning they will share the information as facts without authentic proof. Those facts will have no philosophical or scientific validity.
Greene advocated for antisemitic, white supremacist behaviour against Jews for no apparent reason.
Recently, during the COVID lockdown, she compared the lockdown rules to the Holocaust incident, where the Jews were persecuted. Well, isn't she the queen of controversies? But later on, she apologised for her statement.
Typically, Marjorie compares Democratic Party members to Nazis.
Even regarding Russian and Ukrainian issues, Marjorie backed Russia and praised Vladimir Putin.
Isn't this point a bit confusing? How can she support her rival country because she wants to spread criticism against President Joe Biden? Well, even Donald Trump hated Putin!
Then, during the general election, Marjorie Taylor Greene was convinced that election votes had been tampered with and brought that case to court alongside with Donald Trump
Moreover, Marjorie passed the impeachment motion against Joe Biden at his inauguration ceremony.
Marjorie Taylor Greene Personal Life
Marjorie Taylor Greene's former husband is Perry Greene, the CEO of the Taylor Construction Company.
The couple married in 1995; both were graduates of the University of Georgia. Thus, they might have met during their college days.
After getting married, the couple had three children: Lauren Green, Taylor Green, and Derek Green.
But in September 2022, the couple got separated, and their reason for separation is unknown.
Presently, some rumours are spreading that Marjorie had an extramarital affair with some guys. But even now, Perry stood by his wife, and he denied the rumors about her.
Also Read: How Tall is Lil Uzi Vert?
Marjorie Taylor Greene Net Worth
Marjorie Taylor Greene's net worth is estimated to be around $5 million by 2022, and during her divorce process, all the net worth values of Marjorie and Perry were considered.
But in that calculation, Marjorie's net worth crossed over 41 million dollars! Including her salary from her father's business.
Marjorie's annual salary is $171,000, and her assets include six real estate properties, a luxury yacht, and five cars.
Also Read: How Tall is Maya Hawke?
Marjorie Taylor Greene Physical Appearance
Marjorie Taylor Greene is about 160 cm or 1.6 m (5 feet 3 inches) tall and weighs about 56 kg or 123 lbs.
She maintains her physique well because Marjorie is the gym coach; thus, she knows how to keep a healthy body.
Her brown eyes and blonde hair add to her external beauty.
End of our politician story!
Share your thoughtful thoughts in the comment section.
Next Read: How Tall is Addison Rae?