Below we have covered an unbelievable biography of Megan Gale. She is recognized as one of the talented ladies who is involved in both the modeling and filming fields.
Also, she is known for being the wife of the famous former Richmond AFL footballer Shaun Hampson. Let you explore her amazing story below and get familiar with her.
Profile Summary
Name: Megan Gale
Birth Date: 7 August 1975
Birth Place: Parmelia, Western Australia, Australia
Age: 46 Years
Height: 5 feet 11 inches
Net Worth: $1 Million USD
Profession: Model and Actress
Marital Status: Engaged
Partner: Shaun Hampson
Children: River (son) and Rosie (daughter)
Nationality: Sudanese – Australian
Residence: Australia
Who is Megan Gale?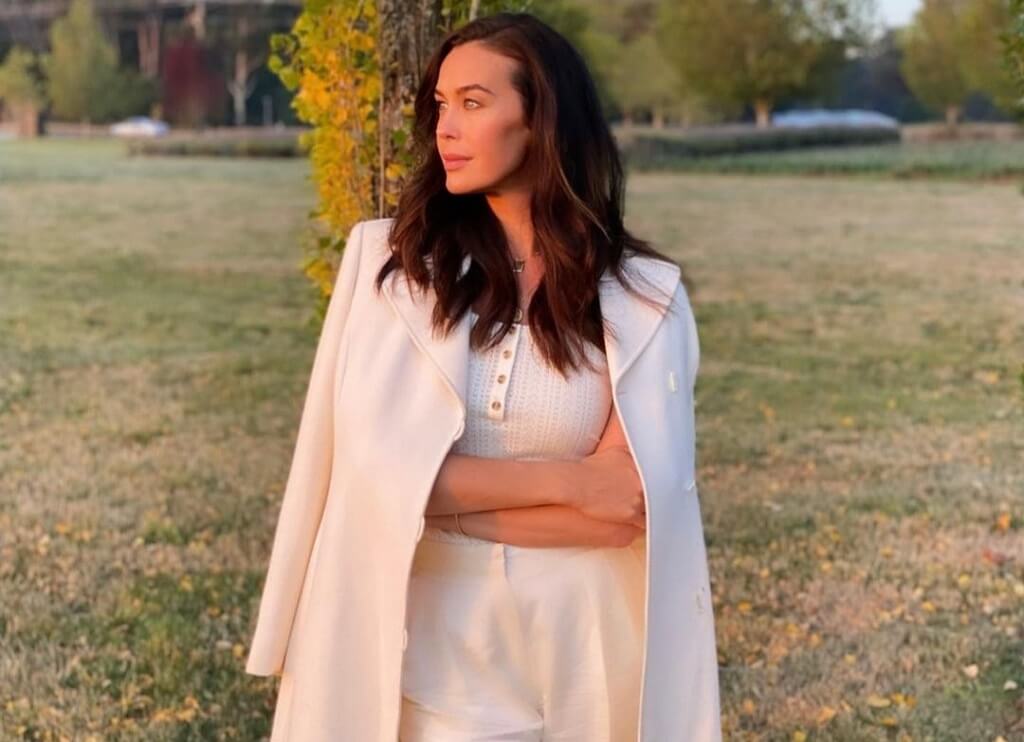 Megan Gale is a famous Australian model and actress who is widely popular for her notorious work in the modeling field. She has been featured in a number of magazines and newspapers. This has led her to a new stage that is full of happiness and joy.
Further, Megan has made her name in the film industry too. She has appeared in some films, even was offered to feature in the DC's Justice League of America. Unfortunately, the project was canceled and she had to move in other directions.
Megan has also worked as a guest reporter for the Nine Network travel show Gateway from October 2005 to mid-2006. Besides this, she became the national Ambassador for Kids Help Line in February 2005 and then National Ambassador for The Red Cross in 2009.
Early Life of Megan Gale
Megan Gale was born on 7 August 1975 in Parmelia, Western Australia, Australia. She has not revealed anything about her parents. However, it is well-known that his father is English and her mother is part Maori. She is the youngest child of her family with two older brothers.
At age of 18, she participated in a modeling competition in Perth and became the winner of it. Later at an age of 24, Megan was cast in a series of advertisements for Italian telecommunications company Omnitel (now Vodafone Italy).
As a result, she earned huge popularity across Italy and her native Australia. She appeared in their advertisements until 2006.
Her Modeling Career
In 2003, Megan Gale was retained by the Australian Tourist Commission as 'their face of Australia in Italy'. She further graced the covers of various magazines companies with her attractive pictures.
Some of those magazines were Marie Claire, Italian Maxim, Grazia, Gioia, Italian and Australian GQ, and Australian InStyle.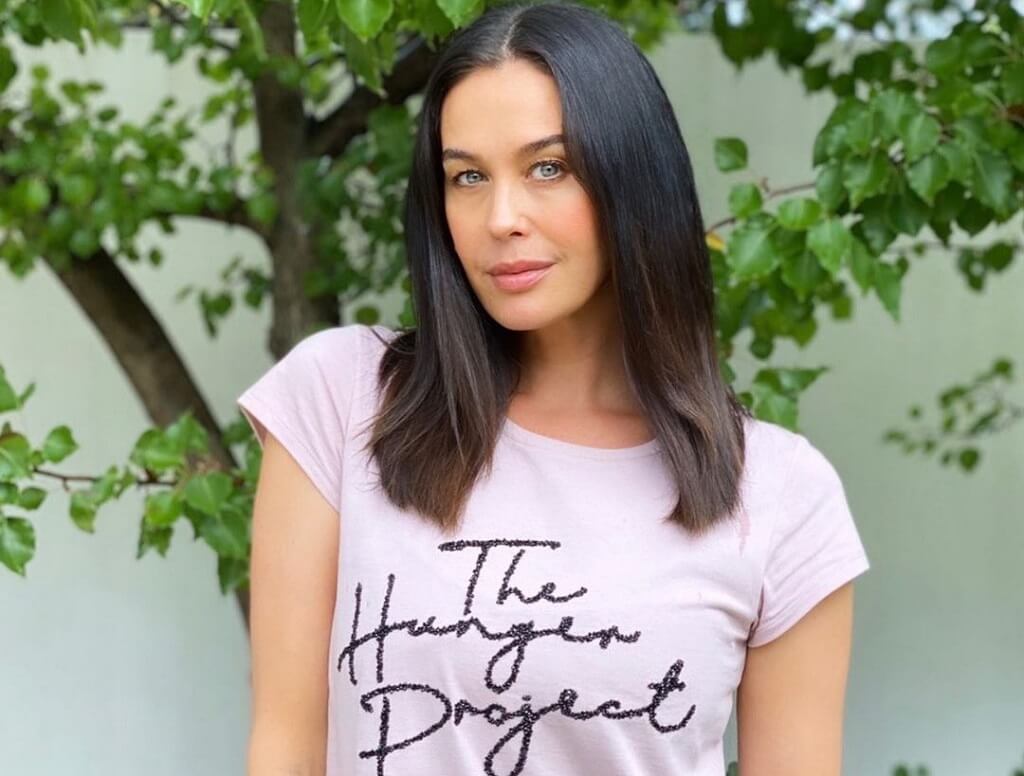 Moreover, Megan was also featured in editorials for Australian Cosmopolitan and Vogue Italia. She has modeled for a lot of Italian fashion houses including Gianfranco Ferre (aka the architect of fashion). Further, Megan did runway work for Mariella Burani and Angelo Marani at Milan Fashion Week.
In early 2008, Megan announced her retirement from runway modeling. It was 15 years since she was in this field. Before this announcement, she walked the catwalk at a David Jones winter collection launch in Sydney. At that time, no one was predicting that she would shortly announce her retirement.
After two months, Megan returned to the runway and closed the 2011 Alex perry's Melbourne Fashion Festival show.
Acting Career
Megan Gale is not a model only, but also known as a famous actress. She appeared in Italian movies Vacanze di Natale 2000, Body Guards, and Stregati dalla luna. Additionally, she had also a cameo part in the 2005 film Stealth where she played the role of Dr. Orbit's secretary.
Her popularity rose to the peak when it was announced that she had been offered the part of Wonder Woman in the George Miller movie version of Justice League of America.
But sadly, the project was put on hold and then canceled. Anyway, Megan continued her career as an actress by appearing in the 2009 film I Love You Too.
In the same year, Megan became the first official National Ambassador for The Red Cross. Such things led her to earn a lot of fame, along with a lot of money.
Megan Gale Husband and Children
Megan Gale is an engaged woman who is in a relationship with her partner Shaun Hampson. He is a former Richmond footballer. The couple first met in 2011 and shortly came too closer which then turned into love. Therefore, Megan and Shaun began dating overnight and enjoyed spending time together.
Around this period, Megan was living in Sydney while Shaun was in Melbourne. As a result, they had to continue a long-distance relationship. They then dated over Skype. In 2019, she told in an interview, "We had started Skyping around 8 pm, then look at the clock, and it would be 4 am.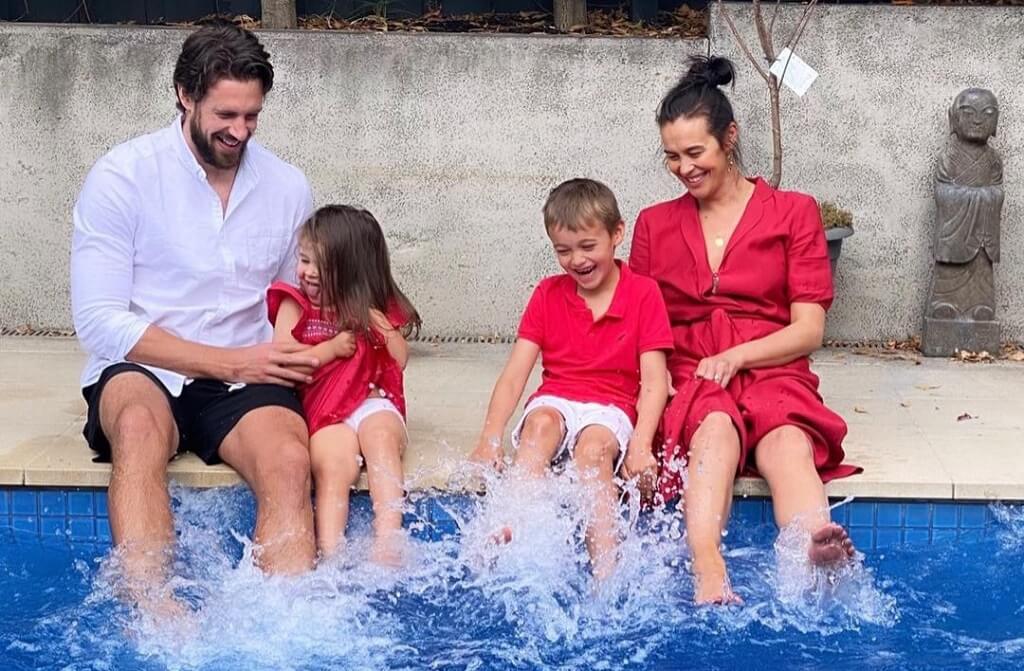 Megan and Shaun got engaged in 2017. After two years, Shaun opened a but about his marriage plans saying 'the wedding might be a year away and he gave a glimpse into the type of wedding the couple wants.
While being in a living relationship, Megan and Shaun together welcomed their first child, a son on 13 May 2014 and named River. Then in 2017, the couple welcomed their second child, a daughter named Rosie.
Megan Gale Net Worth
Megan Gale estimated net worth is $1 million USD. The actress has not had a single source of her earning but has various sources. The first one is her acting profession. This has generated almost one twice of her net worth.
Further, her modeling career has contributed more than half of her total capital. She is more famous as a model than an actress. Thus, it would be obvious for her to earn a lot from modeling. Also, she is the brand ambassador of few brands which led her to a good income.
Apart from this all, she has been paid by various magazines companies, especially the modeling one. Moreover, she can also earn a good amount with her social media handles. At all, Megan is enough good financially.
The Bottom Line
Megan Gale is a multitalented woman who thinks of a model, actress, and brand ambassador of many companies. Being a woman, and even a mother, it is not that easy for her. But again, she is special for others and that's why she is capable of doing these all.
Next Read: Who is Australia's Best Runway Model Ajak Deng?
She has done whatever no one has thought about her. This is enough for her and she might take some rest in the coming years.
I hope you enjoyed her biography and entertained her at some level. Let you share your feedback with us and let us know about your experience.