Are you the type of person who loves to watch technology-oriented YouTube videos? Then have you guys subscribed to the Michael Reeves YouTube personality?
If yes, then sure it will be a treat to his fans, this article contains many interesting facts about Michael.
Presently, YouTube has become another platform for people to exhibit their inborn skills. It can turn a normal person into a global star while also providing them with lots of money.
Even our YouTube star has earned lots of money and the hearts of many people. But do you guys know his annual salary, and have you heard about his love life?
If not, then let's get started without any further delays.
Who is Michael Reeves?
Michael Reeves is a YouTube star and Twitch streamer who has around 6.92 million followers on his YouTube channel, Michael Reeves. His YouTube videos are concentrated on developing robots, lasers, etc.
He has been combining his technology brain along with his humor sense to produce his interesting video, and people have liked this unique concept.
Because the technology will usually be too technical and sometimes boring to watch, Michael presents his technological video interestingly and engagingly.
He started posting his YouTube videos in 2017, but he does not upload 100 videos in a month; instead, he has posted only 10 to 15 videos per year!
Moreover, He is also a famous Twitch streamer with 1.25 million followers who share his gaming techniques with his audience.
Early Childhood of Michael Reeves
Michael Reeves was born on November 20, 1997, in Maui, Hawaii, U.S. He was born to an American father and a Filipino mother.
As a result, he has ethnic roots in the United States and the Philippines. We don't know the names of their parents because Michael seemed to be a very private person; even on his Instagram account, we couldn't find any information about his parents.
But Michael wasn't an academically bright student, which caused him to shift his focus toward other productive hobbies.
And he learned the coding by himself, and presently he is a software developer for his own business, Infibit LLC, as well as a developer for a mobile application for the UHMC (the University of Hawaii at Maui College) Agricultural Department.
Some may look down on YouTubers, but he is a living example of how they can have professional lives.
And after graduating from high school, he attended Northern Arizona University.
But he wouldn't fully concentrate on his studies because, at that time, he was focused on his YouTube work.
We regret that we could not provide complete information about his family details, but we will update this section once we have obtained all of the data from the legit sources.
Until then, if any people know about his details, kindly comment on them.
Michael Reeves Career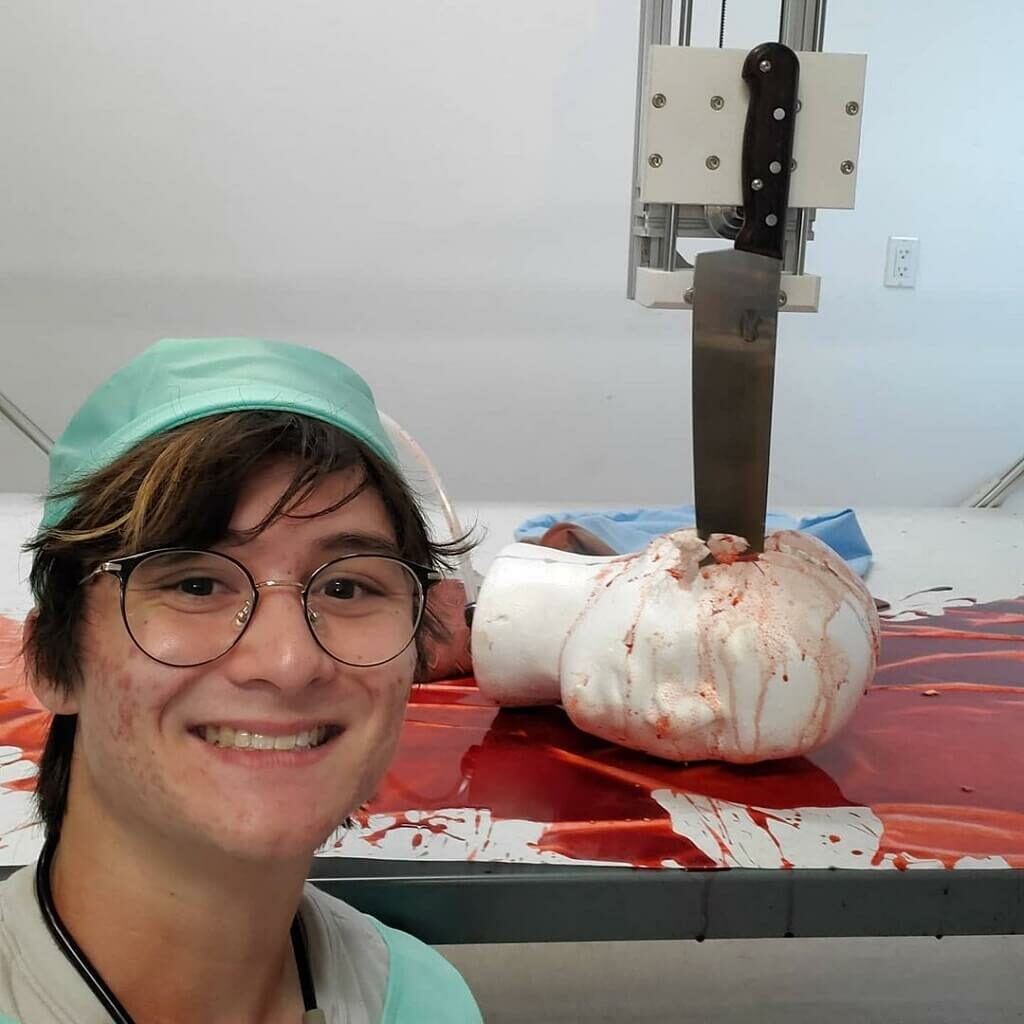 Michael Reeves started his YouTube career in 2017 while studying at the university.
His first video, "The Robot That Shines a Laser in Your Eye," has nearly 5 million views, and even he shows the coding programs for making all those laser lights.
His video lasted only 4 minutes, and it looks like the best technological YouTube video!
Then in another video, he explained his laser robot techniques to his viewers.
Then his video "DIY Laser Turret | Part 1: The Hardware" also reached millions.
Michael is so genuine in his works; thus, he also adds the materials used in his material.
We'll go over some of the most popular videos with over 5 million views.
I gave my goldfish $50,000 to invest in stocks.
How to Teach a Robot Dog to Pee Beer
I despise your robot concepts.
Microwave with Screaming Power
I Created a Surgery Robot
The Tazer camera makes me the tallest person in the picture.
The Roomba That Screams When It Hits Something
A Tomato-Picking Robot for Your Salad
The Roomba video has reached around 25 million views in this list of videos.
As it is difficult to develop all the robots and their modifications, Michael used to post his videos only occasionally.
His content is enriched with great content, so it takes longer to post his videos.
In addition to that, he is also an emerging and popular Twitch streamer, and he has been streaming about his video games, their techniques, etc.
On the Twitch platform, there is a collective forum called "Offline." Michael has recently joined that group.
And his fame multiplies after joining that group. And the offline group has brought a canine-inspired robotic platform called "Spot" from Boston Dynamics.
The group members and individual creators are utilizing that for their content-creating purposes.
Michael Reeves Social Media Account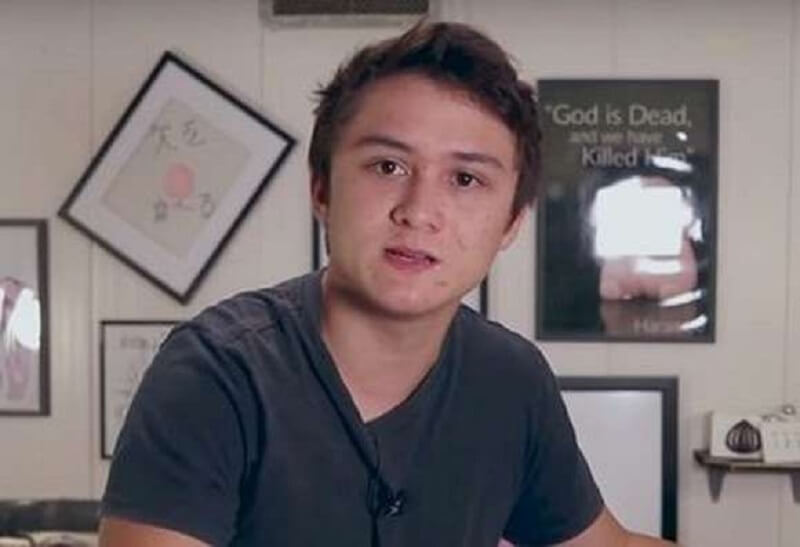 Michael Reeves is active on the Twitter platform, and Michael Reeves' Twitter handle is @Michael Reeves, and he has around 1.6 million followers.
As we all know, Michael has a YouTube channel with 6.9 million subscribers.
In addition, Reeves also uses his Twitch account, where he has around 1.2 million followers.
His use of social media helped him win the 11th Streamy Awards for his video "Building a Laser Baby."
Michael Reeves Net Worth
Michael Reeves' net worth is estimated to be around $3 million by 2022. He is a professional software developer; everyone knows Michael owns his software-development business.
Usually, software developers earn millions per year, but Michael owes that business—imagine his annual turnover.
He earns between $72,000 and $965,000 per year solely from the YouTube platform.
And his YouTube sponsors are Honey, Amazon Prime, Rayson, and Skillshare.
All these are big companies so he will get a good amount from his sponsors.
Thus, his annual salary will exceed 100,000 USD.
In addition to that, Reed also owns a merchandise shop.
Also Read: Danny Duncan Biography
Michael Reeves Personal Life
Michael Reeves is dating LilyPichu, a popular internet personality. And Lilypichu's real name is Lily Ki.
She is a musician, voice actress, and animator, and she is also one of the founders of the offline Twitch streamers group with 2 million followers.
Michael and Lily have been dating for two years, and rumors are flying that they are living together because we can see Lily wearing pyjamas in Michael's house.
But the couple confirmed that they are not in a live-in relationship.
Also Read: Bandman Kevo YouTuber Biography
Michael Reeves Physical Appearance
Michael Reeves has a cute face; does anyone else think he looks like a lighter version of Harry Potter when he wears his glasses? Isn't he look similar to him?
Reeves is tall, about 5 feet 4 inches or 162 cm or 1.62 m, and weighs about 58 kg or 127 lbs.
He has a round and bubbly face; Michael Reeves's age is 25, but still, we couldn't get a chance to see him with moustaches and beards.
The end!
Do you like this article? Kindly share your feedback.
Next Read: Tom Brittney Actor Biography