Nick Bare is an American fitness instructor, nutritionist, entrepreneur, and U.S. Army veteran. Similarly, Nick Bare is a fitness enthusiast.
He is the founder and the CEO of Bare Performance Nutrition, founder of Embrace The stuck Training program, and host of the Bare Performance Podcast.
He started a YouTube channel in 2012 sharing his military experiences, training, and nutrition, which eventually led to his company.
He was in Army ROTC and graduated from the US Army Ranger School in 2014.
Who is Nick Bare?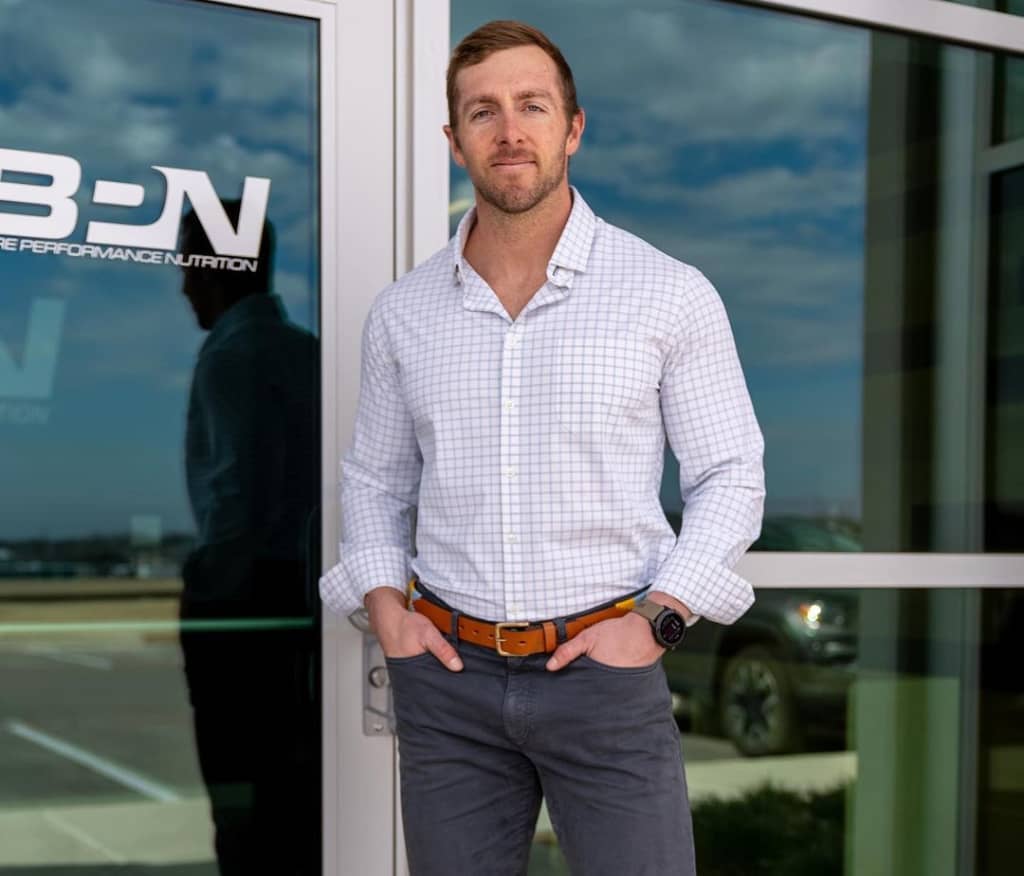 Nick Bare is a famous YouTuber, Entrepreneur as well as a Fitness Instructor. Nick Bare is the founder and the CEO of Bare Performance Nutrition.
To promote his brand, he mastered videography, photography, and social media marketing at the start of his firm.
In 2018, he competed in the 'Austin Marathon,' an annual marathon held in Austin, Texas that attracts runners from all 50 US states and 35 nationalities; he received a finisher medal.
Early Life of Nick Bare
Nick Bare was born on August 1, 1990, in Austin, Texas. He was born to parents Mike Bare (Father) and Linda Bare (Mother). Likewise, he also has a brother of his own whose name is Preston Bare.
Nick has completed his Bachelor's Degree from the Indiana University of Pennsylvania. He is of a science background.
Similarly, he majored in nutrition and has also studied Business Administration on the other end.
During college, he was also in The Reserve Officer Training Corps. He is a very talented individual who has a deep interest in the field of nutrition.
His interest in that particular field started during his late teens.
Nick Bare Career
US Army
Nick enlisted in the US Army as an Infantry Officer in May of 2013. He finished his Infantry Officer Course, Ranger School, and Airborne School during his first year of service at Fort Benning, Georgia.
He was later assigned to Fort Hood, Texas, as an Infantry Platoon Leader.
Later, he was assigned to South Korea, where he spent most of his time growing his company. Nick retired from the service in 2017.
He has also made a YouTube video about 'How to prepare for the Military' where he talks about his experience and challenges.
Entrepreneur
He began creating pre-workout pills in college and began selling them to his classmates.
He got a loan from the military-affiliated bank USAA, which gave up to $25,000 to ROTC cadets preparing to graduate; he utilized the money to start his company, 'Bare Performance Nutrition' (BPN), in 2012.
He began by collaborating with a US-based company, which developed, manufactured, and tested his first two products, Flight (pre-workout) and Intra-Flight (post-workout) (BCAAs).
He began building his social media profile while in the military, which aided in the growth of his business.
After retiring from the military in 2017, he focused solely on BPN, and within a few years, his company had grown to numerous seven-figure firms, revolutionizing the sports nutrition and dietary supplement industries.
Shirts, shaker/water bottles, luggage, gift cards, and duffel bags are currently available at BPN.
Nick later developed the 'Embrace the Suck' Training Regimens, which consist of up to 12-week programs that imitate Nick's training method.
YouTube
He started his YouTube channel in 2012, and his debut video, titled "Full Day of Eating," was uploaded in October 2014.
The motive behind starting a YouTube channel was to attract an audience for his brand and inspire young minds like himself. He has 771K subscribers.
Nick Bare Net Worth
Nick Bare has a net worth of 1.5 million USD. According to various online articles, he earns from his business which sells nutrition supplements and other merchandise related to the supplement.
All of his accomplishments have helped Nick Bare reach star status.
Undoubtedly, he will successfully continue his career and having said that, his wealth will also continue to climb up.
He makes an impressive sum of money through YouTube videos, Instagram, modeling shoots, and brand advertisements.
Ben Morris is one of the richest YouTube stars & listed as the most popular YouTube Star.
According to our analysis, Wikipedia, Forbes & Business Insider, Nick Bare's net worth is approximately $1.5 Million.
Also Read: Who is Eric Thomas?
Nick Bare Personal Life
Nick Bare married his wife Stefany Banda, a YouTuber who graduated from Michigan State University. She currently helps Nick to run Bare Performance Nutrition.
The couple engaged in September 2018 and planned their wedding to be in May of 2020.
Stefany holds a Degree in Journalism from Michigan State University. She has worked at Rated Red as a Social Media Manager and is currently working at StefanyBanda.com as a blogger.
Nick uses different social media platforms like YouTube and Instagram. On Instagram, he is reachable at @nickbarefitness. Moreover, he has 518k followers on his Instagram profile.
Nick has also received a blue verified tick mark on his Instagram account.
He has posted 1872 posts on his feed so far. Furthermore, Nick isn't much active on other platforms like Twitter and Facebook.
Also Read: Who is Late Speaker Jim Rohn?
Physical Appearance
Nick Bare is currently 31 years old as of 2022. He is 5 feet 10 inches tall z(177 cm) and weighs about 80 kg or 176 lbs. Nick has beautiful blue eyes and blonde hair color.
Furthermore, he is of the birth sign, Leo. Nick is an American by nationality.
It is no doubt that Nick loves working out, He has quite a masculine build due to all the fitness routines and workouts he does daily.
That's why his physical looks are too much attractive to other famous people. I hope you enjoyed reading this article and had a good time going through it.
Physical Appearance
Height
Feet & Inches: 5'10"
Centimeter: 177 cm
Meter: 1.77 m
Weight
Kilograms: 80 kg
Pounds: 176 lbs
Let us know your experience and opinions regarding this article below in the comment section.
Next Read: Who is Entrepreneur and Motivational Speaker Brian Tracy?