Nick Vujicic (born on 4 December 1982) is a renowned Australian-American motivational speaker, evangelist, and educator famous for his influencing skills.
Despite coming to this world with tetra-amelia syndrome, Jujicic has achieved huge success over the past few years. Let's read his biography to know his success story, including his wife, net worth, family, children, and more related to him and his family.
Nick Vujicic Biography and Story, Age, Height, Education, Wife, Children, Net Worth,
Name
Nick Vujicic
Full Name
Nicholas James Vujicic
Birth Place
Melbourne, Victoria, Australia
Birth Date
4 December 1982
Age
38 Years
Height
3'2''Feet (99 cm)
Net Worth
$1 Million
Profession
Motivational Speaker
University
Griffith University
Education
Bachelor of Commerce (B.Com)
Parents
Father - Boris Vujicic
Mother - Dushka Vujicic
Siblings
Brother - Aaron Vujicic
Sister - Michelle Vujicic
Martial Status
Married
Wife
Kanae Miyahara
Son
Dejan Levi Vujicic
Kiyoshi James Vujici
Daughter
Ellie Laurel Vujicic
Olivia Mei Vujicic
Nationality
Australian and American
Residence
Southern California, USA
Who is Nick Vujicic?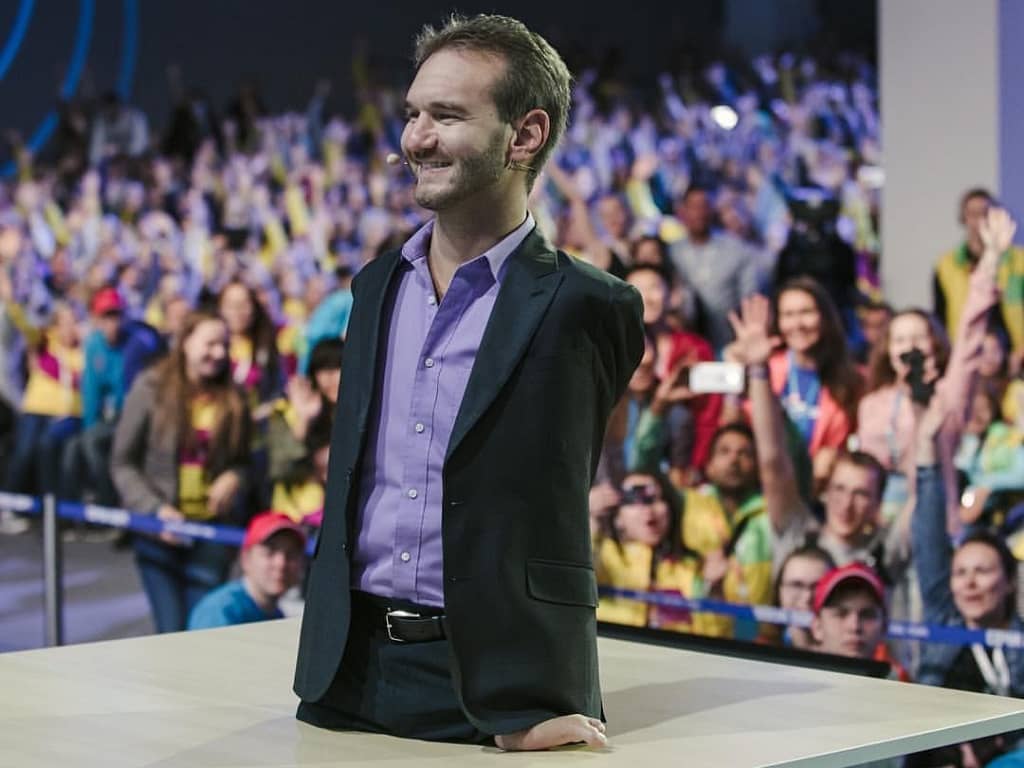 Nick Vujicic (full Nicholas James Vujicic) is a renowned Australian-American motivational speaker, evangelist, and educator.
He is immensely popular across the world for achieving such successes without his arms and legs. People from different countries want to listen to him, want to listen to his words and everything from him.
Vujicic has become the most inspirational speaker in history. He is now the reason behind many people's success.
Let you also read the very inspirational life story of Nick Vujicic and achieve your success like others.
If you can't get a miracle, become one – Nick Vujicic
Early Life and Parents of Nick Vujicic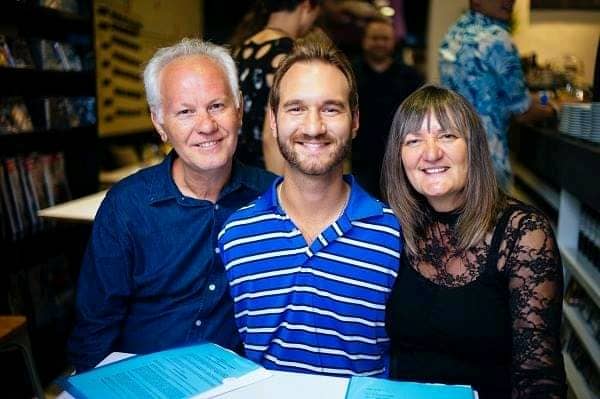 Nick Vujicic was born on 4 December 1982 in Melbourne, Victoria, Australia. His father's name is Boris Vujicic and his mother's name is Dushka Vujicic.
He has two siblings, a brother named Aaron and a sister named Michelle Vujicic. His birth was very different as he came up with tetra-amelia syndrome in which the arms and legs are absent.
During the birth of Vujicic, her mother refused to accept him or even see him. She along with her husband went out of the hospital and vomited from seeing their child with no limbs.
However, being a parent, they changed their decision and accepted him by understanding it as God's plan for their child.
Sadly, the toes of one of his feet were merged. Following this, the doctors performed an operation to separate the toes so that he could use them as fingers to grab.
Vujicic refers to it as his chicken drumstick.
Nick Vujici Age
Nick Vujicic is 40 years old as of 2023 as he was born on 4 December 1982.
Despite being at such a relatively young age, he has managed to achieve remarkable success as a renowned Australian-American motivational speaker, evangelist, and educator.
His ability to inspire and motivate people around the world is truly exceptional, and he continues to make a significant impact in the lives of many despite his relatively young age.
Nick Vujicic Education
Nick Vujicic was first brought up with basic knowledge from his parents. Later, when they realized his mental stability, they sent him to a mainstream school for his elementary education.
However, his disabilities made him the target of the school bullies, and as a result, he was depressed severely. Even Vujicic tried suicide at the age of eight and further tried to end himself in his bathtub at 10.
But the love and care from his parent let him leave these stupid actions.
When he turned 17, his mother showed him an article in which a woman was dealing with a severe disability.
Looking at this, he started giving talks at his prayer group, and from here he learned to live a life like him.
Vujicic later enrolled in Griffith University in 2003 to pursue his graduation in commerce. Thereafter, he earned a B. Com degree and graduated in accountancy and financial planning.
Vujicic used to write with his two toes on his left foot and even can run a computer. In fact, he has the ability to type 45 words every minute with the help of his heel and toe.
Career of Vujicic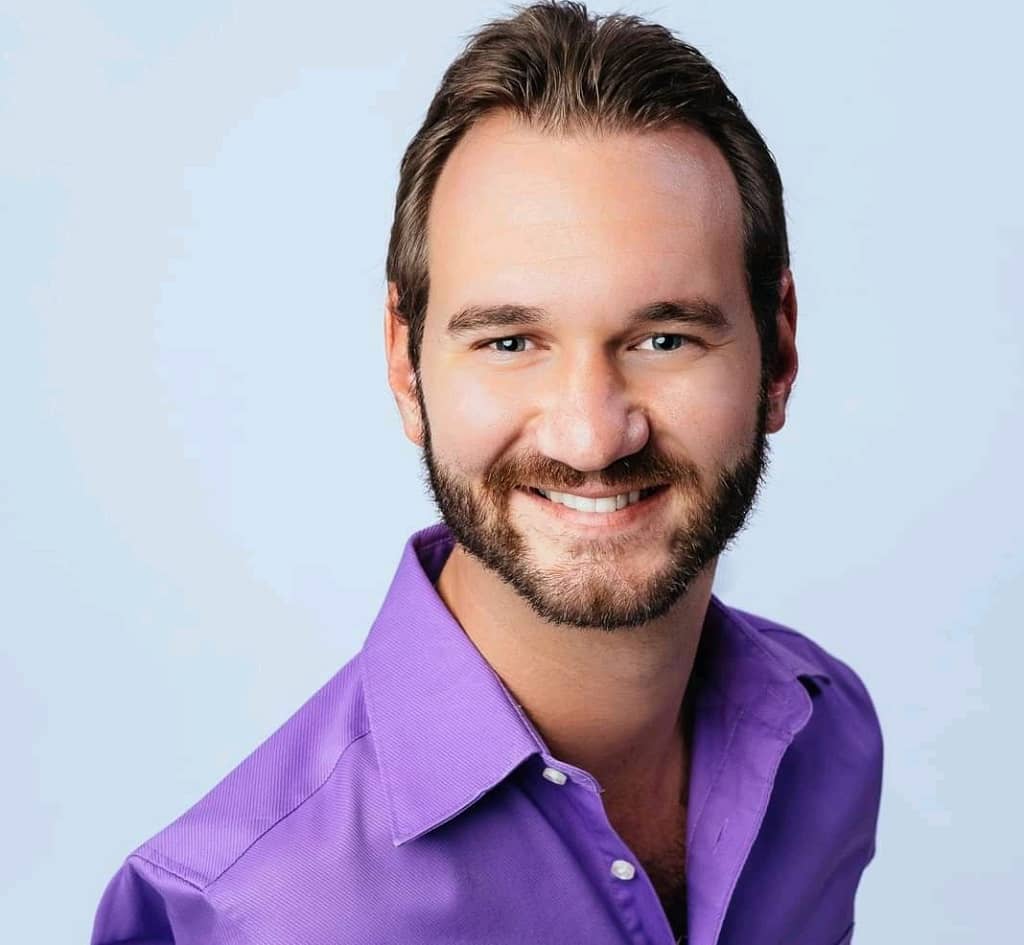 In 2005, Nick Vujicic founded an international non-profit organization named Life Without Limbs. The organization has aimed to spread the awareness and doctrine of Christ so that people can move on this side.
They say that "there are at least 4.3 billion people on earth who don't know Jesus. That's why we are committed to sharing the Gospel with 1 billion more people by 2028".
Vujicic then found an organization Attitude is Altitude which focuses on Social and Emotional learning positivity and anti-bullying.
The main purpose of this foundation is to help and inspire students for their careers. In 2009, he appeared in a short film, The Butterfly Circus, and played a small role as Will.
Following his astonishing performance, he was awarded the Best Actor award at the 2010 Method Fest Independent Film Festival.
In 2010, Vujicic became an author after writing a book, Life Without Limits: Inspiration of a Ridiculously Good Life. The book attracted a lot of people and thus he earned more fame.
Back in 2011, Vujicic looked in the film, The Lost Sheep playing the role of a TV Evangelist. He further wrote another book in 2012, Your Life Without Limits and this gone far from the previous one.
For his writings, he became the best-selling author of the New York Times.
Rise in Vujicic Success
Nick Vujicic attends numerous events and seminars where he motivates people in their life. He has visited and delivered speeches in more than 45 countries.
Even he has visited India where more than 1 Lakh people came to listen to him.
He has a lot of affection for sports but his disabilities stop him from playing anything. However, he has been seen throwing a tennis ball and participating in golf.
Vujicic can do more interesting things like he can comb his hair, answering calls, and even sky diving.
He has been featured on many big stages including TEDx, BBC, CBS Sunday Morning, USA Today, ABC News, 60 Minutes Australia, People Magazine, and many more.
Even he used to engage with his social media followers through his podcast "The Nick Vujicic Podcast".
Watch Nick Vujicic's Biography in Video Format:
Nick Vujicic Wife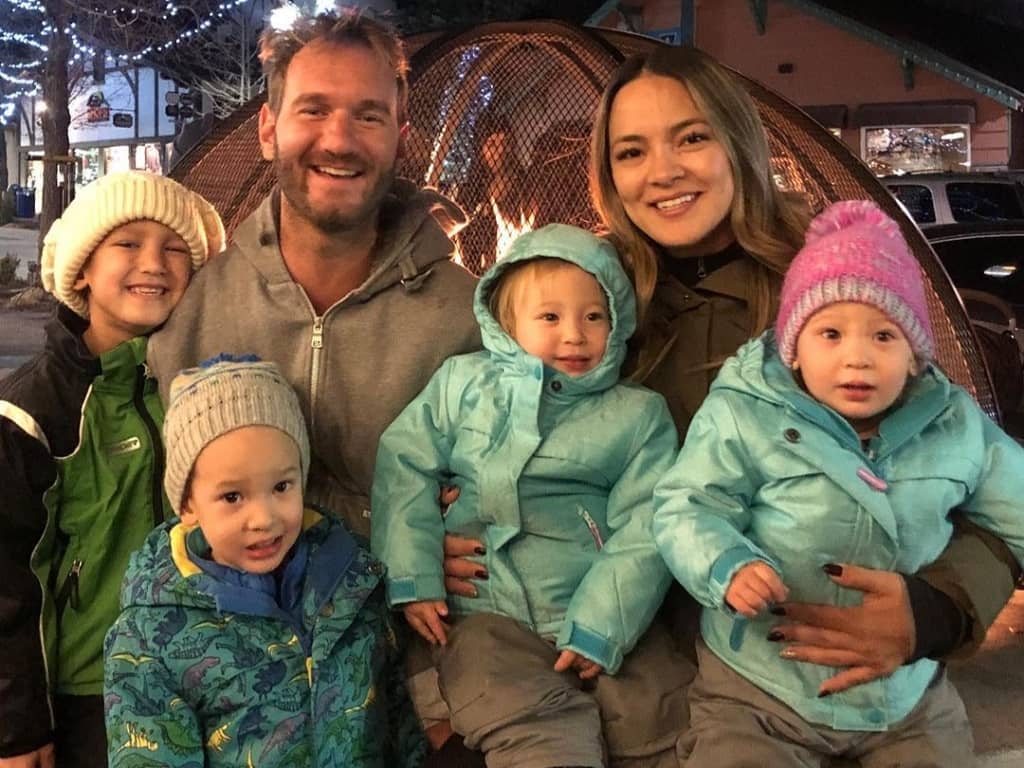 Nick Vujicic has been married to his wife Kanae Miyahara since 12 February 2012. He met her for the first time in 2008 in McKinney, Texas, and eventually, he fell in love.
Kanae is half Japanese and half Mexican his father came to Mexico to establish his business. Later, her father died, and then her family moved to the USA.
Kanae used to go to the same church where Vujicic goes and throughout they met each other.
Vujicic and Kanae have a lot of affection and love between them. Even she stood with him in his very bad times. She also helps Vujicic in his work and sometimes she goes with him to charity and social events.
Nick Vujicic Children
Nick Vujicic and his wife Kanae Miyahara were blessed with a son in 2013 named Kiyoshi James. Surprisingly, he was absolutely fine and healthy and didn't inherit his father's problems.
It was a glorious moment for Vujicic and Kanae.
After two years, the couple was blessed with their second son Dejan Levi. Back in 2017, they welcomed twin girls named Ellie and Olivia.
Now, Vujicic and Kanae have 4 children and living their lives happily.
Nick Vujicic Net Worth
Nick Vujicic estimated net worth is $1.5 Million as of the year 2023. Otherwise, last year his total wealth was calculated nearly $1 million.
This means that the motivational speaker has earned around $500,000 USD so far this year. And with his success, he got various opportunities to multiply his wealth without any big issues.
Although, he earns no money from his foundation, Life Without Limbs, which is a non-profit organization.
Owning several disabilities, Vujicic understands the needs of other disabled people and thus he is fulfilling their needs through his organization and personal wealth.
He never believes in being rich with money, but rich by being a philanthropist. And that's why his salary comes to around $500,000 USD annually.
However, besides this, he has various earning sources that contribute to his wealth.
Belief and Conception of Vujicic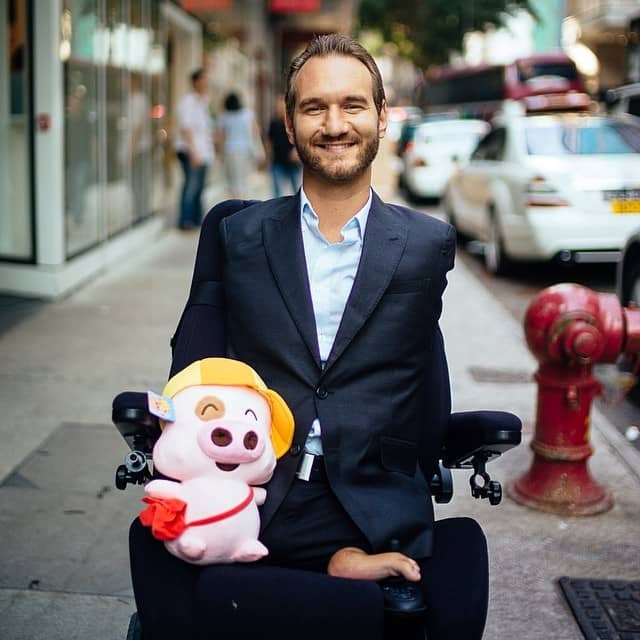 Well, Vujicic is not a normal person but contains amazing aptitudes mentally.
He never mourns his disabilities and instead, he focuses on what he has. Vujicic believed in Christianity at a deep level and this also made him an evangelist.
He spread the principles and doctrine of Christianity and tried to make people believe in it.
Further, he believes in being a philanthropist through which he can help poor and disabled people like him.
Vujicic has a mission to inspire the world to know that we all can rise above adversity and overcome every disability of the heart and mind.
Social Media Popularity
Nick Vujicic has a large number of followers on his social media accounts. And why not, as he used to post inspiring videos there?
Currently, Vujicic has more than 1.7 million followers on his Instagram profile and over 10 million followers on his Facebook page. Despite this, he has over 393k followers on Twitter.
In fact, he has the blue verified tick on all of his social media profiles. This shows how popular Vujicic is.
Next Read: Hammad Safi biography, Youngest Motivational Speaker of the World
Awards and Achievements of Vujicic
Regarded as World's Best Motivational Speaker
Awarded with Young Australian of the Year award in 2005
Best Actor Award for acting in the film "The Butterfly Circus".
New York Times Best Selling Author
Founder of Attitude is Altitude and Life Without Limbs
Author of the Best-Selling Book "Life Without Limits".
Lives a normal life even after being disabled.
Nick Vujicic Thoughts and Quotes
Nick Vujicic is a very thoughtful man and always produces inspirational thoughts for his followers. And it's also true that a single thought is enough to change a life.
Let you discover below some of his inspirational thoughts.
If I fail, I try again, and again, and again.
Life without limbs? Or life without limits?
Some injuries heal more quickly if you keep moving.
Understand the truth of your value and the truth of your purpose.
In life, you have a choice: Bitter or Better? Choose better, forget bitter.
If you put your happiness in temporary things, your happiness will be temporary.
I never met a bitter person who was thankful. Or a thankful person who was bitter.
It's a lie to think you're not good enough. It's a lie to think you're not worth anything.
The challenges in our lives are there to strengthen our convictions. They are not there to run us over.
I encourage you to accept that you may not be able to see a path right now, but that doesn't mean it's not there.
Nick Vujicic Books
Nick Vujicic is also an author and being this, he has written several books. In simple words, he is inspiring the world through both online and offline mediums.
He is trying to share his thoughts and formulas which can make a person successful. Let you look below at the major books of Nick Vujicic.
| Books | Publishing Year |
| --- | --- |
| Life Without Limits: Inspiration of a Ridiculously Good Life | 2010 |
| Your Life Without Limits | 2012 |
| Limitless: Devotions for a Ridiculously Good Life | 2013 |
| Unstoppable: The Incredible Power of Faith in Action | 2013 |
| The Power of Unstoppable Faith | 2014 |
| Stand Strong | 2015 |
| Love Without Limits | 2016 |
| Be the Hands and Feet: Living Out God's Love for All His Children | 2018 |
Filmography
The Butterfly Circus – 2009
The Lost Sheep – 2011
Be the Hands and Feet – 2018
Better Man Event – 2018
Physical Appearance
Nick Vujicic might not have a nice body, but has a skilled mind with top-notch aspects. Being a bodybuilder is not everything for everyone, so it doesn't matter whether someone is bad with his physical appearance.
Anyhow, you should know that Nick Vujicic is around 3 feet 2 inches taller which means 99 cm or 0.9 m. Further, he is 39 kg in weight, which is around 85 lbs in pounds.
Overall, he is still perfect in this condition.
Physical Appearance
Height
Feet & Inches: 3'2"
Centimeter: 99 cm
Meter: 0.99 m
Weight
Kilograms: 39 kg
Pounds: 85 lbs
Facts About Nick Vujicic
Nick Vujicic is a famous Australian-American motivational speaker and educator.
He was born on December 4, 1982, in Melbourne, Australia.
Nick was born with tetra-amelia syndrome, a condition where he has no arms and legs.
His parents initially had a difficult time accepting his condition but later embraced him.
He faced bullying and attempted suicide in his childhood but found inspiration through a woman's story.
Nick attended mainstream school and later graduated with a degree in commerce.
He founded the non-profit organization "Life Without Limbs" to spread awareness and Christian teachings.
Nick is also a best-selling author, with books like "Life Without Limits" and "Your Life Without Limits."
He is a motivational speaker who has inspired people in over 45 countries, including India.
Nick Vujicic is married to Kanae Miyahara, and they have four children. His net worth is estimated at $1.5 million.
The Bottom Line
Nick Vujicic is the only motivational speaker ever to be born without arms and legs. His life story is no less than an inspiration for you and for every reader.
It's not a general thing to be regarded as the world's best motivational speaker. It needs patience and hard work which Vujicic did at.
Vujicic is sure to grow more in the future and be a world-leading speaker within 5 years.
So, all you need is to follow him and learn from him. I hope that you learned something from the biography of Nick Vujicic. Share your valuable feedback with us so that we can improve further.