Are you someone who loves to watch mukbang videos? Then you've probably heard of Nikocado Avocado, the world-famous mukbang video creator.
If yes, then you are on our team, but there is some information that has to be revealed about our mukbang star.
And here in this article, we will discuss those in an interesting manner, one by one.
Nikocado Avocado Profile Summary
Name
Nikocado Avocado
Birth Date
19 May 1992
Birth Place
Kherson, Ukraine
Age
30 Years Old
Height
Feet & Inches: 5'7''
Centimeter: 170cm
Meter: 1.70m
Weight
Kilograms: 172kg
Pounds: 380Lbs
Net Worth
$4 million
Profession
Mukbang video creator, blogger, and social media celebrity
Marital Status
Divorced
Ex-wife
Orlin
Nationality
Ukrainian-American
Who is Nikocado Avocado?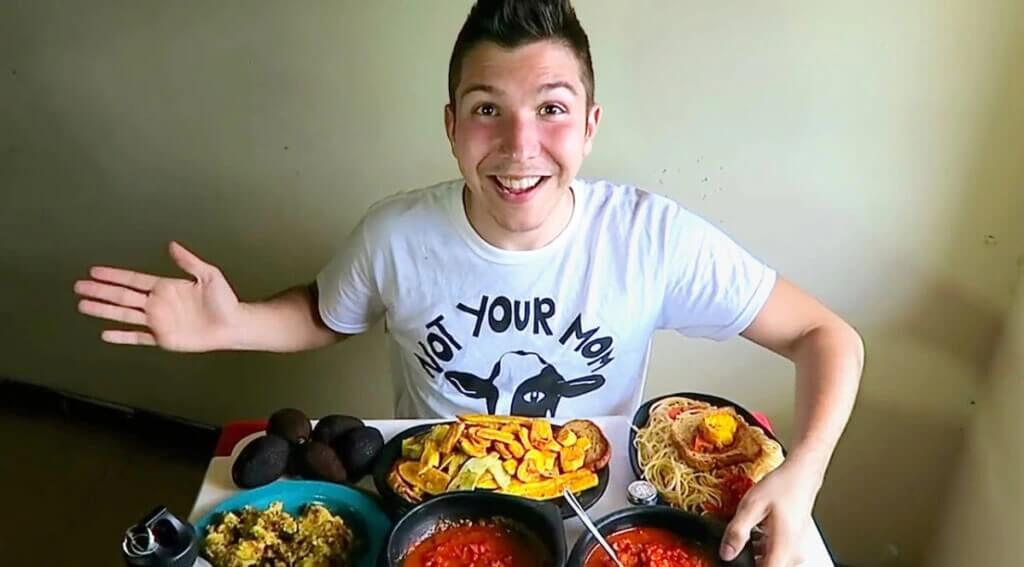 Nikocado Avocado is a famous Mukbang video creator, blogger, and social media celebrity.
Even news media outlets cover his story, he has recently become a celebrity. He has become a star of the United States of America.
Nikocado started his career as a YouTuber in his skinny body nearly 6 years ago with zero subscribers.
But now that he has put on so much weight and gathered around 7 million subscribers across his YouTube channels, he is inviting many illnesses for himself.
Nikecado is now so well known that he has become the meme boy. Several memes have been created based on his images.
Early Life of Nikocado Avocado
Nikocado Avocado's real name is Nicholas Perry, and he was born on May 19, 1992, in Kherson, Ukraine. Nicholas has one brother and one sister.
Due to some unfortunate reasons, Nicholas was adopted by a Christian American family. And he had made his home in Pennsylvania, in the United States.
There is no information about his biological parents or his siblings. Nicholas is more private; he doesn't share any of his early childhood memories with this fan.
Being an adopted child, he might have suffered a lot during his earlier days. Because separating from biological parents is indeed a heartbreaking moment for any child.
Nicholas has been a lifelong music fan, and he attended a prestigious university on a full scholarship to study music.
It shows that Nicocado is a bright and studious student. Nicholas studied at the Pennsylvania Governor's School for the Arts in 2008.
Then he graduated with a degree in music from the Catholic University of America. Then Nicholas did the double graduation violin course at The Benjamin T. Rome School of Music.
In all these universities, Nikocado studied on full scholarships!
Nikocado Avocado Career
Nikocado Avocado began his career as a freelance violinist in 2008. Thus, in this section, we will learn about his professional career.
Because he is a fantastic violinist, most people only know him as an obsessive mukbang guy.
But Nicolas is an artist to be respected. Well, let's dig into the information.
In 2012, Nicholas participated in the New York Musical Festival and won many awards. He was selected for the prestigious position of soloist performer for MAC Cosmetics.
In 2018, Nicholas was featured in a Comedy Central show where he taught his techniques for creating Mukbang videos.
And Nicholas has performed in numerous concerts and shows, and he has been accepted by
Bowdoin International Music Festival
American High School Honors Orchestra
National Young Artists Orchestra
The Boston University Tanglewood Institute
Nikocado Avocado YouTube Career
Nikocado Avocado started his YouTube channel in 2014 but was active in 2016. Previously, Nicholas only preached about the vegan diet, and all his Mukbang videos were mostly about vegan foods.
Nikocado later developed health problems, which he blamed on vegan diets, and he switched to a non-vegan lifestyle.
His videos of non-vegan food and fried noodles have received millions of views. That was his first massive success. Then he continued to gain millions of subscribers on YouTube.
Meanwhile, he began posting his videos on TikTok, where he amassed 2 million subscribers.
Nikocado decided to expand his spectrum of YouTube channels, so he started five more.
The YouTube channel names, along with the subscriber count
38 million (Nikocado Avocado)
789,000 (Nikocado Avocado 2)
927,000 (Nikocado Avocado 3)
444,000 (Noodle King)
36 million (more Nikocado)
584,000 (Nikocado Shorts)
Nikocado Avocado Before and After
Nikocado Avocado was a very lean and skinny guy before he started the YouTube channel. He weighed only 150 pounds.
In 2022, Nike's weight is going to reach 400 pounds. He had just doubled his weight.
But is this a healthy way to live?
No, Nikocado is currently suffering from illnesses such as erectile dysfunction, and his ribs were recently broken, causing him to be unable to walk normally. Nikocado has even begun using mobility scooters for his movement.
In addition, he suffered from sleep apnea syndrome, so he was forced to use a breathing mask. Nikocado filmed all his conditions in his video.
Moreover, Nikocado has also been suffering from mental health issues because many people are passing mean and harsh comments about his eating behaviour and his sexuality.
Nikacado was subjected to severe cyberbullying, which deteriorated his mental health. Being a social media celebrity is not an easy job.
Nikocado Avocado Net Worth
Nikocado Avocado's net worth is estimated at around $4 million in 2022. But in 2021, his net worth was around $3 million, and he has increased it by 1 million.
And it shows that his annual salary for the past year was $1 million!
According to official sources, he has invested a lot of money in real estate and plans to multiply his resources.
Moreover, Nicholas has started his online clothing store with "Nikocado Avocado"-themed products.
Nikocado Avocado Personal Life
Nikocado's avocado-loving ex-husband Orlin, is from the Columbian region. In 2013, they met through the Facebook vegan group, and they became friends, and their friendship blossomed into love.
Nikocado and Orlin tied the knot on July 17, 2017. Even the couple had their only fans account, where they shared their intimate and pornographic content.
Also Read: Milos Guzel Tik Tok Star Biography
Physical Appearance
Nikocado Avocado before and after images will leave everyone in great awe.
Within six years, he allowed himself to double his weight.
He is currently tall, standing at about 5 feet 7 inches (170 cm) or 1.7 meters. And he weighs about 380 lbs or 172 kg.
Even his facial features have evolved over the last six years.
We have finished plucking all the avocados!
What do you think about the transformation of Nikocado? What advice do you want to give to him? Something nicer, please, in the comment section.
Next Read: Jenny Popach Biography