Noor Alfallah (born on 02 December 1993) is a TV producer and personality. She is more popular as the girlfriend of great Hollywood actor Al Pacino and the mother of his fourth child.
Noor's romantic involvement with Al Pacino, despite their significant age difference, began during the pandemic.
According to several media sources, Noor has a penchant for dating wealthy older men, which has seemingly shaped her relationship choices.
Let's keep reading to know more about Noor Alfallah.
Profile Summary
Name
Birth Date
Birth Place
Zodiac Sign
Gender
Age
Height
In Feet & Inches:
In Centimeter:
In Meter:
Weight
In Kilogram:
In pounds:
Net Worth
Education
Profession
Parents
Father:
Mother:
Sibling
Sister:
Brother:
Martial Status
Husband
Wife
Children
Son:
Daughter:
Nationality
Religion
Who is Noor Alfallah?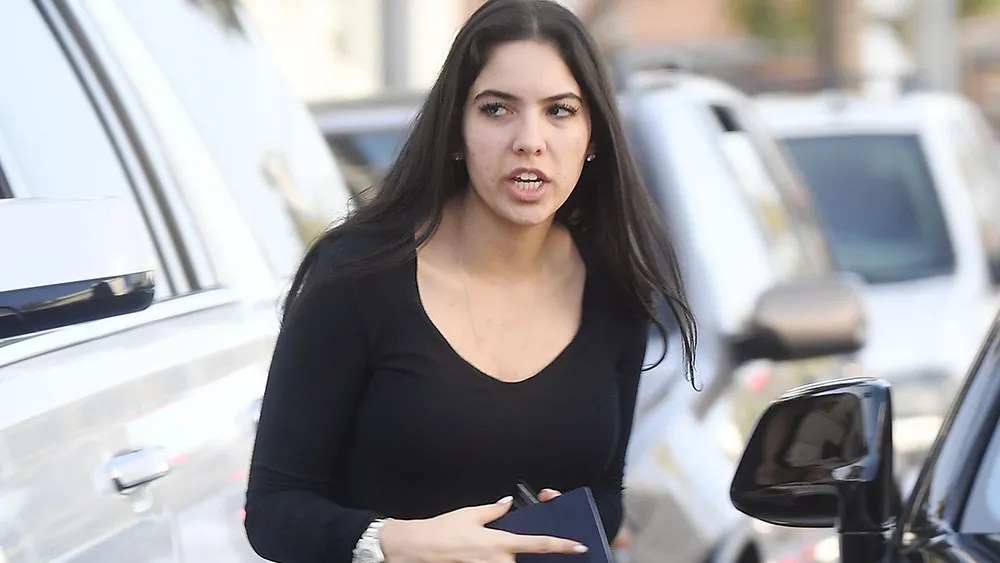 Alfallah is a TV producer and celebrity girlfriend who mainly works in the American television industry. She graduated from the University of Southern California's Cinematic School of Arts.
Noor continued her studies at the University of California Los Angeles, where she obtained a master's degree in film/TV production.
She is also a mom to actor Al Pacino's fourth child which has made her more popular and a celebrity.
In 2018, she produced a TV short called Brosa Nostra about a fraternity president trying to get his house to return to Greek Row at Southern California College. After graduating, she produced the short film La Petite Mort.
In 2018, Alfallah showcased her producing talents by bringing a TV short called "Brosa Nostra" to life.
This intriguing project revolves around a fraternity president's quest to restore his house's reputation on Greek Row at Southern California College.
It served as a testament to Alfallah's ability to bring unique stories to the screen.
Following her graduation, she ventured into the realm of short films and produced "La Petite Mort," further demonstrating her creative versatility.
As per her IMDB bio, she recently executive-produced Billy Knight, which stars Pacino, Charlie Heaton, Diana Silvers, and Patrick Schwarzenegger.
Early Life of Noor Alfallah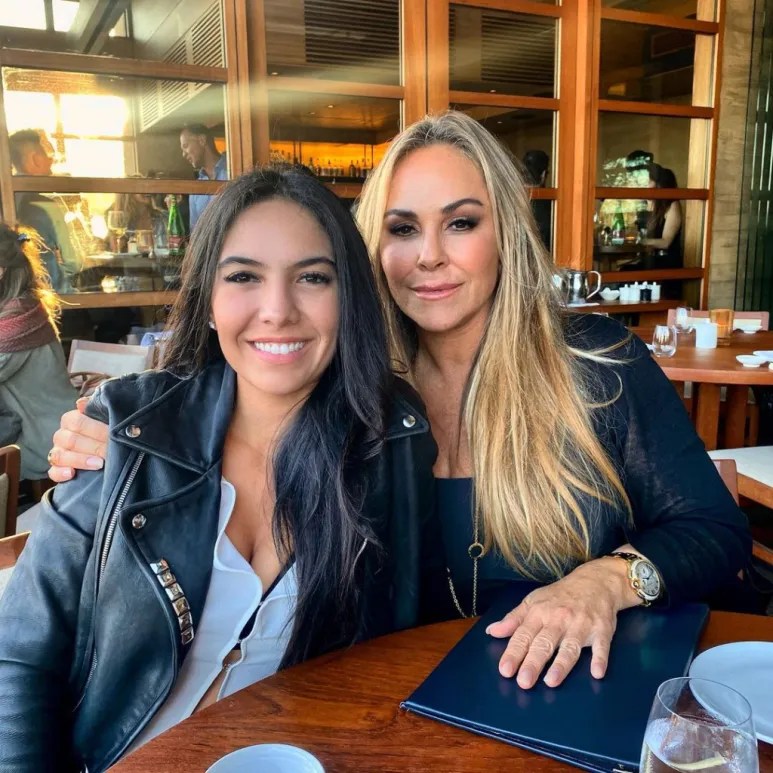 Noor Alfallah was born on 02 December 1993 in Kuwait and grew up in the exclusive Beverly Hills neighborhood of Los Angeles. She was raised in an affluent and privileged environment.
Noor's unique background includes being the eldest of four siblings and growing up in a multicultural household, raised by her Kuwaiti father, Falah, and her American mother, Alana.
According to LinkedIn, her father Falah N Alfallah is the founder of an investment firm named 'ThirtyOneCapital Inc', which is based in California.
Noor Alfallah has a younger sister by the name of Remi Alfallah.
She embarked on her educational journey by attending the University of Southern California's Cinematic School of Arts, where she honed her skills and passion for filmmaking.
Her pursuit of knowledge continued at the University of California Los Angeles, where she successfully earned a master's degree in film/TV producing, according to Deadline.
Noor Alfallah Age
Noor Alfallah is 29 years old currently as she was born on 02 December 2023. The age gap between Noor and her current boyfriend Al Pacino the iconic actor is more than five decades, but it doesn't seem to bother them based on her dating history.
On their 53-year age gap, a source told People: "Al Pacino is happy with Noor, and it is widely known that she has dated older guys so this isn't a major issue for them," the source said.
Alfallah has previously been linked to The Rolling Stones frontman Mick Jagger, for whom she made headlines dating in 2017. She was 22 and he was 74 at the time.
"Noor has a prominent family background and is comfortable being around major stars and other high-profile people," the source added.
She dated Clint Eastwood when he was 91 and she was 22 years old and several other celebrities and billionaires who are several decades older to her.
Noor Alfallah Height and Weight
Noor Alfallah is 5 Feet 7 Inches tall which is equal to 170 centimeters or 1.70 m. Her weight is 54 kilograms which is equal to 119 lbs as of 2023.
She is a highly ambitious woman and she has created success in her career in her own way. Noor loves to travel and explore different places in the world.
She also plays the piano. Noor has so many things happening in her life with celebrity boyfriends, break-ups, and non-stop rumors around her.
Noor Alfallah Career
Noor Alfallah is a Beverly Hills based television and film producer. With her successful career as a producer, social media influencer, model, media personality, and entrepreneur, Noor Alfallah has made a name for herself in the entertainment sector.
Alfallah's work as a film producer has resulted in a variety of motion pictures and television programs, demonstrating her artistic vision and aptitude for telling gripping stories on camera.
Noor Alfallah has worked on films including "La Petite Mort" and "Brosa Nostra," which have received praise and attention.
Noor has distinguished herself as a social media influencer in addition to her work behind the scenes, using her online presence to engage with a large following.
She established her position as a digital influencer by using her platforms to communicate with her followers. Noor Alfallah shares her experiences and promotes products on social media.
Her professional accomplishments go beyond those of a producer and influencer. Noor has dabbled in entrepreneurship, showcasing her aptitude for business and capacity to take possibilities.
She keeps making progress in the business, establishing herself as an acknowledged expert and a role model for aspirants in the entertainment industry.
Alfallah's training and education in the entertainment sector have contributed to her professional success.
Noor Alfallah Boyfriend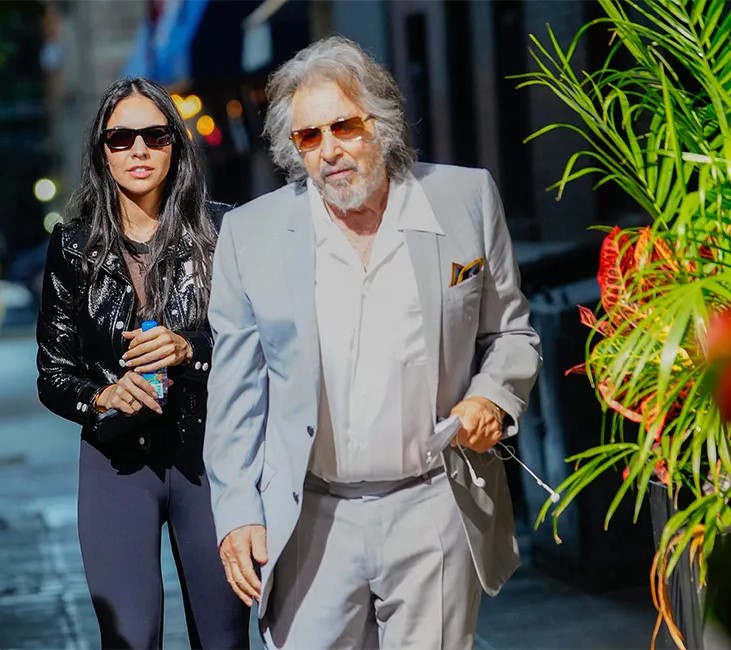 Noor Alfallah's boyfriend is the iconic Hollywood actor Al Pacino. The couple started dating in 2020 during the pandemic and was spotted together for the first time in April 2022.
Some unconfirmed reports suggest that Noor was a friend of Al Pacino's 22-year-old daughter Olivia. It was the daughter who introduced the actor to his then-girlfriend.
Recently, there were rumors that Al Pacino and Alfallah had been separated, with Alfallah even applying for full custody of her child Roman. Al Pacino's spokesperson however has been rebuked the rumours.
Al Pacino's spokesperson said that they are still very much together, contrary to the rumors.
The spokesperson for 'The Godfather actor has insisted that Al Pacino and Noor are still in a relationship and have reached a mutual agreement in regards to their son.
Before dating Al Pacino, Noor Alfallah has reportedly dated many famous and much older men including Cling Eastwood and Mick Jagger.
Noor Alfallah dated Mick Jagger, the celebrated English singer in 2017, when he was 74 and she was merely 23.
According to the Rolling Stone reports, the ex-couple met in Paris and instantly hit it off. Noor Alfallah has allegedly dated the senior actor-filmmaker Clint Eastwood for a while.
The rumors about the former couple's alleged affair started doing rounds in 2019 when Eastwood was 88 and Noor was 25 after they were spotted together several times.
But later, she denied saying "There is no relationship, we're not dating. We're family friends, and my family was there and that's it," she stated.
Alfallah has also dated multi-billionaire Nicolas Bergguren for some time. It has been speculated that Noor Alfallah was still in a relationship with Mick Jagger when she met Berggren for the first time.
But, she never shied away from gushing about the property tycoon on her official Instagram handle.
She even called him 'partner in crime' as she took to her Instagram handle and wished Nicolas Bergguren his birthday, in 2018.
The duo reportedly continued their bond till 2021, even after Noor Alfallah started dating Al Pacino.
Noor Alfallah Net Worth
Noor Alfallah's net worth is an estimated $3 million. She has amassed her wealth from her successful career as a film and TV producer.
Her contributions to the industry have been significant. It includes the production of notable shorts such as "La Petite Mort" and "Brosa Nostra," as well as two films titled "Billy Knight" and "Little Death."
Notably, Noor once held the position of vice president at Lynda Obst Productions within Sony, showcasing her expertise and influence in the field.
Furthermore, she, along with her sister Remi Alfallah, secured a pod-production deal with Imagine Entertainment, as reported by Deadline.
These accomplishments and affiliations within the Hollywood circuit have undoubtedly contributed to her impressive net worth.
Noor's success in the entertainment industry, combined with her involvement in high-profile productions, has allowed her to achieve a comfortable financial standing.
Her net worth is a testament to her talent, dedication, and ability to navigate the dynamic world of Hollywood.
As she continues to make strides in her career, it is likely that her net worth will continue to grow.
All of that will solidify her position as a respected and accomplished producer in the industry.
Hope you enjoyed this article. Feel free to share with us your honest feedback for improvement.
We will soon be back with another interesting personality.
Next Read: Makeiva Albritten