Who is Odley Jean?
Odley Jean is a famous Haitian-American actress who plays Dominique 'Dom' Pierre in Grand Army on Netflix. Dom is an over-achieving student who does everything she can to support her family.
Grand Army is Odley's Netflix debut.
Grand Army is Odley Jean's first time acting in a TV series.
As it stands, Odley hasn't appeared in any movies yet but, considering her talent, it seems likely that she has plenty of films and TV shows to come in the future.
Early Life of Odley Jean
Odley Jean was born on 22 August 1996 in Brooklyn, New York. She is still based there for her acting work. Her mother is from Gonaïves, Haiti and Odley go there every year.
There's nothing better than having options and acting isn't the only one Odley has when it comes to her career path.
She is currently a student at Nassau County Community College where she is in the progress of earning a degree in social work. She is also an intern at a local women's center.
Odley Jean Career
Odley Jean has been to Canada twice. The first time the Brooklyn native traveled north was last year for her grandfather's funeral.
Her extended family was well aware of her ambitions to become an actor, and in the in-between moments of the trip, her uncle sat her down and told her it was time to abandon the dream and find something more achievable to pursue.
The next time she was in the country was to shoot the new Netflix series "Grand Army," of which she is the co-lead, her first proper acting job, and the first time in front of a camera.
Jean, on Zoom at home in Flatbush where she was born and raised, has the kind of story you instantly root for, and warmth and wonderment to her that makes it easy to see how much she cares about making her dreams come true at any cost.
Rise to Fame
"Grand Army" is inspired by the 2013 play "Slut," written by Katie Cappiello, a co-creator of the series.
Jean leads opposite Odessa A'Zion, daughter of Pamela Adlon, in the drama series depicting a group of students at Brooklyn's largest public high school making their way in the world while struggling with economic status, sexual politics, and racial reckonings.
She will be in the limelight as a new face actress named on the 16th of October 2020 premier Webs Series Grand Army.
Jean, who plays strong-willed, ambitious Dominique Pierre, first met Cappiello when she was 16 years old, as a student of Opening Act, a nonprofit theater program that works with under-budgeted schools.
She started working with Cappiello on plays about social justice and advocacy, which the group performed at the UN, Equality Now galas in Los Angeles, and the U.S. Institute of Peace in Washington, D.C.
She will be in the limelight as a new face actress named on the 16th of October 2020 premier Webs Series Grand Army.
Odley Jean Personal Life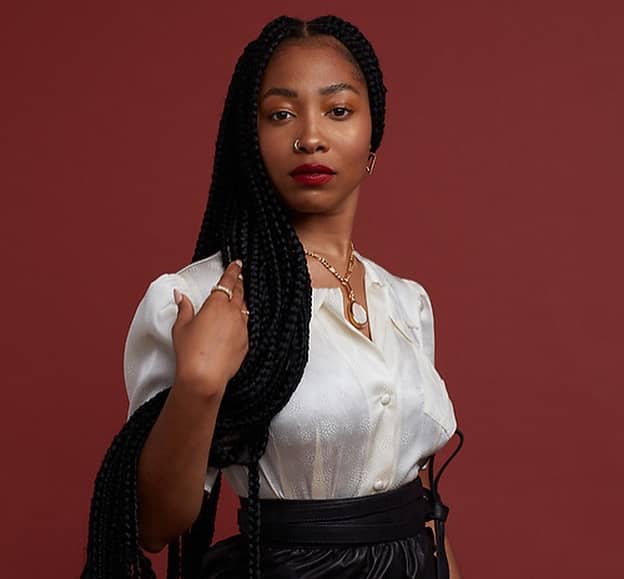 Odley Jean is currently in a sort of relationship with her boyfriend Donte Barnett dating. She posted an adorable photo with Donte celebrating her birthday on August 22, 2020.
They often make videos together. And, also posts pictures together on their respective Instagram pages.
However, she is also focusing on her career and is developing his skills. Furthermore, on a personal note, Odley is a sweet-natured girl who is very close to her family.
Furthermore, she often features her family members in her videos and talks about them a lot.
Odley Jean Net Worth
Odley Jean has a net worth of $1 million USD. There are currently no reports online about Odley's net worth right now.
However, given that Netflix originally paid the 13 Reasons Why actors up to $80,000 per episode, and the On My Block actors up to $30,000 per episode.
We imagine that Odley is earning somewhere within that range. With nine Grand Army episodes under her belt, chances are that Odley's net worth is already pretty impressive.
Also Check: Who is actress Clara Paget?
Social Media presence
Social media has become a very powerful tool for people looking to have careers in the entertainment industry.
These platforms allow people to connect with others and promote big projects. As Grand Army's popularity continues to grow, there will likely be a lot of people searching for her on social media.
You can follow Odley Jean via @odley.jean on Instagram where she posts behind-the-scenes photos of her work as well glimpses into her personal life.
She has more than 120k followers on Instagram.
Next Read: Who is actress Anna-Maria Sieklucka?
The Bottom Line
Odley has known she wanted to act from a very early age. She fell in love with the craft after participating in a play in elementary school.
Still, her path to becoming an actress wasn't a straight and narrow one.
Her mother wanted Odley to become a nurse and for a while Odley considered it. However, she ultimately decided that acting was something she wanted to pursue seriously.
Even though Odley was born at the tail end of the 90s, she still has a special place in her heart for the decade's fashion trends.
During an interview with Who What Wear she said, "I am such a huge '90s geek. I love baggy jeans. I love baggy sweaters.
I am more of a comfort dresser, but at the same time, I could go boho. I just love oversize stuff. "
Next Read: Who is actor Jaeden Martell?