Everyone sets some future goals in life. When your goals become your passion it will be easier to achieve them.
If we talk about the film and drama industry of the US, things become harder, you have to put in some extra effort.
More competition and more young talent are being produced every year. Let's talk about a well-known Director, Actor, and Screenwriter, in the entertainment industry of Hollywood, who is extremely talented OZ Perkins.
Profile Summary
Name: Oz Perkins
Birth Date: February 2, 1974
Birth Place: in New York City, USA
Age: 47 years
Height: 6 feet 4 inches
Net Worth: $1.5 Million USD
Profession: Actor, Director, Screenwriter.
School: Harvard-Westlake School
University: New York University
Education: Graduated in English
Marital Status: Married
Nationality: American
Who is Oz Perkins?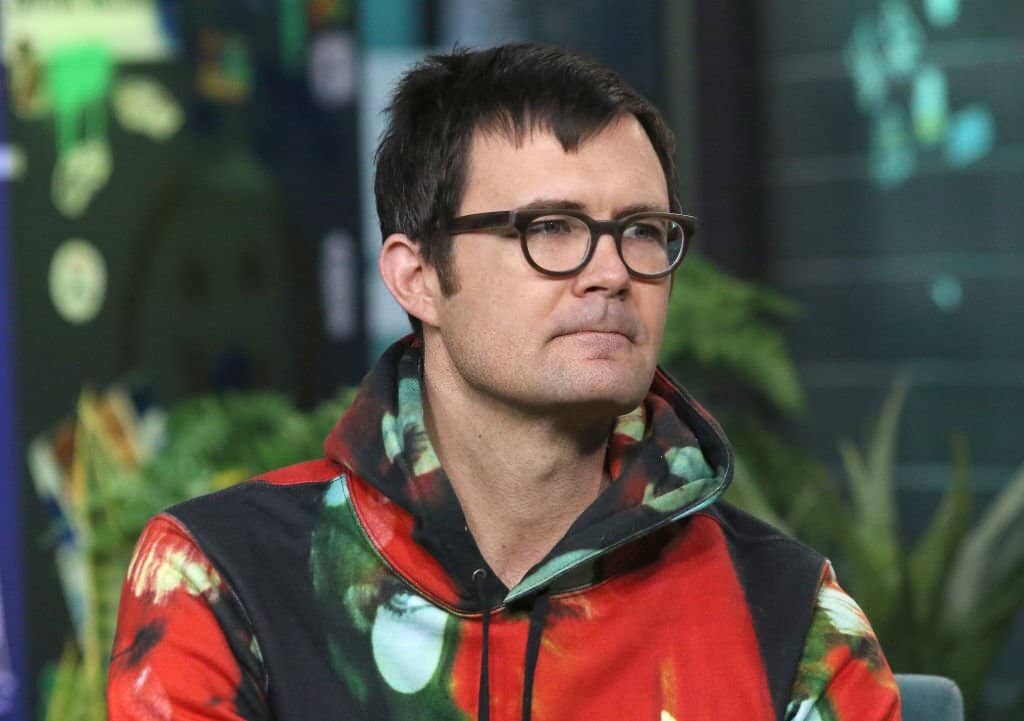 Oz Perkins is an American actor, director, and screenwriter who is best known for directing 'The Blackcoat's Daughter.'
As an actor, he is comfortable with performing a variety of roles in films across the genres of comedy, thriller, romance, drama, black comedy, and supernatural horror.
However, there is no doubt that he is more drawn to the horror genre. After all, he is the son of Anthony Perkins, who is most famous for playing the lead role in Alfred Hitchcock's 'Psycho.'
Born Osgood Robert Perkins, he hails from a family with a strong foothold in the entertainment industry.
His father and grandfather were both renowned actors while his great grandfather was an art historian.
Given his family's legacy, it comes as no surprise that he too chose to enter the world of entertainment.
Early Life of Oz Perkins
Oz Perkins was born on February 2, 1974, in New York City, USA. He is the son of Anthony Perkins and Berry Berenson. His mother was a photographer. He has a younger brother, Elvis Perkins.
He graduated from Harvard-Westlake School and went on to enroll at New York University.
He studied for one year at the film school in NYU and then completed two semesters at the film school of USC.
He ultimately decided to pursue a degree in English from NYU. In 1992, his father died after a long battle with AIDS. In 2001, his mother was killed in the 9\11 attacks.
Oz Perkins Career
Oz Perkins started his acting career with 'Psycho II' in 1983. In the movie, he plays the role of 12-year-old Norman Bates in a brief flashback scene.
His father had essayed the role of Norman Bates in the original 'Psycho' by Alfred Hitchcock.
His next movie was 'Six Degrees of Separation' in 1993. John Guare, the screenwriter, was a friend of Perkins' father. He had first met Perkins at his father's birthday party.
In an interview, Perkins stated that it was Guare who had probably recommended him for the role of Woody in the movie.
His next movie was 'Wolf' in 1994.
This was also a role that he landed due to his family's connections. His father had died in 1992, and as a result, he had become a little disoriented in life at that time. His family friend, Mike Nichols, noticed that.
At that time, Nichols was directing 'Wolf' and offered Perkins the job of an assistant.
He did not actually assist in the movie but did keenly observe the movie-making process. Moreover, he had two scenes in the movie.
Rise to Fame
Oz Perkins was next seen in 'Legally Blonde' in 2001. In the movie, he essays the role of Dorky David.
In the ensuing years, he appeared in 'Not Another Teen Movie' (2001), 'Secretary' (2002), 'Dead and Breakfast' (2005), 'Star Trek' (2009), and 'Removal' (2010).
In addition to acting in 'Removal,' he was also one of the co-writers. He also made appearances in 'Alias,' a popular television series.
After establishing himself as an actor, he began focusing on screenwriting and then directing. His next few projects over the years saw him contributing as a screenwriter or director.
He made his debut as a director with the film 'The Blackcoat's Daughter' (2015). It is a horror movie that is full of haunting sensory experiences which keep the audiences on the edge.
The movie is inspired by 'Rosemary's Baby.' The musical score of this movie was given by his brother, Elvis Perkins. His next film as a director and screenwriter was 'I am the Pretty Thing that Lives in the House' (2016).
It is a horror film that revolves around an elderly lady, her nurse, and the haunted house that they live in. Critics termed it an ordinary horror movie with no story.
In the near future, he will be directing 'A Head Full of Ghosts' and 'Gretel and Hansel.'
Oz Perkins Personal Life
He was married to his wife Sidney from 1999 until July 2016. They have two children together: a son, James Ripley Osgood Robert Perkins III (born in 2004), and a daughter, Beatrix Perkins (born in 2008).
Oz has filed for divorce from his wife of nearly 17 years, Sidney.
According to TMZ – Perkins curiously asked the court to hold off on spousal support decisions and listed their separation date as TBD, which would mark the cut-off for sharing assets.
Also Read: Who is Film Producer Dan Gilroy?
Oz Perkins Net Worth
Oz Perkins is one of the richest Movie Actors & listed as the most popular Movie Actor. Oz Perkins's net worth is approximately $1.5 Million. He has undoubtedly amassed a large fortune, with the majority of her wealth derived from his professional career.
Despite his obvious wealth, he prefers to live a simple life. His salary is still unknown, but it will be updated as soon as it is available.
Also Read: Who is film producer Jake DeVito?
Physical Appearance
He celebrates his birthday on February 2. Currently, he is now 47 years old. His Zodiac sign is Aquarius. He has a height of 6 feet 4 inches, which is also equivalent to 193 centimeters or (1.93 meters).
He also has a healthy body weight, which reflects his character and personality. His bodyweight is approximately 70 kg, which equates to 154 lbs.
He was a very attractive man.
Physical Appearance
Height
Feet & Inches: 6'4"
Centimeter: 193 cm
Meter: 1.93 m
Weight
Kilograms: 70 kg
Pounds: 154 lbs
I hope you enjoyed reading the biography and life story of actor and director Oz Perkins. Please share your valuable feedback and opinion regarding this story.
Next Read: Who is actor Jaeden Martell?