Renni Rucci (born on 2 October 1991) is a famous American rapper best known for freestyle rap over the beat of 'Freestyle' by Lil' Baby. Shortly, she was noticed by an American hip-hop magazine called XXL.
This was the breakthrough in her career. Let's read her biography to know her age, height, net worth, fiancé, surgery, real name, and a lot more things.
Profile Summary
Name: Renni Rucci
Real Name: Courtney Rene
Birth Date: 2 October 1991
Birth Place: Irmo, South Carolina, United States of America
Age: 31 years old
Height: 5 feet and 3 inches
Net Worth: $ 1.5 Million
Profession: Rapper
Wx-Fiancé: Foogiano
Children: Cour'don and D'couri
Nationality: American
Who is Renni Rucci?
Renni Rucci is a popular American rapper who rose to prominence in 2018 with her rap over the beat of 'Freestyle' by Lil' Baby. Renni Rucci is a curvaceous American female rapper, model, plus social media celebrity.
Moreover, she is also a Youtuber and has more than 371k subscribers on her 'Renni Rucci' YouTube channel. She has earned millions of followers worldwide, though it may not look in the media.
But surely, Renni Rucci has attracted millions of people through her attractive content.
Early Life of Renni Rucci
Renni Rucci whose real name is Courtney Rene was born on 2 October 1991 and is currently 29 years old.
Being born in early October, her zodiac sign is Libra. Likewise, she was born in Irmo, South Carolina, United States of America, and holds American nationality.
Similarly, talking about her ethnicity and religion, she belongs to a mixed ethnic group as she is of Irish and African-American descent and follows Christianity.
Her mother's name is Jacqueline Bush-Reese and her father's name is still unknown.
Renni Rucci Career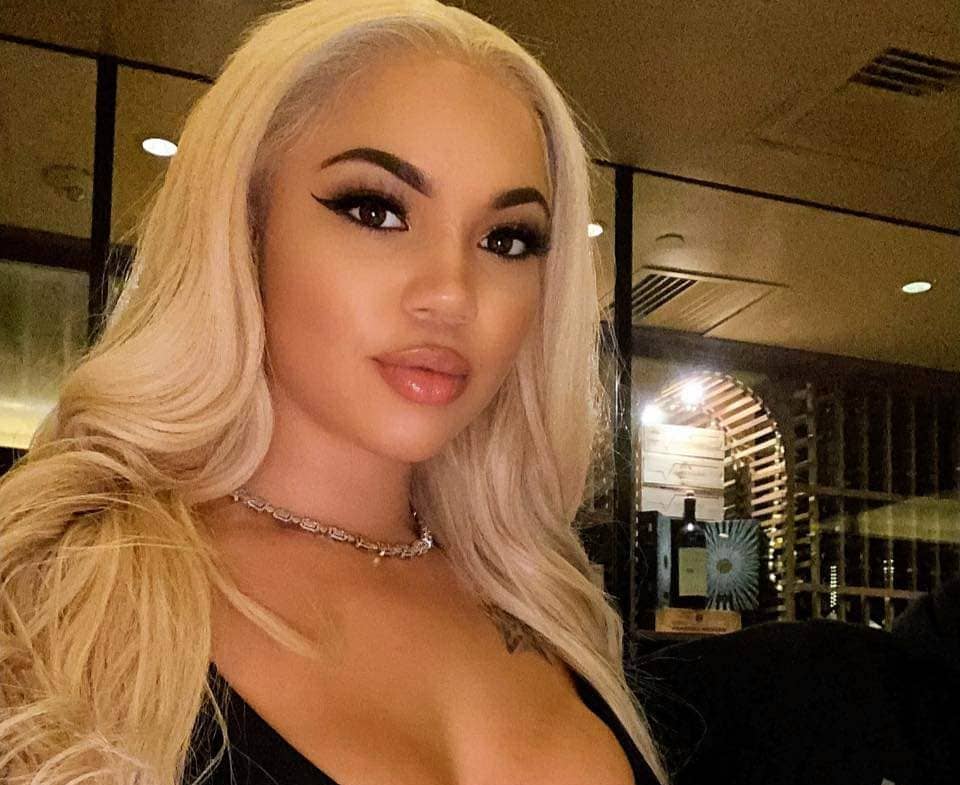 Renni started her career as an exotic dancer where she danced in a strip club. After some time, she decided to give it a try in modeling.
Rucci had an early interest in music as she grew up listening to the songs of Lil Baby, Cardi B, Lil Uzi Vert, Future, and others.
In 2017, she came up with a remix version of popular songs "Bank Account" and "Bodak Yellow". Surprisingly, the songs became very popular and gained her wide attention.
In December 2017, she released a new single titled "Roll in Peace".
The song became a massive hit and received more than 2.5 million streams. In January 2018, she worked on a remix of Lil Baby's song "Freestyle".
The song received an overwhelming response in a short span period fact, the song was streamed more than 20 million times on different streaming platforms.
Rise to Stardom
Her next big hit came in October 2018, when released a song called "Asum". The same year, she released another song titled "Cold Hearted' featuring Lil Yachty.
The song went on to receive 4 million streams in just 5 months. In January 2021, she dropped a new song titled "HandHands-onKnees' featuring Kevin Gates.
Likewise, recently on March 3, 2021, she released an official video of her new single titled "Can't Be" on her self-titled YouTube Channel.
To date, the video has generated over 1.3 million views. And still, in 2023, she is growing rapidly.
Renni Rucci Relationships
Renni Rucci was in a relationship with her ex-fiancé Foogiano, a fellow rapper from South Carolina. It's unclear when she began dating Foogiano.
Her ex-partner is currently serving a five-year sentence in prison. After being found guilty of various offenses, he was sentenced to five years in prison.
Renni Rucci Kevin Gates Relationship
In 2021, there were some rumors regarding Renni Rucci and Kevin Gates's relationship. However, this came up false after the release of their new track.
People started talking about Kevin Gates and Renni Rucci dating when they put out a new song. But in reality, they're not actually a couple!
Kevin, whose real name is Kevin Jerome Gilyard, and Renni just released a video for their latest song. They've also released a few songs together in the past, like 'At' and 'Hands On Ya Knees'.
But after their new song came out, some fans got the wrong idea about their relationship.
Renni Rucci Children
Renni Rucci has been blessed with two children, one son Cour'don and one daughter named D'couri. Both the children were born when Renni was in her teenage.
And this is now also confirmed that their father is the same. However, Renni has yet to disclose any information about their father.
She is currently a single mother who is doing everything for her and her children's future.
Also Read: Who is social media star Miracle Watts?
Renni Rucci Net Worth
Renni Rucci has a net worth of $1.5 million as of the year 2023. She has already established herself as one of the hip-the-most hop's promising rappers.
She has mainly earned through her albums, contracts, brand promotion, and sponsorships through her social media platform. Along with these, she will be also making a huge amount through her YouTube channel.
Back in 2022, the musician and celebrity had a whooping fortune of $1 million. This means she has made around $500,000 USD so far this year through her different earning sources.
She is dedicated to her music profession and first appeared in the late 2010s. She'll sign a huge recording contract shortly and make a fortune from her singing career.
Renni Rucci Net Worth & Earning Reports
Name
Renni Rucci
Net Worth (2023)
$1.5 million
Net Worth (2022)
$1 million
Salary (Yearly)
$500,000 USD
Earning Source
Rapping
Also Read: Who is Manny Montana's Wife Adelfa Marr?
Social Media Appearance
These days, social media platforms can be a potent tool that can help people secure major opportunities. Renni has managed to gain millions of followers on Instagram.
She also has a huge fan base on YouTube and Facebook. She frequently delights her fans by sharing her modeling shots on Instagram, and they seem eager to express their gratitude for her snap updates.
She's also built up a large following in the process on different platforms.
Physical Appearance
This stunning multi-talented personality stands 5 feet 3 inches tall and weighs around 63 kg (138 lbs). Likewise, she has a curvaceous body type but her body measurement detail is not yet available in the media.
Similarly, looking at her physical appearance, she has a dark skin type with black hair and a pair of captivating black eyes.
Likewise, she also has a tattoo on several parts of her body.
Physical Appearance
Height
Feet & Inches: 5'3"
Centimeter: 160 cm
Meter: 1.60 m
Weight
Kilograms: 63 kg
Pounds: 138 lbs
Facts About Renni Rucci
Renni Rucci, a famous American rapper, gained recognition for freestyling over Lil' Baby's 'Freestyle' beat.
She was noticed by the hip-hop magazine XXL, which marked a turning point in her career.
Renni Rucci's real name is Courtney Rene, and she was born on October 2, 1991, in Irmo, South Carolina.
She's 31 years old and stands 5 feet 3 inches tall with a net worth of $1.5 million.
Renni Rucci is not just a rapper but also a model, social media celebrity, and YouTuber with over 371k subscribers.
She gained popularity with remixes of songs like "Bank Account" and "Bodak Yellow" in 2017.
Renni's hit song "Roll in Peace" received over 2.5 million streams, and her Lil Baby's "Freestyle" remix garnered over 20 million streams.
Her songs "Asum" and "Cold Hearted" with Lil Yachty gained millions of streams, too.
Renni Rucci was previously engaged to Foogiano, another rapper, but he's currently in prison.
Rumors about her relationship with Kevin Gates were false; they collaborated on songs but aren't a couple.
I hope you enjoyed reading this article and had a good time going through it. Please share your thoughts and opinions on this story in the comment section below.
Also Read: Who is musician and singer Pedro Tovar?