Rocco Ritchie, son of famed singer Madonna and film director Guy Ritchie, was born into the spotlight and has been making a name for himself as an actor and model.
Despite growing up in a celebrity family, Rocco has forged his path in the entertainment industry, showcasing his talent on both the big and small screens.
In this article, we delve into the fascinating life of Rocco Ritchie, exploring his early years, rise to fame, personal life, and career achievements.
Who is Rocco Ritchie?
Rocco Ritchie was born into and raised in a celebrity family is an American actor and model.
He rose to prominence as a result of his notable performances in films such as I'm Going to Tell You a Secret and his appearances on the popular and highly rated television show Ellen DeGeneres Show.
Furthermore, Rocco came to public attention when his parents were embroiled in a legal battle over his custody following their divorce.
He has amassed a large following on various social media platforms.
So far, he has a substantial sum of money from his modeling career, making him one of the youngest and highest-earning models of this generation.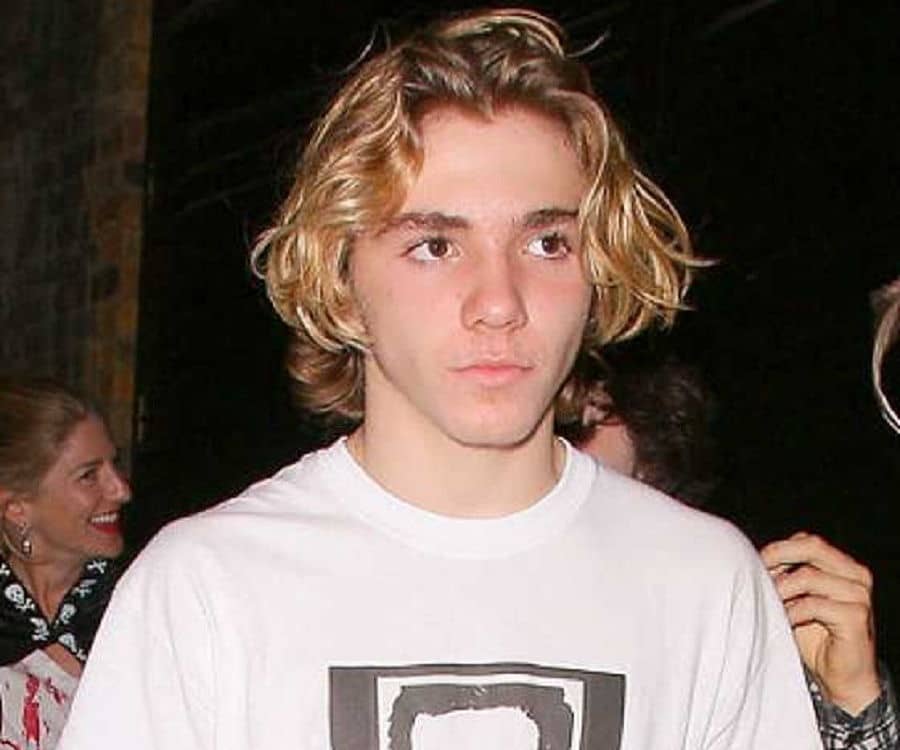 Early Life of Rocco Ritchie
Rocco Ritchie has full name Rocco John Ritchie, was born on August 11, 2000, in Los Angeles, California. He was born into the family of Guy Ritchie and Madonna, who are now divorced.
He is Madonna's second son, as well as Guy Ritchie's first.
Rocco comes from a large blended family on both sides. He has eight half-siblings. The half-siblings from his mother's side are Lourdes Leon, David Banda, Mercy James, Stelle Ciccone, and Estere Ciccone.
Currently, all Madonna's kids are living together in the US except for Rocco, who is living with his father in the UK.
On the other hand, the half-siblings from his father's side are Rafael Ritchie, Levi Ritchie, and Rivka Ritchie.
The Malawian-born, David Banda, was jointly adopted by the ex-couple in 2006.
His parents' divorce had a significant impact on his life, particularly on his relationship with his mother.
Rocco decided to stay in London with his father because he had a strict and disciplinarian mother.
This was contrary to Madonna's wishes. Madonna had previously attempted to seek legal assistance in the custody dispute. Finally, the two came to an agreement that favored Rocco.
He also did not want to stay with his mother because of her hectic schedule.
Rocco is currently a student at Central Saint Martins in London. Since 2019, he has been pursuing a fine art degree course in the constituent college of the University of the Arts London (UAL).
Rocco Ritchie Career
Rocco, unlike the other Madonna children, has been in the spotlight since he was a child. He used to accompany his mother on concert tours and interviews.
For example, in 2012, he accompanied his to The Ellen Show.
In 2005, he also appeared in his mother's music documentary film I'm Going to Tell You a Secret. The Grammy Awards nominated the film for Best Long Form Music Video in 2007.
Rocco has also been seen at various events with his parents and friends over the years. In 2014, for example, he went to London Fashion Week with his father, Guy Ritchie.
He has been a regular attendee of the event since then. In 2017, he also signed a modeling contract with the brand, Adidas.
Also Read: Carlo Marks Actor Biography
Rocco Ritchie Personal Life
Rocco Ritchie is still in his twenties, and it is not the right time for him to consider marriage. He was in a romantic relationship with singer Chantelle Lee in 2017.
He even introduced his father to his ex-girlfriend. Their relationship, however, did not last long after Lee dumped Rocco for Roman Kemp.
Rocco was previously linked to model Kim Turnbull. They were both seen together at several award ceremonies.
He was living in London with his father and stepmother Jacqui Ainslie as of October 2018, after his father won a custody battle in September 2016.
He is also a good friend of Brooklyn Beckham, the son of the legendary soccer player David Beckham. The two boys were spotted together at a skate park in 2016.
Also Read: Actor Christopher Candy Biography
Rocco Ritchie Net Worth
Rocco Ritchie's net worth is estimated to be $1 Million US Dollars. He has amassed a sizable fortune as both an actor and a model in a relatively short period.
However, as of 2022, the exact figure of his income and net worth is still being calculated.
Furthermore, Rocco is successfully increasing his fortune by signing a modeling contracts with several agencies and brands such as Adidas.
In addition, his mother, Madonna, is estimated to have a net worth of $800 Million US Dollars from her career as a popular music artist.
She is a best-selling recording artist and the highest-earning musician.
Simultaneously, she has sold over 250 million records to date. On the other hand, Rocco's father Guy Ritchie has amassed a net worth of $150 Million US Dollars.
Along with his earnings and bank balance, he is also enjoying his parents' property.
Physical Appearance
Rocco Ritchie is a renowned celebrity who has a nice physical appreance. He stands around 5 feet 11 inches taller which is equivalent to 180 centimeters or 1.80 meters.
Further, his weight is around 64 kg which is equal to 141 lbs. These all things makes him look perfect.
Overall, he is amazing in terms of his looks and smartness.
Physical Appearance
Height
Feet & Inches: 5'11"
Centimeter: 180 cm
Meter: 1.80 m
Weight
Kilograms: 64 kg
Pounds: 141 lbs
Social Media Appearance
Rocco Ritchie has been a celebrity since he was a child. Growing up, he experienced many ups and downs as a result of his parents' celebrity and divorce.
He regularly updates his social media handles and uploads his pictures. He has a large number of social media followers. He is a hugely well-known figure.
Let's take a look at his social media handles and follower numbers.
Instagram – More than 3185 thousand followers (Fan Page)
Twitter – More than 7,028 thousand followers
So, now you have successfully completed reading the biography of this amazing actor.
Please share your feedback and opinions regarding this article of Rocco Ritchie. We will be very thankful to you for this favor.
Next Read: Who is actor Jaeden Martell?