Who does not know about the famous Michele Morrone and his famous dialogue, "Are you lost, baby girl?", which took the youth by storm in his latest Netflix series?
However, very less is known about his wife whom he married but later divorced due to some interesting reason.
Let us know more about his ex-wife Rouba Saadeh.
Rouba Saadeh Profile Summary
Name
Rouba Saadeh
Birth Date
15 April 1987
Birth Place
Beirut, Lebanon
Age
35 Years Old
Height
5 Feet 7 Inches
Net Worth
$3 Million
Profession
fashion designer, founder of Le Paradis Des Fous
College
Collège Notre-Dame de Jamhour, Istituto Marangoni, Central Saint Martins in London
Mother
Manolia Mano Saadeh
Sibling
Abir Saadeh
Marital Status
Divorced
Ex- Husband
Michele Morrone
Children
Marcus Morrone and Brado Morrone
Nationality
Lebanese
Who is Rouba Saadeh?
Rouba Saadeh is a famous fashion designer and the founder of Le Paradis Des Fous, a designer store that gathers talents worldwide.
She is more famous for being the ex-wife of a talented actor, Michele Morrone.
Rouba Saadeh rose to fame after her marriage to a renowned Italian actor, model, singer, and fashion designer Michele Morrone.
Early Life of Rouba Saadeh
Rouba Saadeh was born on the 15th of April 1987. She is 35 years old as of 2022. Her zodiac sign is Aries.
Rouba Saadeh was born in Beirut, Lebanon, and currently lives there along with her family.
She thus has Lebanese nationality. She belongs to a mixed ethnic descent. She was born and raised in a Christian household and she is a Christian herself.
Her mother's name is Manolia Mano Saadeh. She has two siblings, a sister, Abir Saadeh, and a brother, whose details are not known.
Nothing is known about her father as of yet.
As for her education, she attended Collège Notre-Dame de Jamhour, Baabda, where she studied for a bachelor's degree in Graphic Designing.
She then graduated with a Master's in Business Administration from Lebanese American University.
Rouba later enrolled at Istituto Marangoni for a Post Graduate Diploma in Fashion Designing.
Also, she studied at Central Saint Martins in London, where she received a summer course in fashion design.
Rouba Saadeh Career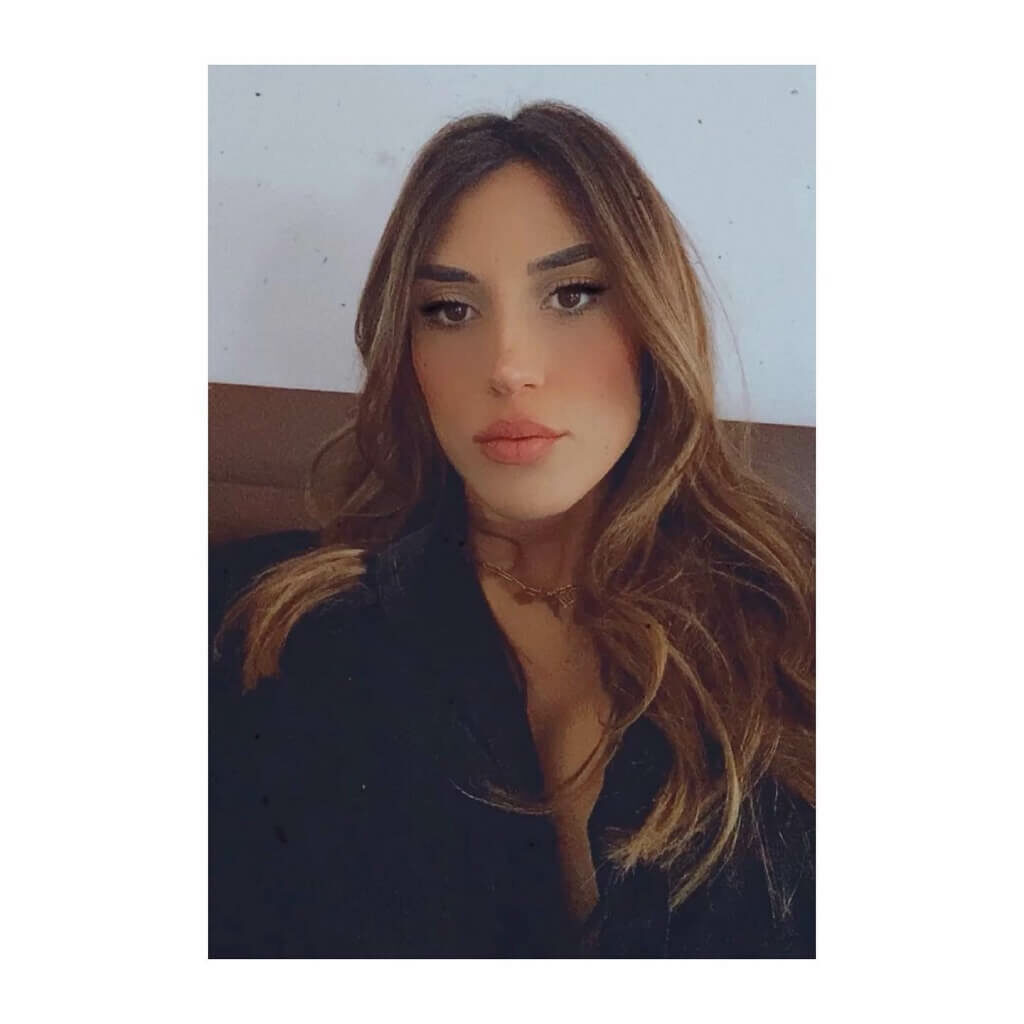 Michele Morrone's wife commenced her career in Beirut. She started as a graphic designer at Alfa MICI company and worked there for approximately two years.
Several months later, the talented fashion designer joined Elie Saab's Label as an assistant to the design team's head.
Rouba Saadeh's love for fashion made her launch her designer-based concept store in 2013, by the name Les Paradis Des Fous.
She was a chief executive officer during this period before quitting in December 2014.
As a family woman, she decided to take a break from work to pay full attention to her marriage and children. In June 2019, she was back on her feet and got back to work at Elie Saab as the senior coordinator (June 2019 to August 2021).
She has also worked for the company in a number of capacities, including studio supervisor (August 2021 to January 2020) and manager at the moment (Jan 2022 to present).
Rouba Saadeh Personal Life
Rouba Saadeh is currently a divorced woman. Her ex-husband is Michele Morrone.
Michele Morrone and Rouba Saadeh started a romantic relationship as boyfriend and girlfriend. Morrone first met Rouba years back through one of his allies.
Michele Morrone married Saadeh in 2004.
Rouba Saadeh's wedding took place in a private ceremony in 2014, in the presence of close allies and relatives.
Unfortunately, the couple has not revealed any information concerning the venue and the specific date the ceremony took place.
In their brief union, Michele Morrone Rouba Saadeh was blessed with two cute boys named Marcus Morrone and Brado Morrone.
In 2018, they had some misunderstandings and called off their marriage.
Morrone opened up about his divorce from Rouba in his Instagram posts. He claimed he was devastated, making him suffer from severe depression.
After a year of separation, he returned to the entertainment industry as an actor with one of the biggest hits, 365 DNI. Also, during this shoot, there were certain speculations that Michele Morrone has openly come out as gay.
However, he has not really commented on anything and is currently single.
Both Rouba and Michele own joint custody of their children.
Rouba Saadeh Net Worth
Rouba Saadeh has an estimated net worth of around $3 million as of 2022.
Her major source of income is her work as a talent fashion manager and designer. She has worked along many big companies to have accumulated such a net worth.
Also, he earns a certain sum of money through her social media as well.
So these become her sources of income.
However, she lives a pretty comfortable and lavish lifestyle along with her family in Lebanon.
Also Read: Who is Priscilla Presley's ex-wife Marco Garibaldi?
Physical Appearance
Rouba Saadeh is an extremely attractive and beautiful woman. She has a great and well-maintained body with a perfect physique.
Michele Morrone's ex-wife, Rouba is 5 feet 7 inches or 169 centimeters tall and weighs 55 kilograms or about 128 pounds.
She has dark brown eyes and brown hair on her beautiful whitish-golden skin. Her chest-waist-hip measurements are 34-27-38 which is quite impressive.
Rouba Saadeh also has a very warm and loving personality and is loved by her fans on her social media accounts.
So this is all you need to know about the ex-wife of Michele Morrone.
Thank you for reading this article about Rouba Saadeh.
Please feel free to share any thoughts and opinions or any other interesting fact that you may come across and write it down in the comments section below.
Till then enjoy reading!
Next Read: Who is Ozzy Osbourne's ex-wife Thelma Riley?