Ruskin Bond (born on 19 May 1934) is one of the greatest Indian writers who has been rewarded with Padma Shri to Padma Bhushan awards. He is best known for his two books, The Room on the Roof and The Blue Umbrella.
Besides this, he has achieved a lot of things in his life that you should know. Read this article to know about his wife, books, age, net worth, family, and whether he is alive or not.
Ruskin Bond biography, career, Net Worth, Age and Life Story
Name
Ruskin Bond
Birth Date
19 May 1934
Birth Place
Kasauli, Punjab States Agency, British India
Age
88 Years
Net Worth
$2 Million
Profession
Author and Poet
Awards
Click Here for Full Awards
School
Bishop Cotton School Shimla
Education
Graduated
Parents
Father - Aubrey Alexander Bond
Mother - Edith Clarke
Siblings
Brother - William Bond
Sister - Ellen Bond
Martial Status
Unmarried
Residence
Landour, Mussoorie, India
Who is Ruskin Bond?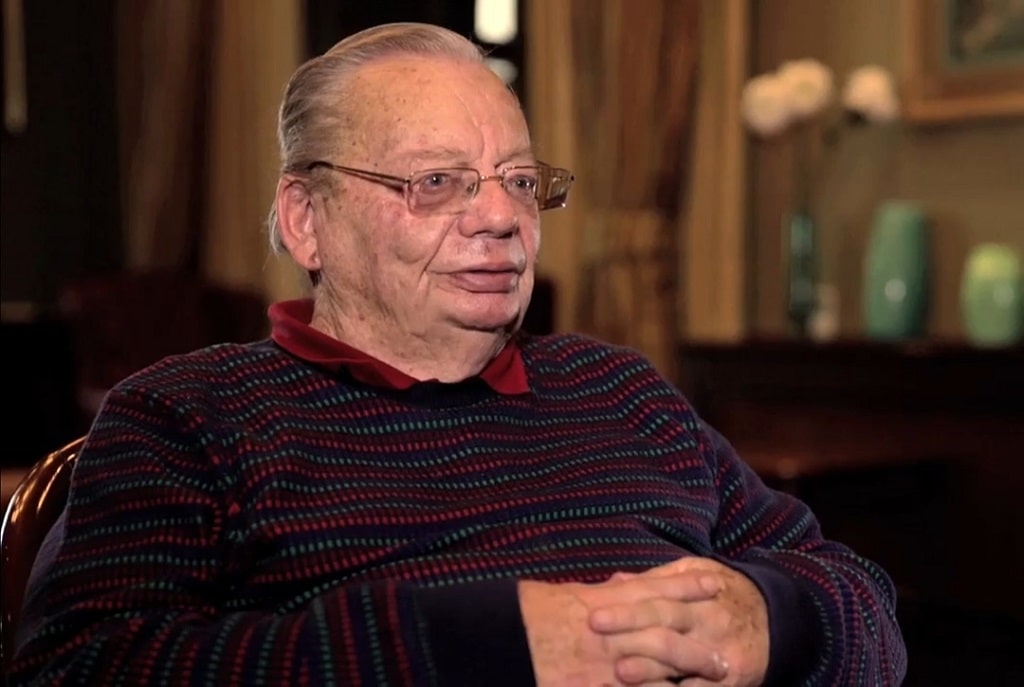 Ruskin Bond is a renowned British Indian Author and Writer who has contributed the most to making Indian literature better.
He is immensely popular for his creative writings which always differ from all other authors.
Especially, he is regarded as the best author for children because he writes very inspirational and remarkable poems for them.
Following his works, he has been awarded India's third-highest civilian award, Padma Bhushan, and India's fourth-highest civilian award, Padma Shri.
Is Ruskin Bond Alive?
Yes, Ruskin Bond is still alive in 2023 and living his life with his adopted family in Landour, Mussoorie, in the Indian state of Uttarakhand.
Early Life and Childhood of Ruskin Bond
Ruskin Bond was born on 19 May 1934 in Kasauli, Punjab State Agency, British India. His father, Aubrey Alexander Bond was an English teacher and had taught English to the Princess of Jamnagar Palace.
Ruskin's mother, Edith Clarke was a homemaker.
He had a sister named Ellen who sadly died in 2014. He has also a brother, William Bond who lives in Canada. Ruskin grew up with his family in Kasauli till he was six.
Thereafter, his father joined the Royal Air Force in 1939, and the rest of his family needed to live at Ruskin's maternal home in Dehradun.
A few months later, Ruskin was sent to a boarding school in Mussourie where he studied basic education.
When he turned 8, his mother separated from his father and married a Punjabi Hindu, name Hari.
Thereafter, Ruskin's father took him to Delhi where he was posted in the Royal Air Force. Ruskin describes the moments with his father as one of the happiest times of his life.
His father was his everything. Although, unhappily his father died in 1944 due to Malaria disease.
At that time, Ruskin was in a boarding school in Shimla and was thoroughly heartbroken after knowing about this tragedy. He then grew up with his mother and stepfather in Dehradun.
Ruskin Bond Age
Ruskin Bond is 89 years old as of 2023, as he was born on 19 May 1934. Despite being at such an advanced age, he has managed to achieve remarkable success as one of the greatest Indian writers.
Throughout his illustrious career, Bond has received numerous accolades, from the Padma Shri to Padma Bhushan awards.
He is most celebrated for his literary works, including "The Room on the Roof" and "The Blue Umbrella." Bond's enduring passion for storytelling continues to inspire readers of all generations.
Education of Ruskin Bond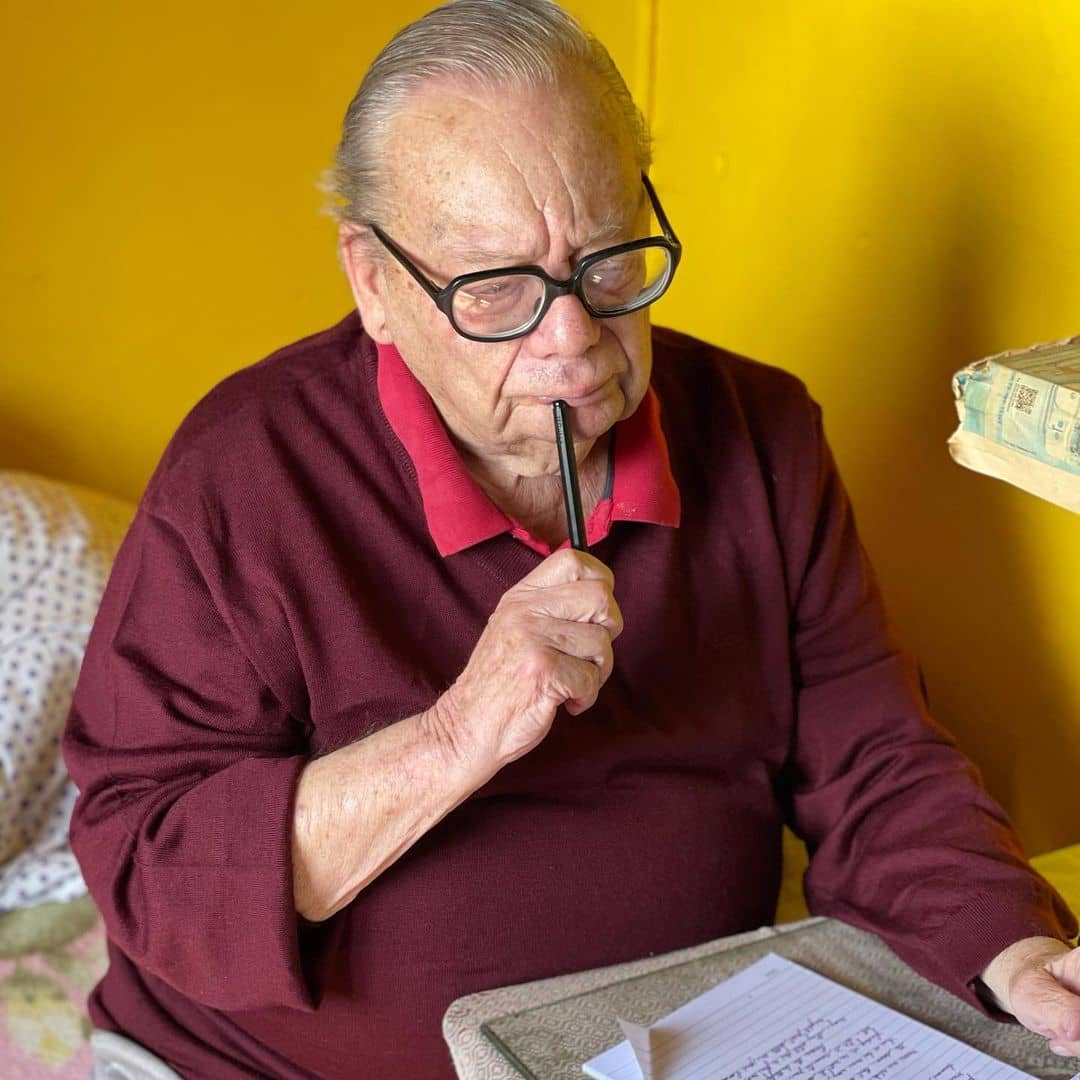 Ruskin Bond started his elementary education at Bishop Cotton School in Shimla. He was a very studious and intelligent student in his school.
He was extra fabulous in literature and writing. Following this, he has been awarded two big awards in his school time.
Those are the Irwin Divinity Prize and the Hailey Literature Prize. Ruskin graduated from Bishop Cotton School in 1950 and started his career.
He wrote his first and very short story in 1951 named Untouchability. He then moved to his aunt's home in Channel Island in 1951 following his high school education and stayed there for two years.
Begin of Ruskin Career
Ruskin Bond begins his career with his first novel, The Room on the Roof. The novel consists of an autobiographical story of an orphaned Anglo-Indian boy named, Rusty
For his writing, he was awarded the John
Llewellyn Thys Prize in 1957. He then moved to London and worked in a photo studio yet he searched for a publisher.
After publishing his novels, he used his money to come back to India and settle in Dehradun.
Ruskin worked as a freelancer for a few years in Delhi and Dehradun. He wanted to stabilize himself financially and he succeeded in doing it.
He wrote several short stories and poems for newspapers and magazines. This helped him sustain himself financially.
Once he said that, in my 20s, sometimes I got lucky and some work got selected and I earned a few hundred rupees. I was just very happy to be doing what I loved doing best.
Back in 1963, Ruskin Bond moved back to Mussoorie because it was near to the editors and publishers in Delhi.
Rise of Ruskin Career and Popularity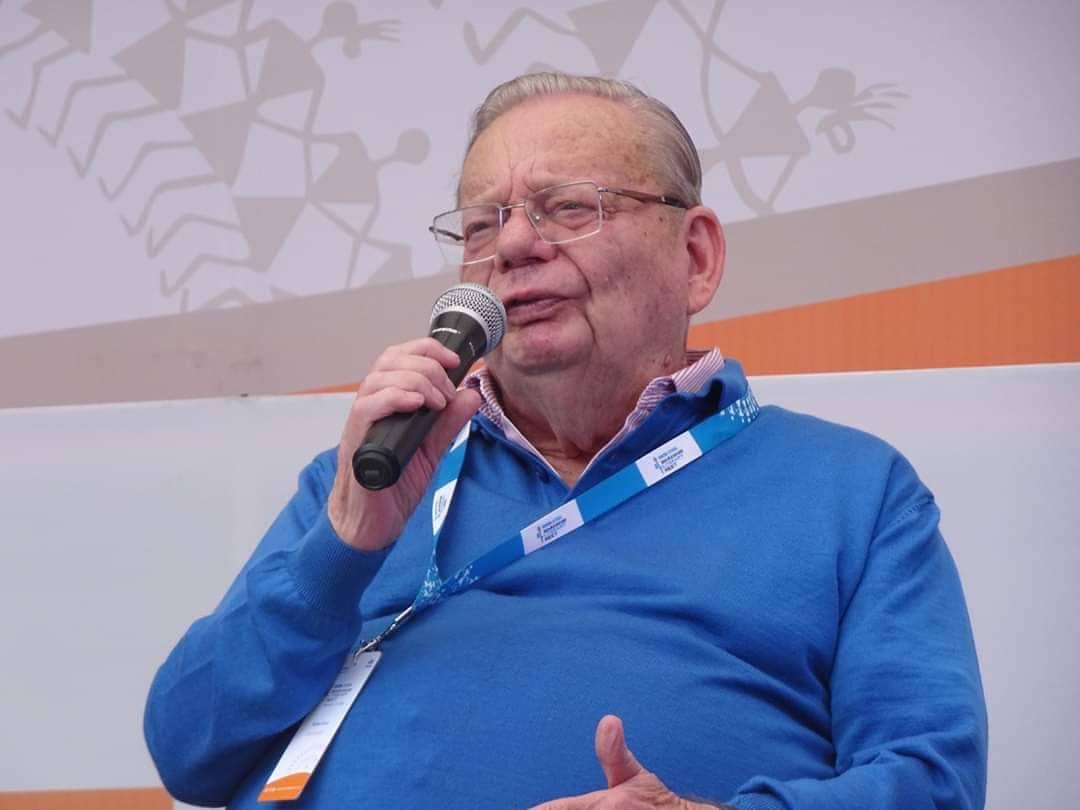 In 1980, an Indian book and story publishing company established its name, Penguin. The company approached Ruskin to write some books for them.
Thereafter, he wrote the sequel of The Room on the Roof in 1965 and named Vagrants in the Valley. Both of the novels at a time by Penguin India in 1993.
Further, the company published a collection of his non-fictional writings, The Best of Ruskin Bond in the same year.
Ruskin has always had an interest in supernatural fiction writings and this led him to write several stories including, Ghost Stories from the Raj, A Face in the Dark, A Season of Ghosts, and many more.
After these, Ruskin Bond has written over 500 short stories, essays, and novels.
He also loves children and that's why he had written numerous poems and stories for them. Some of his popular writings for students were The Blue Umbrella, A Flight of Pigeons, Funny Side Up, and over 50 books.
In 1997, Ruskin Bond published a book covering his autobiography named Scenes from a writer's life. The book describes his biography including his formative years growing up in Anglo-India.
Recently in 2017, he published another autobiography book, Lone Fox Dancing.
Rusty character of Ruskin Bond
Ruskin has created a fictional character named Rusty. It is about an orphaned sixteen-year-old Anglo Indian boy who lived in Dehradun. He had no real family, thus he started to live with his adopted guardian, Mr. John Harrison.
Mr. John has strict and harsh manners and rules. Rusty has to follow the hard rules of his guardian. If he obeys Mr. John, he could be beaten by him.
Even though he hasn't any friends, hence he lives in a lonely environment.
His character has been made with the vision of helping teenagers who were engaged in their life and happiness.
Filmography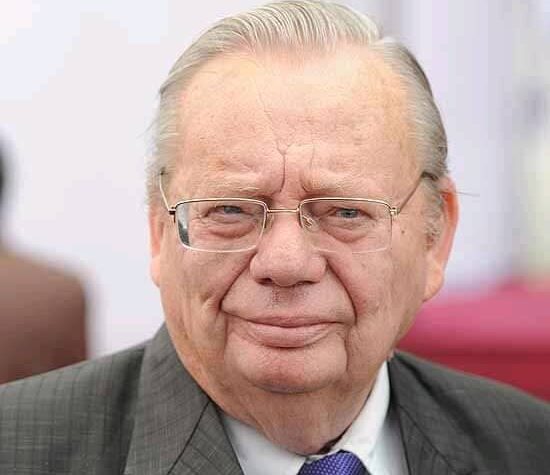 In 1978, the Bollywood Film Junoon was released which is totally based upon Ruskin's novel, A Flight of Pigeons.
Even, his character Rusty and his stories have been taken into a TV series, Ek Tha Rusty. Later in
Ruskin Bond Image
2005, Vishal Bhardwaj (Bollywood director) made a film which is based on Ruskin's novel for children, The Blue Umbrella.
It became an award-winning movie and won the National Award for Best Children's film.
In 2011, Ruskin appeared in Vishal Bhardwaj's film, 7 Khoon Maaf. It was his maiden big-screen appearance. The film was based upon one of the short stories, Susanna's Seven Husbands.
He played his role as a Bishop with the Bollywood actress, Priyanka Chopra. Also, Ruskin worked together with Bhardwaj in The Blue Umbrella.
Awards of Ruskin Bond
Following his great contributions to Indian literature, he has been honored with numerous awards. However, these awards are nothing against his works but could give an inspiration sign among people.
Below are motioned the major award and years Ruskin Bond achieve in his life.
1957 – John Llewellyn Rhys Prize
1992 – Sahitya Akademi Award
1999 – Padma Shri
2014 – Padma Bhushan
2017 – Lifetime Achievement Award
Ruskin Bond Wife
Ruskin Bond has been unmarried for his whole life. He has disclosed a lot of logical reasons to not get married in his life.
Ruskin Bond lives with his adopted family in Landour, Mussoorie's lvy Cottage which has been his home since 1980.
His sister, Ellen lived in Ludhiana, India along with his step-sister until she died in 2014. And William Bond, his brother, lives in Canada.
Talking about Ruskin Bond's marital status then the answer is that he is unmarried and never thought of marriage. He believes in being an Indian and working in Indian literature.
Once he was asked about the thing, he liked the most in his life. He replied that "I have been able to write for so long. I started at the age of 17 or 18 and I am still writing.
If I were not a professional writer who was getting published, I would still write".
On being an Indian, Ruskin Bond says in his essay that Race did not make him one. Religion did not make me one. But history did. And in the long run, it's history that counts.
Ruskin Bond Net Worth
Ruskin Bond's net worth is estimated at around $2 million as of the year 2023. He mostly earns as a book writer and his books have paid him the most.
Earlier in 2022, he had a fortune of $1.5 million. This means he has earned nearly $500,000 USD so far this year.
He is adding money to his life moreover he is writing new books. However, his net worth he has doesn't matter a lot to him.
He used to live a very simple and average life like others. He believes in being an Author only instead of being a millionaire.
Also Read: Natasha Bertrand Biography
Ruskin Bond Books
Ruskin Bond has written many books in his life story. Most of his writings were inspirational and very interesting. In fact, children love to read and write Ruskin's poems and stories.
Let you know the major old and new books which Ruskin Bond has written in his career.
| | |
| --- | --- |
| Books Name | Released Year |
| The Eyes Have It | 1953 |
| The Room on the Roof | 1956 |
| The Hidden Pool | 1966 |
| Grandfathers Private Zoo | 1967 |
| Strange Men | 1969 |
| Angry River | 1972 |
| The Blue Umbrella | 1974 |
| Love is a Sad Song | 1975 |
| A Flight of Pigeons | 1978 |
| Night of the Leopard | 1979 |
| The Road to the Bazaar | 1980 |
| Flames in the Forest | 1981 |
| Tales and Legends from India | 1982 |
| Earthquake | 1984 |
| Getting Granny's Glasses | 1985 |
| Cricket for the Crocodile | 1986 |
| The Night Train at Deoli | 1988 |
| Ghost Trouble | 1989 |
| Snake Trouble | 1990 |
| Our Trees Still Grow in Dehra | 1991 |
| An Island of Trees | 1992 |
| Hanuman to the Rescue | 1993 |
| Indian Railway Stories | 1994 |
| The Ruskin Bond Children's Omnibus | 1995 |
| Scenes from a Writer's Life | 1997 |
| A Bond with the Mountains | 1998 |
| Collected Fiction A Season of Ghosts | 1999 |
| Friends in Small Places | 2001 |
| The Landour Cookbook | 2002 |
| A Long Walk for Bina | 2002 |
| Rusty Runs Away | 2003 |
| The Little Book of Comfort | 2003 |
| The India I Love | 2004 |
| Road to Mussoorie | 2005 |
| A Town Called Dehra | 2008 |
| The Sensualist | 2009 |
| Great Stories for Children's | 2011 |
| Crazy Times with Uncle Ken | 2011 |
| Tales of Fosterganj | 2013 |
| The Very Best of Ruskin Bond | 2014 |
| A Book of Simple Living | 2015 |
| Vagrants in the Valley | 2016 |
| Lone Fox Dancing | 2017 |
| The Great Train Journey | 2018 |
| Owls in the Family | 2018 |
| How to Be a Writer | 2020 |
Facts About Ruskin Bond
Ruskin Bond, born on May 19, 1934, is a famous British Indian author known for his outstanding contributions to Indian literature.
He is celebrated for his unique and creative writing style, particularly renowned for crafting inspirational poems and stories for children.
Ruskin Bond has received several prestigious awards, including the Padma Shri and Padma Bhushan, among others, for his literary accomplishments.
As of 2023, Ruskin Bond is alive and resides in Landour, Mussoorie, Uttarakhand, with his adopted family.
He was born in Kasauli, British India, and spent his early years there until his family moved to Dehradun due to his father's job in the Royal Air Force.
Ruskin Bond's father, Aubrey Alexander Bond, was an English teacher, and his mother, Edith Clarke, was a homemaker.
Ruskin's early education began at Bishop Cotton School in Shimla, where he excelled in literature and received awards for his achievements.
He started his writing career with his first novel, "The Room on the Roof," which won the John Llewellyn Thys Prize in 1957.
Ruskin Bond has written over 500 short stories, essays, and novels, including popular works like "The Blue Umbrella" and "A Flight of Pigeons."
Despite his remarkable success, Ruskin Bond remains unmarried and values his identity as an Indian author, with a net worth estimated at around $2 million in 2023.
The Bottom Line
Ruskin Bond is the name among the authors who is going to be remembered in the whole history.
Not only for India but all over the world. His books are read by people from every country.
Ruskin has such exclusive and unique writing skills that change the mood of the readers. It will be very difficult for other coming writers to surpass his achievements and records.
The biography and life story of the Ruskin bond is so much inspiration for every reader. His life story also teaches the way to live for being a professional author.
I hope you guys enjoyed a lot reading this motivational story of Ruskin Bond. Share your feedback with us so we can improve further.
Next Read: Robert Frost Biography and Life Story