In some cases, being the star kid is helpful, but sometimes difficult to live. The star kid might come with burdens and hard challenges for his upcoming generation.
Here Seven Sirius Benjamin is like those guys who were born to a star kid. In his case, both of his parents are legends in their respective fields.
Sirius is now an interesting person for the people as everyone wants to see him like his parents. But things are not like how he wants.
Let's know what this mystery is below in this article.
Who is Seven Sirius Benjamin?
Seven Sirius Benjamin is a famous American man who is widely popular for being the son of Hip-Hop legends André 3000 and Erykah Badu.
Sirius is currently a simple man but would be seen as an upcoming star.
Although, this man is so far from social media platforms and even keeps himself far from the media. This looks very weird as he lives hidden despite being the son of the Hip-Hop legends.
Anyway, let's crack his life story below.
Early Life of Seven Sirius Benjamin
Seven Sirius Benjamin was born on November 18, 1997, in Dallas, Texas, United State. His father, André Lauren Benjamin, famously known as André 3000 is a renowned American singer, rapper, songwriter, actor, and record producer.
While his mother, Erica Abi Wright, professionally known as Erykah Badu is a popular singer, songwriter, actress, and record producer.
Sirius's parents are from similar fields and had also worked together many times on the stage.
Sirius's grandmother, Sharon Benjamin was a single mother who sold real state. And his grandfather, Lawrence Harvey was a collection agent.
His grandmother died in 2013 and his grandfather in 2014. Sirius has no siblings as his parents ended their relationship after one and a half years of his birth. But he has two stepsiblings from another father.
Their name is Puma Sabti Curry and Mars Merkaba Thedford.
He grew up in Dallas, Texas, and holds American citizenship by birth. He has not revealed his educational background to the media.
However, his mom once said in one of her posts that Sirius is studying Botany in a college.
Rise to Fame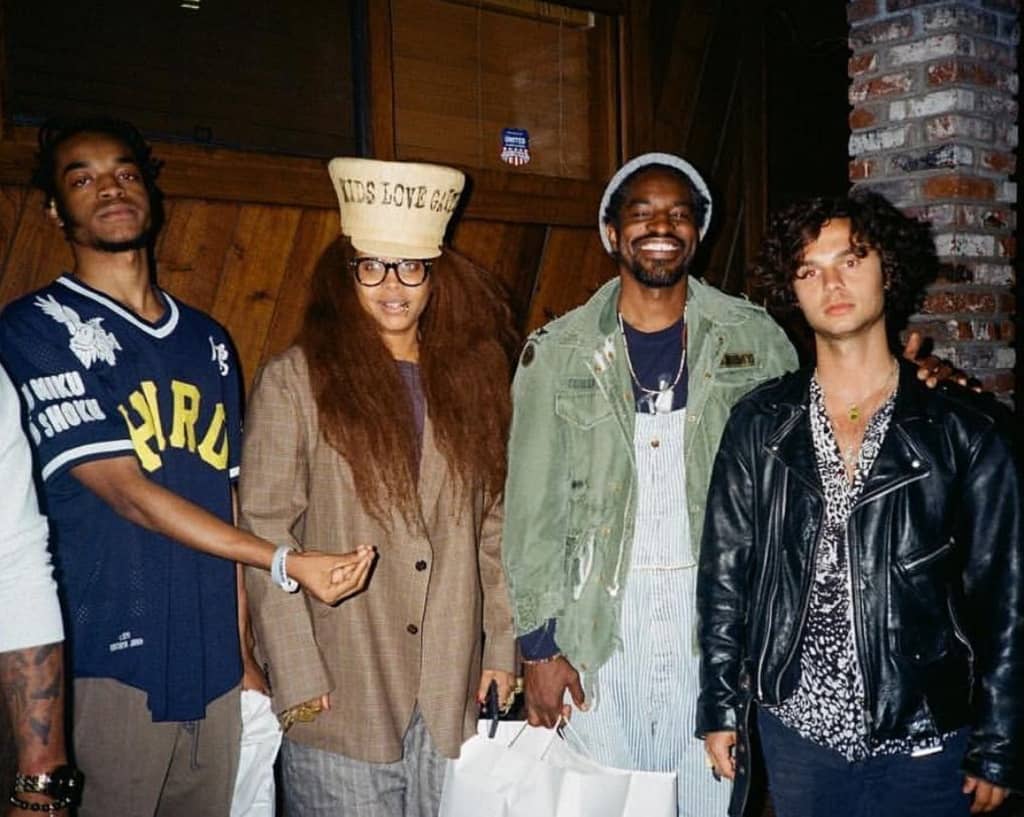 Seven Sirius is a very shy person who keeps himself so far from public attention. He came into the limelight because of his father, André 3000, and his mother, Erykah Badu.
However, it seems that he is the spitting image of his father. Sirius once appeared in a video his mother posted on Instagram. In the video, he was driving next to his mother and was listening to Lil Yatchy's song.
Sirius and his mother were looking glad in the video which really proves their relationship as a strong bond. Despite being the son of a popular father and mother, he stays far away from the public eyes.
He is not available on any of the social media platforms. In fact, there are very few photos of him available on the internet.
As a child of celebrity parents, he has a lot of pressure for his future. He might look on big stages in the coming years. His parents are totally focused on his actions and they also want to see him as a star like them.
Currently, Sirius hasn't been seen doing something big in the film industry.
Seven Sirius Benjamin Personal Life
As of now, Seven Sirius is a very private person. He hasn't even revealed his early life, career, education, and more things.
And now when it comes to his relationship or girlfriend's information, he remains the same as he is.
Thus, no one knows about his relationship. However, everyone is believing that he will disclose all of this information after coming into the film industry.
Well! It will be seen in the future and we hope so.
Seven Sirius Benjamin Net Worth
Seven Sirius estimated net worth is unknown. It's obvious that it will be unknown as the person is completely hidden from the media attention. Don't even have social media profiles.
However, his parent's net worth would stand at more than $5 million USD. They are highly rich in their industry and are leading all the way.
His parents can be considered his main source of earnings until it is clear what Benjamin is doing.
The Bottom Line
We are sorry to say that this was the only information available about him. As we also saw how secretive Sirius is.
Due to this, there is very little information available on the internet regarding his life. Nope! This is good to read the chapters according to the books.
Next Read: Elon Musk's Late Son Nevada Alexander Short Story
I hope his biography brings some interesting facts about him. Let you share some information if you know about him.