Sharon Marie Huddle is an American lawyer who deals as a family law attorney. She is best known as the ex-wife of the Golden State Killer, Joseph James DeAngelo.
Apart from being associated with a serial killer, Sharon co-founded a surrogacy advocacy organization.
Sharon Marie Huddle Profile Summary
Name
Sharon Marie Huddle
Birth Date
1953
Birth Place
San Juan
Age
69 Years Old
Height
5 Feet 5 Inches
Net Worth
$1 Million
Profession
Lawyer
School
San Juan High School
College
River College
University
McGeorge School of Law
Father
Clarence Huddle
Marital Status
Divorced
Ex- Husband
Joseph James DeAngelo
Nationality
American
Who is Sharon Marie Huddle?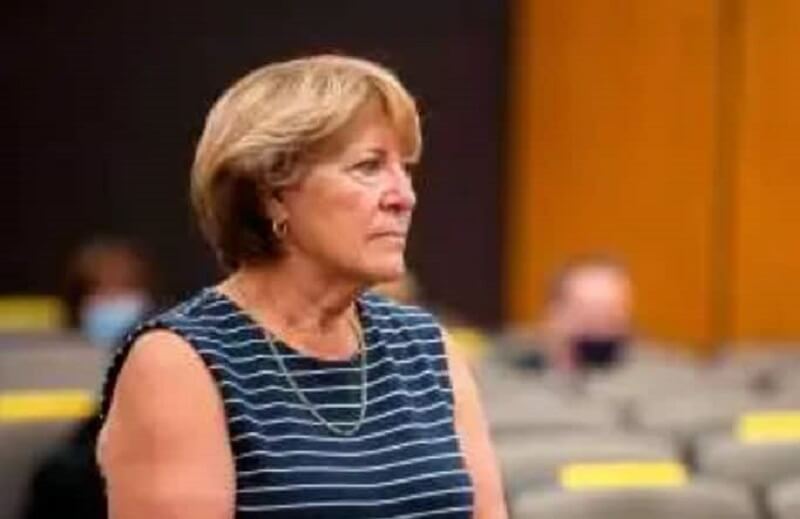 Sharon Marie Huddle is an American family law attorney. She has used her profile as a lawyer to advocate for the rights of surrogate mothers.
However, Sharon is well-known as the ex-wife of the Golden State Killer, Joseph James DeAngelo Jr.
Sharon and Joseph married in 1973 and welcomed three daughters.
After her husband's arrest and conviction, Sharon has not been the same again and battles PTSD.
Early Life of Sharon Marie Huddle
Sharon Marie Huddle was born in 1953 in San Juan, United States. She is 69 years of age as of 2022.
The exact date of birth is not available in the public forum.
She is an American nationality and belongs to white Caucasian descent. Sharon was born into a Christian family and is a follower of Christianity herself.
She is the daughter of Clarence Huddle, her father of Citrus Heights. Sharon grew up in Citrus Heights with her brother.
She attended San Juan High School and later joined American River College in Sacramento, California.
After graduating from River College, Sharon enrolled at McGeorge School of Law, the University of the Pacific. Sharon graduated from law school and joined the law profession as a family lawyer.
Sharon Marie Huddle Career
Sharon Marie Huddle is a lawyer by profession.
Sharon Marie Huddle graduated from Law School in the late 1970s.
In 1982, she became a lawyer after getting admitted to the bar. However, she remained inactive in 1987 for about eight months.
After becoming active, Sharon specialized as a family lawyer. Several years later, she became a divorce attorney.
Sharon founded a law firm specializing in family, divorce, and real estate law. While practicing law, Sharon Huddle co-founded the National Coalition Against Surrogacy organization.
The organization's primary goal was to stop the state from passing a law that would govern the rights of surrogate women.
Since Sharon has an active license in California, she has practiced law in Roseville and Sacramento, California, United States.
Sharon Marie Huddle Personal Life
Sharon Marie Huddle is the wife of the serial killer Joseph James DeAngelo. She met Joseph James DeAngelo when she was a law student. In 1973, Sharon married DeAngelo.
The lawyer was 20, and DeAngelo was 27 when they exchanged marriage vows. One year after their marriage, the Golden State Killer started a series of burglaries in Visalia and surrounding areas.
Between 1976 and 1981, the killer sexually assaulted and murdered countless women. Sharon Marie Huddle did not know that the person that raped and murdered her was her husband.
In 1981, 1986, and 1989, Sharon and DeAngelo welcomed their three daughters.
To date, nobody knows the names of Sharon Marie Huddle's daughters. But, surprisingly, the Golden State Killer murders stopped after Sharon and DeAngelo welcomed their second daughter in 1986.
Although their names remain unknown, one of Golden State Killer's children is an Emergency Room doctor in the Midwest, and one is a Ph.D. candidate at an unnamed university.
Before their father's arrest, Sharon's daughters were on social media. However, they deleted their posts and chose to protect themselves from the sins that their father committed.
Sharon and DeAngelo were in the marriage between 1973 and 1991. Unfortunately, they separated in 1991 but remained legally married.
The two finally divorced in 2018 after DeAngelo's arrest.
The Golden State Killer, Joseph DeAngelo, is serving multiple consecutive life sentences without the possibility of parole. He is currently incarcerated in protective custody at California State Prison, Corcoran.
Also Read: Brendan Kavanagh Pianist Biography
Sharon Marie Huddle Net Worth
Sharon Marie Huddle's estimated net worth is $1 million as of 2022.
All her major sources of income are her ventures in the field of law. As a practitioner of law in the states, she does earn around a good deal of money.
Also it is she who took financial care of the children after her husband's arrest.
The mother along with her children now live comfortably away from the eyes of the media. However, they do have a simple and comfortable lifestyle.
Alos Read: All About Jerry Lee Lewis's Ex-Wife Kerrie Mccarver?
Physical Appearance
Sharon Marie Huddle was quite popular in her youth. She was quite an attractive lady with a beautiful face and figure.
She is 5 feet 5 inches tall or 165 centimeters in height. She weighs approximately 55 kilograms or about 121 pounds.
Apart from that, she has lovely warm brown eyes and blonde locks.
It is said that during her early years she was quite a beauty to behold.
So this is all you need to know about the wife of the killer. Thank you for reading the article about Sharon Marie Huddle.
Please feel free to share any of your thoughts and opinions or any other interesting information that you may come across and share with us in the comments section below.
Till then enjoy reading!
Next Read: Who is James Gandolfini's Ex-Wife Marcy Wudarski?