Producer of American movies Steve Greener. For his work in the criminal drama sports series "Above the Rim," Steve Greener is well-known.
He is also well-known for being the spouse of Tamron Hall, a well-known broadcast journalist, and television host.
Steven Greener Profile Summary
Name
Steven Greener
Birth Date
28 June 1967
Age
56 Years Old
Net Worth
$5 million
Profession
Music executive, film producer
Marital Status
Married
Wife
Tamron Hall
Children
Moses
Nationality
American
Who is Steve Greener?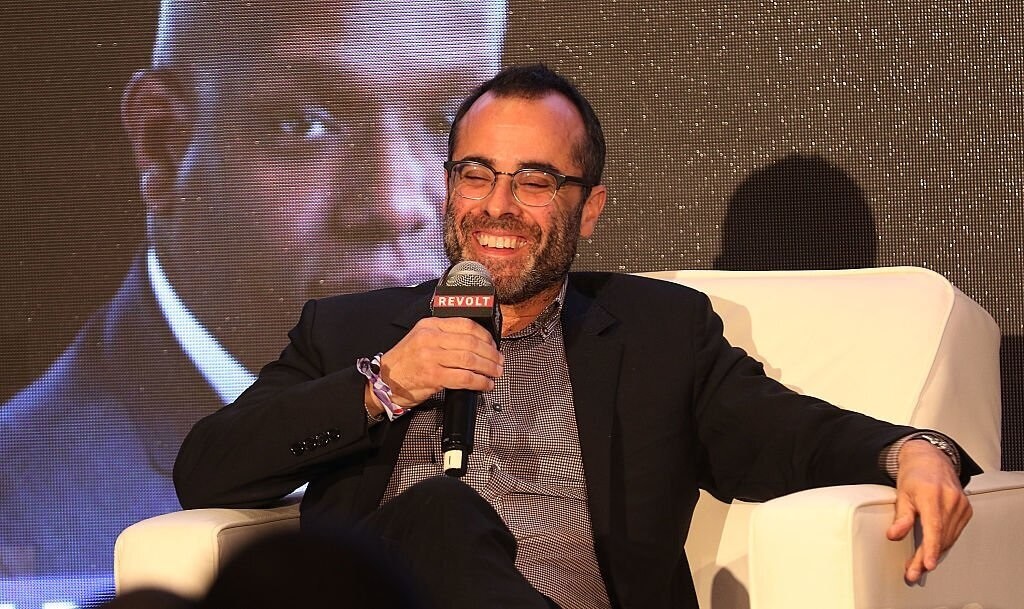 American music executive, film producer, and entrepreneur Steven Greener has at least three decades of experience in the entertainment world.
He is well-known for being Tamron Hall's husband, an American TV personality and journalist.
Early Life of Steve Greener
As of 2023, Steven Greener will be 56 years old. He was born in the United States of America on June 28, 1967.
Steven Greener is an American citizen despite though he is of Irish descent.
Steve Greener Career
Greener attended the State University of New York College at Oneonta, where he graduated in 1989. Steven joined Elephant Walk Entertainment in 1993 to help with the production of movies like House Party I and II.
Steven moved to another stable and collaborated with Benny Medina to oversee Will Smith's role in The Fresh Prince of Bel-Air and the production.
He co-produced the feature film 'Above the Rim for New Line Cinema' while at Medina and Pollack.
Steven served as a production assistant on the 1996 movies Miracle Beach and Sketch Artist prior to taking on the role of executive producer.
When Union Entertainment was first established in 1997, the creation and production of The Bernie Mac Show, a multi-award-winning program, was the company's first significant achievement.
Greener created the 104 episodes of the program there during the course of its six-year run.
He stayed on as a producer for Union Entertainment when 3 Arts Entertainment bought it. He made movies for corporation like MR. 3000 and Guess Who.
He joined Handprint Entertainment in 2006. Bernie Mac, Mariah Carey, Usher, Chris Rock, and Jennifer Lopez were among the artists managed by the company.
In order to create movies for the urban market, he founded the production business 5 Boroughs Entertainment. The firm made several movies, including the Soul Men starring Samuel L. Jackson.
Women Thou Art Loosed: On the Seventh Day, written by T.D. Jakes, was also presented by Greener in 2012.
In 2013, he worked with Bunim/Murray Productions to develop a few movies. Additionally, he worked as a consultant for Codeblack Films, a Lionsgate company, where he handled the purchase of various television and web productions, such as Kevin Hart's Let Me Explain and Joan Rivers' Why We Laugh 2.
He presently works as a partner at Primary Wave Entertainment, where he is responsible for the music talent management of a number of artists, including Kesha Cole, Fantasia, Melissa Etheridge, Cypress Hill, and Cee Lo Green.
Steve Greener Personal Life
On September 16, 2020, Tamron Hall, a TV host with a self-titled show, will be 50. She rose to fame after Andrew Gillum, a former candidate for governor of Florida, revealed his sexual orientation to her during an interview.
Steven's wife is the television presenter Tamron Hall. Tamron Hall and Steven Greener were longtime friends before they started dating.
Tamron said that they had been friends for about four years prior to beginning to date.
It turns out that a shy Greener had been acting in a way that suggested he liked Tamaron, but Tamaron had thought he was just being nice.
Tamron Hall and Steven Greener began dating after Tamron Hall quit the Today show in 2017.
Hall announced on social media at the beginning of March 2019 that she and Greener had married and were expecting their first child.
On April 24, 2019, Tamron Hall and Steven Greener welcomed their baby, Moses. Moses is the first child of Hall and her spouse. IVF was also used to conceive Moses.
Also Read: Gavin Munn Actor Biography
Steve Greener Net Worth
Greener's estimated net worth is $5 million as of the year 2023. His profession as a producer generates the major share of his income.
Earlier in 2021, his total worth was somewhere around $2 million. And now, he has earned another $500,000 USD so far this year.
I hope you enjoyed reading this article and had a good time going through it. Please share your thoughts and feedback regarding this article below in the comment section.