Nicolas, Christopher, and Matthew are from Boston, Massachusetts but have won over the audience from all over the world through their TikTok videos.
The Sturniolo brothers have made a name for themselves through their content on social media and now everyone wants to know who they actually are.
So let us dive into it and learn about the famous Sturniolo brothers.
Who are the Sturniolo Brothers?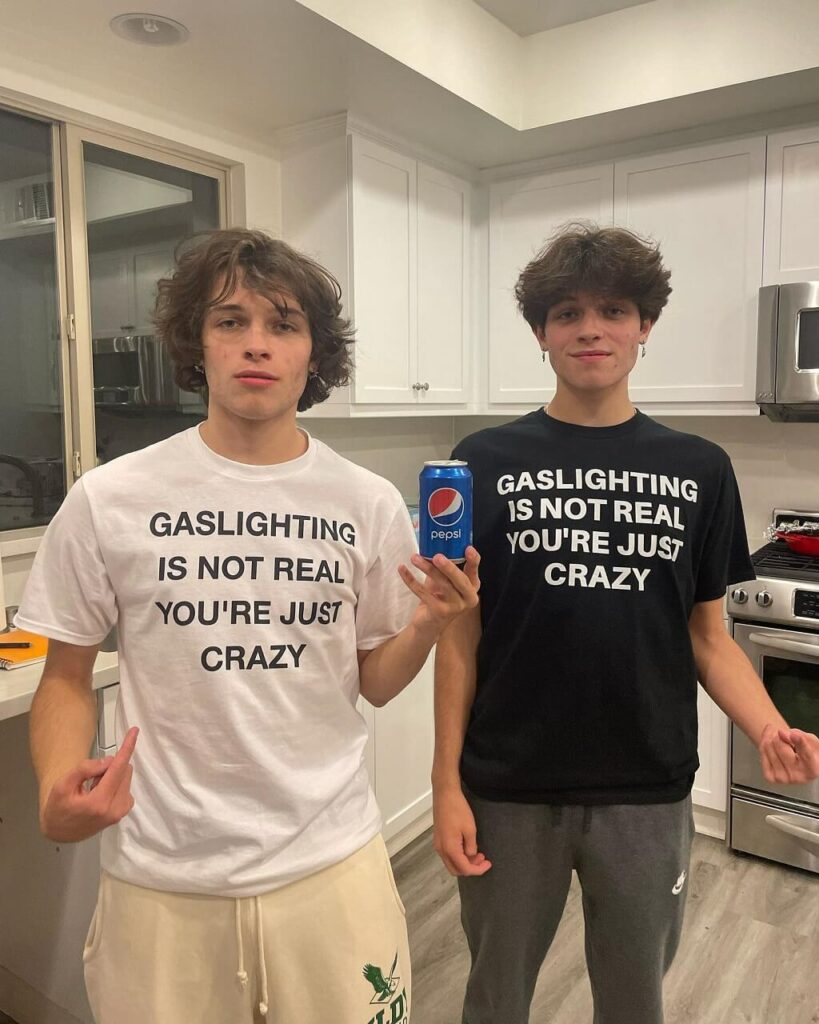 Sturniolo Triplets were started by one of the three brothers and later on, they went on to develop their own YouTube channel.
Chris Sturniolo, the youngest and the first brother to be on social media, now is a prominent TikTok star, YouTuber, model, and social media influencer from the United States.
He gradually gained fame on TikTok by posting lip-sync and comedy content.
The celebrity commenced his YouTube career alongside his two brothers by launching the Sturniolo triplets YouTube channel.
The three brothers upload vlogs, pranks, challenges, and Q&As.
Early Lives of Sturniolo Brothers
The Sturniolo brothers namely Nicholas, Matthew, and Christopher Sturniolo are triplets. They share their birthday on the same day which is 1st August 2003. They all are 19 years of age as of 2022.
Their zodiac sign is Leo. Chris Sturniolo along with his brothers was born in Boston, Massachusetts, in the United States.
They were born Marylou, their mother, and James Sturniolo, their father. He was brought up alongside his two triplet siblings, Matthew and Nicolas, who are also internet celebrities.
He also has a brother named Justin Carey. The four siblings were raised in a Christian family and are followers of Christianity.
Among the three brothers, Christopher is the last born and the most entertaining one.
The Sturniolo brothers' ethnic background is white, and they have American nationality. As far as their schooling is concerned, they have studied their early years and high school in a local school in Boston.
Curious as they were as children, later they developed their curiosity into a social media career.
Sturniolo Brothers Career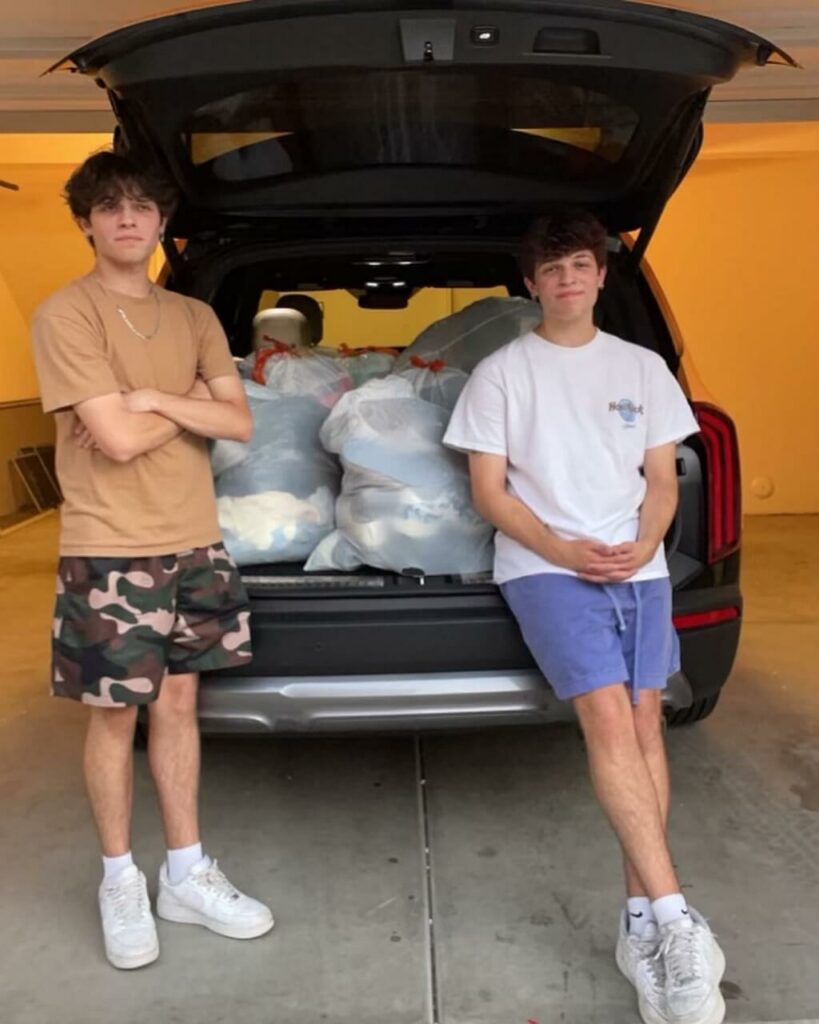 The Sturniolo brothers can be found on Instagram as @sturniolo.triplets where they have more than 1 million followers. They post funny videos about their life and document their lives in a funny and enjoyable manner.
They also have a YouTube channel named Sturniolo Triplets where they post enjoyable content.
Chris Sturniolo
The little one Chris is however the most famous one.
Chris Sturniolo is a successful content creator who has been represented by media companies such as Z Star Digital LLC, LynkPR and ConnectHER Media Company.
The internet sensation is active on Instagram, and he has caught the attention of many netizens with his modeling shots.
He is a TikToker, YouTuber, and Instagram star. The entertainer created his TikTok channel in April 2020. He has a considerable following on TikTok, where he uploads comedy skits and lip-sync videos.
He has over 2.7 million followers and over 31 million likes on the platform. Chris is also on YouTube, where he posts videos with his two siblings. They created their YouTube channel on 24 June 2020.
The Sturniolo triplets' YouTube channel has amassed a huge fan base, with over 2.36 million subscribers. They frequently post vlogs, pranks, challenges and Q&As.
Chris is also an Instagram star and regularly shares pictures with his two brothers on the platform.
Nicholas Sturniolo
Nicolas Sturniolo is another member of the triplets. He has an impressive following of over 1.2 million and over 32 million likes on TikTok.
Nicolas created his own original series on TikTok titled "Nick Tries Things!"
The influencer is known for being the brain behind the entertaining content. Nicolas is responsible for editing several of their videos.
He has used different editing variations in their videos in hopes of enhancing the quality of their videos. Based on their growing fame, it is safe to say that he has mastered his editing skills.
Matthew Sturniolo
Matthew Sturniolo is the third brother among the Sturniolo Triplets. He has created a fanbase of his own similar to his other brothers.
Although Matthew is more reserved than his other brothers, followers of the group admire his genuine personality.
Thus all three brothers are Internet sensations who can be seen together in videos and having fun and even making their fans enjoy themselves.
However, their YouTube channel was banned due to some reason but they have to wait a year to retrieve it.
Fans of the trio were distressed to see their channel abruptly disappear. Many expressed shock and sadness on Twitter.
Sturniolo Brothers Personal Life
As of today, the Sturniolo brothers are single. Not a single of them is in any kind of romantic relationship.
They just want to focus on building their net presence and improve on their career.
Also, it is not known whether they would join college or not. As it is it would be difficult for them to balance so many things together.
They have not been involved in any kind of romantic linkups and are not dating anybody that we know of.
Also Read: Alex Belfield YouTuber Biography
Sturniolo Brothers Net Worth
Sturniolo brothers, as estimated in the year 2022 have a total net worth of more than $3 million US dollars.
Chris is said to have a net worth of more than $1.5 million, and Nicholas and Matthew too have a net worth of more than $1 million each.
This makes them a pretty rich trio.
Their main sources of income are their social media accounts. And for Chris, it is modeling too.
They live together and share a comfortable lifestyle.
Also Read: Danny Duncan Biography and YouTuber
Physical Appearance
Chris Sturniolo's height is 5 feet and 8 inches (173 centimeters). He weighs around 136 pounds (62 kilograms). Nicholas too is of the same height but weighs slightly lesser than Chris at 60 kilograms or 134 pounds.
Matthew is a bit taller at 5 feet 8.5 inches or 175 centimeters. He weighs around 60 kilograms too.
All the brothers have light brown eyes and dark brown hair.
And they all are extremely cute and handsome and successful men.
Thank you for reading the article about the Sturniolo brothers. Please feel free to share any of your thoughts and opinions and write them down in the comments below.
Happy reading!
Next Read: Noah Samsen YouTuber Biography