Sydney McLaughlin-Levrone is an American hurdler and sprinter who competes in the 400 meters hurdles.
Sydney's parents are her greatest inspiration and driving force in her life who are also sports persons, in fact, the entire McLaughlin family is into sports.
Sydne is the 2020 Tokyo Olympic champion with the Games record and the 2022 World champion with a world record time of 50.68 seconds.
Her journey has been challenging yet fascinating, and she has managed to garner top championships.
Let us take a closer look into the highly interesting life of this great athlete and her family.
Family of the Olympic Gold Medalist
Her father, Willie McLaughlin, is a member of the Manhattan College Athletic Hall of Fame as a three-time All-American. He was a semi-finalist in the 400 meters at the 1984 Olympic Trials.
Her mother, Mary Neumeister McLaughlin, was a 2:12 half-miler at Cardinal O'Hara High School in Tonawanda, New York, where she ran on the boys' team.
Sydney's parents met as students at Manhattan College; there was no women's track team when Mary arrived in 1979, so she became the manager of the men's track team.
Who are Sydney McLaughlin Parents?
Sydney McLaughlin's father, Willie, is a three-time All-American 400m runner who even reached the semi-final of the 1984 Olympics trials. He is even in the Athletic Hall of Fame at Manhattan college.
Like her father and mother, Mary was a runner in high school, running for the boys' team. She later became the manager of the boys' track team, as there were no teams.
Though 2022 became a great year for her career, it was not for her personal life. Her father suffered from hypertrophic cardiomyopathy and had to get a routine checkup.
But this year, one of his medications showed adverse effects, and his heart started having problems. He was immediately kept on the list of heart transplants and luckily got a new one in February.
This incident pushed McLaughlin to work even harder, as she wanted to win the gold for her father, who had a dream of winning one.
Her older brother, Taylor, won silver in the 400m hurdles at the 2016 IAAF World U20 Championships. Sydney and Taylor are the middle of four children.
What is Sydney Mclaughlin Parents' Nationality?
Sydney Mclaughlin's parents are Willie McLaughlin and Mary McLaughlin. She was born on 7 August 1999.
Her parents hold American nationality.
Sydney's parents Mary and Willie's love
Her parents are actually spot lovers and they both participated in field events as well as track events during the young days of their life. They both love sports.
They have three children and the same craze for sports can be found in the children as well. Their family became popular after Sydney's triumph in the Olympics.
Her parents met for the first time when her mother Mary joined the track team of Manhattan College where her father Willie was also on the sports team.
Mary met Willie for the first time on this campus which later bloomed into a relationship and marriage.
Who is Sydney McLaughlin?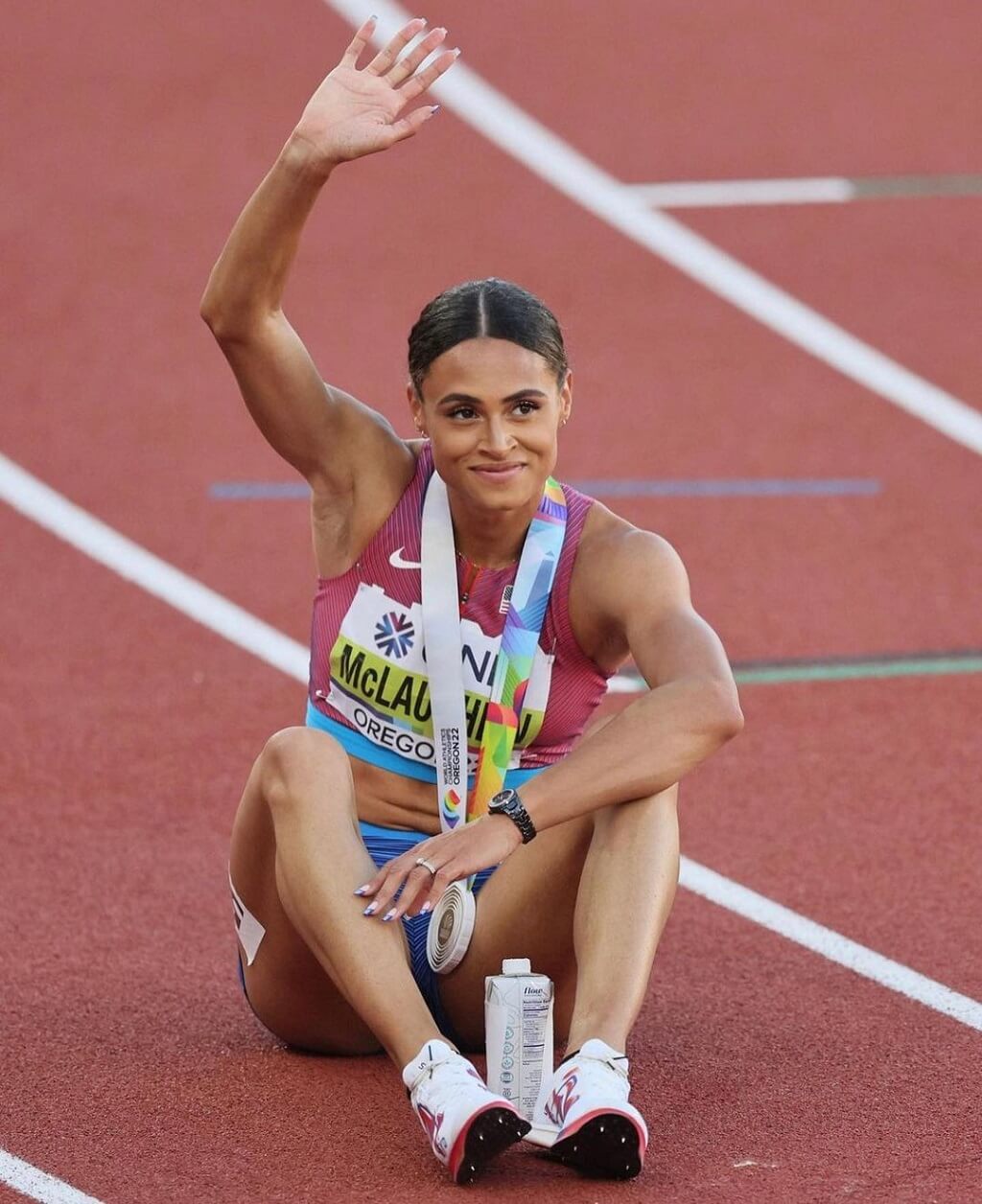 Sydney McLaughlin is a professional American hurdler and sprinter. Her full name is Sydney Michelle McLaughlin.
She holds a number of age group world bests and won the Gatorade National Girls Athlete of the Year trophy for both 2015–16 and 2016-17.
She had won a silver medal in the 400m hurdles at the 2019 World Cup Championships.
Sydney Mclaughlin created history by winning the gold medal in the women's 400m hurdles at the Tokyo Olympics.
She is the current world record holder in the women's 400 meters hurdles with a time of 51.46 seconds, set on August 4, 2021, at the Tokyo Olympics in the final run.
How old is Sydney McLaughlin?
Sydney McLaughlin was born on 7 August 1999 in Dunellen, New Jersey.
As of 2023, she is 23 years old. If she keeps up the same performance she has at least a couple more Olympics to shine and rise.
Does Sydney McLaughlin have siblings?
McLaughlin was born in New Brunswick in, New Jersey as the third child of Willie and Mary. Besides her, Willie and Mary also had three more children, Taylor, Morgan, and Ryan.
Even her siblings are runners themselves.
Her elder brother Tylor is a 400m hurdler who runs for the University of Michigan and won second place during the IAAF World U20 Championship.
Likewise, her elder sister, Morgan, also ran for St.Peter's University, and her younger brother, Ryan, is also on his high school track team.
Ryan is also the fifth member of her family to hold the New Jersey County track title.
Early Life of Sydney McLaughlin
The family initially lived in New Brunswick but later moved to Dunellen. McLaughlin was born and raised in an athletic family where almost everyone was into running and other sports. McLaughlin is a Christian.
Growing up, McLaughlin had a very encouraging and supportive family.
Despite her father belonging to a black community and her mother a white, they raised their children in the best environment.
McLaughlin started running at the early age of six. Initially, she ran because it was so much fun.
But after winning and getting prizes from her parents, McLaughlin decided that this was the perfect career.
She then started participating in more games, and the rest is history.
Sydney McLaughlin Career
She has won several medals and even set records on more than one occasion. Her career is going great, and the 2020 Olympics just made it better.
Sydney Michelle McLaughlin is the Tokyo Olympics gold medalist of the year 2020, and also the present world and Olympic records holder with 50.68s and 51.46s, respectively.
She was one of the first women to break 52 seconds in the 400 meters hurdles when she set a world record of 51.90 s at the 2020 USA Olympic trials.
Sydney won a silver medal at the World Championships held in 2019. At both the 2019 World Championships and Tokyo Games, Sydney also took gold as part of the women's 4×400 meters relay team.
On the 22nd of July in 2022, Sydney won gold at the world championship in Eugene, Oregon, with a new world record time of 50.68 seconds.
As a 15-year-old, Sydney was the year 2015 World youth champion.
In 2016, McLaughlin was the youngest athlete since 1980 to qualify for the United States Olympic track team, having placed third at the U.S. Olympic Trials with the current world under-18 best of just 54.15 seconds.
Her hometown of Dunellen, New Jersey, named the track at the town's Columbia Park for McLaughlin on August 28, 2021.
How many times has Sydney McLaughlin broken the world record?
In a sport where world records often stand for decades, she has broken the mark four times in a 13-month span.
"The time is absolutely amazing and the sport is getting faster and faster," McLaughlin said. "Just figuring out what barriers can be broken.
Who sponsors Sydney McLaughlin?
The sports company New Balance currently sponsors her.
She also won four straight school titles in the 400-meter hurdles at the New Balance Outdoor Nationals.
Sydney McLaughlin Personal Life
McLaughlin is married to Andre Levrone Jr., who graduated from the University of Virginia in 2017 and played parts of three seasons as a wide receiver in the NFL before leaving the league.
They are with each other almost since the end of 2020 and started their relationship through social media and Instagram.
He played for teams such as the Baltimore Ravens and Jacsonville Jaguars before ending his football career. Andre told his followers on his Instagram that he was giving up his football career.
His fans were deeply saddened to learn of his quitting. Levrone and McLaughlin announced their engagement on August 25, 2021, at the Four Seasons Resort, Scottsdale.
They married at Early Mountain Vineyards in Madison, Virginia on May 5, 2022. When she is outside the track, she loves writing poetry, listening to music, and watching movies.
She also enjoys new experiences, like traveling far destinations, and brand partnerships, among others.
Who is Mclaughlin's husband?
Sydney McLaughlin and Andre Levrone Jr. got married in May 2022. The 23-year-old gold medal-winning Olympian and former NFL player tied the knot after dating for over two years.
The longtime lovers got engaged in August 2021.
What is Sydney McLaughlin's Net Worth?
At just 21 years, Sydney has amassed a considerable fortune thanks to her talents and skills. As it turns out, by performing at high standards and setting Olympic records, she is also becoming rich.
She is estimated to be worth a whopping $2 million in 2023. Besides running, she also makes pretty big bucks from endorsements.
Based on her incredible success, we can only imagine that the endorsement deals will continue to roll in for the young athlete.
Also Read: Jeri Caldwell Biography and Story
Is Sydney McLaughlin related to Caleb McLaughlin?
There is no indication that Sydney McLaughlin and Caleb McLaughlin are at all related to each other. They both are stars in their respective fields and belong to two different worlds – athletics and acting.
They only co-incidentally share the same surname.
Also Read: Is Lewis Hamilton Gay? Know His Sexuality
How tall is Sydney McLaughlin?
The physical height of Sydney is 175 cm or 5 feet 9 inches or 1.75m. Her weight is 60 kg which is equal to 132 lbs.
Her hair color is brown and her eye color is black and she has an agile body.
She performs well due to her agile body, so she runs and completes the hurdles very quickly. McLaughlin won the Olympic game after working hard for years and years.
The gold was possible only because of her intense training and practice. McLaughlin has a very toned and muscular body.
Hope you enjoyed this article. Share with us your feedback in the comments section below.
We will soon be back with a new and interesting personality.
Next Read: Who is Emily Compagno Husband Peter Riley?