Not many sportspeople can reach the very milestone. Let's talk about Tiril Eckhoff; one of the most famous names in the world of sports despite being a part of winter sports.
She is a very smart lady, with classical looks. She is indeed one of the soundest biathletes of all time. At the World Championships, Tiril has won several gold and bronze medals.
Let's take a closer look at her incredibly successful journey.
Who is Tiril Eckhoff?
She is a professional biathlete, a younger sister of a former biathlete, and now her coach Stian Eckhoff. Her first year in biathlon was 1999 and made her World Cup debut in 2008.
Eckhoff took part in her first-ever Olympic Games in 2014 in Sochi.
Although such an event was her premiere, she won 3 medals – one gold with the mixed relay alongside Tora Berger, Ole Einar Bjrndalen, and Emil Hegle Svendsen; and 2 bronze in the mass start and the relay.
In the other races, Tiril finished 18th in the Individual and the sprint and 24th in the pursuit.
From the beginning of the 2014-2015 seasons, Eckhoff achieved her first World Cup victory in the second race for the season.
On 6 December 2014, she won the 7.5 km sprint in Östersund. During the 2015 World Championships in Kontiolahti, Tiril won a bronze medal with the mixed relay.
She finished 8th overall with 598 points. The 2015-2016 seasons were hard.
Her shooting was unstable and her skiing was not in top form. However, at the World Championships held in Holmenkollen, Eckhoff won the gold medal in the 7.5 km sprint.
She demonstrated incredible class and proved that training and hard work paid off.
After this remarkable success, Tiril ran with the Norwegian women's relay team that won the gold. From the Championships, she got a total of 2 gold medals.
The future holds many more victories and podiums for the young talent.
Early Life of Tiril Eckhoff
Tiril Eckhoff was born and bred in Baerum, Norway. She grew up in a very stable family. Thus, she never saw major financial challenges while growing up.
Elin Kampenhaug is her mother, while Knut Eckhoff is her beloved father of Tiril.
Her brother Stian Eckhoff is a famous Norwegian biathlete. Her sister Kaja Eckhoff also does winter sports – but she has not taken that deep ride of consistency.
Tiril did most of her basic education from Baerum, Norway. She is very much connected with her hometown.
Tiril always loved academics as well as sports. It made her teachers' beloved students during school days.
Tiril did earn her engineering degree from the Norwegian Institute of Technology (NIT). It was her dream of her to have a respective degree in her hands.
Hobbies of Tiril Eckhoff are picnic, shopping, reading books, and swimming. She is a huge football fan, with English club Manchester United is her favorite club.
Tiril's beloved colors are pink, blue, and black.
Eckhoff does enjoy most cuisines, making her a perfect foodie. Eckhoff is famous for her skills as a biathlete. Tiril does like to spend time with his family.
Paris is her beloved holiday destination.
Tiril Eckhoff Career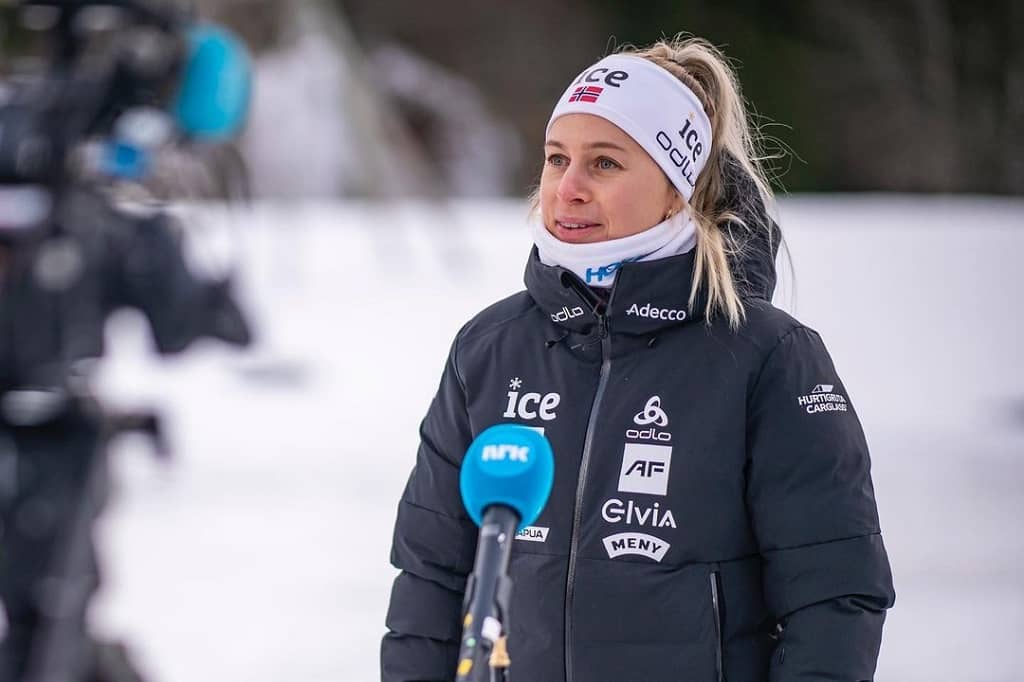 Tiril Eckhoff is indeed one of the soundest biathletes of all time. She made her Winter Olympics debut in 2014, back in Sochi (Russia), winning the Gold medal.
Four years later, they won the silver medal in Pyeongchang, South Korea. She is a two-time Olympic medallist.
Not many sportspeople can reach this very milestone. At the World Championships, Tiril won several gold and bronze medals. It shows that she is very consistent in her sport.
She started her career with the hope to enjoy winter sports.
Little did she know at that time that life will become stunning with her classical skills. She can easily work as a model too – but her love is always there for being a biathlete.
Hence, sports fans in Norway do respect her from the bottom of their hearts.
In the 2014 and 2018 Olympic Games, she won five medals in total four bronze and one gold. It shows her impact at the highest level.
She is a very skilled lady who knows how to shine in style ahead of others. In a way, it makes her so special for Norway and its win…
Tiril Eckhoff is one of the most famous names in the world of sports despite being a part of winter sports. She is a very smart lady, with classical looks. Tiril is a Norwegian biathlete with smart skills to outsmart many in this world.
The very fact shows the fact that Eckhoff has everything in her arsenal as far as making things profitable is concerned.
She is a very smart lady who knows how to shine and keep on making a great impact across the globe.
Tiril Eckhoff Personal Life
Tiril Eckhoff is a wedded woman who married Anund Lid Byggland. They met in a winter sports competition a long time ago. The pair fell in love and saw their future together.
They are indeed one of the most famous celebratory couples in Norway. Tiril sees Anund as her only soulmate and wants to live with her for a long time.
It shows the fact that how much she loves Anund.
Anund Lid Byggland is a decent Norwegian cross-country skier. He is a part of Hoydalsmo Idrottslag and Team Norgeshus. Anund was born on July 17, 1990.
He is a famous winter sports star in Norway – but is not as famous as his soulmate. For betting lovers, Anund is a quality man to invest in as he is very much unpredictable.
It makes him different in a way too.
Tiril Eckhoff Net worth
The estimated net worth of Tiril Eckhoff is USD 2 million. She is a very rich lady who knows how to earn money and make life stable. Not many know about the line of earning financial stability.
She also does charity work here and there.
It just helps many unprivileged families. At all, she is financially stable and has luxuries potential to live her life.
Social Media Appearance
She actively uses social media. She is also very much famous on Facebook. On Instagram, one can see Tiril sharing her family life and professional work.
Her life is all about winter sports and family. She has more than 254 thousand followers on her Instagram handle.
I hope you had a good time with her biography and life story. Please share your feedback and opinion regarding this article.
Next Read: Who is actress Tanya Reynolds