Tracey McShane is well-known thanks to her well-known husband, Jon Stewart. Her husband is a gifted American comedian, writer, producer, director, political commentator, actor, and television host.
He is best known for his satirical comedy show The Daily Show, which airs on Comedy Central.
If you want to know more about her. Read further in this article.
So, let's get started!
Who is Tracey McShane?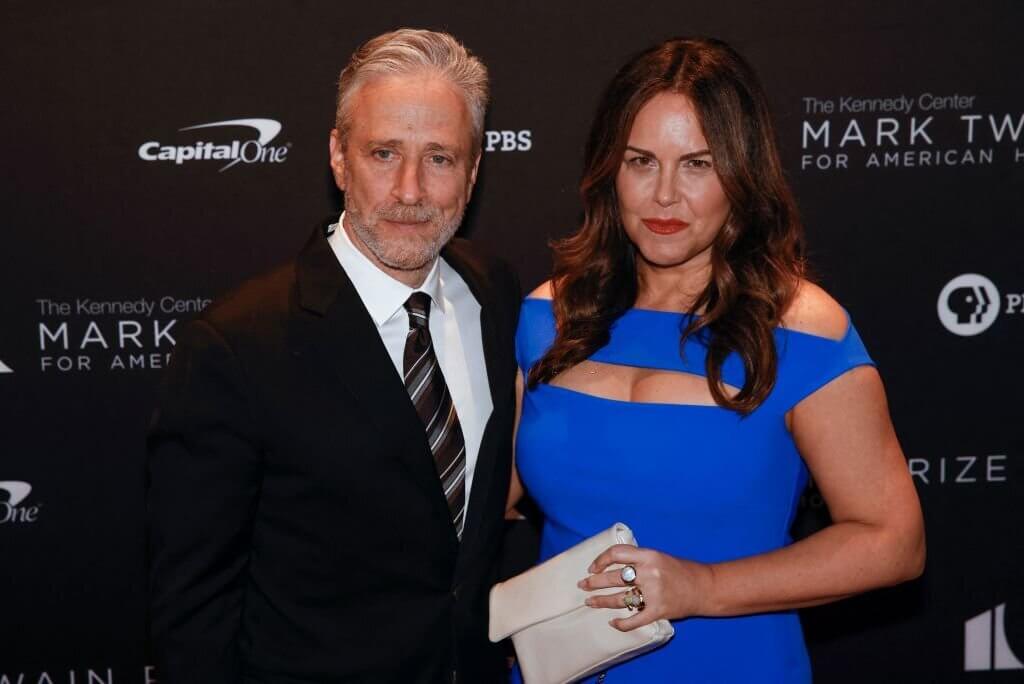 Tracey McShane is an American former veterinary technician, graphic designer, and animal rights, advocate.
She is best known as the wife of Jon Stewart, a comedian, author, political commentator, and television host.
Tracey is a native of Pennsylvania who attended California College of Arts and Crafts and Drexel University before embarking on a career as a graphic designer.
She returned to school to pursue a degree in veterinary science after her husband was hired as the host of 'The Daily Show.' She founded 'Moomah the Magazine' and is the Portrait Project's vice president.
Tracey collaborates with Farm Sanctuary, an animal protection organization.
She and her husband have purchased a farm in New Jersey to house rescued farm animals. She is the author of the nonfiction book 'Do Unto Animals: A Friendly Guide to How Animals Live.'
Early Life of Tracey McShane
Tracey was born on August 6, 1967, in Philadelphia, Pennsylvania. She was born and raised in the United States.
She attended California College of Arts and Crafts in the mid-1990s. Later she enrolled in a graphic design class at Drexel University.
According to some reports, she also took a business class at Drexel. She started working as a graphics designer after finishing her course.
Tracey resumed her studies to become a veterinarian after Stewart became the new host of Comedy Central's 'The Daily Show.'
She had previously worked in a variety of capacities in a variety of settings, but none had provided her with the sense of fulfillment she desired.
Tracey McShane Career
Tracey worked as a graphic designer for a long time. She also worked at a few other places over the years.
She worked at the Bronx Zoo after receiving her veterinary science degree before launching 'Moomah the Magazine.'
It began as Moomah Café, a gathering place for families in lower Manhattan. Its front portion served as a café, while the back portion served as a children's enrichment center.
The hub was eventually closed down, but its spirit lives on in the form of 'Moomah the Magazine.'
Tracey and her family have recently become involved with Farm Sanctuary. Farm Sanctuary has named two rescued sheep after Tracey and Stewart to show their gratitude for their help.
The family spent $4 million on a farm in New Jersey that houses many rescued farm animals.
Tracey's children's book, 'Do Unto Animals: A Friendly Guide to How Animals Live, and How We Can Make Their Lives Better,' was published by Artisan on October 20, 2015.
The book has received positive reviews from critics and contains over 300 color illustrations by artist Lisel Ashlock. The proceeds from this book will all go to Farm Sanctuary.
Tracey McShane Personal Life
Jon Stewart (born Jonathan Stuart Leibowitz) is a news satirist who humorously criticizes personality-driven media shows, particularly those in the United States.
He is regarded as the modern Mark Twain. Under his leadership, 'The Daily Show has won 22 Primetime Emmys.
He hosted the 78th and 80th Academy Awards and has written several books, including 'America (The Book): A Citizen's Guide to Democracy Inaction' (2004) and 'Earth (The Book): A Visitor's Guide to the Human Race' (2006). (2010).
Tracey and Jon met on a blind date set up by a production assistant in Stewart's film 'Wishful Thinking (1997).
In 1999, Jon proposed to her through a personalized crossword puzzle he created with the assistance of Will Shortz, the crossword editor at the 'New York Times.' Their wedding took place in November of 2000.
On June 19, 2001, the couple filed a petition to legally change both of their surnames to "Stewart."
Tracey had several issues while trying to conceive and eventually decided on in-vitro fertilization. Nathan Thomas Stewart, their son, was born on July 3, 2004.
On February 5, 2006, the couple welcomed their second child, a daughter named Maggie Rose Stewart, about two years later. Tracey is a vegetarian.
Controversies
Tracey McShane was arrested on March 10, 2005, for driving with a suspended licence and was detained for nearly five hours. Stewart's spokesperson, Matt Labov, said the incident happened around 11 a.m. in Central Park.
She was not exceeding the speed limit, but the authorities discovered that she had a suspended license. She was even unaware that she had paid a parking ticket the week before.
However, it appears that her check did not clear, and the authorities seized her vehicle. They also put handcuffs on her wrists and drove her to Central Booking.
Authorities revealed in their statement that she was fingerprinted and had a smile on her face.
Also Read: Who is Dwayne Johnson's Wife Lauren Hashian?
Tracey McShane Net Worth
Tracey McShane enjoys her life as the wife of a well-known media personality, but she also enjoys her side of the profession. After her marriage, she returned to college to pursue another degree in veterinary science.
When it comes to her net worth, she and her husband Jon Stewart share a massive fortune of $120 million.
Tracey's husband earns a whopping $25 million per year, according to celebrity net worth.
The couple is well-known throughout the country for their real estate investments. Jon made a fortune when he sold his 6,000-square-foot apartment in New York City's TriBeCa neighborhood for $17.5 million after purchasing it for $5.8 million.
Aside from that, they own a $3.8 million riverfront in Red Bank, New Jersey. As well as a 12-acre farm in Middletown that serves as a sanctuary for abused animals.
Also Read: Who is Jon Bon Jovi's Wife Dorothea Hurley?
Physical Appearance
The height of Tracey McShane is 5 feet 6 inches (167 cm). She weighs anywhere from 68 kilograms to 149 pounds.
She enjoys working out in addition to this. The rest of her physical measurements, however, are not available.
Next Read: Who is Matt Damon's Wife Luciana Barroso?