Here is the biography of the very famous U.S. sports announcer. Verne is widely famous for his voice. With his confident speaking skills, he has done an excellent job in his life.
He is an inspiration for everyone, especially for those who want to set their career as an announcer. Well, read his amazing biography below and explore his life in a dashing way.
Profile Summary
Name: Merton Laverne Lundquist Jr.
Nick name: Verne Lundquist
Date of birth: July 17, 1940
Place of birth: Duluth, Minnesota, U.S.
Age: 81 Years
Height: 5'5 ft. Approximately
Net worth: $1 – $5 Million
Profession: American sportscaster/ sports announcer
School: Austin High School
University: Texas Lutheran University
Education: graduate
Marital status: married
Spouses: Nancy Lundquist (m. 1982), Kathy Vernon (m. 1972–1980), and Patricia Lundquist (m. 1967–1971).
Children: Vaughan Matthew Lundquist
Who is Verne Lundquist?
Verne Lundquist is one of the famous sports announcers who is mainly recognized by voice. He is confident and very sharp-minded and can point out every small event.
Verne has worked for various televisions networks including TNT Cable and CBS. Besides this, he has done a lot of things in his life that shouldn't be missed by you. So, get into his detailed biography below and get familiar with him.
Early Life of Verne Lundquist
Verne Lundquist was born on the 17th of July 1940, in Duluth, Minnesota, the U.S. He pursued his schooling from the Austin High School in Austin, Texas. After his schooling, he pursued his graduation from Texas Lutheran University.
Verne was one of those who discovered the Omega Tau Fraternity in 1958 before graduating in 1962. Right now, he is a member of the Board of Regents for his alma mater.
Verne's father was a Lutheran minister and President of the Nebraska Synod of the Augustana Lutheran Church. Let us move to his career section to know his achievements in his life.
Verne Lundquist Career
Verne first began his broadcasting career as a sports anchor for WFAA in Dallas and Austin for KTBC, and also being the radio voice of the Dallas Cowboys. In 1967, he joined the Cowboys Radio Network. In the year 1974, he officially joined ABC Sports to work as a sports anchor with them.
He continued to work in the same field for several years in the same area. In 1982, He started working at the CBS network for his further career. In 1995, he worked for TNT Cable and continued to work for three years in TNT cable. After that, he again returned to CBS and pursued his career in the company.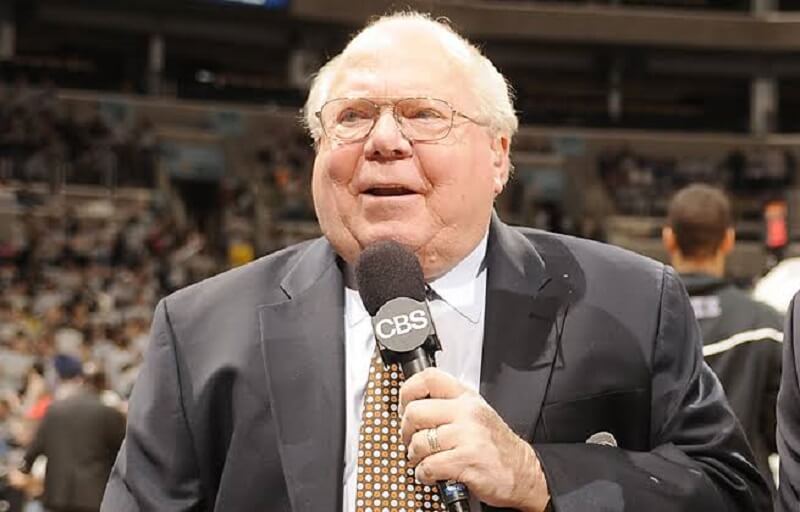 By the year 1970, he was able to establish a good name in his career. He came to the limelight when he was working for a sports show and the name of the show was 'Bowling for Dollars'. The show was also broadcasted on the ABC channel at WFAA-TV at that time.
Side by side, he was covering many sports events such as 'PGA Tour', 'CBS, NBA games, and TNT's sports event Sunday Night Football' etc.
Verne Lundquist Personal Life
Verne Lundquist has been married thrice in his life. Unfortunately, his first two marriages with Patricia Lundquist (m. 1967–1971) and Kathy Vernon (m. 1972–1980) were not successful.
He has faced a lot during this period. His final and third marriage was a life-changing experience for him as Verne and his present wife Nancy Lundquist (m. 1982) are living a perfect and happy life. The couple is blessed with a child and his name is Vaughan Matthew Lundquist. They are living a happy life.
Further information about his life is not available. Verne Lundquist is very secretive when it comes to his family and his personal life. He never seems to share anything regarding his personal life.
Social Media Presence
Verne Lundquist is so secure when it comes to his personal life. Verne is not active on his social media platforms, in fact, we are unable to find his social media handles.
So, it tells us that he has not established himself over social media platforms. We had never found him discussing his personal life openly. There is hardly anything available about him so we can not predict anything about his life.
Verne Lundquist Net Worth
Verne Lundquist's exact net worth income has not been revealed yet. But according to his lifestyle, we can estimate that he is earning really well. He is enjoying his life with all the luxuries he wants.
The estimated net worth income of Verne Lundquist is approximately $1 Million. Verne is very confident when it comes to his personal life, as we talked about earlier. Anyway, the man is financially good and has the potential to fulfill all his demands in his own way.
The Bottom Line
Verne has achieved so much in his life. It is all because of his dedication and self-confidence. Being an anchor is not an easy job but he has proved himself many times.
Next Read: Who is Brian Tracy? Life-Changing biography
We hope that you would have enjoyed reading his biography. Share your feedback below and let us know how you feel with his story.